How to Get Paid to Drive Cars Across the Country
One of my favorite sites, KashKick, offers tons of ways to earn real cash online. If you're not already a member, give it a shot! Here are five things you can do to make easy money on the site:
Play games (up to $125 each)
Test apps (up to $125 each)
Buy lottery tickets (an easy $8)
Try popular brands (always changing)
Answer surveys (quick cash in minutes!)
Tons of Americans are working a side hustle to make extra money for bills, vacations, or just to have a nest egg. One lucrative side hustle many people do involves getting paid to drive cars across the country.
If you're someone who doesn't mind putting in some miles while jamming to tunes and eating bad gas station food (optional, of course), then you will love the list I compiled of jobs to drive cars across the country.
No matter where you are in your search for finding jobs driving cars long distance, I am here to help you understand where the most lucrative opportunities are. It may be at an actual 9-5 job working for a company or even jobs you create yourself. This list teaches you how to make the most of your driving skills plus add more to your monthly income.
Our Popular Money-Making Offers
Sign up with each of the following companies to maximize your earning potential.
$10 sign-up bonus
Pays to take surveys, complete offers, shop online, and much more
100s of other paid tasks
Awards cash and gift cards
$5 sign-up bonus
Pays to play games, watch videos, answer polls, and much more
100s of other paid tasks
Awards cash and gift cards
11 Best Jobs Driving Cars Across the Country
If you are seeking actual jobs where you can get paid to drive cars across the country, then the first few ideas will answer that directly. Keep an open mind about what these companies have to offer.
1. Transport Cars as a Truck Driver
The most obvious way to get paid to drive cars across the country is by becoming a truck driver who drives a car transporter vehicle. This would take some time to learn and become licensed in the right class needed to drive a heavy-duty truck like a car transporter. However, it could be worth it for the amount of money you could make. Plus, some trucking companies even pay you to get your CDL.
Most truck driving companies require workers to be at least 23 years old before they can get hired. Check with the company you are applying with to determine the license needed for the job. Take the right course and training necessary to pass the driver's test plus gain experience behind the wheel.
To find these jobs, search for "car hauler" positions on sites like Indeed and ZipRecruiter. You can read the complete job descriptions before applying, and you can often find jobs with sign-up bonuses and great benefits.
Additionally, look for high-paying positions offered by companies that will pay for your certification. This is a great way to get started driving cars across the country without investing any of your own money.
2. Join Roadie
Become a driver with Roadie and get paid to drive across the country. As a driver, you would be responsible for delivering more than just cars. Anytime you are headed out in your car, you can pick up something to deliver to someone else and get paid.
It is similar to other delivery apps in that you accept a delivery, pick it up, and drive it to its destination. Some of those jobs include picking up lost baggage and delivering it to the owner. It's a lucrative way to make some extra cash as long as you have a car, license, and insurance.
The best way to make money (rather than lose money) driving across the country is to match up multiple deliveries that line up with your trip. Additionally, you can add pit stops along that way to enjoy new sites like The Grand Canyon or the Statue of Liberty.
Related: Best Delivery Driver Apps
3. Become a Tow Truck Driver
Tow truck drivers are a saving grace to some individuals when their car breaks down, gets a flat tire, runs out of gas, or slides into a ditch during the winter. As a tow truck driver, you can get paid to drive cars up to 100 miles from the point where you picked them up to a destination of the owner's choosing.
Ideally, the destination would be an auto shop, but that's the owner's decision. You would get paid for towing the vehicle regardless of where it goes.
You can make this your winter side hustle or start a complete seasonal business. Most tow truck companies pay by the hour. In order to apply for the position, you will need to have the correct operating license.
Related: When Is the Best Time to Buy Tires?
4. Apply to Rental Car Businesses
Some rental car companies pay drivers to drive cars across the country for a variety of reasons. Sometimes it's to move their fleets or there may be a special request for a certain type of vehicle that needs to be moved. Whichever the case, some rental car drivers get paid to drive cars across the country.
5. Start Your Own Car Transporting Business
If you are having a hard time finding jobs driving cars long distance, then consider starting your own car transporting business. Start small by offering local transportation services. As your business grows and you gain more experience, start posting your availability for jobs driving cars across the country.
As a business owner, you can choose which jobs you want to take on, what type of vehicles you want to transport, and how much you want to get paid. You have more flexibility as a business owner.
Related: How to Get Paid to Camp
More Ways to Get Paid to Drive Cars Across Country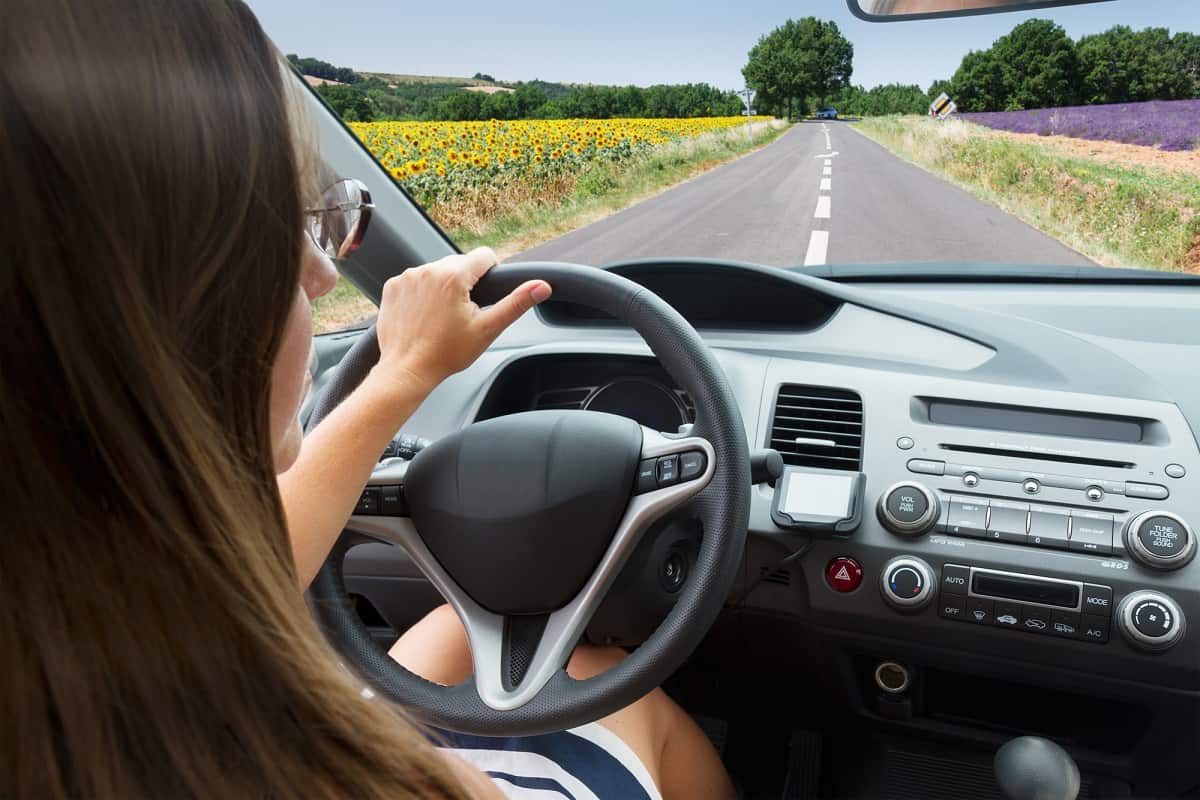 Think outside of the box and consider other opportunities to make money driving cars across the country. These aren't necessarily jobs, but ways you can still get paid to drive.
6. Join Uber
Rideshare services like Uber offer options to transport people to their destinations. Sign up to join the company and start transporting people in your car.
Signing up for Uber is free and the app will show you how much you will make for each transportation job. Drive your car wherever the passenger needs to be taken and get paid for it.
You can pick up jobs along your route as you travel across the country on your own schedule.
Related: Instacart Driver Review
More Popular Money-Making Offers
Earn more money in your spare time with these reputable companies.
Free PayPal cash
Paid surveys and web searches
Earn easy cash back
Get paid directly to your PayPal
PayPal, Visa, Amazon, etc.
Pays you to do NOTHING (with SJ Pulse)
Simply install the software
Participate in paid surveys & studies
7. Start a Car Transporting Tips Blog
Blogs have become a place for resources and sharing information about topics. Regardless of what you're interested in, you can be sure you can start a blog about it and gain readers. This means you can start a blog about how to transport cars safely, sufficiently, and timely.
Write to your readers about what kind of experiences you have, what type of challenges aspiring drivers could face on the road, the best stops to make along the way, and much more. Add in some affiliate links for any travel hacking products that you recommend so that you can make money with your blog.
There is also an option to incorporate ads on your blog and posts, which would generate a passive income for all the views you get on your posts.
Related: Best Side Hustles for Men
8. Create a Road Trip YouTube Channel
The best part about going on a road trip is that you can take viewers with you on your adventures. Start your own YouTube channel and create videos about where you go, what you see along the way, and give any tips on how others can have fun road trips, too. Share your favorite snacks, best road trip soundtracks, and how you keep entertained on the road.
With YouTube, you have the ability to allow ads on your videos. These ads can play before, during, and after your videos. You will get paid for viewers who see those ads and you can get paid for clicks on your ads as well.
9. Offer Moving Services
During the summer months, people make cross-country moves more frequently. Consider starting up your side hustle during the summer as part of a moving service. You can help people pack up moving trucks and then drive those trucks to their new homes across the country.
As the driver, you get paid for all the services you provide and your expenses along the way. The customer typically pays their fee upfront which supports your travel expenses plus wages.
Related: How to Move Out at 18
10. Use Car Advertising Services
Get paid to drive across the country by having your car wrapped in advertisements. Companies pay people to rent ad space on their cars. You just have to get the ad placed on your car and drive.
Sometimes your movements are tracked by the advertising company to ensure you are actually driving and where you are driving. The company wants to make sure it is paying you to drive the car with its ad versus the vehicle just sitting in your garage not moving at all.
Take this opportunity to drive to new cities across the country and get paid for exploring new areas.
Related: How to Get Paid to Ride Horses
11. Become a Babysitter or Nanny
As a nanny or babysitter, your duties can also include transporting kids to and from school and other activities. You might also be hired to accompany families to their vacation destinations. This could include driving across the country on a family road trip.
Nannies get paid through a predetermined agreement with the family. You can make a monthly salary if you are working on a frequent basis. If you are only helping with the road trip, then you can agree upon a flat rate for the length of the vacation. Not to mention, you will get paid to go on vacation with the family, and your expenses will be paid for during the trip.
Related: Jobs that Feel Like Vacation
Explore the Country on Someone Else's Dime
Many of us want to make an extra $500 per month so that we can travel and explore more, while others prefer to replace their full-time income. Getting paid to drive cars across the country can help you do either of these things. Explore the country, visit historical landmarks, and make memories all by just doing your job.
Find the best way to drive cars across the country for money that fits your lifestyle. Start with understanding what type of vehicle you want to drive, then work your way toward earning any additional licenses you might need for other jobs.
With a cross-country driving job, you can decide the hours you are available to work. This is the beginning of a new side hustle that can make all the difference for your income and adventurous lifestyle.
Related: How to Make $5,000 Fast
---