How to Get Paid to Live in the Wilderness
We foster relationships with brands we use and trust. The testimonials on our site represent real experiences, but they don't guarantee you'll achieve similar results. When you make purchases through our links to our partners, we may earn a commission. Your support helps us continue this work. You can read our full disclosure here.
Mother Nature is just the medicine many of us need to get away from the noise in the world and reconnect with our true selves. In fact, each day, more and more people are choosing to go off the grid and find ways to live off the land. It's becoming more common for people to look for ways to get paid to live in the wilderness.
As exhilarating as life can be moving in a fast-paced environment that is always connected to social media or the internet in general, it's healthy to think about ways that we can unplug instead. Whether you want to completely move out into the wilderness or just live off the grid part-time, you can still make money doing so.
I've put together a list that is specifically designed to help you understand the options you have to live in the wilderness while also keeping up with your income. Save money by going off the grid and rake in some extra money at the same time.
12 Ways to Get Paid to Live in the Wilderness
The following ways detail how to make money from nature by living in the wilderness. Browse through the list and decide which is the best way that you can make money being in a place you love.
1. Become a Wilderness Photographer
Take your photography skills with you to your new spot in the wilderness. Capture images of the sunsets and sunrises through the trees, climb mountains, take photos of birds, and take advantage of many more opportunities for beautiful pictures. From any angle, you can capture the wonder of your outdoor home.
Sell your pictures on your own website or partner with another online platform to make money for the pictures you take in and of the wilderness. You can also partner with local businesses to sell your pictures to them directly. You get to name the price of your images to make the kind of money that you want.
2. Check With Your State
This may come as a surprise, but there are actually some states that pay you to live there. For example, residents of Alaska get paid $1,000 per year as part of the Permanent Fund Dividend paid to all residents who have lived there for at least a year. Pick a remote spot in Alaska, register as a resident, and get paid to live in the wilderness.
Other states that do something similar include Hawaii, Maine, and several others. Each state has its own requirements so make sure you check before moving there.
Related: Get Paid to Live in a House
3. Become an Influencer
As much as we want to disconnect from social media, there may be times when you connect back to the internet world to make some money. To do this and live in the wilderness, consider becoming an influencer so that you can make a living in the wilderness.
Post on social media all the things that you do in a day as a wilderness dweller. Show your viewers the kind of products and materials you use to survive each day. Recommend brands and companies that make durable, efficient supplies that you trust.
As an influencer, you could get paid for recommending other companies to your viewers. Become an affiliate with those companies, which means you would get a special code or link to share with your viewers that would take them to those products to buy. Each purchase made through the link or code you share means you earn a commission for that sale.
Related: How to Get Paid to Walk Dogs
4. Rent Out Your Land
Living in the wilderness means you have to live on some kind of land that you own. There is only 2.7% of the land area in the United States that is designated "wilderness." This means most of the land is owned by someone.
With the land you own, consider renting it out to others to use for hunting, hosting events, or camping. Depending on the reason someone wants to rent your land, you can charge them by the day or by the hour.
Related: How to Get Paid to Hunt
5. Start a Worm Farm
Starting a worm farm means you can sell worm poop as fertilizer to local farm shops, other landowners around you, or at a farmer's market. You would be surprised to learn how much money worm poop can be sold for and what that means for your income.
You can also wait as the worms multiply and then sell the worms off to others for a fee. A worm farm doesn't take much of your time to keep up with. Set up your select few worms in a container in the wilderness and keep them nourished. Make money with a small or large worm farm while you live off the land.
Related: How to Get Paid to Camp in a Tent, Cabin, or RV
More Ways to Get Paid While Living in the Wilderness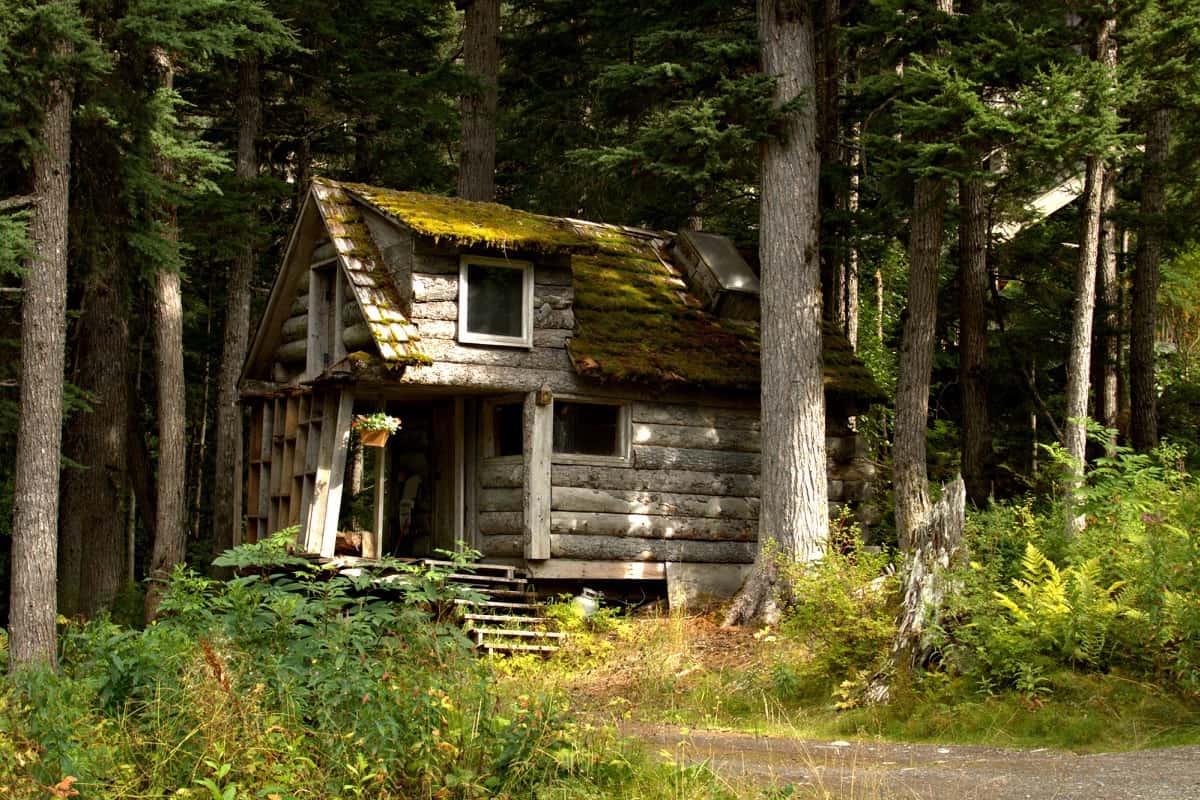 Living out in the wilderness doesn't mean that you have to be completely disconnected. There are so many ways you can make money while living in the wilderness through online job positions and entrepreneurial opportunities.
6. Become a Proofreader
Living in the wilderness has different levels of exposure to the world or the internet. To survive, people need access to some level of internet or connection. This could be to make any emergency calls or keep up with new information that may be crucial to their safety.
That being said, you would need to have some level of internet connection to be able to make money living in the wilderness by becoming a proofreader.
Proofread books, online articles, magazines, or any other form of copy that interests you. When you become a proofreader, you can read over pieces from the comfort of your wilderness home. If you aren't sure how to start out in the proofreading world, consider taking Caitlin Pyle's free webinar to understand what it takes to be a proofreader.
7. Share Your Experience on a YouTube Channel
Create a YouTube channel and show your followers exactly what it's like to live in the wilderness. Take them on the explorations you go on each day, show them how to cook without a kitchen, and get paid to teach them how they can also survive in the wilderness.
Humans have instincts that can help them survive in many situations. Be the wilderness expert others would go to in order to learn about how they can have a life similar to yours and use their survival instincts. Include ads on your YouTube channel so that you can make money from a forest life.
Related: How to Get Paid to Hike
8. Create a Wilderness Blog
Generate a passive income with a wilderness blog. On your blog, create articles with guides on how to survive in a forest or what to do to prepare to live in the wilderness. You can also create posts that tell your readers how to make money from a forest or how to make money from trees.
As a blogger, you are in charge of the content you want to post. Be consistent and show up as the expert that people would want to learn from. You will be the person they go to when they consider what it takes to live in the wilderness. Add in some affiliate links to products you recommend and allow ads on your site to generate money.
9. Share Your Opinion on Outdoor Gear and Brands
Join an online platform like Opinion Outpost and get paid to live in the wilderness by sharing your opinions. Opinion Outpost is a rewards site that pays its members to complete surveys. The amount that you make will depend on the length of the surveys that you complete.
Each completed survey generates points that are rewarded to your account. You can collect all your points and use them to cash out for rewards like cash to your PayPal account or gift cards to Visa and Amazon. When you're not out hunting for food or enjoying the weather, collect points for surveys to purchase some of the necessities you can't make or grow on your own.
Related: Get Paid to Answer Questions
10. Become a Freelance Writer
Get paid to write for someone else's blog or create articles for another company by becoming a freelance writer. As a freelance writer, you get paid for each writing project you take on for someone else. Find a company in the wilderness, hunting, or even fishing niche. Partner with it to create content for its platform that speaks to your passion.
Freelance writers often have to find clients on their own. This means building strong connections and collecting testimonials from past clients. Start a writing portfolio, build up your clientele, and make money living in the forest as a freelance writer.
Related: How to Get Paid to Go Fishing
Other Unique Ways to Make Money From Trees
If you are looking for ways to make money from trees that surround you in the wilderness, consider these other two ideas that can be profitable.
11. Make Wood Trinkets From Trees
You are surrounded by trees each day, and that means you have an abundance of wood around you. Find fallen tree branches and sticks and whittle some wooden trinkets to sell.
From figurines to ornaments, and even wood furniture, there are endless possibilities of what you can make out of wood. Sell them by connecting with local stores or farmer's markets. You can also sell your items on an online platform like Esty to really reach the masses. There is an audience that is surely interested in handmade wooden items.
12. Sell Firewood
Collect fallen trees and split wood to sell for camping or to heat a home. Sell logs on the side of a road or partner with a store nearby to supply them with wood to sell. Save some for yourself as well to keep warm during the cold seasons.
Related: How to Sell Plants
The Wilderness Can Provide in So Many Ways
Get your fill of nature plus an income by getting paid to live in the wilderness. Understanding exactly how you will survive in nature doesn't just mean finding your next meal to hunt. It also means exploring how to pay for the land you will be occupying and any necessities or supplies you need to purchase.
As much as many people might want to completely detach from society itself, there are still some things you will need to pay for, and having an income to sustain your lifestyle is essential.
This list was created to give you ideas on how you can make this dream a reality if you are wanting to get paid to live in the wilderness. Take time to consider which outdoor careers are available to you. You also need to decide which options you want to pursue so that the wilderness can provide for you mentally and financially.
Related: How to Make $20 a Day
---
We appreciate the time you've spent reading this post and your interest is not lost on us. Your thoughts, questions, or experiences related to the topic are most welcome. Each comment adds strength to our community. We ensure every comment receives our attention, and we take the time to provide thoughtful responses. Once again, thank you for being a part of this conversation. Click here to leave a comment.