How to Get Paid to Go on Vacation (11 Relaxing Ways)
One of my favorite sites, KashKick, offers tons of ways to earn real cash online. If you're not already a member, give it a shot! Here are five things you can do to make easy money on the site:
Play games (up to $125 each)
Test apps (up to $125 each)
Buy lottery tickets (an easy $8)
Try popular brands (always changing)
Answer surveys (quick cash in minutes!)
The dream most people have is being able to vacation whenever they want for as long they want without having to worry about a lower paycheck. No one wants to be cooped up in an office with only one or two weeks of paid vacation each year. That's why I felt it was important to create a list specifically highlighting ways to get paid to go on vacation.
Life is about so much more than making money to survive. There are wonderful adventures to go on that will be far more fulfilling than any job. Vacations are a great way to make wonderful memories together with your family.
If you're ready to ditch the office walls and explore instead, you will be happy to know there are opportunities to get paid to vacation. No more worrying about being able to pay the bills when you get back home or calculating how many vacation hours you have remaining. This is your chance to start living the life you want today instead of dreading an unpredictable future.
Our Popular Money-Making Offers
Sign up with each of the following companies to maximize your earning potential.
$10 sign-up bonus
Pays to take surveys, complete offers, shop online, and much more
100s of other paid tasks
Awards cash and gift cards
$5 sign-up bonus
Pays to play games, watch videos, answer polls, and much more
100s of other paid tasks
Awards cash and gift cards
11 Legit Ways to Get Paid to Take Vacations
Open your mind to new possibilities that you can be part of on vacations. Sometimes, all you need is a computer and internet connection to get paid to go on vacations.
1. Rent Out Your Home
When you leave for vacation, that means your home is just sitting there empty and useless. This is a great opportunity to consider renting out your home on Airbnb while you are away. Airbnb makes it convenient for you to list your home for rent and set dates available for your home. Guests will be able to choose which dates work for them and can stay in your home while you are off exploring.
Renting out your home is a perfect way to knock out two things at once. You won't need to pay for a house sitter because someone will be in your home AND your guests will be paying you instead of the other way around. Some homes can get rented for a couple of hundred dollars per night.
2. Create Vacation Checklists
While you are traveling to the various destinations on your bucket list, take note of things that could be helpful for others. If you are traveling to snowy places, think about what items families should bring with them to keep warm and comfortable. It is the same as if you were traveling to a beach paradise; think of items you would recommend others bring to combat the sun and heat.
Create printable checklists with all of these items in mind and sell them on an Etsy shop as a digital download. Families will be thankful for the extra information as they pack up their whole family. You can also create travel guides such as popular places to visit at any given destination to help people make the most of their trip.
Related: Best Things to Sell on Etsy
3. Become a Traveling Photographer
As a traveling photographer, you can get paid to go nearly anywhere. Whether a client hires you to travel to them or if you want to travel somewhere to take photos you can sell on your own, you can't go wrong with being a photographer.
Take pictures of exotic places or hidden gems you spot on your travels. Get paid to go on vacations to places like foreign countries or on cruises. You can charge package rates for clients or you can charge per image depending on your preferred method.
4. Become a Nanny
Being a nanny can come with many perks. One of those perks includes getting paid to go on vacation with the family you are hired for. Nannies get to help families have a more enjoyable vacation by being an extra set of eyes and hands to help care for the children, especially if they are young.
Nannies typically have their entire trip paid for while they are with the family and any additional expenses such as food. If you have an agreement with the family in place, you may also receive an actual wage in addition to the all-expenses-paid trip. This would be a double win for you.
5. Start Your Own Vacation Blog
Blogs are a great way to share your experiences, document things you have learned, and help others who read your posts. Start your own blog about vacation tips, tricks, and what to do while at destinations. Share what worked and what didn't work for you when you were on a trip, and get paid to help others avoid challenges along the way.
As a blogger, you can make money by incorporating ads on your posts and becoming an affiliate. Being an affiliate is the perfect opportunity to get paid to take a virtual vacation. Try out the virtual reality vacations that are becoming popular and get paid to advertise for those companies through their affiliate programs.
6. Become a Social Media Influencer
Social media influencers get paid money to advertise for other companies and brands. You can get paid to go on vacation as a social media influencer in several ways. You can advertise the hotels you sleep in and the places where you dine. Those businesses will usually pay you for sponsored posts.
You can also get paid to advertise any products you find that are helpful to you during travel. Advertise those "must-haves" that others should buy using your affiliate link or special code. You will earn a commission every time someone makes a purchase using your link or code.
More Popular Money-Making Offers
Earn more money in your spare time with these reputable companies.
Free PayPal cash
Paid surveys and web searches
Earn easy cash back
Get paid directly to your PayPal
PayPal, Visa, Amazon, etc.
Pays you to do NOTHING (with SJ Pulse)
Simply install the software
Participate in paid surveys & studies
7. Create a Travel Tips and Tricks eBook
eBooks provide so much value because they are easy to consume and usually have information others need right now. Capitalize on this opportunity by creating your own ebooks with tips and tricks. Help travelers know what to expect when they travel internationally, with young children, etc.
You can also create an ebook that is destination specific. Write about the top things to do when vacationing at that location. Discuss top picks for restaurants, where to stay, and attractions tourists should see. Sell your ebooks on Etsy, Amazon Kindle, or your own website.
8. Become a Theme Park Tester
There is a special type of job you can do while you are on vacation. The ultimate job is getting paid to test theme parks. Use your love of theme parks to make money from all the fun you have. Write reviews, be a secret shopper, or become employed by the theme park itself to test things out.
Travel the country trying out all of the theme parks and the best rides. Share your experiences with others and help theme parks make improvements based on your feedback. Who knew theme parks could be both fun and lucrative for guests?
More Ways to Get Paid While on Vacation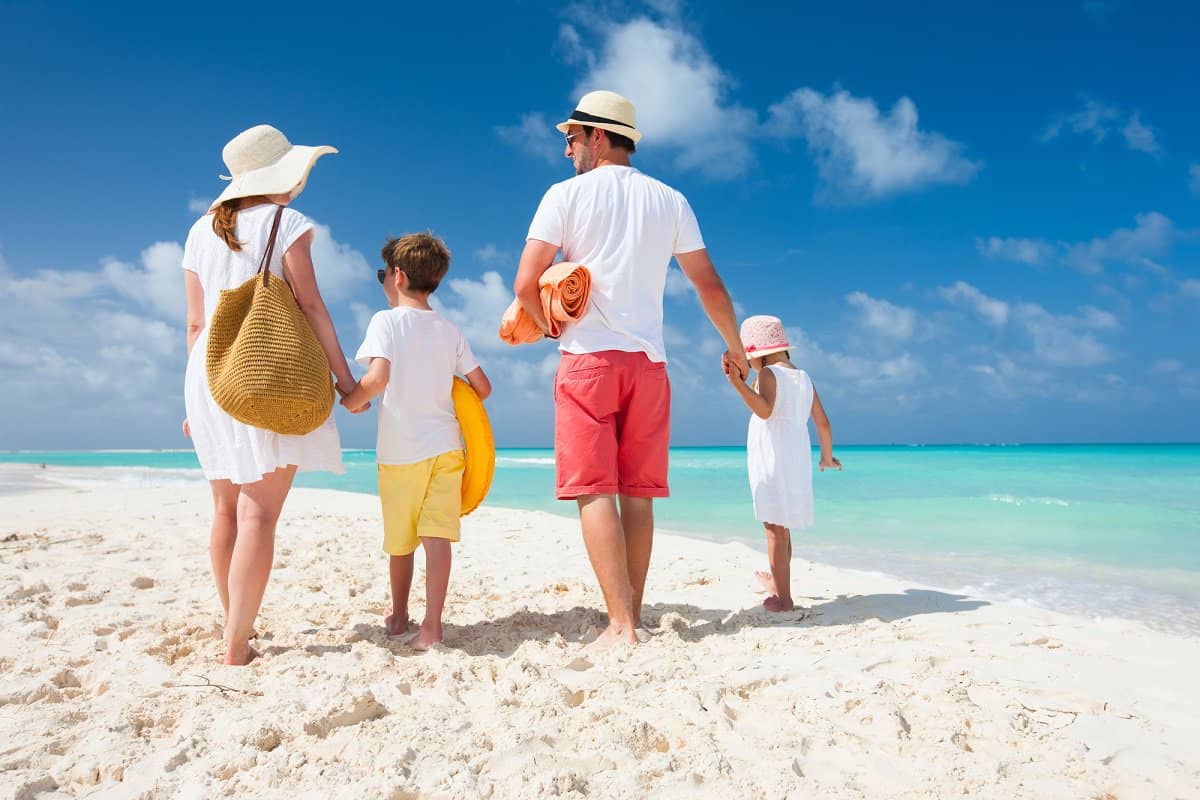 If you don't want to do a vacation-specific job, there are plenty of ways to get paid while on vacation. Consider the following ideas to do while vacationing where the wind blew.
9. Become a Freelance Proofreader
Use your reading and grammar skills to proofread for clients while you are on vacation. Set up by the beach or snuggled up in a beautiful cabin with some reading material in hand. Go through your client's work to find any grammar and spelling errors.
As a freelancer, you can get paid per hour or per project. You get to set your rate so that you have control over your earning potential. Sneak breaks while the kids are napping or after a full day of excursions. An hour or two of work after bedtime can be the sweet spot while on vacation.
10. Start Your Own Freelance Writing Business
Become a freelance writer and take your work with you on your vacations. Take on clients from your favorite niche to write blog posts, emails, social media posts, and other types of content. Freelance writers have the flexibility to work from anywhere at any time as long as they can meet deadlines.
Set your own rates and work between activities on your vacation. Take the work with you on road trips, plane rides, and even on trains or boats.
11. Become a Photo Editor
Photo editors get paid to edit photos for photographers. You only need a computer, internet, and the latest photo editing software. That means you can edit photos from anywhere, even while on vacation.
Get paid while on vacation making edits of photos for your photographer clients. Learn your client's preferences about how they like their photos altered. Make money performing this task per hour or per project.
Related: Jobs that Feel Like You're on Vacation
Vacationing Just Became Much More Fun and Lucrative
Vacations are fun, but they can bring a sense of worry when you aren't sure about the finances after the trip is over. Make this part of your life more relaxing and rewarding by taking advantage of the ways to get paid to go on vacation.
Make money doing one or more of the things listed here. If you are really set on making vacations more of a lifestyle, then select more than one option from this list to boost your income. Life is too short; take advantage now of the time you have to explore.
---