How to Get Paid to Assemble Furniture for Others
We foster relationships with brands we use and trust. The testimonials on our site represent real experiences, but they don't guarantee you'll achieve similar results. When you make purchases through our links to our partners, we may earn a commission. Your support helps us continue this work. You can read our full disclosure here.
Recently, I have been ordering small furniture units like shelving and side tables to help with organizing my home. I quickly realized how much time it takes for me to assemble each piece. As a busy mom, I would gladly pay someone else to assemble these units for me. I know plenty of other busy moms who would do the same.
I was intrigued when I learned that I could actually pay someone else to help me with the assembly of my furniture. In fact, there are several ways to get paid to assemble furniture. Purchasing furniture that needs to be built is less expensive than buying pre-assembled units. It only makes sense that many would choose to use this route when purchasing furniture.
If you are someone who likes to assemble furniture for fun or just to help others, then you will be happy to learn all the ways you can help and get paid at the same time. There are several opportunities, you just have to find the way that works for you and your lifestyle. Choose one or multiple ways listed here to increase your monthly income.
How to Get Paid to Assemble Furniture
These first six ways will help you learn how to make money assembling furniture. One of the most popular jobs includes getting paid to assemble Ikea furniture.
1. Advertise on TaskRabbit
TaskRabbit is an online marketplace that matches "taskers" with customers who are seeking handyman-type services, such as furniture assembly. It is a popular site because it guarantees same-day service to customers. This means customers aren't having to wait around for their needs to be met.
As a tasker, you are a sort of freelancer who works on a contracted basis. You are not an employee of TaskRabbit. Taskers who sign up for jobs get paid between $18 and $28 per hour. Some of the customers also provide generous tips.
Sign up with TaskRabbit to start getting paid to assemble Ikea furniture and other jobs that come available. Ikea partners specifically with TaskRabbit. This means Ikea customers have immediate access to taskers to help them with their furniture purchases. We all know how intimidating those Ikea instructions can be sometimes.
Related: How to Get Paid to Hunt
2. Post on Facebook Marketplace
Share your furniture assembly service on Facebook Marketplace to reach a wide variety of customers looking for your skillset. Facebook can be used as a free marketing tool and the Marketplace feature is helpful by connecting customers to things they need.
Many people use the Marketplace to find good deals on items such as furniture. Be there for them already by plugging in the right keywords into your posting and marketing your services.
Related: How to Become a Social Media Manager
3. Use Craigslist
Craigslist is a well-known site that many use to search, post, and connect with others. This can be for selling purposes, finding jobs, or hiring people. There is a large range of what Craigslist can do for you. Use discretion when meeting with strangers you found on the internet. Your safety is important. Meeting in a public place to talk about a job before accepting is best.
List your furniture assembly services on Craigslist and respond promptly to inquiries. Price your services in a range that works for both you and the customer.
4. Start a Handyman Business
It is always the dream to work for ourselves rather than working for someone else. That being said, if you want to get paid to assemble furniture, start a handyman business that is specific to doing just that. It's similar to starting a lawn service business; people don't have the time to do it themselves and are willing to pay for the convenience of having someone else do it for them.
Start your own business and build up your reviews and testimonials from customers. Take charge of the life you want to live with your own hours and business decisions. List your services on a website and use social media to market yourself even more.
As a business owner, you have a say in the way you want to make money. If you enjoy assembling furniture, then this is the right next step for you.
Related: Best Side Hustles for Men
5. Sign up With Amazon Home Services
You can actually sell your professional services right on the Amazon site. Amazon does the work for you by posting your services alongside products it sells so that you gain exposure associated with the work that you do.
Amazon Home Services requires an application to be on the list of professionals it offers to customers. Furniture assembly is one of the top requested services from customers on Amazon. From rocking chairs to bed frames and dining sets, Amazon can list your service on its site to get more jobs coming to you based on what your skill set includes.
Related: How to Make Money on Amazon FBA
6. Check Out Jobs on Nextdoor
Many neighborhoods keep in communication about what is happening in their area through the app called Nextdoor. This app helps neighbors connect with each other and engage in conversation. Use the app to boost your furniture assembly services.
Once you've completed some jobs for your neighbors, consider asking them to leave a nice post about you in the app. This will help other neighbors know of your friendly service and think of you when they need help with their furniture assembly. You can also look out for posts about neighbors who are seeking help with their furniture assembly.
Related: How to Get Paid to Help Others
How to Get Paid to Assemble Furniture Online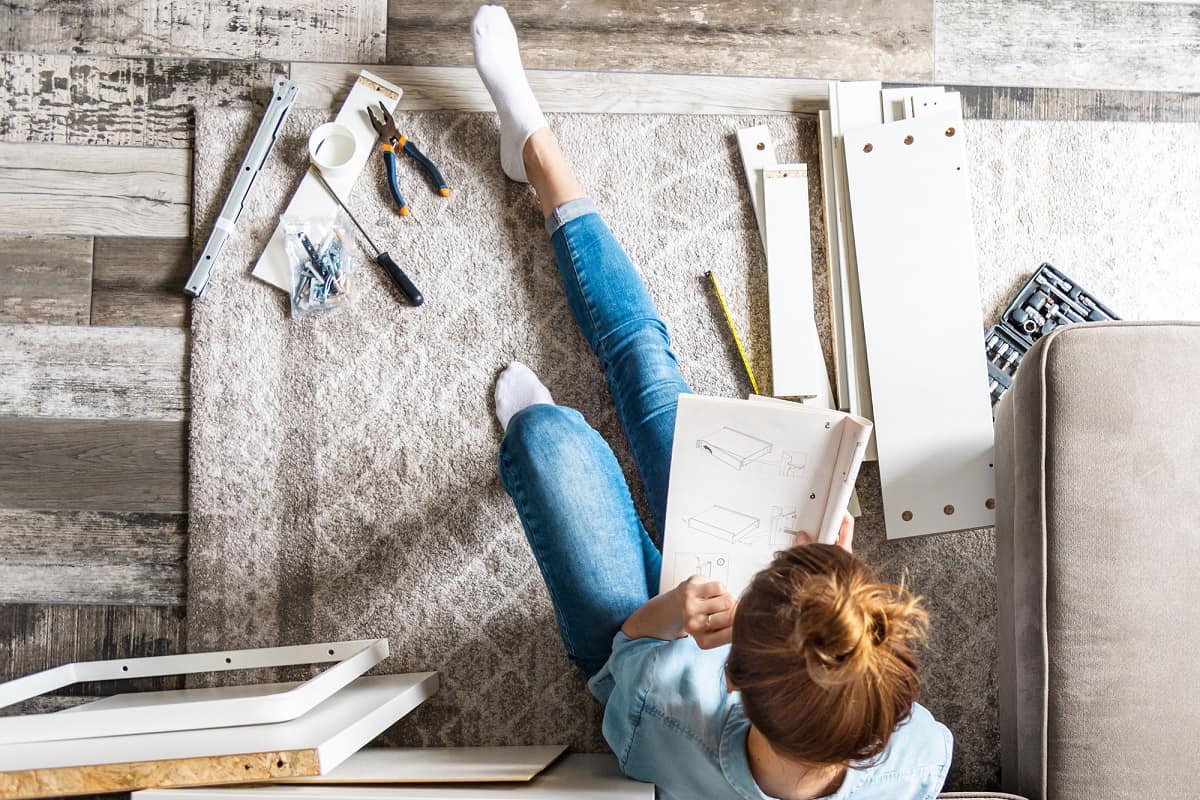 Find your next opportunity to get paid to assemble furniture online with the following ways listed here.
7. Start a Furniture Assembling YouTube Channel
Show others exactly what steps to take with their new furniture purchase by starting a YouTube channel dedicated to assembling furniture. When a potential customer searches for "how to assemble Ikea furniture" on the internet, your YouTube channel can potentially pop up as the exact resource for them.
Record yourself assembling furniture, take your viewers with you while you shop for furniture, or show them live how you will incorporate this new piece into your living space.
Allow ads on your channel so that each time someone watches your videos, you get paid for their views. You will get paid even more if someone clicks on the ads and checks out the site being advertised.
Related: How to Become a Woodworker
8. Create a Furniture Assembly and Review Blog
Blogs are a great resource for people who are looking to learn a new skill or obtain information about a topic they are researching. This is a great opportunity for you to create a blog and write posts dedicated to furniture reviews and assembly tips.
For each blog post you write, give details about the furniture you purchased and the ease or difficulty of assembly. Tell your readers whether or not you would recommend others to purchase the furniture. If you found a hack about the product regarding how to make assembling easier, share those details as well.
On your blog, you can incorporate ads within your posts. Get paid for ad views and clicks for all the traffic you will generate to your site.
Related: Get Paid to Share Links
9. Become a Social Media Influencer
Use social media to your advantage and become an influencer. Promote furniture products and tell your viewers to use your special code or link to purchase the furniture you are promoting.
Show your followers in posts and stories how to assemble the furniture, stage their new piece, and decorate it. Your viewers can gain furniture inspiration for their new home or office.
Get paid as an affiliate for furniture purchases. You can make a commission for each purchase made using your code.
Furniture Assembly Can Be Fun and Lucrative
Assembling furniture isn't for everyone. It can be time consuming for some and a little frustrating. Some customers would just prefer to pay someone like you to do it for them.
If this sounds like something you would enjoy doing, then try your hand at one of the ways listed here to make some extra money or turn it into a business. Furniture assembly is a hidden gem in the handyman industry and there may not be too many customers who know they can hire out for this sort of thing. Happily educate them about your services and make a difference in their lives as well.
Get started on this new venture now and start making waves as a professional furniture assembler. Make this a success by starting out strong in the industry with one of the ways listed in this guide.
---
We appreciate the time you've spent reading this post and your interest is not lost on us. Your thoughts, questions, or experiences related to the topic are most welcome. Each comment adds strength to our community. We ensure every comment receives our attention, and we take the time to provide thoughtful responses. Once again, thank you for being a part of this conversation. Click here to leave a comment.