6 Best Online Microblading Courses With Kits and Certificates
We foster relationships with brands we use and trust. The testimonials on our site represent real experiences, but they don't guarantee you'll achieve similar results. When you make purchases through our links to our partners, we may earn a commission. Your support helps us continue this work. You can read our full disclosure here.
'Tis the season to treat yourself to one of the best microblading classes online. While it might feel like an expense right now, you can quickly turn it into a lucrative investment.
Microblading, one of the current most popular beauty procedures, keeps microblading technicians (artists) booked out for months. It is part of the beauty industry at large, which brings in billions of dollars each year, thanks to people who are striving to look and feel their best.
Microblading is a semi-permanent cosmetic procedure performed by a person who has gone through training in compliance with their state's rules and regulations. It is performed with a handheld pen complete with needles that are used to gently cut into a person's skin, placing hair-like strokes with pigments that match the color of their natural hair. Artists use this technique to give their clients realistic-looking, filled-out eyebrows.
Microblading is now in high demand, and more and more artists are needed to fulfill the desires of potential clients. This is a semi-permanent procedure and should not be undertaken lightly, either for a person who is considering being microbladed, or for those who are thinking about becoming microblading artists themselves. If you fall into the latter category, you need to take microblading classes online or in person that will teach, guide, and support you as you learn and become confident in this new skill set.
Keep in mind that not all online microblading courses offer state certification or licensing. While these classes will teach you the necessary skills, make sure to check with your state's specific regulations on the licensing you need in your area.
What is Microblading?
Microblading is much like tattooing. But it is semipermanent, meaning the ink will fade over time; because of this, the procedure will eventually need to be repeated. In this form of pigment implementation, the artist cuts individual hairs into the eyebrow area, using ink to dye those cuts to make them look like actual hairs.
Microbladed brows typically last anywhere from 18 to 30 months, depending on the person's skin type and facial care regimen. But all clients will eventually need touchup applications, as time goes on. As the microblading artist, this necessity provides some financial security, in that your clients will eventually need to return to you.
Because there is blood involved, microbladers need to take extra precautions to ensure the safety of themselves and their clients. Most aspiring microblade artists will need to receive a certification in Bloodborne Pathogens before they can become licensed; this is a requirement in most states. That one-hour course can be completed online through the OSHA website for $24.95.
It's always best to check your state's website for any additional requirements, just in case there is something that might hinder you from being approved to offer this service in your area.
Related: Beauty Services That Don't Require a Cosmetology License
6 Best Online Microblading Courses
Online microblading courses offer a certificate of completion that proves you finished the course. There are no accredited microblading courses, either online or in-person. In most states, a microblader would instead follow the guidelines for tattoo artists, which is a separate requirement that cannot be skipped, no matter which course you choose to complete. The following microblading courses are credible options backed by real student reviews.
1. Sassy Wink Academy Microblading Essentials (My #1 Pick)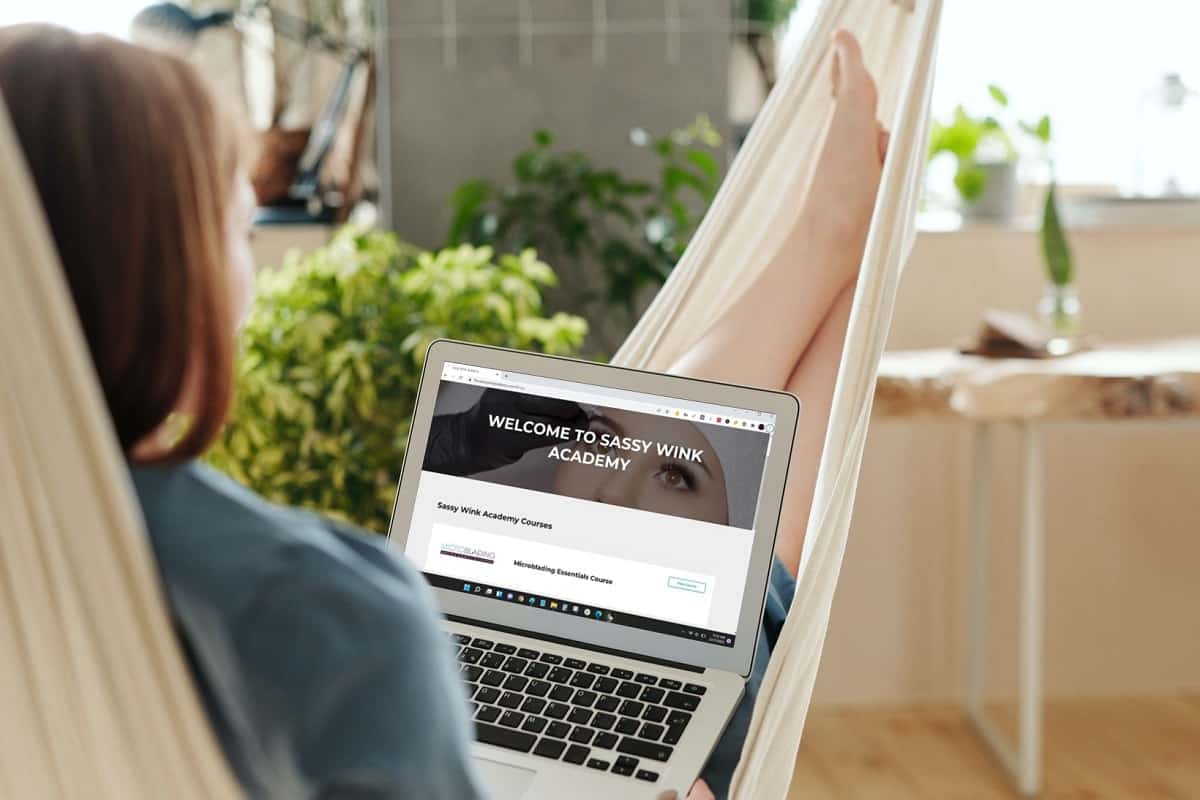 Microblading Essentials by Sassy Wink Academy is the best online microblading course with a certificate of completion. When it comes to learning all there is to know about microblading, this course is well-organized, detailed, and thorough. After I completed the course, I couldn't come up with a single major question that hadn't already been addressed in the training.
Amber, the creator of Sassy Wink Academy, has more than seven years of experience performing microblading services, as well as teaching others who have gone on to become professionals in the field.
Sassy Wink Academy provides microblading training online in a virtual classroom setting. The closeup videos are professionally recorded from an angle that offers a better view than looking over an instructor's shoulder in person. You can take the lessons at your own pace, and you will have access to the training center for a full year. There are options to receive one-on-one support for extra guidance, including a free 30-day trial to help you through the meat of the course.
When you pay the tuition in full instead of in payments, you will receive access to the online microblading course, with a kit. Sassy Wink Academy is highly sought after because of its thorough information, the instructor's abundance of knowledge, and the overall high level of care. The course includes video demonstrations of the entire process and a printable workbook with practice sheets, client forms, and more.
I enjoyed learning how to become a microblader from home. It's a special skill set that requires a steady hand, the ability to follow instructions, and hours of practice before you can even begin to work on people. With Sassy Wink Academy, the goal is to have you feeling confident, starting with your very first client.
While the course itself can be completed from start to finish within a week or two, depending on your dedication, the practice involved can and should take much longer. But when it involves applying semi-permanent makeup on a person's face, you want to take the additional time that's needed to learn the skill well so that you can do a great job from the start.
Get started with Sassy Wink Academy for free to see if Amber's teaching style and approach to microblading are right for you. I personally love her microblading technique. She demonstrates how to do each stroke in the best way to create a natural-looking brow on every client. Additionally, she approaches each client's needs differently based on his or her skin type, color, natural bone structure, preference, and more. And she teaches you how to do the same!
Related: Sassy Wink Academy Review
2. SCALPA
SCALPA founder Bryce Cleveland created his online academy to be a place where beauticians can come to find success in the microblading industry. SCALPA offers a free online microblading course to help you get started. The course is comprised of a simple VR recording of live, in-person training, and also offers pages upon pages of written material. This is definitely a course put together for self-starters who are ready to further their knowledge in microblading.
The SCALPA site provides constant access to the free microblading course, but you will only receive a certificate of completion if you purchase the company's microblading kit. The free course teaches pre-care and post-care treatment, how to use all of the parts of the kit, how to perform the microblading procedure, and more.
The site is definitely geared toward selling microblading products versus providing a greater course experience, but it is a legitimate free introduction course for students who aren't sure if microblading is right for them. Do not rush into purchasing a kit from SCALPA, because you might eventually decide to complete a higher-quality training with a free kit instead.
Related: Become an Eyelash Technician
3. MyBrow Academy
MyBrow Academy is a faster-paced online microblading course that is focused on teaching students who are dedicated to meeting their goals. At first glance, it may look like a cheaper option that takes less time to complete than most. But this academy actually breaks up different techniques into separate bundles.
In order to offer its course at such a low cost, MyBrow Academy doesn't offer a free kit with the program. You will need to shop for supplies on your own.
MyBrow Academy claims to provide theoretical and practical lessons to make sure new microbladers are ready to become licensed as tattoo artists, following completion of the course.
Depending on which bundle you choose to take, you will have either 45 days or six months to complete the lessons. There are extension options available at no additional cost, but make sure to understand the terms of your extension agreement to avoid having to pay additional fees, should you need more time.
Related: Best Creative Small Business Ideas
4. Beauty Angels Academy International
Kler Rosenburg launched Beauty Angels Academy International in 2019 as a PMU (permanent makeup) Academy. This course offers many options to get you started in the microblading industry. Three of the four online microblading courses include a free kit.
Students who have taken this course have gone on to make six figures in their microblading careers; some of them earned that in their first year of business alone. Take the dual microblading and advanced shading courses to get your best foot forward. You will receive a certificate of completion with International Recognition as a Permanent Makeup Artist.
Beauty Angels Academy International offers courses in both English and Spanish, to fit the needs of students from different backgrounds.
5. Art of Beauty
Art of Beauty is a top-rated microblading training course. Its online microblading offering is trademarked PhiBrows, and students who take it learn how to become PhiArtists. With the purchase of the course, you will also receive six months of ongoing support and supervision. This course is available to beginners, as well as microbladers who have experience and want to brush up on their skills.
Take your time completing all of the lessons and practices. You will gain access to several resources, guides, and videos, and will also receive a microblading kit to help you start practicing right away. After you complete the online course, you will receive PhiBrows' microblading certification online.
Related: Best Home Business Ideas for Stay-at-Home Moms
6. Real Eyez Beauty
Real Eyez Beauty is an in-person and virtual classroom; in 2011, it began offering microblading as one of its available courses. Today, participants can take the online microblading course, to give themselves a foundation of knowledge. You can access the course online and through the app.
In order to receive a certificate of completion with Real Eyez Beauty, all students must submit pictures of at least five before and after samples of their work. The coursework can be completed in as little as three months. There are more than 2,000 Real Eyes Beauty microbladers working in the industry today.
Related: How to Become a Makeup Artist
Microblading Online Course for Free
While it might look like there are many free microblading courses online, not everything is as it seems. Either you'll get what you (didn't) pay for, or there is a catch (like you are required to buy a kit to actually get credit for taking the course).
Free microblading courses are usually designed to simply introduce you to the trade. These classes won't always provide you with the quality, exceptional training that you will need to become an artist in this field. An investment in yourself and your new career is the best way to begin in the microblading industry.
If you want to see if microblading is right for you, consider joining a free workshop with Amber from Sassy Wink Academy. After you take her 30-minute workshop, you will walk away with a better understanding of what you need to do to become a successful microblader. Of course, you won't actually learn the full skill in such a short time.
Related: How to Become a Social Media Influencer
Online Microblading Courses Can Be Repeated
As appealing as in-person microblading courses might sound, those are more of a "one and done" deal, whether you feel confident in your microblading skills or not. This means that once the course is completed, you're on your own. But online microblading courses can be repeated, and many of them come with extra support.
Taking a microblading course online not only accommodates your busy schedule, but also gives you the opportunity to watch the lessons over and over again. Repetition is key in learning this new skill and technique. If you'd be ready to cut into a person's face after just a few days of training, you might be superhuman. For most of us, repetition and practice will go a long way in finding our confidence to microblade.
All of the online microblading courses listed above are designed to get you to the point where you are ready to practice on real clients. From there (in most states), you will need to pursue a tattoo license to practice microblading and complete an online bloodborne pathogens course with the American Red Cross or OSHA. Then build your client base quickly after you are licensed, and potentially make a six-figure income.
We appreciate the time you've spent reading this post and your interest is not lost on us. Your thoughts, questions, or experiences related to the topic are most welcome. Each comment adds strength to our community. We ensure every comment receives our attention, and we take the time to provide thoughtful responses. Once again, thank you for being a part of this conversation. Click here to leave a comment.