How to Start a Laundry Service Business From Home
We foster relationships with brands we use and trust. The testimonials on our site represent real experiences, but they don't guarantee you'll achieve similar results. When you make purchases through our links to our partners, we may earn a commission. Your support helps us continue this work. You can read our full disclosure here.
Doing laundry is a never-ending task and takes quite a bit of time to complete. There are often multiple loads per day to take care of, especially for families with little ones. This means that learning how to start a laundry service business can be a golden opportunity.
As a mom, I can think of how much time and energy I could save by having someone come to my home to help me with my family's laundry. I would even be willing to drop off and pick up a few loads each week. All the little socks for my kids' feet, the potty training (aka constant outfit changes), and just the overall demands of having kids make it so that I am swimming in laundry daily.
Thankfully, there are people who offer this life-saving service to help people like me. You don't have to stop at just helping families with kids either. It's a great opportunity to partner with construction crews, mechanic shops, and other messy businesses that require lots of loads of laundry.
Take advantage of this much-needed service and learn how to start a laundry service business that helps families, the elderly, and anyone else in need of your services.
What is a Laundry Service?
A laundry service is a business that focuses on cleaning, drying, and neatly organizing laundry. It can also include ironing, hanging, and putting away those clean, dry clothes. This service is similar to a house cleaner. You would come into a client's home and help them with their laundry or arrange to pick up the laundry and complete it in your own home.
Does a Laundry Service Require a License?
It is a good idea to inquire about obtaining a business license for any kind of business you start. Check with your local licensing offices to ensure you are compliant with your state's requirements.
That being said, there are no specific current requirements for laundry service-based businesses that provide the service in someone else's home. There are requirements for laundromat-type businesses. However, for you to have your own business providing this service, there is no set requirement.
Related: How to Become a Sleep Consultant and Earn $100k+ a Year
Other Laundry Service Requirements and Qualifications
Someone with a laundry service business needs to be detail-oriented, thorough, and have great customer service skills. These skills will help you to serve your clients and keep them coming back.
A laundry service provider is also discreet and trustworthy. Clients want to be confident that you won't go through their belongings, steal from them, or talk negatively about their personal items with others.
Laundry Service Salary or Pay Expectations
According to Indeed, a laundry worker makes roughly minimum wage. However, these salaries are based on people who are employed with a facility that provides laundry services inside of a business. These positions can be found in hospitals, hotels, nursing homes, laundry facilities, etc.
It's important to understand that when you own a laundry service business, you can charge a rate that is more comfortable for you and more aligned with that of a house cleaner. There is no salary reported yet for laundry service business owners.
Related: How to Get Paid to Spend Time With the Elderly
7 Steps to Start a Laundry Service Business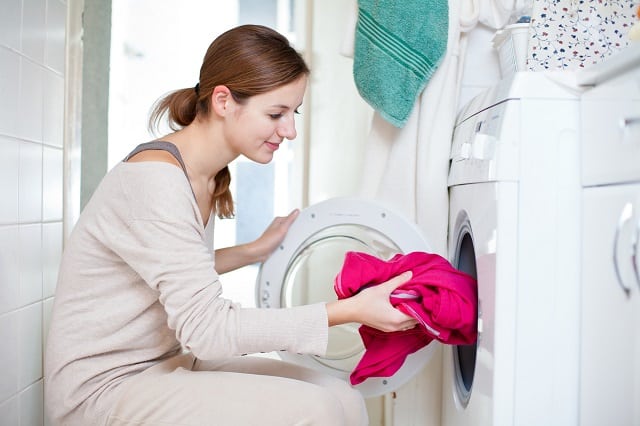 As with any business, it's important that you have steps to follow when starting out. The steps laid out in this guide will help you understand how to start a laundry service business successfully.
1. Make a Business Plan
Before you do anything, it's important to have a business plan in place. This will include setting goals for yourself in terms of how much money you want to make, how many hours per week you want to work, and how you will make that money.
A business plan also accounts for expenses so that you are prepared. This plan is meant to guide you as you start so that you know where you are going in your business and how you can grow. Keep in mind, that the first two years of any new business are not typically profitable. It's important to know where your income will come from to help bridge the gap in your income.
Related: Best Jobs for Stay at Home Moms
2. Get Your Business License and Insurance
A business license is great to have, especially if you are going to establish a business bank account. You will need to have your business license as proof that you are a legitimate business that can have an account.
Additionally, clients are more willing to trust someone who has a business license. This extra effort to make yourself legitimate reassures clients that you will follow through with the services you are advertising to them.
Insurance is an important part of any service business. It can cover problems that can potentially happen when dealing with a client's personal belongings.
3. Decide on Your Services
The best part about owning your own laundry service business is that you can decide what you do or don't want to do. You get to make the decision on the services you provide. This can be a full service wash, dry, fold, and put away service. You might also consider adding in ironing for an extra cost.
In addition, you don't have to offer anything except washing, drying, and folding. However, the more services you offer, the more money you can make. The more convenience you provide to families for their laundry, the more they will be willing to pay.
Related: How to Become a Nanny
4. Gather Start Up Supplies
Consider the types of laundry supplies you will need to invest in to start your services. These items can include:
5. Set Your Rates
Based on the services you offer, you can set the rates for each service. Consider the money you spend on supplies, and the time you use completing the tasks, and then base your rates on that. Make sure to take a look at the rates that similar businesses charge in your area. You want to make sure you aren't charging too little.
If there aren't any other services like yours near you, then test out your rates with select clients first before offering your services to the public.
Related: How to Start an In-Home Daycare
6. Advertise Your Business
Take advantage of all the marketing strategies you can implement to announce your new business. You can advertise with an ad in the paper, make flyers for your neighborhood, or create a sign for your lawn so that neighbors can see.
Don't forget the magic of social media to advertise your laundry service business. Join Facebook groups in the city you are servicing like neighborhood groups. Post on Facebook Marketplace and make frequent posts to your own newsfeed to tell family and friends about your business. Consider creating an account on Instagram and boost your business there as well.
7. Collect Reviews
One of the best marketing strategies is having good reviews and testimonials. Collect them from each satisfied client. You want to make sure potential future clients know that they will get stellar service and that you are worth every penny.
Related: Get Paid to Advertise for Companies
Questions New Laundry Service Business Owners Are Asking
Now that you know how to start a laundry service business, take a look at some questions new business owners are asking.
Is laundry service a good business?
The term "good" means something different for everyone. If you are wondering if a laundry service business is lucrative, then the answer is yes. Consider how many families in your area could use your assistance. Think of all the work from home parents who can use a "mommy's helper." If you can advertise yourself correctly, you could potentially be sitting on a gold mine.
How much should I charge to do someone's laundry?
There is no set rate to go off of when it comes to doing other people's laundry. Consider the time you will spend at a person's home doing their laundry and charge for your time.
What is included in laundry services?
A great part of owning your own business is that you can decide what is included in your services. Choose to offer minimal services or add more options for your clients. Try out the different services to see which ones you like best and which ones you don't want to offer.
Can you make money doing other people's laundry?
Yes, you can definitely make money doing other people's laundry. This service is considered a convenience and one many are willing to pay for. It saves time and a little bit of sanity for people who don't have to do it themselves. Also, laundry services can help with the upkeep of a home in general.
Is it hard to have a laundry service business?
Any business can be difficult to run no matter the type. You have to keep up with your income, expenses, taxes, and generate consistent clientele to stay afloat. If you hire anyone else to help you, you have to make sure you are paying them in a timely manner and reporting their income for tax purposes as well.
There are many behind-the-scenes tasks you need to do as a business owner. While it isn't easy to do, it isn't impossible.
Related: Best Delivery Driver Apps
Who Should Start a Laundry Service Business?
Anyone who is dedicated, trustworthy, and committed would do well with starting a new venture in the laundry service industry. Whether you want to make this a new career completely or just earn an extra $1,000 per month, this is a great way to pad your wallet.
You have to be someone who takes pride in your work and can work diligently in other people's homes. This means you need to be efficient with the tasks you are completing in the timeframe the client is paying you to be there.
In-home laundry service businesses may not be widely popular right now, but that doesn't mean you can't be successful with your own. Find the right people who need your help and serve them well. This will give you repeat clients and can generate referrals to more clients. Take time to put your business plan in place, complete each step listed in this guide with precision, and you will be well on your way to creating a successful business providing laundry services.
Related: How to Start a Home Bakery and Sell Delicious Treats
---
We appreciate the time you've spent reading this post and your interest is not lost on us. Your thoughts, questions, or experiences related to the topic are most welcome. Each comment adds strength to our community. We ensure every comment receives our attention, and we take the time to provide thoughtful responses. Once again, thank you for being a part of this conversation. Click here to leave a comment.