How to Become a Microblader and Set Up a Home Office
Try Bingo Cash, the ultimate bingo app for turning your skills into extra cash while enjoying colorful and engaging head-to-head matches. Win up to $83 per game and experience the classic bingo thrill in the comfort of your own home. Test your daubing skills and become a big winner today!
Bingo Cash™ is FREE to download and play! However, cash tournaments are not available in the following states: AZ, IA, LA, SC & WA.
I recently had my eyebrows microbladed and I love it. It saves time on applying makeup, looks natural, and makes me feel good when I look in the mirror. My friend did them for me out of her home office and it was interesting to learn from her how to become a microblader.
My friend and microblade artist is a busy mom who balances homeschooling with microblading clients. This is a great opportunity for other moms needing to make money from home to learn how to microblade.
After my experience with microblading and hearing from others how great their experiences have been with it as well, it is clear to me that microbladers are making an impact in people's lives every day.
If you have considered learning a new skill, consider becoming a microblader. It doesn't require in-person training which means you can get the required certification completely online. And once you have completed the training, you will be able to make your own schedule and either open up your own in-home office.
One of my favorite sites, Swagbucks, offers tons of ways to earn real cash online. If you're not already a member, give it a shot! Here are five things you can do to make easy money on the site:
Play games (up to $322 each)
Test apps (up to $150 each)
Submit receipts (easy cash)
Shop at your favorite stores (up to 10% back)
Answer surveys and polls (quick cash in minutes!)
Our Popular Free Guides
How to Start a Permanent Jewelry Business - If you are patient, have social skills, and love interacting with others, then a permanent jewelry business may be for you.
How to Become a Sleep Consultant - Help parents and babies, and be the difference for families worldwide who are desperate for more Zzzs in their life as a sleep consultant.
How to Become a Proofreader - There are five basic steps to working from home as a proofreader. As long as you're willing to put in the work, you can become a proofreader!
What is a Microblader?
A microblader is a sort of a mix between a makeup artist and a tattooist. Microbladers are known for sketching semi-permanent eyebrows on clients' faces. With small handheld tools, a microblader adds pigment to the skin, which can last on a person from one to three years.
With the handheld tools, the microblader manually draws hair strokes on a client to create natural-looking eyebrows with a light or bold finish. This technique gives an illusion of full eyebrows.
To demonstrate the before and after of a microblading session, here is a picture of my personal results.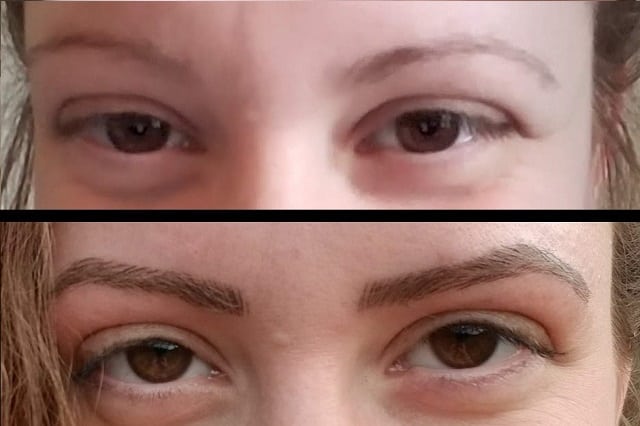 Does a Microblader Require a License?
Microblading is a beauty service that doesn't require a cosmetology license. Because it is considered a tattoo type of service, however, a microblader should have appropriate training and certification in order to be considered a practiced professional.
Depending on the state you live in, the requirements will vary. Some states require you to complete an apprenticeship program. Other states may also require an establishment license. Check with your local licensing agency to inquire which license, certification, or program you need to complete to become a microblader.
Related: How to Become a Graphic Designer
Other Microblader Requirements and Qualifications
Each state will vary in requirements. However, some things you can expect that will be required include being 18 years of age or older, training in bloodborne pathogens, and some required vaccinations like Hepatitis.
Other qualifications of a microblader might include someone who is patient, has a steady hand, and takes pride in their work. You want to be someone clients keep coming back to when they need touch ups.
Microblader Salary or Pay Expectations
When I looked up how much a microblader makes yearly, ZipRecruiter reported that the national average annual salary is $76,019. This equates to nearly $37 per hour. Some annual salaries reported are as high as $398,000 and as low as $18,500. Your salary will vary depending on the area in which you live and serve plus your experience level.
According to Sassy Wink Academy, clients can expect to pay an average of $450 per microblading session. Your skill, precision, and artistic abilities are worth the price.
Related: Best Jobs for Stay at Home Moms
How to Become a Microblader in 7 Simple Steps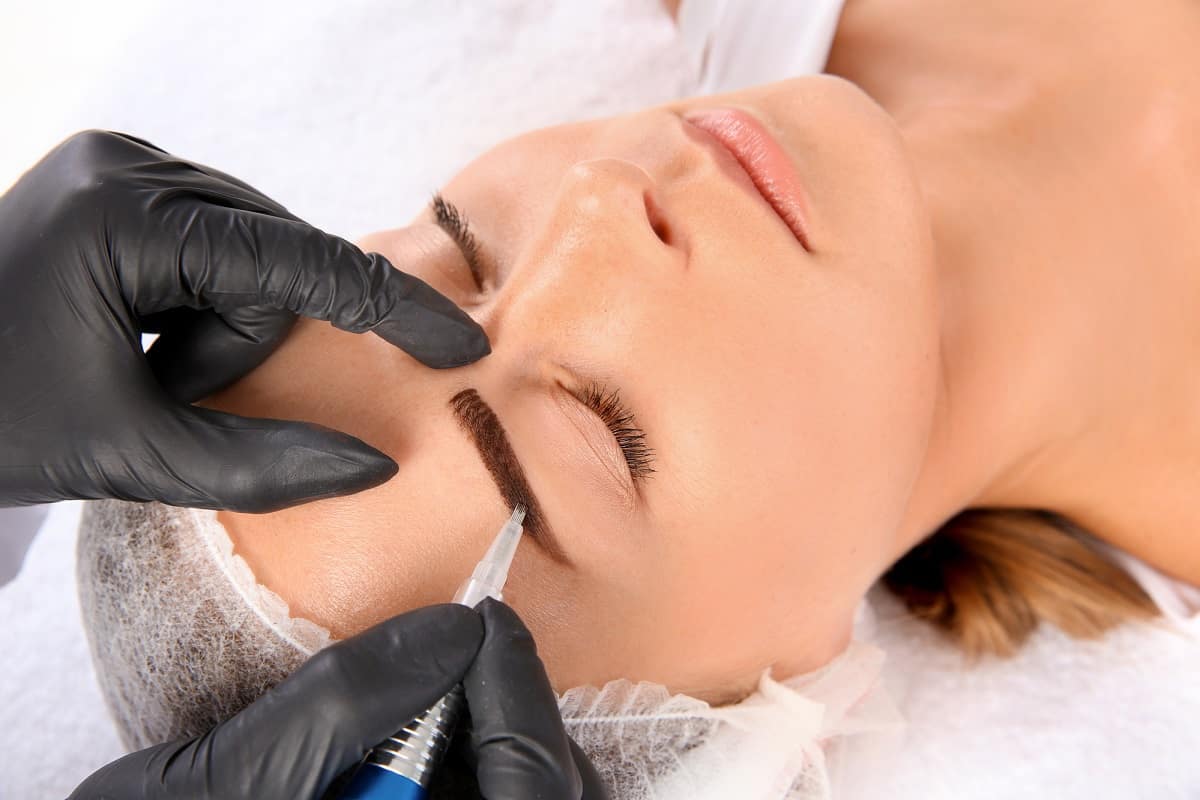 The following steps will help ensure you start on the right foot toward becoming a microblader. This career isn't something that can happen overnight, but if you stay on top of each step, you will soon be on your way in this new venture.
1. Find and Complete the Required Training Course(s)
You will need to take an accredited microblading course that offers a certificate of completion. I went through an online training called Microblading Essentials by Sassy Wink Academy.
Initially, I wondered if learning the art of microblading could truly be done all online, but quickly I realized that watching the training videos felt just like I was peaking over my teacher's shoulder while she did the work.
After I was about halfway through the training, I couldn't imagine taking the course in person with so much information being thrown at me in such a short amount of time. Most local classes are only three days long, and unless you get great video recordings (if your teacher even allows it), you won't be able to watch your teacher repeat the process like you can with an online course.
With Sassy Wink Academy's Microblading Essentials course, you can set the playback speed to either slow down the demonstrations or speed them up if you're watching them for the umpteenth time. You do not have to dive right into microblading on a human face in order to get practice just three days after learning the skills in a local class.
Additionally, if paid in full, the course comes with a complete microblading kit that you can use to practice for as long as it takes until you feel confident in your microblading skills.
Related: Review of Sassy Wink Academy
2. Review Your State's Requirements
Each state's requirements will differ. The first step is understanding the requirements specific to you and where you live. Usually, microblading will fall under the license and regulations of a tattoo artist. If your state doesn't regulate tattooists, then it may not regulate microblade artists.
To find your state's requirements, do a Google search for "microblading requirements in [your state]." Look for authority sites that end in .org or .edu, and compare results in multiple sources before proceeding. Once you have learned what your state requires of you, then you can begin your journey to becoming certified.
Many states require bloodborne pathogens training as well. Sassy Wink Academy covers the basics on this topic but recommends that you complete an additional course for your own safety and for the safety of your clients.
You can take a one-hour course online through the OSHA website for just $24.95 and receive a certificate to post in your work area. Even if your state doesn't require the certification, it's an inexpensive way to keep your clients and yourself safe.
3. Network With Professional Microbladers
If you've had your eyebrows done, connect with the technician who completed the job. One of the best ways to learn the ropes is to network with those who have already completed the training process. Get to know people, ask for tips, and find out if it's been difficult to find clients in the area.
If you haven't had your eyebrows done yet, now would be a good time to do it. If you're not willing to have the process done on your own face, it will be hard to sell it to others after you become a microblader.
Related: How to Become a Copyeditor
4. Apply for Apprenticeship
Some states require you to complete an apprenticeship program before you can begin taking on clients of your own. This means you are receiving hands-on, in-person training from someone who has the knowledge and experience already as a microblader.
An apprenticeship can take anywhere from six months to a year. Take a look at your state's requirements to ensure you stay in your apprenticeship for the required amount of time before you can begin working on your own. An apprenticeship will be beneficial to enhance your skills and give you real-life exposure in the industry.
Related: How to Become a Social Media Influencer
5. Set up a Home Office
When I had my eyebrows microbladed in a friend's home office, it felt like a mini spa experience. She had a microblading bed/table, and plenty of clean supplies. She also ran a diffuser with lemon which added to the ambiance of her office.
Setting up a microblading office in your home doesn't have to be expensive or overwhelming. Try to choose a room that is bright, easy to access from the entrance of your home, and near a bathroom. Remove all clutter from the room and dedicate it to your microblading services. This will help your clients feel calm and like they are in a professional office setting.
If you have children, you will want to work around their school or nap schedule. Clients will not enjoy kids running around while they are paying for your service. During off hours, consider hiring a babysitter to watch the kids while you work.
Related: How to Get Paid to Go to School
6. Market Your Services and Skills
Once you have received your license and/or certification, begin telling everyone about your new skill and business as a microblader. Take to social media to post about it on your personal accounts, create your own business pages, and join Facebook groups that are relevant to local areas you will serve.
Share lots of before and after pictures of your clients as you build your portfolio. Potential clients love to see the results of your talents.
Make posts as much as possible to continually remind your followers of your service. Offer discounted services to start or special deals to entice others to become clients.
Related: Become an Eyelash Technician
7. Collect Testimonials
Getting clients in the door can be done by word of mouth as well as through testimonials/reviews. Most of us make purchasing decisions based on reviews we see. The same goes for making decisions on someone who will provide us a service.
Request reviews from your clients to help boost your credibility and get the word out about your great service. The best compliment any service person can get is a glowing review. Use the reviews on your social media and/or websites to help future clients make the decision to pay you for your microblading services.
Related: How to Become a Filmmaker Without Film School
KashKick is a great find for gig workers, offering many ways to make extra money doing what you enjoy. Try it out - it's free! Here are five easy ways to start earning money on the site:
Play games (up to $125 each)
Test apps (up to $125 each)
Buy lottery tickets (an easy $8)
Try popular brands (always changing)
Answer surveys (quick cash in minutes!)
Questions New Microbladers Are Asking
If you are intrigued about learning how to become a microblader, then consider the questions new microblading artists are asking to help you make an informed decision. One of the best ways to learn is by reading through others' experiences and questions.
Can anyone become a microblader?
If you are over the age of 18, you have a good chance of becoming a microblader as long as you can meet the qualifications to obtain your license and/or certification.
Additionally, consider your health before you start the process in this new venture. Ask yourself if you have steady hands, blood disorders that could potentially transfer, or epileptic issues that could lead to potentially hurting a client. The safety of you and the clients is the most important aspect.
Is becoming a microblader worth it?
You will have to determine this answer for yourself. What is worth it to you might not be what someone else would consider worth it.
If this is something you are interested in and want to pursue, then give it a try. The salary projections are high and the demand for this service continues to grow. You won't know if it is worth it unless you try.
Related: How to Become a Clothing Tester
Is microblading difficult to learn?
The term "difficult" is subjective. What might be difficult for someone else might not be difficult for you. Microblading takes time and patience to learn. It isn't something that can be taken lightly.
Your skill will need to be perfected and how to engage with clients during these sessions will take time to adjust to. It might not be difficult for you, but it does take time.
Is it hard to get microblading clients?
You can get clients several ways. It will take time to build up your clientele base. As long as you are keeping updated with your social media posts and marketing yourself when you can, your clients will come to you. Provide them with stellar service so that they will want to come back for touch ups and refer you to their family and friends.
How in demand is microblading?
According to the Bureau of Labor Statistics, microblading falls under the skincare specialist occupation which is projected to have a faster than average increase in job demand in the next decade. It is projected to have a 29% increase by 2030.
Related: Best Stay at Home Mom Business Ideas
Who Should Become a Microblader?
A prospective microblader is someone who is ready to commit to taking the right microblading courses to become licensed and/or certified. This person is ready to take their new career seriously and commit to being the best they can be with their new skill. Someone who is wanting to become a microblader should be dedicated and patient.
If you're looking for a slower career with little to no effort on your part, then this career is not for you. You will need to wear many hats in the beginning to learn, market yourself, and service your clients. It will be worth it once your clientele is built and the money is steadily coming in.
The need for microblading is rising; don't miss your chance to jump on this career wagon and live the life you envision for yourself.
---