How to Become a Doula and Support Birthing Women
One of my favorite sites, KashKick, offers tons of ways to earn real cash online. If you're not already a member, give it a shot! Here are five things you can do to make easy money on the site:
Play games (up to $125 each)
Test apps (up to $125 each)
Buy lottery tickets (an easy $8)
Try popular brands (always changing)
Answer surveys (quick cash in minutes!)
Giving birth is one of the most exciting, exhausting, and wonderful experiences in life. It is only fitting to have a supportive and educated person in your corner when the time comes to deliver a baby.
When I started labor with my second child, it progressed so much quicker than with my first. I found myself birthing in an ambulance on the way to the hospital!
But one thing that stands out to me during that crazy time was how a nurse stopped on her way to work when she heard the emergency call that a woman (me!) was about to give birth on the side of the road. This nurse held my hand and reminded me to breathe through the contractions. She stayed with me until the ambulance arrived and I was safely on the gurney!
While the nurse who stopped to help me wasn't my doula, it was an incredible relief to have her by my side. If you desire to be that support person for a woman who is giving birth, then consider how to become a doula and start changing lives for the better.
Doulas have a special place in the birthing process. As a doula, you can be the difference for a woman to have a positive birthing experience. During a time when a woman is as vulnerable as she can ever be, you can help make her feel comfortable, confident, and empowered with your services.
Take pride in the work you do and leave a lasting footprint on this earth as a certified doula. Helping to bring the next generation into this world is a remarkable thing to do. Use this guide to help you get started in a rewarding career as a doula.
Click the button ⬆️ to subscribe to my YouTube channel where I share real ways to earn money.
Our Popular Money-Making Offers
Sign up with each of the following companies to maximize your earning potential.
$10 sign-up bonus
Pays to take surveys, complete offers, shop online, and much more
100s of other paid tasks
Awards cash and gift cards
$5 sign-up bonus
Pays to play games, watch videos, answer polls, and much more
100s of other paid tasks
Awards cash and gift cards
What is a Doula?
A doula is someone who provides information as well as emotional and physical support during pregnancy, birth, and even postpartum. While not tasked with giving medical advice or performing clinical duties, a doula acts as an advocate for a woman during and after the birthing process. They also provide support to midwives and mothers-to-be during labor and delivery to make things easier.
Does a Doula Require a License?
Certification and training are required to become a doula. The training courses include childbirth classes and breastfeeding education. There are also a required number of births you have to witness as part of your training. The hours you spend in the doula certification can range from 23-28 hours.
If you are considering providing postpartum doula services, additional classes are required for that as well that include home visitation and how to care for infants and mothers. An additional 27 hours of postpartum classes are required.
Other Doula Requirements and Qualifications
To become a doula, there are no educational requirements. A college degree or high school diploma are not mandatory. However, the more time you can spend studying the birth process, the better your chances are at success. Many clients like to see how much education a doula has so that they feel confident in your ability to help them through this anxious time.
Other requirements include having the ability to be able to stay up for long periods of time. Births don't just happen between the hours of 9-5 Monday through Friday so you will need to be flexible and able to stay awake to help the mother-to-be. Additionally, you will need to be caring, compassionate, and empathetic to the women in your care as well as their support partner and/or group.
Related: How to Get Paid to Go to School
Doula Salary or Pay Expectations
The salary for a doula will be different for everyone based on the state in which you live. According to ZipRecruiter, the national annual average salary is approximately $44,000. Keep in mind, this can vary depending on your experience. Some areas in the nation will be higher or lower than this average.
Related: Best Jobs for Stay at Home Moms
How to Become a Doula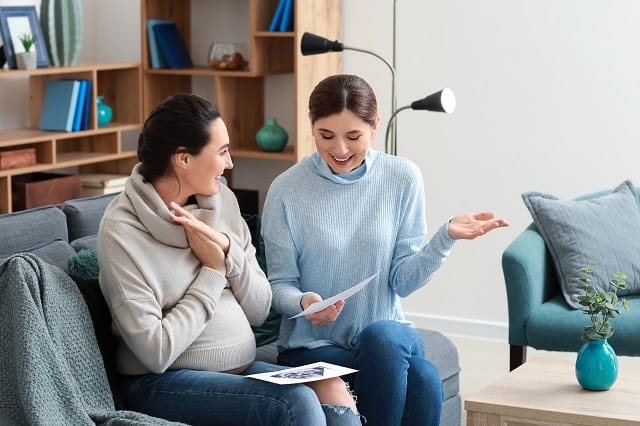 Take the first step to become a doula and make an impact on someone's life. Here is how you can get started with your new career as a birthing support person.
1. Apply for Doula Training
There are several programs that offer doula training and certification. DONA (Doulas of North America) International is a top resource to use to find approved training programs in your area. Some of the training programs require a prerequisite, so make sure you are eligible to apply for the training.
Birth Arts International is another well known organization that offers doula training certification programs and postpartum training. Choose the training option that best fits your needs and enroll in it.
2. Become Certified
Becoming certified takes time and commitment. Being dedicated to your certification program will make all the difference in your success as a doula. You need your certification in order to apply for jobs within a hospital or birth center setting. If you choose to offer these services through your own business, a certification will be helpful in landing clients.
Complete one of the programs mentioned above. Use the step-by-step guides to keep track of your progress and plan accordingly to ensure you are completing tasks on time. Once you have completed all requirements, your certification will be issued to you.
Related: How to Become a Proofreader
3. Collect Testimonials
Testimonials from past clients will be the best way to grow as a doula. Similar to seeking reviews on products before you purchase them, testimonials will give prospective clients insight into how you are as a professional.
Ask for testimonials from your previous clients and instructors, post them online for others to see, and reference them when advertising your services. Testimonials are the key to attracting clients to your service.
More Popular Money-Making Offers
Earn more money in your spare time with these reputable companies.
Free PayPal cash
Paid surveys and web searches
Earn easy cash back
Get paid directly to your PayPal
PayPal, Visa, Amazon, etc.
Pays you to do NOTHING (with SJ Pulse)
Simply install the software
Participate in paid surveys & studies
4. Set Rates for Your Services
Having your own business as a doula means you can set your own rates and price packages according to the amount of money you want to make. Some doulas will have personalized packages and prices based on what the client wants in her birth experience. Research the average cost for the services you will offer in your area to make sure you are pricing yourself within that range.
Additionally, you can raise your rates for your services after each client you serve. Each client means more experience, which makes you more valuable. Set your rates and don't be afraid to increase them when you are ready.
Related: Get Paid to Read Books
5. Advertise Your Services/Apply to Positions
Start advertising your services immediately following the completion of your certification. If you want to start out working for a hospital or birth center, begin looking for those opportunities in your area. Don't wait for opportunities to come to you; advertise or apply as soon as possible.
A great way to spread knowledge of the benefits of a doula's services is to start a blog to detail your journey. As local moms follow your story and learn of your expertise, they will come to you over time.
Questions New Doulas are Asking
The best thing you can do before starting a new career is research as much as possible. The following questions are being asked by new doulas and can help you with learning how to become a doula.
Are doulas in demand?
Backed by evidence that a doula improves childbirth outcomes, more and more mothers-to-be are seeking doula support for their birth process.
How do I get my first doula client?
Advertising yourself as much as possible can help with getting your services in front of the right person to be your first client. Join Facebook groups specific to pregnant women, connect with other doula networks, ask for referrals, and offer your services at a discounted rate for being your first client.
Related: Get Paid to Color
Is it worth becoming a doula?
If you are passionate about improving the lives of women and families again and again through birth and postpartum, then it is absolutely worth becoming a doula. This career is rewarding and gratifying in many ways. A career that focuses on assisting with bringing new life into this world can't be beat.
Is it hard to become a doula?
In short, the answer is no. It is not hard to become a doula if you are dedicated, have good time management skills, and are willing to put in the work. The passion and drive must be real for you to flourish as a professional in this line of work.
How many clients can a doula have?
This is completely up to you and how many clients you are willing to take on. There has to be some strategic planning around the due dates of the women you accept as clients. For example, you wouldn't want to have multiple clients due around the same time because you need to have rest between births.
Additionally, you wouldn't want to take the chance of your clients having their babies at the same time and not being there for one of them. The beauty of this profession, if you are working for yourself, is that you get to choose your workload and plan around the lifestyle you desire.
Related: How to Become a Freelance Writer
Who Should Become a Doula?
The perfect doula is someone who truly cares about the birth experience for the mother-to-be as well as her baby and others in her family. Bringing a baby into this world impacts all those in the mother's life; therefore the birth experience will be important for everyone. It will be your responsibility to help guide the mother and her family into a positive birthing experience.
Additionally, you should be someone who clients can count on to be there when they need you most. The clients aren't just financially invested in you but emotionally as well. They will look to you to help calm the storm they are feeling internally.
Becoming a doula can be a life-changing career choice for you and those you serve. Take pride in this honor and be the best doula anyone could ask for.
Related: Side Hustles for Nurses
---