How to Become a Babysitter (or Full-Time Nanny)
Try Bingo Cash, the ultimate bingo app for turning your skills into extra cash while enjoying colorful and engaging head-to-head matches. Win up to $83 per game and experience the classic bingo thrill in the comfort of your own home. Test your daubing skills and become a big winner today!
Bingo Cash™ is FREE to download and play! However, cash tournaments are not available in the following states: AZ, IA, LA, SC & WA.
As a mom, I understand the value of babysitters. There are many days and nights when I need to call on a babysitter in order to be able to step away for some errands or have a date night. Babysitters are definitely in demand and this guide will show you the steps of how to become a babysitter (or nanny).
While babysitting can be a fun job that includes playing, creating, and exploring with children, it is also a job that holds much responsibility. If you are someone who is responsible, but can also get on the level of a child to entertain them, then babysitting might be the perfect job for you.
Meet new people, explore your local area, and make some great memories along the way with families you babysit for. There is not a more rewarding job than being able to help shape, teach, and mold a child into the person he/she is meant to become.
One of my favorite sites, Swagbucks, offers tons of ways to earn real cash online. If you're not already a member, give it a shot! Here are five things you can do to make easy money on the site:
Play games (up to $322 each)
Test apps (up to $150 each)
Submit receipts (easy cash)
Shop at your favorite stores (up to 10% back)
Answer surveys and polls (quick cash in minutes!)
Our Popular Free Guides
How to Start a Permanent Jewelry Business - If you are patient, have social skills, and love interacting with others, then a permanent jewelry business may be for you.
How to Become a Sleep Consultant - Help parents and babies, and be the difference for families worldwide who are desperate for more Zzzs in their life as a sleep consultant.
How to Become a Proofreader - There are five basic steps to working from home as a proofreader. As long as you're willing to put in the work, you can become a proofreader!
What is a Babysitter?
A babysitter cares for someone else's child and gets paid to do so. Babysitters are often booked for a set timeframe to watch over the child(ren). This is typically done in the family's home, not where the babysitter lives. Babysitters can be tasked with playing with the child(ren) and making them meals.
What's the Difference Between a Babysitter and A Nanny?
The main difference between a babysitter and a nanny is that nannies usually incorporate some light housework into their duties. Babysitters focus on just caring for the child(ren). A nanny is someone who becomes like part of the family caring for the child on a regular basis and helping the family with household chores. A babysitter is hired for a short period of time, typically during the day or evening for a few hours.
Related: How to Start an In Home Daycare
Does Babysitting Require a License?
Typically, it is not mandatory for a babysitter to have a license if the babysitter is not providing care in their own home. Babysitters travel to the child's home instead and there is no certification or license required to do that.
However, if you are someone looking to become a babysitter from home, check with your local licensing office to determine what kind of license you will need. Each state has a different standard that determines if an in-home provider needs a license. The type of license will differ depending on many factors. If a babysitter is providing care in his/her own home without a license, there can be serious consequences.
Related: Best Stay at Home Mom Jobs
Other Babysitting Requirements and Qualifications
Babysitters don't usually need any schooling to become eligible to care for children. However, it is highly recommended to become CPR/First Aid certified. In the event that there is an emergency situation, it is an added comfort for parents to know that you can help their child during that time.
There are babysitting courses you can take as well to get a deeper understanding of the job and how you can become the best babysitter. Additionally, use Care.com to find articles and resources for babysitters and nannies including age-appropriate activities for children, what nannies should ask during an interview, how much you should charge as a babysitter, and more.
Care.com is an online platform used to help connect caregivers with families who need extra hands. Whether it's a quick night out or a long-term gig, you can find jobs on the platform. Set up your profile, search for families, and start building connections.
Care.com also shows babysitters' ratings from each family you work with so you can easily build your authority as a great babysitter.
Related: How to Get Paid to Homeschool
Babysitter/Nanny Salary or Pay Expectations
Babysitter salaries have a wide range. Your rates will be dependent on your location, experience, and education. As a beginner babysitter, your pay will be on the lower end until you gain more experience. If you are someone who has experience and some schooling around child development, you can charge higher.
On Care.com, you can use the rate calculator to understand how much a babysitter can make. Simply enter in the zip code, years of experience, number of children to babysit, and how many hours per week you are available. This will give you an idea as to how much you could potentially make.
Related: Get Paid to Build LEGO Sets
How to Become a Babysitter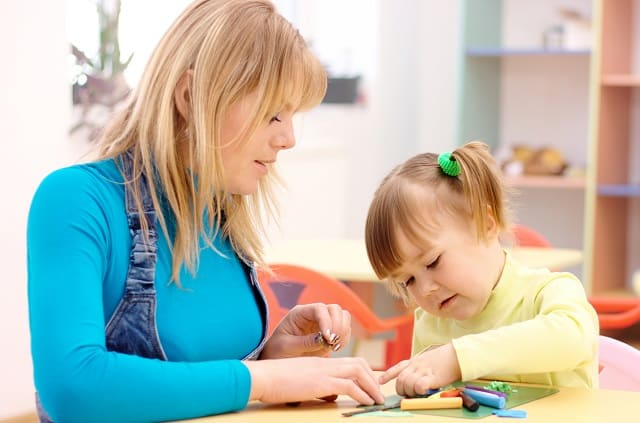 To become a babysitter, there are a few steps you can take to set yourself up for success. Take a look at this guide for the best way to get started.
1. Decide Your Age Group
Babysitting encompasses more than just "baby." Babysitters and nannies can decide the age group they are comfortable caring for, which will determine the type of work available to them. Infants carry a higher stress load because of their lack of independence and complete reliance on you to care for them. On the other hand, older children may be more self-sufficient, but they may require more assistance with things like homework assignments.
Your confidence in caring for children will help determine which age group is best for you. Then again, you might be comfortable caring for all age groups. Take time to consider who you would want to care for before offering your services so that you don't sign up for more than you can handle.
2. Get to Know One Family at a Time
New babysitters might consider starting with caring for one child at a time first. This will help get a better understanding of skills and what the job entails. Start small and watch one child for a couple of hours. Then slowly increase the time with each visit. If you begin to feel more confident, you can add on another family that has two children.
Related: Best Delivery Apps to Work For
3. Collect Reviews/Recommendation Letters
Care.com helps babysitters/nannies find jobs because it allows families to leave a rating of their experience with a babysitter. This rating boosts your credibility and overall chance of being hired for future jobs on the platform.
If you aren't on Care.com, ask for written recommendation letters from the families you serve. This will assist you in applying for jobs with other families and lets them know what previous families thought of your service.
4. Price Your Services
The best part about being a babysitter is that you get to set the rates you want. Do your research on what the average rates are in your area to understand an acceptable range. If you set your price on the higher end, make sure you can back it up with credibility from past experiences, knowledge, and certifications.
5. Send Inquiries and/or Apply to Positions Online
Advertise yourself as a babysitter in your area to begin connecting with families. You can do this through an ad in the newspaper, posts in local Facebook groups, or by joining odd job apps. Find postings from parents seeking a babysitter or nanny and apply for the position depending on the requirements.
Related: Poshmark Review: How to Sell Clothes Online
KashKick is a great find for gig workers, offering many ways to make extra money doing what you enjoy. Try it out - it's free! Here are five easy ways to start earning money on the site:
Play games (up to $125 each)
Test apps (up to $125 each)
Buy lottery tickets (an easy $8)
Try popular brands (always changing)
Answer surveys (quick cash in minutes!)
Questions New Babysitters/Nannies are Asking
To give yourself even more of a chance at becoming a babysitter, take a look at what other new babysitters/nannies are asking.
Is babysitting difficult?
Depending on the age group of children you choose to work with, there is some level of difficulty. It is already a huge responsibility to take care of children. Overall, a day or night of babysitting typically results in some fun arts and crafts, imaginative play, and memories made.
Is becoming a babysitter/nanny worth it?
If you are someone who has a passion for children and can see yourself working with them as part of a career, then becoming a babysitter/nanny is worth it. Raising the next generation of people who will be responsible for the world is an important job. Becoming a babysitter/nanny plays a role in those little minds and makes it worth it every time.
Related: How to Make $5,000 Fast
How long does it take to learn how to be a good babysitter?
While you can take child development courses or other certifications, the best thing you can do to ensure you are a good babysitter is to learn from the families you serve. This will take some time. Ask questions, understand their needs, and make lasting impressions on their children. You will become better and better in this career the more experience you gain.
How do I start babysitting with no experience?
If you've never had experience caring for children, learn the basics of how to do so by going to a friend's house and watching how they care for their child. Take to YouTube and watch videos about how to care for children. You can even volunteer to babysit children you already know. Additionally, you can volunteer in a church nursery where you can learn from other caregivers around you.
Related: Side Hustles for Nurses
Who Should Become a Babysitter?
The perfect babysitter is someone who takes the health and well-being of a child seriously. If this is you, then becoming a babysitter may be the perfect career for you. Babysitters and nannies do such important work with the children in their lives.
A babysitter should be detail oriented, alert, and ready to have fun with the children they're caring for. Some days you can expect to get paid to watch Netflix with the kids, help them with homework, or encourage them to do chores.
When you babysit children, come with the attitude that each interaction with you will be the most positive and memorable experience you can give them.
Become a babysitter or nanny if you are serious about making a difference in the lives of children. Make a positive impact on the families you serve.
Related: How to Get Paid to Read
---