Sassy Wink Academy Review: Honest Feedback from a Student
We foster relationships with brands we use and trust. The testimonials on our site represent real experiences, but they don't guarantee you'll achieve similar results. When you make purchases through our links to our partners, we may earn a commission. Your support helps us continue this work. You can read our full disclosure here.
The beauty industry is always booming with the next best way for people to look and feel their best. I recently noticed that eyelashes and microblading services are highly sought after. Many of the technicians that perform these services are extremely talented and the finished product is amazing. After recently getting my eyebrows microbladed, it got me interested in how the process works.
I've been amazed at how much I have learned and gained through taking the Sassy Wink Academy microblading training. The content, videos, and techniques being taught in this virtual course are interesting and thorough. I can't imagine anyone being ready to essentially tattoo someone's eyebrows after taking a three-day in-person course with no follow-up training. Truthfully, I believe that Sassy Wink Academy offers great training because of all the online lessons, videos, and worksheets.
I wanted to put together a review on Sassy Wink Academy to help you make the decision about whether or not you may want to pursue a career in microblading and eyelashes. This review combs through the pros, cons, ratings, and specifics that you should know before enrolling.
Sassy Wink Academy Summary and Quick Facts
Sassy Wink Academy is a virtual classroom for those who are interested in learning how to become an expert in eyelashes and/or eyebrows. Through microblading and prolash technology, Sassy Wink Academy equips aspiring beauty technicians with the skills they need to perform microblading and eyelash enhancements. It is a tuition-based academy that is completed online with some options for in-person training. The projected income for students in this industry is roughly $100k per year.
Sassy Wink Academy Pros
Virtual classroom so you can complete the coursework from anywhere
Access to all coursework for one year so you can complete the work on your own time
Includes a printable workbook with practice sheets, checklists, reference guides, and much more
Includes more than 40 video tutorials to watch as many times as it takes to feel confident in your abilities
Free mentoring and support throughout the course with direct access to the instructor for 30 days
Awards a certificate of completion to prove your diligent study to future clients
Provides a free kit (as long as the course payment is made in full)
Sassy Wink Academy Cons
You will still need to practice (maybe for months) after completing the course before you can take on clients
Live model practice is not always available
Does not teach marketing strategies
Only includes one full demonstration video of a complete client session
Sassy Wink Academy Reviews and Business Rating
Sassy Wink Academy reviews reveal how much this course has changed its students' lives. One previous student mentioned how easy the course was to follow and how it gave her the confidence to go into the field to be successful after training with the academy. Another student mentions how thorough the instructor is, and how much knowledge she has now because of this course.
Sassy Wink Academy does not have a profile with the Better Business Bureau. However, you can find several ratings from satisfied students on its Facebook business page. Currently, reviews on Sassy Wink Academy's Facebook page are 4.6 out of 5 stars. Reviewers share that the online curriculum is in-depth and the instructor is knowledgeable. Others share how well they are doing in their microblading business since completing the coursework.
Related: Become an Eyelash Technician
What is Sassy Wink Academy and How Does It Work?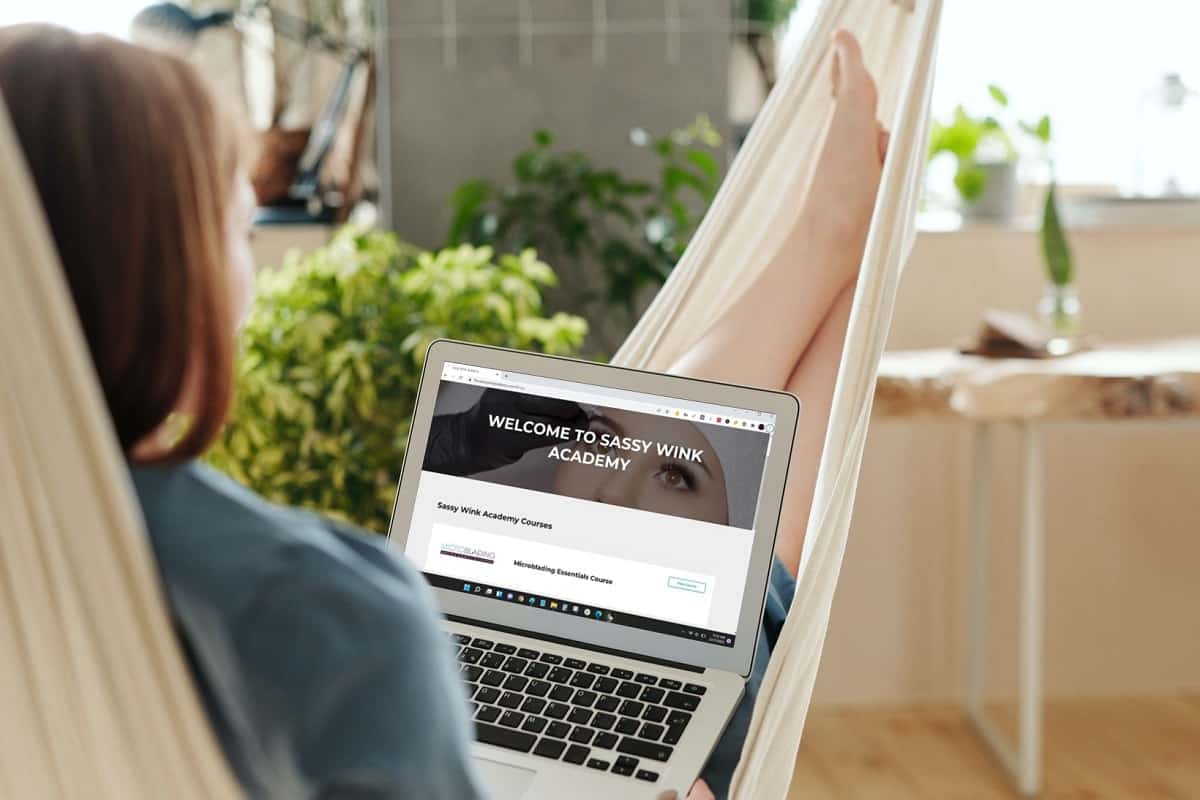 Sassy Wink Academy is a legitimate business that has been around for many years. It has a reputation for providing elite training to students. Some of the students who have gone through the academy have gone on to become professionals in the industry.
Sassy Wink Academy's microblading and eyelash courses are dedicated to effectively teaching students through a series of online lessons and guidance. The company does not believe in hurrying students through the course in just a few days and sending them off to work on a real subject just to "get practice."
There needs to be support, study, demonstration, and practice on paper and on a mannequin before a student is ready to cut into a real person's face with microblading or apply eyelash extensions. Both procedures can be dangerous if not performed correctly, and Sassy Wink Academy shows students how to do it the right way.
How to Get Started With Sassy Wink Academy
The first thing to consider if you want to proceed with enrolling in Sassy Wink Academy is deciding which service you want to offer. Consider the market and which service might be popular and lucrative. In my opinion, after having gone through the training, it would be beneficial to learn both microblading and eyelashes.
This would give you a wider range of services to offer, making it easier for clients to keep coming back to you for more of their beauty treatments. This then translates into a more consistent income for you and your business.
1. Complete Sassy Wink Academy's Free Workshops
Course instructor and professional esthetician Amber Arrington created two free online workshops that dive into the secrets of becoming a successful microblade artist and/or eyelash technician. It's important to join at least one of these workshops because, in it, she answers some of the most frequently asked questions about the services and course.
Join the free microblading workshop by Sassy Wink Academy to get your burning questions answered about the process of becoming a microblade artist. Or start with the free eyelash extensions workshop here to see if this service is your calling. Ultimately, you can offer both services to keep a steady stream of clients coming through your door.
2. Inquire With Sassy Wink Academy
If you have more questions about the course, you can learn more about the enrollment opportunities using the online contact form. Be sure to provide a good email address so that support can contact you about open enrollment. The site also displays a phone number that you can call or text for more information.
Purchasing an online course can be a big decision, especially if you're new to the beauty industry. Don't hesitate to reach out to Sassy Wink Academy so that you can feel confident in your choice. When a Sassy Wink Academy representative reaches out to you, ask as many questions as you have to ensure you gather enough information to make a decision about the course you want to enroll in.
3. Choose Your Program
While it is a good idea to one day offer both microblading and eyelash services to your clients, consider focusing on one course at a time to perfect your skills. You'll have one year of access to complete the course from the time of purchase. The sooner you learn and feel confident in one skill, the sooner you can open your doors for business.
Pay the student tuition fee in order to gain access to the course online. If you're anything like I am, you'll have a hard time walking away from the training until it's finished. It kept my attention from start to finish! There are three courses you can choose from with Sassy Wink Academy.
Course 1: Microblading Essentials
Sassy Wink Academy's Microblading training sets the foundation for what students need to know and do in order to be successful with their microblading careers. Each lesson builds on top of the last so you are always continuing your education instead of jumping around trying to figure out what to do next. This also helps break down the information into bite-sized pieces, which lessens the overwhelm.
This course offers workbooks, hands-on practice guides, and assists in developing muscle memory. Learn specialized brow patterns with worksheets, receive the free Sassy Wink Academy kit, and get one-on-one mentorship.
Concepts taught in this course include color theory, how to design the brow, step-by-step microblading procedures, and so much more.
Course 2: Prolash Classic Series
The classic series Prolash course focuses on the basics of eyelashes. From learning about the anatomy of the eyes and eyelashes to health, safety, sanitation, and marketing, there is an abundance of knowledge in the course.
The first level of the course is dedicated to preparation for eyelash extensions. It is a two-day course that can be completed with the Sassy Wink Academy for $850. Learn how to talk to clients to keep them comfortable, how to set up your preparation space for each client, and how to help the client even after they leave your service area.
Once you are finished with the first level, you can move on to the second. All of this level can be completed in an online format for $250. This course is all about "troubleshooting." Any common problems, how to remove lashes, and how to apply a new set are topics that are covered in this course as well.
Course 3: Prolash Volume Series
The volume series Prolash course is all about volume in eyelashes. It is a one-day course available for $850. The tuition includes a Sassy Wink Academy kit. This course teaches about multi-dimensional lashes, specifically 2D and 3D lash pick up and more techniques. This course is an introduction to multi-lashing (stacking). You can even learn marketing techniques for your business as well.
Sassy Wink Academy Q&As
Gain an even deeper understanding of Sassy Wink Academy by learning from common questions other potential students are asking. The more information you have, the better you will feel about your choice to enroll.
Will I be certified after taking Sassy Wink Academy?
You will not become certified after completing the Sassy Wink Academy courses because currently there is no official certification for the service. You will, however, receive a certificate of completion, and have the knowledge and understanding to practice the techniques.
Each state in the USA has its own requirements for microblading and eyelash service providers. Some states often hold microbladers to the standard of tattoo artists or eyelash technicians to the standard of estheticians.
Most states don't recognize any type of certification, so any online microblading courses touting a "certification" for microblading specifically are not being honest. It will be your responsibility to ensure you are staying compliant in your state so that your business can flourish for years to come.
What is microblading of eyebrows?
Microblading is a special technique used in the beauty industry to create fuller, natural-looking eyebrows. It is a technique that causes permanent markings on the skin and is described as similar to the work of a tattoo artist.
The handheld disposable tool that is used to make these markings has very fine needles that look like a blade, hence the name microblade. Each hair is individually drawn on a person's face in the eyebrow area.
Is learning microblading worth it?
The answer to this is subjective. If you are passionate about building a clientele based on your microblading services to make them feel beautiful and happy with themselves, then microblading could be worth it for you.
On the other side, if you don't plan to make a career or build any type of client base after learning the skill, then it may not be for you. However, if you are just curious about microblading, learning the skill could be fulfilling.
How difficult is it to learn microblading?
Like anything else in life, you have to practice to be good and keep up with the skill. To a brand new person in microblading, it may seem difficult to learn. But that doesn't mean that it is too difficult or impossible to master. The way Sassy Wink Academy sets up the lessons is to build on from the last. You will learn microblading in a way that makes it less intimidating.
Sassy Wink Academy Review: My Final Thoughts and Experience
In comparison to other online microblading training reviews, this Sassy Wink Academy review gives you even more because of my personal experience taking the course. I can say with confidence that this virtual classroom setting would be the best option for many people to learn about microblading or eyelash services. You won't feel overwhelmed with too much information at once and you will be guided through each technique until you feel ready to perform the service.
Sassy Wink Academy gives exactly what it says it will and more. You won't be left wondering or guessing what to do next because of the thorough coursework. As long as you practice after completing the course, any student should be able to be successful in this career.
After creating my Sassy Wink Academy review, it excites me to know how many more students out there will benefit from this course. I know I have enjoyed taking the microblading course to completion. Make this new career change a permanent one by starting out with the right training.
---
We appreciate the time you've spent reading this post and your interest is not lost on us. Your thoughts, questions, or experiences related to the topic are most welcome. Each comment adds strength to our community. We ensure every comment receives our attention, and we take the time to provide thoughtful responses. Once again, thank you for being a part of this conversation. Click here to leave a comment.