How To Create A Business Website [Tutorial for the Non-Tech-Savvy]
We foster relationships with brands we use and trust. The testimonials on our site represent real experiences, but they don't guarantee you'll achieve similar results. When you make purchases through our links to our partners, we may earn a commission. Your support helps us continue this work. You can read our full disclosure here.
Whether you're starting a new business or bringing an existing business to the online world, this tutorial will teach you how to create a business website.
With free templates, affordable hosting solutions and small business website examples to follow, there are no surprises when it comes to creating a business website.
Even the small local business can benefit from building a business website to promote to local and surrounding customers. Using local SEO techniques, small businesses can easily gain online visitors for free by targeting local search phrases.
If you're among those saying, "I want a website for my business," then continue reading with me. I'll explain exactly how to create a free business website as well as a more professional paid website for businesses that are ready to invest in a beautiful website.
Free Business Website
Creating a website for your business for free is simple, but not always the best solution. If the website you're creating is for a small, local business, then you can often create a business website free without worrying about a professional appearance.
A free business website can be beautiful, fully functional and meet all of your online needs, but there is one limitation that makes free seem "cheap" to customers. Free business websites cannot have a unique web domain or URL.
For example, my business name is The Pay At Home Parent and my website address (URL) is thepayathomeparent.com. My readers can easily find me (which is even more important for local customers).
If I chose to create my business website free, then the domain name would have been thepayathomeparent.wordpress.com. Not only is that a lot of letters to type, but it's also not as clean or professional as thepayathomeparent.com.
Start here if you want to sign up for a free website. Just know that if you decide to upgrade to a paid website later, you would need to start the process all over and lose a lot of invested time.
Related: How To Start A Shopify Store: A Step-By-Step Tutorial (With Pictures)
How To Create A Business Website (Step-By-Step)
If you're creating a free business website, then you'll need to start on WordPress.com. To create a professional paid website, you'll need to start on WordPress.org. Though it's confusing at first, don't worry, I'll walk you through the steps to create your professional small business website!
Step 1: Choose a Domain Name
Your domain name is the strand of words/letters/numbers that your website visitors will type to find your business website online. It's best to choose a domain name that is memorable, easy to remember and/or matches your business name.
In the example mentioned above, I chose thepayathomeparent.com because my business name is The Pay At Home Parent. My domain name matches my business name so that it's extremely easy for my readers to find me online.
Search for a domain name on NameCheap and select one that fits your budget and your business. NameCheap will lead you through a checkout process once you've searched and selected your favorite domain name. Most unique URLs cost as little as $8.88 per year, but more popular phrases can be far more expensive.
Related: 100 Best Food Blog Name Ideas
Step 2: Choose a Website Host
A website "host" does exactly as it sounds – they host your website and connect it to the world wide web so that others can find it. Think of a website host as an online storage unit. No one can store information on the internet without paying for "rental" space. A host purchases large online properties and sublets space to small businesses for an affordable fee.
Now that you know what a host is and why they're necessary, you'll need to choose one. I use and love SiteGround so that who I am using in this tutorial. They are affordable yet still offer 24/7 tech support and great customer service.
Click here to open SiteGround and create your business website.
Make sure to keep this tutorial open in a separate tab so you can continue following the instructions below!
First, open SiteGround and select the orange "Get Started" button below the plan of your choice. Simply select the plan that works best for you. If you're just starting out, it's okay to start with the cheapest option. You can always upgrade later when your traffic increases.
Second, enter the domain name that you previously purchased and select the radio button next to "I already have a Domain."
*Note: though it's possible, it's not advisable to purchase both your hosting and domain name through the same company. That's why I highly recommend choosing NameCheap for your domain.
Select "PROCEED" after entering your information.
You will now need to setup your account with SiteGround. Fill in all information completely and accurately. Review your package selection. There are plans starting from 12 months to 36 months.
Grab your business credit/debit card and fill in your payment information.
Select "pay now" when you're ready to commit to purchasing hosting for your new small business website!
SiteGround is the absolute best host for small businesses and will help you with any tech support issues or questions you may have.
Related: 51 Small Business Ideas To Consider
Step 3: Choose a Website Platform
Your host rents you "space" online while your platform is the physical framework that makes up your website. Thankfully the absolute best platform for a business website is free!
I use and highly recommend WordPress.org. You can find all kinds of free business templates the choose from and then customize them as needed for your business.
Signup for a free WordPress.org account to create your business website.
Step 4: Choose a Small Business Template/Theme
WordPress.org has a huge selection of free website themes. Enter a search term or category of business and search for one that has a look you enjoy. I've also listed a few popular small business themes below in case you just want to grab one here. You can always change your theme later if you decide that it doesn't have a feature you need.
Related: 115 Ideas For A Home Based Business That Pay Up To $150,000/Year
Small Business Website Examples
1. Astra Theme
Astra is a free, lightweight WordPress theme example and works for all kinds of businesses.
2. Rara Business Theme
Rara Business is another great small business website theme that is perfect for any kind of online business.
3. OceanWP Theme
OceanWP is another popular business website theme that offers a great framework to start your business website on.
Related: Most Profitable Service Business Ideas List
Install Your Theme
If you've followed along with me to this point, and you've chosen a website theme to use, then let's get it installed and ready to customize.
Visit your website's admin panel. This is an area where only you can go (and other developers that you hire). Login to your WordPress.org account or create a free account if you haven't already.
Once you've reached your admin panel, you'll need to hover over "Appearance" and then select "Themes" to install your chosen theme.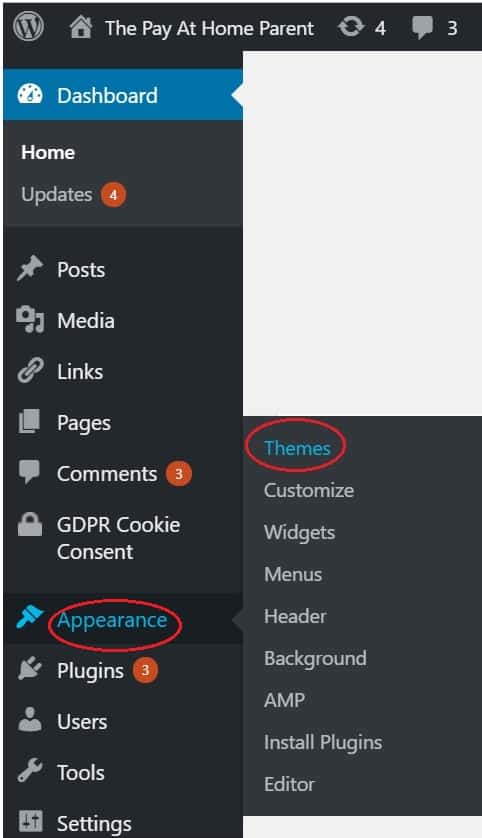 Select "Add New."
Either select "Upload Theme" (you may have downloaded the file previously) or go ahead and search for your chosen theme by name.
If located in a search, simply select "Install Theme."
You can now return to your themes (on the admin panel: Appearance > Themes) to activate your theme.
Step 5: Customize Your Business Template/Theme
Now that your theme is activated, you'll want to customize all of the information to match your business. This part can be both rewarding and tedious. The more complex your business, the more time it will take to customize the template the way you'd like to.
To start customizing your theme, visit Appearance > Themes and select Live Preview on your chosen theme.
Walk through each selection to add your business information, make color changes and create different widget areas (like a footer or sidebar). You can always come back to this area to further customize. Select Activate & Publish when you're ready.
Step 6: Publish Your New Business Website
After your business website looks just the way you like it, you can connect your domain name and publish your website for the public to find.
For this step, I highly recommend opening a live chat with SiteGround so that they can help you connect your website domain properly. For the non-tech-savvy business owner, this takes out all of the guesswork.
If you like the DIY approach, then NameCheap has a step-by-step tutorial explaining how to connect your domain name to your website.
With the help of SiteGround and/or NameCheap, your small business website will be published! You can type your domain name and check out your live website.
Promote Your Business Website
Your work doesn't end with a published business website. Creating a website for your small business is only the beginning. Customers won't be able to find your business website if they don't know it exists.
That's where promoting your business comes in. Many businesses are successful in promoting on Pinterest, Facebook and/or Twitter and benefit greatly when implementing SEO and building an email list to sell to.
It's so important to let your customers know your small business now has a website. You may have high hopes that customers will flood in the moment you publish your website, but unfortunately, it doesn't work that way. It takes time and authority on a topic to build a web presence. Creating useful content for each product or service you sell is a great way to get traffic to your website and gain new customers.
Related: How to Become an Affiliate Marketer
Small Business Website Builder on WordPress
Creating a small business website takes time, dedication and at least a small monetary investment when done the right way.
But if you commit to creating your business website, you can have it done within a week – less time if you spend a few hours getting it set up and published.
If you have any questions as you create a business website, please let me know in the comments! I would be happy to help you!
Related: How to Start a Shopify Store
---
We appreciate the time you've spent reading this post and your interest is not lost on us. Your thoughts, questions, or experiences related to the topic are most welcome. Each comment adds strength to our community. We ensure every comment receives our attention, and we take the time to provide thoughtful responses. Once again, thank you for being a part of this conversation. Click here to leave a comment.