How to Start a Cleaning Business and Get Paid to Scrub Houses
We foster relationships with brands we use and trust. The testimonials on our site represent real experiences, but they don't guarantee you'll achieve similar results. When you make purchases through our links to our partners, we may earn a commission. Your support helps us continue this work. You can read our full disclosure here.
There are many families who are willing to pay other people to come into their homes and clean for them. Let's face it, life can get busy, especially with kids, and the messes never end. Having someone help who learned how to start a cleaning business might as well have the title of "Super Hero" when they walk through the door.
A cleaning business is always something people will search for whether it's for a one-time deep clean of the home or a routine cleaning every so often. It can be a fluctuating business, but a lucrative one if you plan it out right. Some months will be busier than others and as long as you are prepared for it, it won't come as a surprise.
With a cleaning business, you would have the power to control your schedule and the income you want to earn. It is hard work, but it is essentially quick money. If you are considering what it would take to start a cleaning business, learn the steps here and get your business started sooner than later.
What is a Cleaning Business?
A cleaning business typically involves house cleaning. This can be for families looking to help maintain their homes or apartments that have been vacated and need deep cleaned before the new occupants move in. There are several ways a cleaning business can advertise itself.
A cleaning business isn't just limited to cleaning houses; it can also clean other businesses. There really is no restriction on who could use a cleaning business whether for personal or business use. However, it is a smart choice to choose which industry you want to offer your services to.
Does a Cleaning Business Require a License?
There are some things to consider before opening your cleaning business. The first will be to establish if it will only be you doing the cleaning or if you will have employees helping you. Once you have figured that out, you can then determine what kind of license or permit will be required.
At the very minimum, cleaning businesses just starting out might be able to apply for a vendor license until they become larger. Larger cleaning businesses will require a business license. To determine which one you will need, check with your state and local requirements to apply for the right one.
Related: Fun Jobs That Pay Well Without a Degree
Other Cleaning Business Requirements and Qualifications
To be a reputable cleaning business, you must have the drive to do an impeccable job, be dedicated to each client, and be detail-oriented. These qualifications will get you further in your business and will keep clients coming back to you. A cleaning business needs to look beyond the surface mess and go deeper into where the hidden messes are as well.
Cleaning Business Salary or Pay Expectations
According to ZipRecruiter, the average annual salary for a cleaning business owner is nearly $56,000. This salary will vary based on the area you serve. Some areas will pay higher than others. Additionally, this salary can fluctuate depending on the amount of experience you have as well.
ZipRecruiter has also seen annual salaries for cleaning business owners as high as $137,500 and as low as $16,500. There are many variables to consider. It's important to set realistic expectations for your cleaning business salary.
Related: How to Start a Consulting Business From Home
5 Simple Steps to Start a Cleaning Business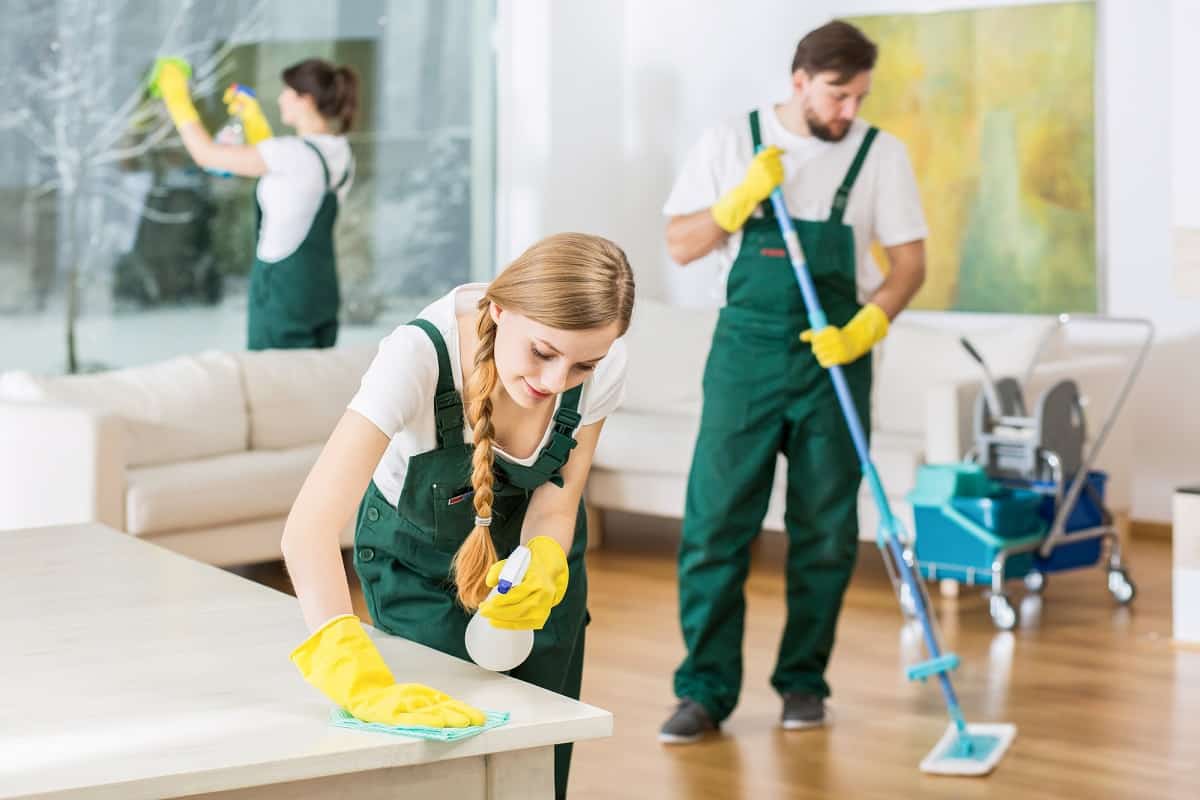 There aren't too many steps to starting a cleaning business. However, these steps require time and attention to ensure you're putting things into place accurately.
1. Make a Cleaning Business Plan
The very first thing you need to do is develop your business plan. This means understanding what industry you will serve whether it be residential properties, corporate offices, or small businesses. Figuring out which industry to serve will help you gauge how many clients you can accommodate.
Next, you should consider how many hours per week you will be available to run your business. As a new cleaning business, it is wise to start out cleaning the homes or businesses yourself so that you can assess how much time it should take to complete each job to perfection. This will help you know how many properties you can clean in a day, week, and month.
Then, you should determine the salary you want to make and divide that by how many clients you need to take on. This will give you an idea of how to start out to make the money you need and account for any expenses, such as cleaning supplies, travel, licenses, etc.
Related: Get Paid to Live in a House
2. Set Your Cleaning Prices
It's not enough to say you are a cleaning business. Be more specific to the type of cleaning you do. For example, you can offer deep cleaning services, carpet cleaning, laundry services, and more. Price your business based on the services you provide and the length of time it takes for you to complete those tasks.
In the end, it really is about getting paid for your time. Some homes will take longer based on their size, but smaller homes may ask you to do additional tasks that could take longer. No matter the task, the time you spend is what counts and you should always get paid to clean.
Additionally, consider what other cleaners in your area are charging and price your rates within that range. You may start out charging less until you get more business, but you can increase your prices quickly with each client you serve.
Related: How to Become a Pet Sitter
3. Promote Your Cleaning Services
Take advantage of social media to promote your services. Facebook is a great tool to use for this. Use the Facebook Groups and Facebook Marketplace features to advertise yourself. In those groups, you can watch for posts from community members looking for cleaning businesses. Some groups also allow you to create self-promotion posts.
Additionally, create your own business pages on Facebook and Instagram to show potential clients the work that you do. Post before and after pictures of homes or businesses you clean. Create videos on the best chemical-free products that you use and how well you clean with them. There are several ways to create engaging content that sparks interest and business.
You can also create a business car sticker and put it on your car windows with your contact information. This will be helpful when you drive around town and others see you have a cleaning business.
Related: Get Paid to Wrap Your Car
4. Find Clients
Finding clients is the key to learning how to start a cleaning business. You will need to do much of the footwork initially to drum up the business. Go to local neighborhoods to leave flyers on doorsteps, post flyers on community mailboxes, and ask local businesses if they are in need of a cleaner or if you can leave your business cards with them to pass out to others.
Your community outreach will be very important to having a successful business. Advertise yourself at community events and use promotional materials such as lawn signs and flags to catch potential clients' attention.
Once you've established yourself with a few clients, ask for referrals from them to increase your revenue. The best way to get more business is by using word-of-mouth marketing.
5. Request Testimonials
Request testimonials from clients that you can use on your social media. Testimonials are similar to product reviews in that potential buyers want to make sure other people have had good experiences before they buy the same product. The same concept goes for service providers; your happy client testimonials will sell a potential client into giving you a try.
As a new cleaning business, you can offer services at lower rates in exchange for client testimonials. This could give the client more incentive to provide you with the testimonial if they know they are getting a good deal out of it.
Related: Get Paid to Review Products
Questions New Cleaning Businesses are Asking
Taking on any new business can be nerve-wracking at first. Take a look at the questions new cleaning businesses are asking before you jump into yours.
How much money do I need to start a cleaning business?
There will be initial costs to start a cleaning business, such as purchasing cleaning supplies and equipment, paying any permit or license fees, and establishing travel arrangements. Depending on what you already have, your initial investment could be in the low thousands. However, if you purchase products wholesale, you might save some money.
Don't be discouraged at the initial cost because there is great potential to earn that money back quickly if you have enough clients to start with. It's all about getting the ball rolling with your business. Spending money is the cost of doing business.
What kind of insurance do I need to start a cleaning business?
Public Liability Insurance is not a bad idea to have just in case there is ever an incident. This insurance protects you against client claims of negligence. Accidents happen and you can't always plan for every worst-case scenario. Therefore, some form of protection insurance is good to have.
How profitable is a cleaning business?
As a cleaning business owner, your business can be very profitable. Consider all the homes and businesses that need to be cleaned routinely.
Not everyone wants to go home and clean after a long day and they most certainly don't want to spend their weekend doing it. Your services would be convenient for them to use instead, which means you can charge for that convenience.
Life is full of messes. A cleaning business will always be needed.
Related: Best Delivery Driver Apps
How do I get clients for my cleaning business?
Advertising yourself is the best way to get clients. Make those connections in your community, ask friends and family if they need your services, and ask others to help you spread the word about your new business. The experience you gain will only help you attract more clients.
If your services align, consider reaching out to real estate agents and real estate companies to partner with them. Oftentimes, the real estate market looks for cleaning businesses to clean homes before the new owner or occupant moves in.
Is it worth starting a cleaning business?
The amount of money you can potentially get paid to clean houses or businesses is definitely worth it. There are quite a few people out there who could use your services regularly; you just have to take the time to find them and advertise yourself openly. The money you can make with a cleaning business can be surprising.
Related: Best Jobs for Stay at Home Moms
Who Should Start a Cleaning Business?
If you are someone who doesn't like to do hard work or skips over things, then a cleaning business is not for you. You want to have the mentality that if your client came in with a white glove after you cleaned their home, they wouldn't find a spec of dust or dirt anywhere. That is how well a cleaning business has to perform.
With a cleaning business, there is also a requirement of trust that you and/or your employees won't steal or damage the property you are hired to clean. If you are a trustworthy person who can do hard work and are willing to get your hands dirty, you should start a cleaning business.
Starting a cleaning business is not easy, but it can be done if you start on the right foot. Learn your industry, advertise yourself in the right places, price yourself fairly, and you can have a successful cleaning business in no time. The only thing standing in the way of this new venture is you.
Related: How to Get Paid to Do Nothing
---
We appreciate the time you've spent reading this post and your interest is not lost on us. Your thoughts, questions, or experiences related to the topic are most welcome. Each comment adds strength to our community. We ensure every comment receives our attention, and we take the time to provide thoughtful responses. Once again, thank you for being a part of this conversation. Click here to leave a comment.