Instacart Shopper Review: Is it Worth it to Deliver Groceries?
We foster relationships with brands we use and trust. The testimonials on our site represent real experiences, but they don't guarantee you'll achieve similar results. When you make purchases through our links to our partners, we may earn a commission. Your support helps us continue this work. You can read our full disclosure here.
A family member of mine used to deliver groceries for Instacart on the weekends. While the job itself isn't particularly taxing, she said that Instacart shopping can be hectic when trying to shop fast to make the pay worth her time.
If you do a search on the internet about all the ways you can make money quickly, you will most likely come across a posting for an Instacart shopper. With all the convenience that Instacart offers to customers, it's no wonder the company is growing and needing more shoppers to help fulfill orders.
For anyone looking for a great side hustle opportunity, Instacart shopping might seem like a good thing to get into. The job doesn't require too much stress, you can make your own hours, and you can build connections with other workers.
If this is something you are considering, then read this honest Instacart shopper review to determine if this is the right next step for you. It's a great way to make some extra cash, but there are many details to consider beforehand if you are going to sign up as an Instacart shopper.
Instacart Shopper Review Summary and Quick Facts
Instacart offers shoppers the opportunity to get paid to shop on their own time by fulfilling customers' grocery shopping orders. You spend your time shopping at the store for the list of items the customer is requesting. Then, you can deliver the order to the customer. According to Indeed, Instacart shoppers make on average $13.20 per hour.
Instacart Pros
Make your own hours and work only when you want to
If you are a shopper only, you are guaranteed a minimum wage as an Instacart employee
Choose to be a shopper only or shop and deliver to earn more
Customers can tip you
Instacart Cons
Taxes are your responsibility if you shop and deliver
Gas is not reimbursed if you choose to shop and deliver
There is a cap on the number of hours you can work each week
Orders (also known as batches) are not guaranteed so your income can fluctuate
In some areas, there are not enough orders for the number of active shoppers
Related: Best Delivery Driver Apps
Instacart BBB Rating
Instacart received an A rating through the Better Business Bureau, but has unfortunately received a low 1.3/5 rating from Trustpilot. While it is a legitimate company, there are areas for it to improve.
Reviews left by shoppers include complaints about not being reimbursed the right amount for times when they've had to use their own card to make the grocery purchase or being reimbursed in a timely manner.
Related: Best Jobs for Stay at Home Moms
What is Instacart Shopper and How Does It Work?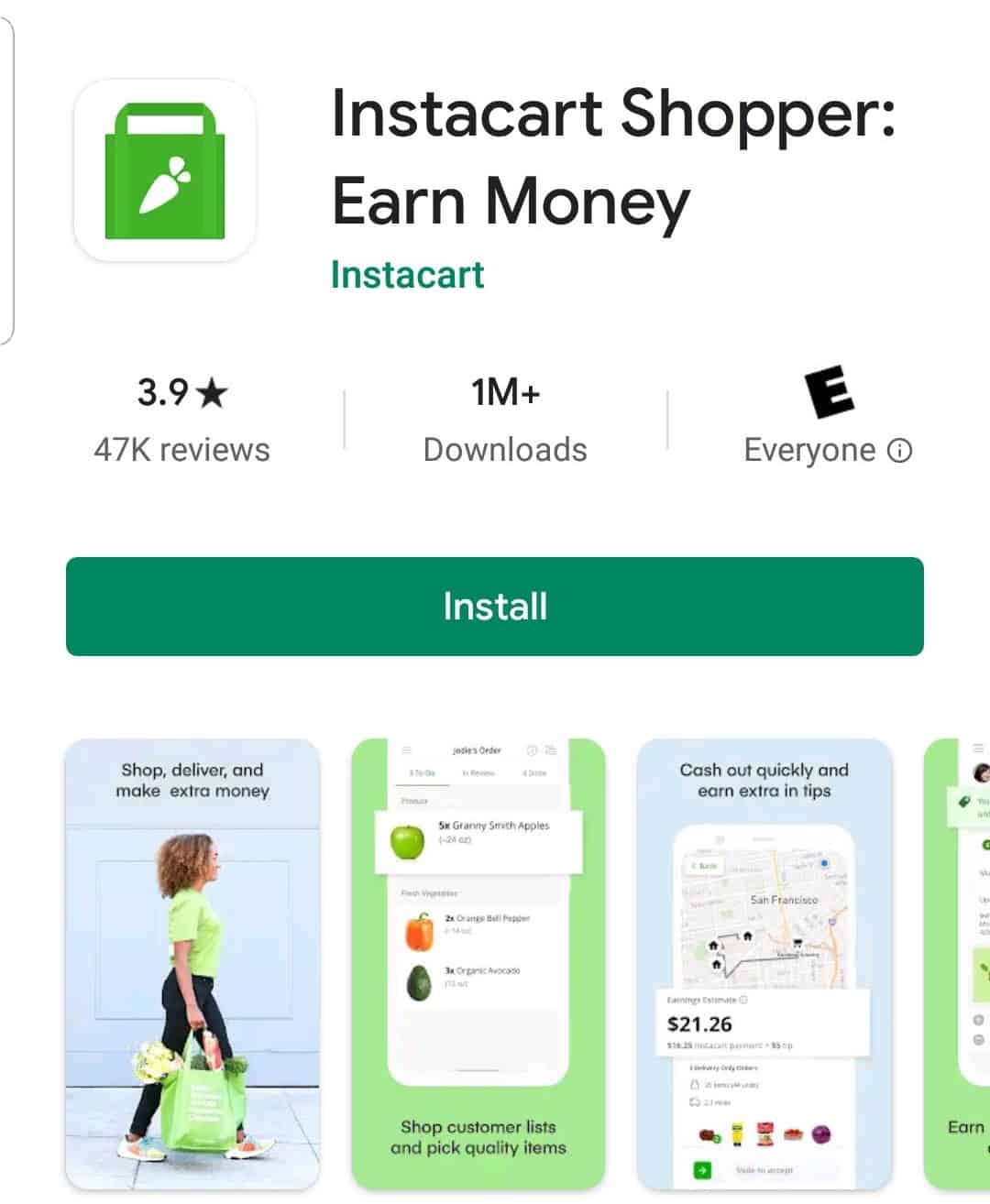 Instacart is a grocery shopping and delivery service. Customers download the app to order their groceries from their phones so that they don't have to worry about doing the shopping themselves. Instacart does the work for them by hiring shoppers to go pick the groceries from the shelves and then pay with a prepaid Instacart card at checkout.
Instacart also contracts delivery drivers so workers can choose to either just shop or shop and deliver. To get paid, Instacart charges a fee to the customer for the convenience of doing the work for them and then pays the shopper a specified shop and delivery rate, if applicable. Shoppers can also receive tips from customers.
1. Sign up
Start the signup process simply by creating an account on the Instacart website. To be eligible to work with Instacart, you have to be at least 18 years old and able to lift up to 40 pounds without accommodations.
You must also be authorized to work in the U.S. and pass a background check. You will need your driver's license and social security number to begin the process. Have your banking information available as well to set up direct deposit for your payments.
After your account is ready to go and you have passed the background check, then download the Instacart app on your smartphone so that you can begin taking orders.
2. Download the App to Your Phone
The app is available in the Apple Store for iPhone users or the Google Play Store for Android users. Once you've downloaded the Instacart app, open it and sign in by following the prompts. Use the same information you used to create your account in order to sign in.
Related: Places to Sign Up and Get Money Instantly
3. Find Batches
When you are ready to begin fulfilling orders, turn on your app to begin scanning orders available in your area. You will see a map on your app that shows you "available batches". Click on them to see how much you will make from each batch. If the order or batch seems reasonable to you and you're ready to make money, then you can accept it.
4. Fulfill the Accepted Batch
Drive to the store to begin shopping for the customer. Use the app to track their list of needed items, then head to the checkout once your shopping is complete. You can substitute items out if an item is no longer in stock. At checkout, use your Instacart card to pay for the items you have pulled.
From there, you drive and deliver the items straight to your customer. Take a picture of the delivery at the customer's doorstep to prove the order is complete and then get paid.
5. Get Paid
Your earnings are paid to you each week through direct deposit. If you need your money sooner, you can request a payout up to five times each day as long as the balance is at least $5.
Related: How to Set Up a Direct Deposit to Cash App
Other Ways to Earn Money With Instacart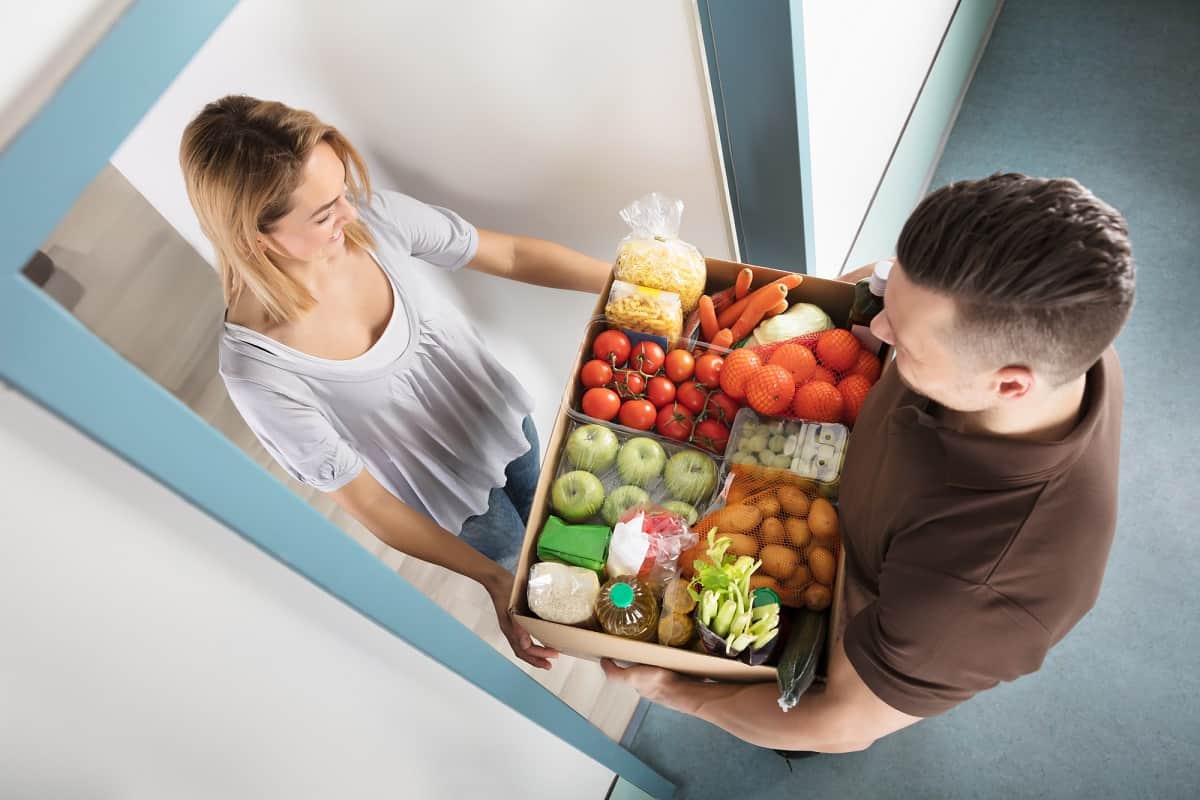 To make the most of your time with Instacart, it's important to notice when peak times are during the day and week so that you are available to shop and deliver during those times. This will allow you to accept more deliveries, which means you will make more in fares and potentially in tips.
Additionally, go to high-demand areas on your app to find higher-paying batches to accept. Increase your customer approval rating to enhance your batch opportunities. Check for promotions or boosts and complete those to earn even more. How much can you make with Instacart really depends on your availability and willingness to provide top service.
Lastly, you can refer others to sign up with Instacart. You receive a bonus once they create an account and complete their first batch. You can refer up to five friends and receive $10 for each one.
Related: List of Cash App Boosts
Instacart Shopper Q&A
If you are contemplating if working for Instacart is worth it, then find even more insight into what it takes to be a shopper with the following Q&As.
Does Instacart pay for gas?
Unfortunately, Instacart does not pay or reimburse you for the gas you use to drive to stores or deliver to customers. You are responsible for the maintenance of your vehicle in all aspects, meaning you have to take on that financial aspect.
However, since deliveries with Instacart are through contracted workers, this means you can write off gas and car expenses as a business expense as a self-employed person.
Related: Best Car Wrap Advertising Jobs
Can I do Instacart with my child?
According to Instacart's rules, you cannot complete batches with others who do not have an account with Instacart. This would mean you cannot do the job with your children in tow.
Is driving for Instacart worth it?
This will be something you have to determine for yourself. Instacart can make all the difference for you as someone who might need a little extra cash. What you might consider worth it might not be to someone else. You truly won't have an answer unless you actually give it a try.
Once you sign up and complete batches, there is nothing saying you have to continue with Instacart if you find that it doesn't work for your lifestyle.
Related: Ibotta Review
What are the busiest days on Instacart?
The time of the year will determine the busiest days on Instacart. For example, you might see more orders coming in once school is back in session and parents are too busy to do the shopping on their own. You might see fewer orders in the summertime when people take off time to be with family.
You will see a variety of peak times throughout the week such as during the time when parents are picking up kids from school and trying to get home to start dinner. It is possible that you might also see early weekend batches as people get ready for the week ahead. The best thing you can do to prepare is to try it out and take note of the busy times.
Related: How to Get Paid to Eat
How do I maximize my Instacart earnings?
Maximize your earnings by being available more often to accept batches. Ensure you are providing unforgettable service to customers so that they are excited to leave you a review. Reviews will open up more batch opportunities. Stick to a consistent schedule so that you can prepare to potentially earn the money that you need each week. Additionally, choose to shop and deliver instead of becoming an Instacart shopper only.
Related: How to Become a Babysitter
Instacart Shopper Review: Final Thoughts
There are many benefits to becoming an Instacart shopper. It is great that so many companies like Instacart are available for individuals to make even more money. This is especially true during a time when money is tight. Not only do you benefit as the shopper, but the customers also benefit from your help with shopping for them and delivering their orders when life gets busy.
In this Instacart shopper review, it's easy to see all the great things this company offers. However, keep in mind some of the other smaller details so that you can make an informed decision about whether or not this would be the right move for you to make.
In the end, finding ways to make an extra $300 or more isn't difficult to do. There are several opportunities available out there. Instacart gives you the flexibility, income, and low stress that you might be searching for in your life. Use this Instacart shopper review to your advantage. Refer to it when considering all the options to make more money on Instacart.
Related: How to Get Paid to Drive Cars Across the Country
---
We appreciate the time you've spent reading this post and your interest is not lost on us. Your thoughts, questions, or experiences related to the topic are most welcome. Each comment adds strength to our community. We ensure every comment receives our attention, and we take the time to provide thoughtful responses. Once again, thank you for being a part of this conversation. Click here to leave a comment.