11 Ways to Get Paid to Spend Time With the Elderly
Spending time with the elderly can be enlightening and enjoyable. Elderly people have so much life experience and lessons they have learned that they love sharing with others.
If you think about your own family or friends who are older than you, you would know the kind of support and advice you would want from them in your life. If you are someone who enjoys being with seasoned members of the community, then you will enjoy knowing there are ways to get paid to spend time with the elderly.
You don't need to have any experience in order to make this a side hustle or career for you. Some of the ways you can make money spending time with the elderly don't require a degree. It really is a rewarding way to spend your time both monetarily and for your own knowledge and wisdom.
Think of your lifestyle and how you can fit in ways to get paid to spend time with the elderly. You can fit one or more of the ideas from this list into your busy schedule to live a more fulfilling life.
Our Popular Money-Making Offers
Sign up with each of the following companies to maximize your earning potential.
$10 sign-up bonus
Pays to take surveys, complete offers, shop online, and much more
100s of other paid tasks
Awards cash and gift cards
$5 sign-up bonus
Pays to play games, watch videos, answer polls, and much more
100s of other paid tasks
Awards cash and gift cards
11 Ways to Get Paid to Spend Time With the Elderly
Get paid to spend time with the elderly and do a service to your community. Elderly members aren't irrelevant; they are still a valuable part of this world.
1. Join Care.com
Use services like Care.com to find opportunities to spend time with the elderly for money. Care.com is often referred to as a babysitter site, but it can be used for the elderly as well. Elderly family members may require in-home care. It is the same concept as having children. The family members may need a break every once in a while and you can care for the elderly while they go out.
Care.com allows you to create a sitter profile and specify your education, and experience, and set your rate. The more requests you accept to care for the elderly, the higher your chances are of landing more jobs. You could also become a regular sitter for a family and make a consistent income.
2. Become a Paid Companion for the Elderly
There are homecare companies across the US available for elderly people to request companions and pay for them. This could include going over to an elderly person's home to have lunch with them and just chat. It could also be accompanying an elderly person out to dinner.
A companion for the elderly is considered a profession. You can get booked online through an agency and set the rate you want to get paid for these companion appointments. Create your own schedule and work when you want to.
3. Start an Instagram With Your Funny Grandparent
Instagram is a popular platform used to create visual content using pictures, videos, and writing. You can create your own Instagram account with your grandparent and create funny content that keeps your viewers coming back for more.
As an Instagram account holder, you can get paid by Instagram based on the number of followers and views you get on your account. This tells Instagram that your account is catching attention, which increases Instagram's popularity. It's a win-win for both sides. Keep those videos coming while you spend more time with your elderly grandparent to make even more money.
Related: How to Get Paid to Like Instagram Posts
4. Become a Home Health Aide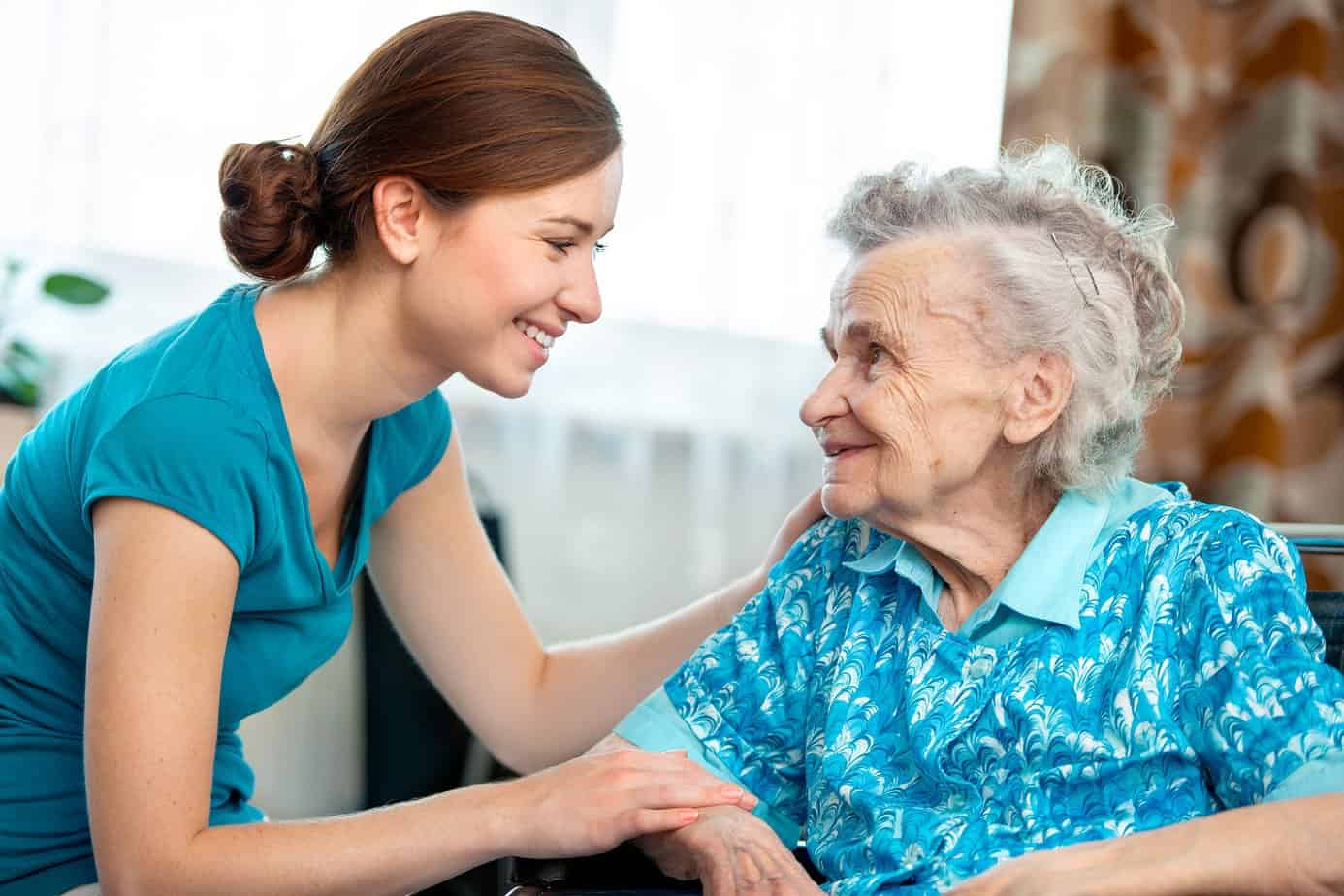 Get paid to sit with the elderly as a home health aide. Come into an elderly person's home each day to help care for them. During your downtime, you can sit and chat with them about how they are feeling, anything that is on their mind, and just be a friend to them.
As a home health aide, you will need certain certifications and education to ensure you can care for someone who can no longer do certain things for themselves like administering medication. Then you can get hired through an agency to get partnered with elderly people who need your care.
Related: How to Become a Sleep Coach
5. Become a Life Coach
A life coach is someone who focuses on helping people who are facing a specific life challenge. This could include someone who is elderly, but still has goals or desires in their life that they need help to attain. Become a life coach and get paid to spend time with the elderly who need an accountability person to help them meet goals.
Life coaches can set their own prices and the hours they want to work. You can choose to serve your elderly clients in a one-on-one or group setting. Fulfill your calling to help others and be someone elderly people can depend on.
6. Start a Wealth Management Business
Wealth management is an important aspect of a person's life, especially for someone who is contemplating their legacy. You can be the person these elderly people trust to help make crucial decisions about their money and investments.
Ensure they are able to live a comfortable life and that they have a will that dictates what they want to happen with any remaining assets after they pass. Get paid to be their financial advisor so that all of their hard work throughout their lives pays off.
Related: Work from Home Finance Jobs
7. Work in a Retirement Community
Get paid to sit with the elderly while working at a retirement community. These communities aren't necessarily for individuals who need help, but for elderly people who don't want to live in a house anymore. The retirement community is a senior environment that offers activities for residents and adds some fun to their lives.
If you were to work in a retirement community, you would be responsible for facilitating events and gatherings, and ensuring residents are living comfortably. This could include getting paid to sit down and listen to the residents as well.
8. Get a Job With a Country Club
Country clubs are generally filled with elderly who love to golf. It can be a soothing sport to do with friends. Retired golfers tend to spend their days on the links. There are also opportunities for them to sit down and eat, grab refreshments, or just enjoy the company of others.
While your job at a country club would include tending to the members, you could take time to converse and become friends with the elderly members. Get paid to spend time with the elderly at their favorite course.
Related: Get Paid to Help Others Online or In Person
9. Become a Driver for Seniors
Elderly people often have to give up their driving ability because of aging vision and reflexes. You could be a savior for these elderly people by becoming a driver for them. Be their chauffeur and take them on their errands to grocery stores, banks, and doctor appointments.
Get to know them during your trips with them. You can get paid per trip, per mile, or enter into an agreement with them for a monthly salary. You could really be the difference for these elderly people and become someone they can depend on.
10. Run Errands for the Elderly
Take the trouble off of the elderly and offer to run their errands for them. Allow them the convenience of staying comfortable in their own home while you take care of what they need. Think of doing their grocery shopping for them, making post office runs, and bank deposits.
This is not only a chance for an elderly person to rest more, but also for you to feel fulfilled helping someone who needs it. Your income can be determined by the amount of time you spend each day running errands or agreeing to a monthly salary to help out. You can make a decent living all while becoming a friend to an elderly person.
11. Be a Penpal
There are lonely elderly people around the world, and many may be approaching the point where they would pay you to be their penpal. Starting a unique business is easy, but marketing a service that hardly exists can be tricky.
To get started, choose your target audience whether it be elderly veterans, lonely widows/widowers, or another similar group of people. Then set up a marketing plan to reach them. Make sure to approach your potential clients with transparency as it can be easy to take advantage of the elderly.
You can even market your service to caretakers who work for the elderly. That way you can speak with someone who has their clients' best interest in mind.
Related: Odd Job Apps that Pay You to Work On-The-Go
The Elderly Often Give You More Than You Give Them
It's easy to believe that when you hear the term "elderly", you think of a nursing home or having to care for the older generation as if they were children. That is not the case when it comes to finding ways to get paid to spend time with the elderly. Oftentimes, you will get way more out of the experience than the elderly person gets from your service to them.
Older generations have been through a variety of life experiences and they can pass those lessons on to you if you were to spend time with them. The best advice is given by someone who has lived it and knows the outcome. While you work with the elderly, don't forget to actually listen and hear what they have to say.
Find one or more ways from this list to get paid to spend time with the elderly. You will be happy that you took the chance to spend time with them and form relationships and memories with them as well.
Related: How to Make Money as a 13 Year Old
---