How to Start a Home Daycare Business
We foster relationships with brands we use and trust. The testimonials on our site represent real experiences, but they don't guarantee you'll achieve similar results. When you make purchases through our links to our partners, we may earn a commission. Your support helps us continue this work. You can read our full disclosure here.
There is a common misconception that anyone can open and run a home daycare business. After all, if you're already watching your own kids at home, what's a few more to add to the load for some extra cash? There is actually much more that goes into learning how to start a home daycare business than you might think.
For starters, there are rules and state regulations that come with opening a home daycare. It might (not) be surprising to learn, but people can actually get into some hot water if they don't follow state regulations. A stay-at-home parent could definitely benefit from having a home daycare if the rules are followed.
Not only would having a daycare be potentially profitable, but it could also give your own children the opportunity to socialize and play with others. If you're interested in having your own home daycare, then this guide is for you. Learn what it takes to get your business started.
What is a Home Daycare?
A home daycare typically means you are providing care to children who do not live in your home. This is referred to as out-of-home-care. Parents regularly pay you to care for their children in your own home while they are away for work. This doesn't include babysitting as babysitters typically watch children in the children's own home.
This type of daycare includes having a safe space to care for children as well as have some structured learning activities. A home daycare follows a daily schedule that is meant to ensure the children have a routine, such as establishing meal times, nap times, learning time, outside play time, etc.
Related: Best Home Based Business Ideas for Stay at Home Moms
Does a Home Daycare Require a License?
Most of the time, a home daycare does require a license or some sort of permit. This will differ depending on many variables such as the state that you live in, how many children you plan to care for, the ages of the children in your care, and how many caregivers will be employed in the home. You can select your state in the National Database of Child Care Licensing Regulations to review your options.
Other Home Daycare Requirements and Qualifications
The most common qualifications for running a home daycare include being at least 18 years old, having a high school diploma or GED, meeting training requirements, and living in the home that you are providing care out of. Each state will have its own requirements. However, these are common in most.
Additionally, CPR and First Aid certifications can be required as well as having a safe, healthy home for children. You must have access to a phone to use in case of emergencies and the space in your home must be equipped with materials that children can use for daily activities, such as when eating, playing, or napping. Find more specifications from your own state's government website.
Home Daycare Pay Expectations
Frequently, families discuss how expensive daycare fees are so this might sound like a gold mine business to get into. However, the pay expectations are not as high as you might think. The national average salary, according to Zip Recruiter, falls around $32,000 per year. Each state will differ in specific salaries.
There are many expenses to consider when opening a home daycare, which cuts into the profit you actually make. Therefore, it's important to have a budget set out first before considering how to start a home daycare business.
Related: How to Make Money Teaching English to Kids
How to Start a Home Daycare Business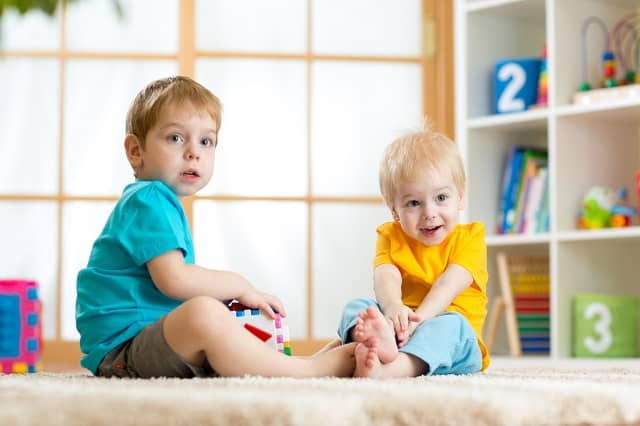 If you are willing to get a license for your business, take these steps to start your home daycare business.
1. Make a Business Plan
From the very beginning, it is a smart decision to look at this opportunity as a business. The first thing you should do is create a business plan so that you know how much money you will need to spend each month on daycare necessities as well as allocate funds for any fees you will need to pay.
Additionally, research grants in your area that can help you with the initial start-up costs of your home daycare. There are several funding options available and knowing these ahead of time will help you start out on top.
It is important to know that in many business ventures, the first two years are a difficult time to make a profit. Therefore, consider your finances now so that you aren't digging your budget into the negative right away.
Related: How to Become a Bookkeeper From Home
2. Review Your State's Regulations
Each state in the US will have different licensing regulations and requirements. That is why it is important that you check your state's specific requirements so that you are in compliance. The best way to know the correct rules and regulations is to contact your local licensing office directly to inquire.
Depending on the number of children you want to provide care to, there will be different permits or licenses you need to apply for. There are also limits to how many children you can have in your home based on the number of caregivers that will be there as well as the size of your home.
3. Sign-up for Required Training Classes
There are required training classes your licensing office will have you sign up for before you even begin the application process. This is to ensure that you completely understand what it takes to run a safe and successful home daycare. Once you've completed those classes and have had the opportunity to ask your questions, the licensing agency should be able to give you an application.
Related: How to Get Paid to Live in a House
4. Apply for Certification/Licensure
Fill out the application form in its entirety. This process can take a few weeks to complete as there are several factors the licensing agency will need to check out before approving you. Be prepared to share information about the last five years (at minimum) of your life, including any other address you've lived at, work history, and references.
The largest piece of the application process is the background check. This is required and your application will not proceed without it. The background check will determine your history of any abuse and/or neglect with children in the past as well as your criminal record (if any). The purpose of this background check is to ensure children in your care will be safe.
Related: How to Get Paid to Homeschool
5. Determine the Age Group of Children in Your Care
Before you can set your prices, you will need to base it off of the ages of the children in your care. Typically, infants in care are more expensive than preschool or pre-k aged children. The younger the age group, the more you can charge. This is because the younger the child, the more you will have to do for them and the more risk they pose.
Keep in mind that the younger the age group, the fewer the number of children you can accept. This is due to the ratio of children to caregiver regulations. This ratio increases as the children get older.
This could mean that if you accept an infant, you might not be able to watch any more children. On the other hand, if you don't accept infants, then you might be able to accept two or three preschool aged children. Review your state's ratio guide beforehand.
Related: How to Get Paid to Color Pictures
6. Set Your Prices
After you have received the approval of your application and have been given the green light from licensing to proceed with caring for children, you can then set your home daycare prices.
Once you've determined the age group of children you will care for, you can review rates in your area and charge similarly. You will want to be fair, but also competitive, with your pricing. Consider how you can stand out from the other home daycares around you.
Additionally, you can raise your rates when you want to as you gain more experience with your business.
7. Advertise Your Business
Collect testimonials from current or previous families that you cared children for. When families consider who they will trust their child with, nearly all of those parents will want to go with someone who has positive reviews and testimonials. Collect as many as you can.
Join parenting and neighborhood Facebook groups to advertise services in your area. Additionally, you can post on your social media platforms about your business. Consider using pictures of your day-to-day activities with the children (if parents' approve) so that others can see what a day in the life of their child could potentially look like in your care.
Your home daycare will also be displayed on your state's licensing webpage as a licensed or permitted provider, which could help draw in prospective families.
Related: Get Paid to Post Ads Online
Questions About Starting a Home Daycare Business
It is not easy to start and maintain a home daycare. Here are some questions to consider before you move forward with the process.
Is home daycare a good business?
Yes, a home daycare is a good business if you are someone who is dedicated to following the rules, maintains a healthy and safe environment, and has a passion for children. All these together will help you keep that drive each day to give those children in your care the best experience.
While others may think daycare providers just play with kids all day, there is much more to it than that. If you can dedicate yourself to all the tasks that come with this business, you can be successful.
Related: How to Make Money Officiating Kids Soccer Games
What do you buy for a daycare?
There will be a list of things that your state's licensing office will require that you have in your home daycare. Some of those things include having opportunities for literature, age appropriate toys, outside play areas, a place to sit and eat meals, mats for sleeping, etc.
Additional items you might consider that may not be on that list include calendars, backpack hooks, nametags, dramatic play items, and more.
Why do you want to operate a home based daycare business?
One of the biggest positives of operating a home daycare business is that you can care for your own children as part of your business. This saves you money from having to send your children to out-of-home daycare and allows your children the opportunity to interact with other children.
Related: How to Get Paid to Read Books Aloud
Is it worth it to start a daycare?
It can be worth it to start a daycare if you love children, desire to make a difference in their lives, and want to be the best provider there is. Home daycares aren't necessarily gold mines so you won't get rich quick by having one. Additionally, it isn't a good idea to get into the home daycare business just for the money. It can be rewarding to teach these little beings about the world and care for them as if they were your own.
What is the difference between daycare and childcare?
There isn't a true difference in the terms. However, some people see daycare as just an out-of-home care center for children while the term "childcare" is more inclusive of all environments, such as daycare centers, home day care, or even babysitting.
Related: Best Jobs for Stay at Home Moms
Who Should Start a Home Daycare Business?
The most patient, caring, and loving person can have all the passion in the world to start a home daycare. However, that is not all it takes to be successful with it. You have to be someone who also can run the business side of things.
There is nothing scarier to a parent than to have something happen to their child away from home. Because of this, you have to have the best interest of the children in your care at all times and give them 100% of your attention at all times. It can be exhausting, but it is worth it if you desire to maintain a safe space for them.
Truly consider all aspects of owning a home daycare before proceeding with opening one. Children are the next generation that will run this world and their childhood experiences will make all the difference in their outlook on life. Start a home daycare if you desire to make a positive impact on the world.
Related: Get Paid to Build LEGO Blocks
---
We appreciate the time you've spent reading this post and your interest is not lost on us. Your thoughts, questions, or experiences related to the topic are most welcome. Each comment adds strength to our community. We ensure every comment receives our attention, and we take the time to provide thoughtful responses. Once again, thank you for being a part of this conversation. Click here to leave a comment.