11 Best Ways to Get Paid to Watch Netflix in 2023
Try Bingo Cash, the ultimate bingo app for turning your skills into extra cash while enjoying colorful and engaging head-to-head matches. Win up to $83 per game and experience the classic bingo thrill in the comfort of your own home. Test your daubing skills and become a big winner today!
Bingo Cash™ is FREE to download and play! However, cash tournaments are not available in the following states: AZ, IA, LA, SC & WA.
Life is crazy, especially for parents. As a mom, I'd love to just sit down for a while and have absolutely nothing to do, but I have to earn an income to help provide for my family. In an ideal world, I would get paid to just relax on the couch and stream my favorite show.
Luckily for me, this scenario is actually my reality. I get paid to watch Netflix right from the comfort of my own home. There are several legitimate ways to get paid to watch Netflix. Imagine all the binging you could do without even feeling guilty about it – because you are earning money.
Netflix and chill? More like "Netflix and bills." That's a much catchier phrase. If you need to bring in extra cash but don't have the energy or time to take on a second job – then this opportunity could be perfect for you. Take a look at these legit ways in which you can get paid to watch Netflix.
One of my favorite sites, Swagbucks, offers tons of ways to earn real cash online. If you're not already a member, give it a shot! Here are five things you can do to make easy money on the site:
Play games (up to $322 each)
Test apps (up to $150 each)
Submit receipts (easy cash)
Shop at your favorite stores (up to 10% back)
Answer surveys and polls (quick cash in minutes!)
Our Popular Free Guides
How to Start a Permanent Jewelry Business - If you are patient, have social skills, and love interacting with others, then a permanent jewelry business may be for you.
How to Become a Sleep Consultant - Help parents and babies, and be the difference for families worldwide who are desperate for more Zzzs in their life as a sleep consultant.
How to Become a Proofreader - There are five basic steps to working from home as a proofreader. As long as you're willing to put in the work, you can become a proofreader!
Getting Paid TO Watch Netflix vs. Getting Paid WHILE Watching
You're probably reading this because you're interested in actually getting paid to watch Netflix. But in all reality, the opportunities aren't quite that straightforward and probably won't make you money fast today.
Some sites and side hustles will pay you to complete activities like watching ads and commercials; you can make money doing these while watching Netflix on another device.
So while there are a few ways to actually get paid to watch Netflix, there are additional opportunities below to allow you to get paid while watching your favorite movies or shows. And in the end, you'll still make some extra cash while completing another episode of your favorite show.
Related: Best Side Hustles for Men
Sites That Pay You to Watch Netflix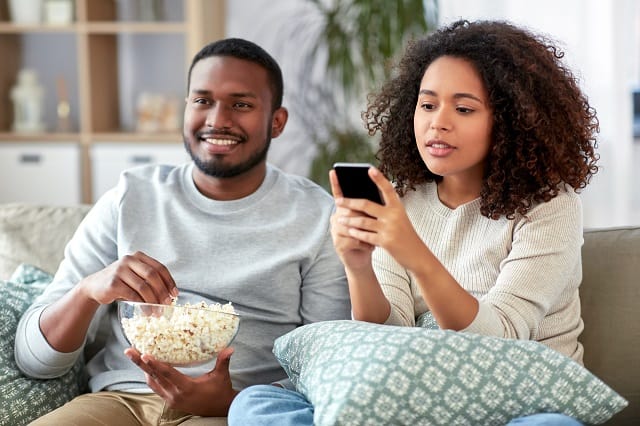 The following sites will allow you to watch Netflix while making money. Finding the one that perfectly fits your lifestyle will allow you to finally watch Netflix for free.
1. Blackout Bingo (My #1 Pick)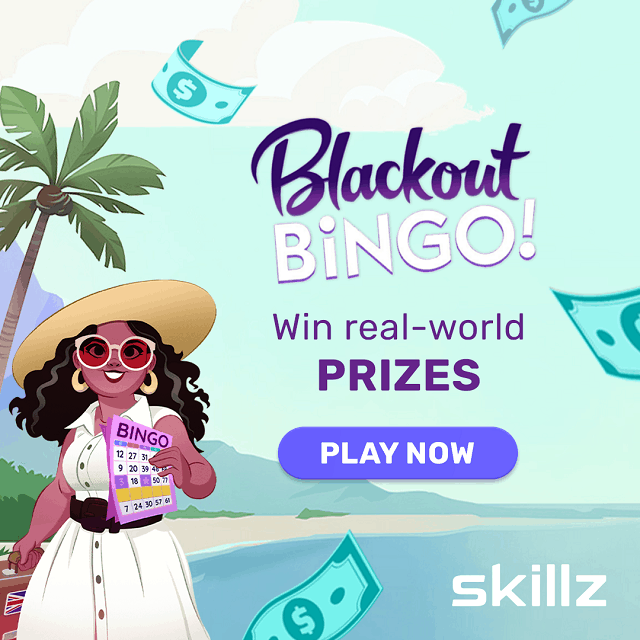 One of my favorite things to do while watching Netflix is to play bingo for real money on my phone. Each round is just two minutes long, and I can squeeze in a few of them while enjoying my show.
Blackout Bingo is a reputable real-money bingo app that actually pays its players for winning games. I have personally earned $5,332.56 in real money by playing bingo in my spare time. When I get bored of the show my husband wants to watch on Netflix after the kids go to bed, or if I simply feel like multitasking, I whip out my phone to play a few rounds.
You can actually get paid to watch Netflix just by having fun on your phone with Blackout Bingo. And the best thing about the app is that it matches players based on their skill levels. Play head-to-head against another player who is using the same board with the same numbers called. Whoever is the fastest, the most accurate, and the best at strategy will take home the most points at the end of the two-minute round and win the cash.
Earning real money for playing Blackout Bingo is made possible through trusted company Skillz, which facilitates the head-to-head matches that are fueled by real cash wagers. Enter the Blackout Bingo promo code APget5 to receive a $5 bonus with your first deposit right off the bat and start playing.
Enter the Skillz promo code APget5 and get FREE bonus cash with your first $5+ deposit.
Related: Is Blackout Bingo Legit?
2. Kashkick (My #2 Pick)
Kashkick is an up-and-coming site that pays its members to watch commercials, ads, and video clips on their smartphones or laptops. This is something anyone can do while also watching Netflix. You could even mute the ads and play them in the background while you continue binging your favorite show. The more ads you watch, the more cash you will earn.
To get started, simply sign up for a free Kashkick account and start watching videos. You'll earn cash for every video you watch, and you can cash out your earnings through PayPal. There's a $10 minimum required to withdraw, and you can start accumulating cash right away by completing easy activities through the app.
I also enjoy looking through Kashkick's current offers because there are often games and apps that I can get paid to download. I do all of this while watching Netflix in my spare time.
Related: Kashkick Review
3. InboxDollars
Get paid to watch Netflix by using your free InboxDollars account. This site allows members to get paid for completing tasks like watching videos. If the videos you're chosen to watch don't necessarily interest you, let your phone play for hours in the background while you watch your favorite Netflix shows on the TV.
Sites like InboxDollars get paid by the company that produced the video content you're watching, and then give you a portion of those earnings. Watch as many videos as you want while binging Netflix, your account earnings will grow at the same time.
Sign up for an account in a few easy steps, and receive a $5 bonus as soon as you register. InboxDollars pays members who watch videos with virtual scratch-off cards that reward you with prizes ranging from a couple of cents to hundreds of dollars.
Related: InboxDollars Review
4. Swagbucks
Swagbucks is a very popular online platform on which users can make money by completing a variety of tasks. This includes watching videos. Simply sign up for a free account to get started.
Let the videos play on your phone while you stream Netflix on your TV. You will be rewarded with points from Swagbucks once you've watched enough videos. Your points can be redeemed for gift cards to Amazon, Target, and other big-name retailers. You can also request a direct payout to your PayPal account.
Related: Swagbucks Review
5. Install Apps that Pay You to Run in The Background
Whether you like to shop online or simply scroll social media while watching your favorite Netflix shows, you could be making real money at the same time. Install apps like MobileXpression onto your smartphone to start earning rewards by continuing to do what you already love.
Make money while doing your online shopping through companies like Capital One Shopping. Just sign up for a free account and do your regular shopping through the company's app. Redeem the cash you make off your purchases for a gift card of your choice.
If you're looking for an easy way to make money while watching Netflix, these apps that pay you to run in the background are definitely worth checking out.
Related: How to Get Paid to Watch TV Shows
KashKick is a great find for gig workers, offering many ways to make extra money doing what you enjoy. Try it out - it's free! Here are five easy ways to start earning money on the site:
Play games (up to $125 each)
Test apps (up to $125 each)
Buy lottery tickets (an easy $8)
Try popular brands (always changing)
Answer surveys (quick cash in minutes!)
More Ways to Get Paid to Watch Netflix
If you are interested in learning more about getting paid to watch Netflix, use these ideas to inspire you to generate an income in a new and different way.
6. Netflix (Not Hiring)
Netflix itself pays Netflix Taggers – aka Medadata Analysts – to watch shows on its platform In this role, simply get paid to watch Netflix shows.
As a Netflix Tagger, you will watch shows and assign tags to them, including release dates, language, and genre. You will need to meet certain qualifications to be considered for the job, including having an education in library science or a similar field and having experience working with online catalogs. Netflix has high expectations and qualification requirements for its applicants.
Glassdoor has reported that Netflix Taggers make more than $50,000 per year, in some states. Other reports have shown that number to be nearly $70,000 annually. The company is not currently hiring for this position, but can keep an eye on the Netflix job board for the opportunity to become a tagger.
Related: Get Paid to Watch Disney Movies
7. Start a Niche Site
Start a website that is dedicated to Netflix shows and movies. Binge-watch new series, watch the Netflix-recommended shows, and keep an eye on new releases. When you've finished a movie or a series episode, write a review detailing your likes and dislikes about what you've seen.
Publish those reviews on your niche site to generate more traffic. Get paid via ads on your site that can be viewed by the people who read your content about shows in which they are interested. Engage in discussions about the movies you've seen, or ask your readers for review recommendations for specific shows and movies.
The ads are displayed within the content of your articles, so you will get paid for the views, in addition to earning money each time someone clicks on those ads.
Related: Get Paid to Post Ads
8. Create a YouTube Channel
Similarly, launch a YouTube review channel dedicated to Netflix shows and movies. Review new releases and the top 10 Netflix movies in America, plus any hot shows that are trending on Instagram or TikTok. Record a review of your opinion for everything you're watching on Netflix, and get paid for it on YouTube.
Bring in money with ads. Every time someone watches your video and sees an ad pop up, you will get paid. You will earn even more money if your viewers click on and engage with those ads.
Related: Get Paid to Watch YouTube Videos
9. Start a Podcast
Podcasts are similar to radio hosting, but are unique in that you can talk about whatever you want on your own podcast. Create a podcast dedicated to conversing about Netflix movies and shows.
Launch an hour-long podcast centered around classic Netflix releases, and compare them to new features. This Netflix-specific podcast could go a long way toward earning you a second income.
Podcast owners get paid with sponsorships and donations. Build your audience to increase your chance of viewers' sending you donations to keep the podcast going. Reach out to others in your community who could be interested in partnering with you in some capacity to allow you to get paid to watch Netflix.
Related: Get Paid to Listen to Podcasts
10. Become an Affiliate
As an affiliate marketer, earn a commission off your special link to sites like Netflix. Each affiliate program comes with a unique commission rate. Fully read each agreement ahead of time.
Use affiliate marketing to your advantage and find ways to get paid as a Netflix, Amazon Prime, Hulu, or Paramount+ affiliate. Sites like FlexOffers feature affiliate programs with big companies like Netflix, and will pay you to share their links. Sign up, agree to the marketing terms and conditions, and start advertising the companies you use and love.
Related: Get Paid to Watch Commercials
11. Become a Nighttime Babysitter
If you are a patient person and have experience with kids, become a babysitter. Babysitting after the kids head to bed is where the real fun comes in. Keep an ear out for bad dreams or nighttime problems while enjoying some popcorn and your favorite Netflix show. This way, you'll actually get paid to watch Netflix.
Related: Get Paid to Watch Harry Potter
EduBirdie (Application Closed)
In the past, the education-based platform EduBirdie hired people to get paid to watch Netflix. An application process allowed candidates to apply to be a Smart Watcher. While the company received more than 30,000 applications, it only picked about 20 lucky people for the job.
The EduBirdie Smart Watchers received access to one-month subscriptions for Amazon Prime and Netflix. The Smart Watch program was designed to conduct research on how viewers are motivated to study. The viewers were asked to watch three episodes of 10 TV series and fill out a questionnaire following completion.
Smart Watchers were rewarded with a one-time payment of $1,000. This position is no longer available, but had a great run back in its time!
Related: Get Paid to Watch TikTok
Watching Netflix Can Be Rewarding
While others may see binge watching as a less-than-productive activity, it really does pay to watch TV. You just have to know where to find opportunities to get paid to watch Netflix.
From starting a niche site to watching commercials – or even landing an official job with Netflix – there are many ways in which you can earn money right from the comfort of your own couch or armchair.
Watching Netflix can be rewarding and allow you to take a much-needed break while still earning cash.
Related: How to Get Paid to Watch The Office
---