How to Become a Pet Groomer and Start Your Own Business
One of my favorite sites, KashKick, offers tons of ways to earn real cash online. If you're not already a member, give it a shot! Here are five things you can do to make easy money on the site:
Play games (up to $125 each)
Test apps (up to $125 each)
Buy lottery tickets (an easy $8)
Try popular brands (always changing)
Answer surveys (quick cash in minutes!)
If you have a pet, you likely already understand how much calmness and joy an animal can bring into your life. I've known some people who would do anything to make a career out of caring for pets in some way. Maybe you do too, but it's difficult to know how to make this happen. One of the best ways that you can have a job working with animals is by starting a pet grooming business.
A pet grooming business of your own can make a difference in your own income and also make a difference for the animals you would be caring for. There are a couple of different ways you can start on your career path to becoming a pet groomer.
If pet grooming interests you, then this guide will give you each step you can take to successfully start a pet grooming business. Pet grooming can be an investment up front, but it is worth it if you want to start your own business caring for those furbabies.
Our Popular Money-Making Offers
Sign up with each of the following companies to maximize your earning potential.
$10 sign-up bonus
Pays to take surveys, complete offers, shop online, and much more
100s of other paid tasks
Awards cash and gift cards
$5 sign-up bonus
Pays to play games, watch videos, answer polls, and much more
100s of other paid tasks
Awards cash and gift cards
What is a Pet Groomer?
A pet groomer is someone who physically cares for pets. This usually means dogs, but there are other animals that may require pet grooming services as well. Pet groomers are responsible for keeping pets washed, clean, and freshly cut. They also offer services such as nail trimmings, ear cleaning, and hair brushing.
A pet groomer needs access to a washing station and also needs the supplies on hand to take care of the animals' needs. This could mean you work in an actual shop like a store or in your own home. There are also mobile pet groomers who travel to the pet's home and take care of them inside of their mobile salon.
Does a Pet Groomer Require a License?
A license can vary from state to state. Because of this, it's a good idea to inquire within the state that you will be working.
In many states, there is no formal education or licensure offered for pet grooming. However, you will need a business license to conduct yourself as a legitimate business. Follow local licensing guidelines to understand what license you will need in order to have your business in compliance.
Other Pet Groomer Requirements and Qualifications
While pet groomers do not require any formal training, there are courses you can take to help you be the best groomer possible. These courses include grooming basics, techniques, and how to spot any problems or issues on or with a pet. There are also courses that teach body examining skills of each breed.
In addition to grooming courses, some courses help you understand animal behaviors and how to respond to them. This will make you more valuable to future clients, and they will be more confident that you will be able to handle their pets calmly and expertly.
Pet Groomer Salary or Pay Expectations
The annual average salary range for pet groomers in the United States according to ZipRecruiter is approximately $34,000. The lowest reported salary is $15,500 and the highest is $59,500. Your salary will vary depending on the area you will be serving.
Also keep in mind that as a beginner pet groomer, your salary might be lower than an experienced groomer. The good news is that you can increase your salary as you gain experience.
Related: Best Service Business Ideas to Start at Home
How to Start a Pet Grooming Business in 8 Simple Steps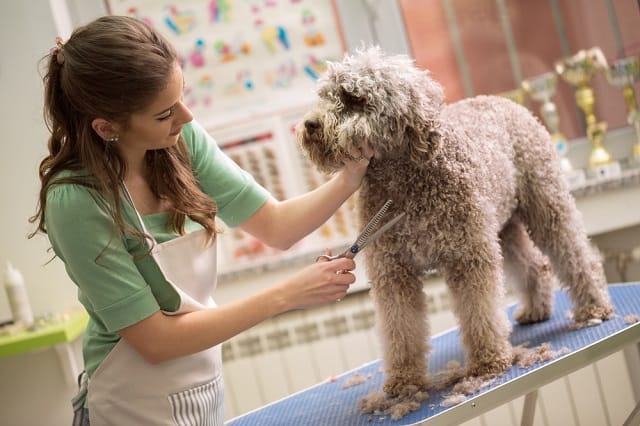 Take a look at the steps you can take to learn how to start a pet grooming business. This career cannot be built overnight, but you can be successful if you stick with your plan.
1. Decide Your Location
First decide where you want your grooming services to be located. Choose if you will be use a storefront, work from out of your own home, or if you will be a mobile pet groomer.
There are advantages and disadvantages to each of these choices. Mobile pet groomers could potentially make more money since their business is convenient for pet owners. However, there is the added cost of finding a vehicle to use as your salon.
List all the pros and cons then decide what the best option is for you to have your grooming business.
2. Get Your Business License
You will need to have a business license to operate your pet grooming business. Check with your local licensing office for further information. Start your application for a business license sooner than later because it can take some time to get approved.
Once you have your license, you will want to open a separate business banking account for all of your business expenses and income.
Related: Best Home Based Business Ideas
3. Practice Your Skill
Whether you have formal training or you are a self-taught pet groomer, it's important to practice your skills. I'm sure you've heard the phrase "practice makes perfect." This goes for pet grooming as well. The best way to continue to gain loyal customers is to make sure your skills are top notch and your techniques are gentle.
Additionally, practicing your customer service skills will help patrons feel comfortable with you. When customers are comfortable with you, they'll be more willing to pay you for your services.
4. Invest in Your Start Up Supplies
The biggest investment for your business will be the supplies you need to purchase to actually groom the animals. Some of the initial investment supplies include:
5. Create a Portfolio
Take before and after pictures of all the pets you groom. This will be helpful for potential clients to see the work you have done and give them an idea of what they can expect from you. This is the same concept as looking through a hairdresser's portfolio to make sure he/she will be able to create the look you want on your own hair.
You can start a professional business website that allows new clients to book your services online. It keeps costs down and allows you to spend less time answering phone calls and setting appointments.
6. Price Your Services
Research the prices of other groomers in your area and decide on a price point for your services. Consider the types of services you will offer and the animals you will accept. Also, remember any formal training you have taken makes you more valuable and that you can charge extra for your expertise.
7. Collect Reviews
The most important part about starting a business is collecting reviews from clients you serve. Word of mouth is one of the best marketing strategies. The more people rave about how well you performed, the more other people will be willing to give you a try.
Ask clients to post testimonials on your Google page, Yelp, or even on your Facebook business page. More exposure on multiple platforms can boost the chance that new customers will find you.
8. Advertise Your New Business
Don't forget to tell everyone you know about your new business. You can advertise on social media, post in community groups, put an ad in the newspaper, and ask friends and family to share your business.
In order to find clients, you have to promote your business. Join Facebook groups that are dedicated to pet owners and advertise yourself there. Also, consider partnering with businesses in your area to join forces and create a networking opportunity where you can refer clients to each other for your different services.
Related: How to Become a Babysitter
More Popular Money-Making Offers
Earn more money in your spare time with these reputable companies.
Free PayPal cash
Paid surveys and web searches
Earn easy cash back
Get paid directly to your PayPal
PayPal, Visa, Amazon, etc.
Pays you to do NOTHING (with SJ Pulse)
Simply install the software
Participate in paid surveys & studies
Questions New Pet Groomers are Asking
Take a deeper dive into starting this new business by seeing what other new pet groomers are asking.
Is a dog grooming business profitable?
Depending on the effort you put into your business and your monetary goals, a pet grooming business can be profitable. You just have to dedicate yourself to being the best groomer and advertising yourself constantly to bring in that consistent income.
How many dogs can you groom in a day?
This is completely up to you and your skills for grooming. If you can effectively groom several dogs per day and the outcome of your service is satisfactory to the owners, then groom as many as you want. However, if you are slower and more precise, this doesn't make you a bad groomer, but you may not be able to groom as many dogs per day.
Consider how much money you want to make, how much physical demand your body will take with each pet, and what you want your schedule to look like each day. This will help you understand how many pets you can effectively groom each day.
What is included in pet grooming?
Pet groomers can offer whatever services they want. Some offer just shampooing and conditioning while others include hair and nail trimming. It depends on what you want to offer and where your skills lie. However, the more services you offer, the more money you can potentially make.
If customers find that you have a wider variety of services, they are more likely to book with you versus someone who has limited services.
Is pet grooming a good career?
Your definition of "good" will differ from others. You have to determine what constitutes a "good" career and what that means for you. A pet groomer is a good career because it generates an income, gives you an opportunity to have your own business, and allows you to work with animals. If any of those things sound like a positive for you, then you will have a successful career as a pet groomer.
Is it hard to be a dog groomer?
Anything worth having doesn't come easy. Starting a business isn't easy. However, if you are determined to make this career work and you have the patience to see it through, then it might be exactly what you're looking for.
In terms of it being physically difficult, it can depend on the types of animals you serve and any physical strain it puts on you to tame the animal during the service.
Related: Best Immediate Hire Work From Home Jobs
Who Should Start a Pet Grooming Business?
When you consider what it takes to start a pet grooming business, it's not a job for just anyone. The best person for the job is someone who is patient, determined, and has a true desire to work with animals. If you are a hard worker and willing to put in the work to advertise yourself and find clients, then this venture just might be for you.
Each step in this guide will get you closer to your goals. If you find that there aren't enough pet groomers in your area, then you might be sitting on a golden opportunity.
Any new career opportunity can be scary to start at first. However, if you don't take the chance to try something new, how will you know if it will work out or if you will like it? Believe in yourself and make a career as a pet groomer.
---