10 Lazy Ways to Get Paid to Watch TV Shows on Your Days Off
We foster relationships with brands we use and trust. The testimonials on our site represent real experiences, but they don't guarantee you'll achieve similar results. When you make purchases through our links to our partners, we may earn a commission. Your support helps us continue this work. You can read our full disclosure here.
My favorite show has got to be The Office. Hands down, I just can't get enough. It's a great show to watch as I wind down from a busy day of being a mom. It also helps to know that even though I am sitting down relaxing I can actually get paid to watch TV shows.
It's not a scam; there are actual ways to get paid to watch shows. Shows like cooking, crime, drama, comedy, and even Christmas shows are all available for money-making opportunities. There is something for everyone.
Gone are the days when people refer to watching TV as a "waste of time." With the number of ways you can get paid to watch TV, you are surely not wasting anyone's time.
Take a look at full-time job opportunities to watch TV or do it as a side job to increase your income. There are many TV shows out there just waiting for you to binge watch them.
10 Ways to Get Paid to Watch TV Shows
If you are serious about wanting to watch TV shows for money, you will be glad to know that there are full-time positions available to do just that. Pick your favorite option from the following list of jobs for lazy people and pursue your dream.
1. Get a Job as a Professional TV Watcher
Yes, there is such a thing as a professional TV watcher. It may sound too good to be true, but don't dismiss it just yet. Professional TV watchers can get jobs at various companies who need someone to review their media in commercials, ads, and short films. These are not typically TV stations, but companies looking to expand their awareness in the world.
As a professional TV watcher, you get to come in to review content. Pull up a chair, get comfy, and review footage. You will likely be given a questionnaire of some sort to keep in mind as you watch the show. This will help you make sure that the purpose of the show is meeting the company's expectations. You can get paid hourly or per project.
Related: How to Get Paid to Watch Sports
2. Become a Netflix Tagger
Netflix offers job opportunities to get paid to watch TV shows. Specifically, you can become a tagger and get paid to watch Netflix. As a tagger, it is your job to watch shows and tag them with the best descriptors such as comedy, romance, horror, children, etc.
Netflix offers its own compensation package for this line of work. If you are interested in watching shows for money, this could be a great full-time income job with Netflix. Get paid to watch the movies and shows so that you can tag them correctly to help viewers find shows that would interest them.
Related: Get a Free Netflix Account
3. Work in the TV Industry
The TV industry is booming. With so many story ideas for shows like drama, comedy, Christmas, crime and even cooking shows, production is in high demand. You can get your own job within the TV industry that involves watching TV shows for money.
Become a filmmaker, editor, broadcaster, host, camera person, or another position you might be interested in. Apply to local TV stations in your area to get a job where you can get paid to watch TV. As an employee, you will have a set salary that you will earn in your position.
4. Become a Transcriber
Transcribers are individuals who watch TV shows and transcribe audio into written content. This is helpful for people with auditory impairments who cannot hear the TV show but can still follow along by reading the captions.
A transcriber can be the person who helps make others still feel like they are part of the loop with their friends and family by being able to keep up with popular shows.
Transcribers can work with TV companies directly or they can freelance and work on a contracted basis. Whichever way you choose to become a transcriber, know that your job is important and beneficial to a large population.
Related: How to Get Paid to Watch the Harry Potter Movies
More Ways to Get Paid for Watching TV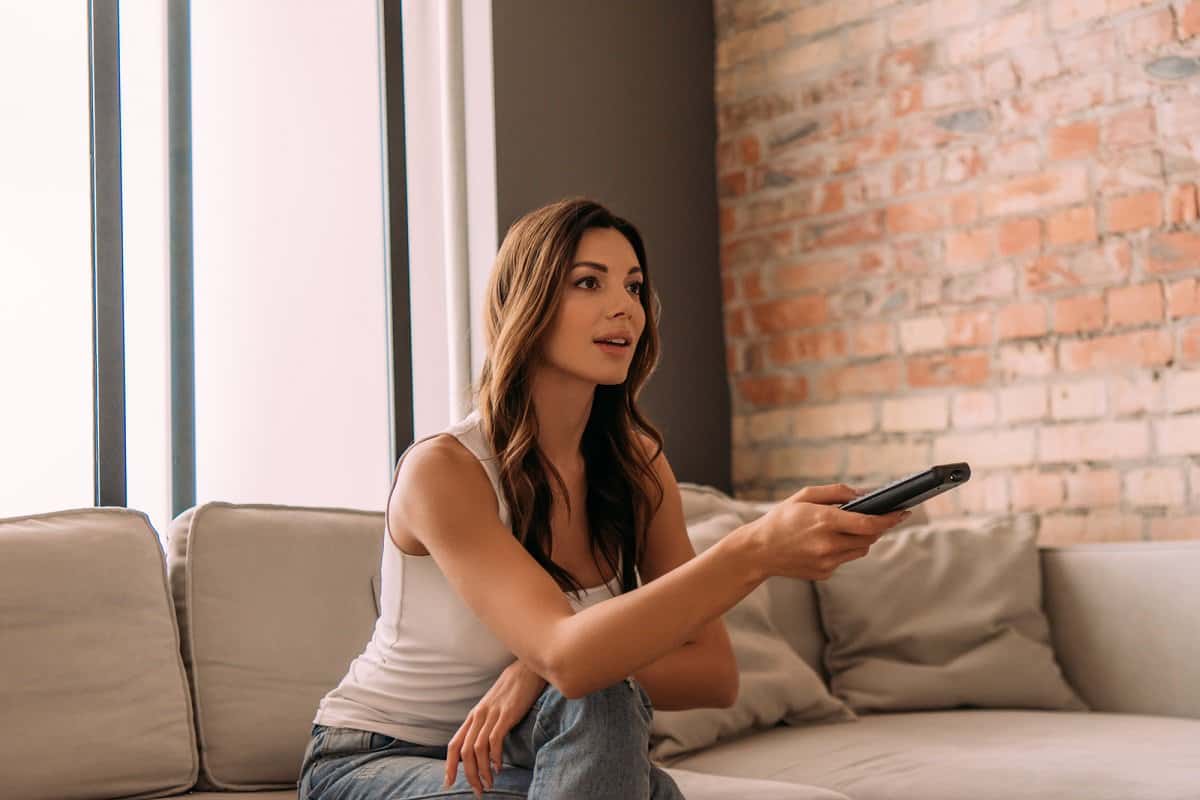 Use your free time to get paid for watching TV. The following ideas pay you for the time you actually spend watching TV.
5. Watch Commercials and Ads
InboxDollars offers TV watching opportunities for money to members only. Create a free account to get started watching TV from your phone.
For each commercial or ad you watch, you are rewarded with actual cash deposited into your InboxDollars account. Use that money to cash in for rewards like gift cards or PayPal cash.
You will also get a $5 welcome bonus for creating your InboxDollars account. Log in, navigate to the tasks to watch shows, and start making money.
6. Start Your Own TV Watching YouTube Channel
You can literally start a YouTube channel about anything (so long as it meets appropriate guidelines). Consider starting a channel about TV shows that you enjoy watching. Watch the episodes live with your audience or hold a review session after new episodes are aired. Provide your opinion on what you liked or didn't like about a particular show.
On your own YouTube channel, you can incorporate ads into your videos so that you get paid for views on your channel. Those ads can also generate a commission for you if viewers click on the ads and make a purchase. Consider adding affiliate links as well to recommend TV products to experience shows in true fashion. Make a commission for those affiliate sales and really boost your income.
Related: How to Get Paid to Watch YouTube
7. Download the Nielsen App
You are likely familiar with the Nielsen Family Company that has been around for decades. The company is one of the biggest research companies around and continues to expand. If you are selected to be a part of the Nielsen Family, that means you could get paid to download the app and watch TV shows from the comfort of your home. You will then be asked to answer some questions about those shows.
Nielsen pays families for the time they spend watching TV and answering questions. The hard part is that you have to be selected by Nielsen to take advantage of the opportunity. While you wait for your invitation in the mail, consider signing up with the Nielsen Computer and Mobile Panel to get paid for the things you watch on your smart devices.
Related: How to Get Paid to Do Nothing
Other Ways to Get Paid While Watching TV
Really get the most bang for your time by watching TV while you are doing other things that make you money. You can make money, enjoy some TV, and not have to feel guilty about it.
8. Become a Nanny
As a nanny or babysitter, it is your job to keep the children in your care safe and entertained. Occasionally, that includes some TV time depending on the parents' rules for screen time. Enjoy some age-appropriate TV shows with the children while you are on the clock.
You can also watch your favorite TV shows after the children have gone to bed and while you are waiting for the parents to get back home. Enjoy some binge-watching and make money for it as long as your after-bed tasks are completed. Nannies and babysitters get paid an hourly rate.
Related: How to Get Paid to Watch TikTok Videos
9. Become a Pet Sitter
Pet sitters have a stress-free job, which is the ultimate goal. You can get paid to take care of other people's fur babies by playing fetch with dogs, taking them for a walk, or just sitting in the house petting them so they know they aren't alone. Pet sitters can get paid to watch TV while they are caring for animals.
As a pet sitter, you get to set your own rates if you want to be paid hourly or daily depending on how much time you spend caring for another person's animals. This could be on an as-needed basis for when the owners go away for vacation or work. This could also be a regular job where you come in daily to care for the animal if the owner works long hours away from the home.
Related: How to Get Paid to Walk Dogs
10. Become a House Sitter
As a house sitter, there really isn't much that you need to do in order to make money. If you market your services the right way to the right people, you could set your business up well to make money with no stress.
House sitters generally check in on a person's home when they are away for business or pleasure. Essentially, you ensure the home is safe, nothing suspicious has occurred, and maybe pick up the mail or bring in packages left at the door. Other tasks such as watering indoor plants may also be part of the job.
The job can be even easier if you choose to temporarily live at the person's home while they are away if the commute is too far to drive to every day. This means you have access to watching TV shows at any time. Charge a daily rate for caring for someone else's home in their absence. Get paid to relax and enjoy some TV.
Related: How to Get Paid to Watch The Office
Make Money Without the Stress When You Watch TV for Money
You can make money doing almost anything. Watching TV for money is no exception. If you need a job that is less stressful or just want a new way to put more money in your pocket without spending more time away from home, TV shows could be your answer. There is less stress that comes with opportunities to get paid to watch TV.
I know I enjoy having time at home with my kids while also filling my cup watching some good reality TV shows. The fact that I can make money for this just sweetens the deal. Take care of your finances and your desire to watch TV at the same time.
Related: How to Get Paid to Watch Disney Movies
---
We appreciate the time you've spent reading this post and your interest is not lost on us. Your thoughts, questions, or experiences related to the topic are most welcome. Each comment adds strength to our community. We ensure every comment receives our attention, and we take the time to provide thoughtful responses. Once again, thank you for being a part of this conversation. Click here to leave a comment.