How to Get Paid to Watch Movies (and Review Them for Cash)
We foster relationships with brands we use and trust. The testimonials on our site represent real experiences, but they don't guarantee you'll achieve similar results. When you make purchases through our links to our partners, we may earn a commission. Your support helps us continue this work. You can read our full disclosure here.
A classic movie always puts me in a good mood. Whether the movie is sprinkled with sweet romance or filled with cheesy jokes, it leaves a permanent mark on me. I haven't encountered too many movies that missed the mark of entertainment for me. However, there have been some that have bombed and made me feel like I just wasted two-ish hours of my life. I wished someone would have warned me beforehand.
If I had known there are ways to get paid to review movies, I might have been inclined to check those reviews out first before watching movies I was hesitant about. If you are someone who likes to watch movies and share your opinions about them, then becoming a movie reviewer might be the perfect job for you.
I have come up with multiple ways you can get paid to watch movies and review them. All it takes is your dedication to find the way that works best for you. You can choose one or more of the ways listed here to turn movie watching into your dream job. Throw some popcorn in the microwave, pull up a comfy chair, and settle in for a career in movies.
11 Fascinating Ways to Watch and Get Paid to Review Movies
Join actual jobs that put you in the front row seat to watch movies that might be interesting to you.
1. Work for Netflix
Netflix is a well-known streaming site that has come a long way from offering DVD movie rentals back in its early days. Now, you can actually get paid to review movies on Netflix by becoming an official employee of the company. Netflix offers positions referred to as "Taggers" where you would be responsible for tagging the movie with the correct categories.
As a tagger, you would get paid to watch Netflix movies and shows and choose appropriate tags for them. Those tags include family-friendly, horror, rom-com, animated, adventure, etc. A Tagger's job is important because it helps people find the right types of movies and shows they want to watch among the thousands available in the Netflix library. You can search the Netflix job board for Tagger positions that come available, but they are few and far between.
Related: How to Get Netflix for Free
2. Join Cinema Review Sites
There are several websites out there that hire viewers to write reviews about movies. These sites include AnimationArena, Taste of Cinema, ScreenRant, and many more. Depending on the site, you can get paid anywhere from $15 per post to up to $200.
The requirements for each site will differ. You will be asked to complete anywhere from long-form to short reviews. Some of the positions offered include full-time writing positions or on a project basis.
Related: How to Get Paid to Watch TikTok
3. Join Movie Focus Groups
To get paid to watch movies and give your feedback on them, you can join movie focus groups. Help producers learn about the direction to take a movie based on your feedback. Paid focus group members can make a difference in the movie industry by putting their opinions in the running about how they would want a movie to end.
In a focus group, you could influence an entire movie based on an idea a story writer might have. Focus groups are very beneficial for many reasons. You can get paid to participate in short focus groups or groups that take place over a longer period of time. The length of time spent in the focus group will determine your pay.
Survey Junkie is a site that offers paid online focus group opportunities. The company extends these paid gigs based on members' demographics, so it's important to fill out your profile. Focus groups with Survey Junkie can pay up to $150 each.
4. Freelance Write Move Reviews
Start your own business as a freelance writer and specialize in writing movie reviews. Look for publications that want to have movie reviews written for them. Send out cold pitches to companies offering your services. You can also partner with companies and collaborate together to provide reviews on a continual basis.
Freelance writers can set their own rates. Depending on your experience and how fast you can produce quality content, you could charge a higher rate per review that you write. Sharpen your skills for writing informative and entertaining movie reviews to really set yourself apart from other movie review writers.
Related: How to Get Paid to Watch Harry Potter
5. Become a Mystery Shopper for Movie Theaters
A mystery shopper is someone who goes into establishments and secretly studies the way things are running. This includes how employees treat customers, how the services are as a whole, and what a customer's experience is like in those establishments.
Become a mystery shopper for movie theaters. Get paid to review movies as you experience them in the theater setting. Take note of the cleanliness of the theater, how the employees treat you during your interactions, and how well the sound system is during your movie of choice.
Sign up to become a mystery shopper at a variety of online sites like BestMark. You can get paid per shopping experience you complete after submitting your feedback form.
Related: Get Paid to Watch Sports
More Ways to Get Paid to Review Movies Online
Get paid to write movie reviews online using the following three ways. You can decide how you want to review movies and your reviews to be seen.
6. Watch Move Trailers on Swagbucks
Swagbucks is an online platform that is designed to give members tasks they can complete at their leisure and get paid for them. On the site, you can watch movie trailers on your phone and earn SBs after watching a certain amount.
Turn those SBs into money by cashing them out for gift cards to popular stores like Target and Amazon or request a direct payout to your PayPal account. Sign up for a free account with Swagbucks and get paid to watch commercials and movie trailers.
7. Review Movies on Your Own Niche Site
Start a niche site that is dedicated to watching and reviewing movies. You can review whatever types of movies interest you, which is the best part of owning your own website. You can write whatever you want as long as there is an audience for it. Get paid to watch movies and create consistent movie reviews so that readers know they can come to your site when there is a new movie that comes out.
Incorporate affiliate links to movies you review so that your viewers can purchase them. Earn a commission for each purchase made because of your review.
8. Start a Movie Review YouTube Channel
YouTube is a platform that is used daily because of the variety of videos you can find there. Whether you want to learn a new skill or see a dog doing a funny trick, you can always find content that will catch your attention. You can do the same thing with movie reviews.
Start your own YouTube channel dedicated to reviewing movies. Watch a movie live with your audience and review it right there on the spot. Additionally, you can post an informative video with your final thoughts about a movie. Save your viewers the trouble of watching a movie that didn't perform well.
Include ads on your videos to get paid for the views you receive on your channel. For each ad view and ad click, you make a commission.
Related: How to Get Paid to Watch YouTube
Easy Ways to Get Paid While Reviewing Movies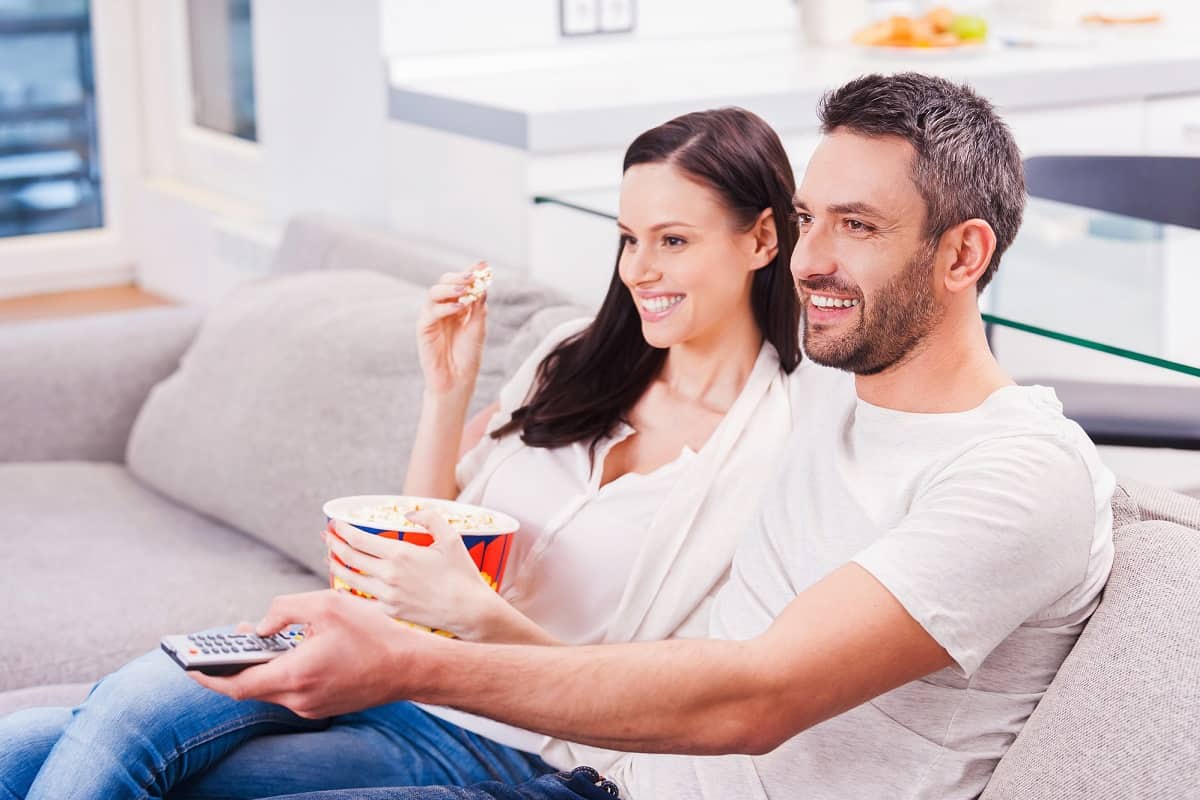 There may be opportunities to get paid more money for doing something you are passionate about, which could also be done at the same time as watching movies. Consider the following three ways you can get paid to write movie reviews while you're doing something else.
9. Get Paid to Watch Movies as a House Sitter
Becoming a house sitter means you are signing up to watch over a home of a client while they are away. Your only job is to make sure the house stays safe and secure while the owner is away. It really is an easy job, but it could become boring just living in someone else's house temporarily with nothing to do.
Consider popping in a movie or streaming new releases while you are house sitting. You will be getting paid to house sit so watching a movie and creating a review on it will be an added bonus.
10. Get Paid to Watch Movies While Babysitting
Babysitting jobs are in high demand. When parents need a date night out, a babysitter is the first person parents look to for help. Offer babysitting services and care for the children while their parents are away.
Many babysitting jobs come with watching a little TV before bedtime. Turn on a child-appropriate movie and hang out with the kids while watching. Additionally, you could wait for the children to go to bed and then put on a movie that is more interesting to you and review it.
11. Become a Pet Sitter and Enjoy Watching Movies
Pet sitters aren't required to do much more than feeding the pet and making sure the pet feels safe while its owner is away. This is the perfect opportunity to snuggle up with the pet and enjoy a nice movie together all while getting paid to be the pet sitter.
Ready, Set, Action! Movies are More Beneficial Than We Think
Being a huge movie buff can pay off in so many ways. Get paid to review movies in the comfort of your own home, at a movie theater, or while providing a service in someone else's home. You might think movies are just a way to pass the time, but they can be more beneficial than that.
If you think making money while watching movies is a great idea, then try your hand at one or more of the ways listed here. You will be happy you tried it out and your bank account will thank you once you start collecting that money.
Write stunning reviews, see new movies that will someday be considered classics, and take pride in knowing you are making a difference in the cinema world.
Related: How to Become a Filmmaker
---
We appreciate the time you've spent reading this post and your interest is not lost on us. Your thoughts, questions, or experiences related to the topic are most welcome. Each comment adds strength to our community. We ensure every comment receives our attention, and we take the time to provide thoughtful responses. Once again, thank you for being a part of this conversation. Click here to leave a comment.