SamCart Review: Is It Worth the Hype or Just Another Cart?
Try Bingo Cash, the ultimate bingo app for turning your skills into extra cash while enjoying colorful and engaging head-to-head matches. Win up to $83 per game and experience the classic bingo thrill in the comfort of your own home. Test your daubing skills and become a big winner today!
Bingo Cash™ is FREE to download and play! However, cash tournaments are not available in the following states: AZ, IA, LA, SC & WA.
I wrote my first ebook in early 2020. It was based on a strategy that I had been using with my high-revenue clients for many years. I didn't think to write that strategy down sooner, but I'm so glad I went for it.
I've been using some of SamCart's sales page strategies for two years now and have earned $11,113 in passive income with just this one digital product.
Since my ebook sells well because of it, I wanted to review how SamCart works and whether it could be the right cart for you to sell digital products or services.
The online space is flooded with a variety of ecommerce-type platforms that help users sell their products in the simplest way possible. Many of these website-based shops sell things like digital downloads, products that get shipped out to customers, or online courses.
The way to determine which platform is best for you and your business is to compare each site and to know what the pros and cons are. It's a time-consuming but necessary process. And it's worth it to make sure you are making the best business decisions.
You wouldn't plan a vacation to just any resort without first considering where you want to go, what your budget is, and what resorts have good reputations. The same kind of planning should go into business strategies like selling digital products.
In this SamCart review, I'll help relieve some of that stress. Not only do I complete a thorough dive into SamCart, but I also take it a step further to compare SamCart to alternatives so that you don't have to guess. If you are interested in SamCart for your business needs, you need to understand all the ins and outs before you decide to sign up.
One of my favorite sites, Swagbucks, offers tons of ways to earn real cash online. If you're not already a member, give it a shot! Here are five things you can do to make easy money on the site:
Play games (up to $322 each)
Test apps (up to $150 each)
Submit receipts (easy cash)
Shop at your favorite stores (up to 10% back)
Answer surveys and polls (quick cash in minutes!)
Our Popular Free Guides
How to Start a Permanent Jewelry Business - If you are patient, have social skills, and love interacting with others, then a permanent jewelry business may be for you.
How to Become a Sleep Consultant - Help parents and babies, and be the difference for families worldwide who are desperate for more Zzzs in their life as a sleep consultant.
How to Become a Proofreader - There are five basic steps to working from home as a proofreader. As long as you're willing to put in the work, you can become a proofreader!
SamCart Review Summary and Quick Facts
Samcart is a digital storefront. You can advertise things from your own shop on this ecommerce platform and sell as many products as you want. Its features include checkout templates, order bumps, subscriptions, one-click upsells, and payment plans. You can sell digital products, services, physical products, and even use it to promote affiliate offers.
SamCart isn't just a tool that people buy and then need to "figure out." It actually helps entrepreneurs get their businesses going with free training and a supportive Facebook group. Additionally, established companies have switched over because of its useful bump-up features.
Consider some of SamCart's pros and cons:
SamCart Pros
Unlimited sales pages
Ability to set your own prices for the products you sell
Different SamCart plans you can choose from based on your business needs
Fairly simple to use even for those who are not tech savvy
Tons of free training and support
SamCart Cons
Money from sales can take a bit longer than average to reach your payment processor
Some lag in replies from SamCart representatives if you have questions or issues
You have to pay to use the site after the free trial period
SamCart BBB Rating
Samcart is currently rated an A+ on the Better Business Bureau (BBB) site. It also has a five-star (out of five) rating in the customer reviews section on BBB.
There are 13 complaints against the company, and all of them have received a response from a SamCart representative. The SamCart complaints range from mishaps with the billings department and some tech issues with SamCart products to complaints that the purchased product didn't perform as expected.
Related: How to Write an Ebook and Make Money
How Does SamCart Work?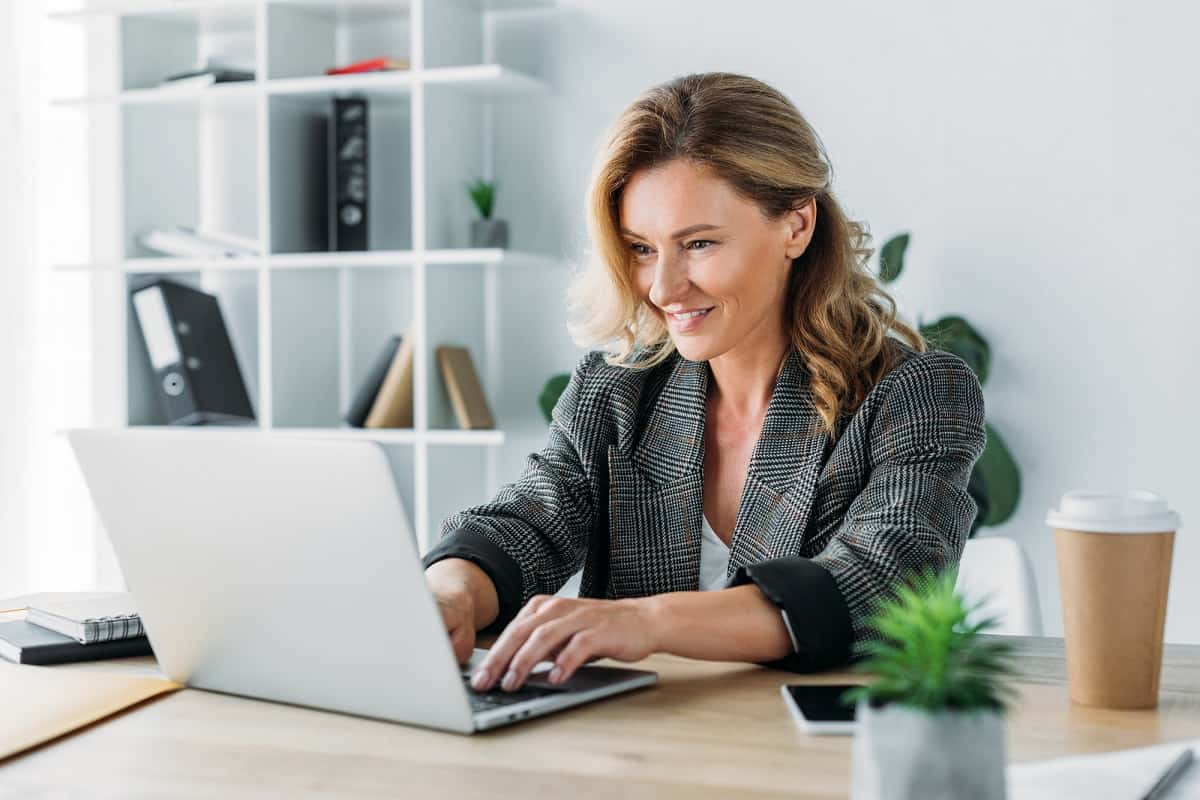 This SamCart review breaks down the steps you need to take in order to get set up selling your own products or services. The first thing you need to do is select the best plan for your business needs. From there, you will have access to SamCart features, which include building your own customized sales page, integrating payment processors, and advertising your new site.
Samcart is the place you want to send your customers to so that they can buy what you are selling. It acts as your own online store. SamCart's purpose is to make the buying process simple so that you can make money quickly from sales.
1. Select a SamCart Plan
There are three plans to choose from: Launch, Grow, and Scale. Each plan is priced differently depending on the features it offers. If you are just starting out in your business, the Launch could be a good starting point. However, if you are already established with a team behind you in your business, the Scale might be best.
The great thing about each plan is that you can try Samcart free for seven days to get a feel for it and see if it will work for you.
2. Sign up
Once you have decided which plan you want to try, sign up with Samcart using your name, email address, and phone number. Answer a couple of questions about your business and fill in the payment information.
You won't be charged right away, but you cannot continue with your free trial without putting in your payment information first. Agree to the terms, place your order, and you will be taken to your new SamCart account.
Related: Things to Sell to Make Money Online
3. Update Your Account
Take the walkthrough of how to get started with your Samcart account. Fill in information about your business and what you plan on selling.
Start creating your first sales page and one-page website to help promote your products. Contact support if you have questions or need help. Finally, set up your payment processors like Stripe or PayPal.
4. Download the SamCart App
Keep tabs on your sales through the SamCart app. You can get notified whenever a sale comes through from your site. The app lets you manage your products from the palm of your hand.
Related: How to Make Money with Cash App
5. Test Your Site
Before you set your site to "public" for others to purchase from, test it out to make sure all the parts are working the way you want them to. Check out your site on both desktop and mobile views to ensure your customers will have an optimal experience.
6. Join the SamCart Facebook Group
Join a support group on Facebook geared toward helping SamCart users with their sites. You can learn from other users, ask questions, and ask for feedback on your sales pages. If you get hung up on anything, this group can help keep you from spiraling into a pit of frustration.
Related: How to Start an Esty Shop
KashKick is a great find for gig workers, offering many ways to make extra money doing what you enjoy. Try it out - it's free! Here are five easy ways to start earning money on the site:
Play games (up to $125 each)
Test apps (up to $125 each)
Buy lottery tickets (an easy $8)
Try popular brands (always changing)
Answer surveys (quick cash in minutes!)
SamCart Alternatives
No website is perfect and that goes for SamCart as well. There are some SamCart complaints that may have you questioning if it is the right fit for you. If you are not 100% sold on using this site for your business needs, then consider using a cheaper or free funnel builder to launch your sale at the lowest possible cost to you.
Thrivecart
Thrivecart is an ecommerce platform designed to make selling online smoother for the shop owner and customer. It can integrate with dozens of other services you might use like Google Analytics, Zapier, MailChimp, and more.
There is a one-time membership payment option so that you don't have to worry about monthly fees–but it's a steep payment that many new sellers won't be able to pay.
I personally use Thrivecart because of the one-time payment option. My business was well-established when I decided to take the plunge. If you are not sure if selling products or services using a sales page is right for you, I recommend starting with Samcart and only switching to Thrivecart once your income is established.
SendOwl
SendOwl is a more basic online platform that helps users sell digital products only, such as memberships, subscriptions, and ebooks. It offers lower pricing than other ecommerce sites in its category.
You can start an account with a 30-day free trial and no credit card is needed. You can also have affiliates with your SendOwl account, meaning others can promote and market your products for a commission.
Clickfunnels
Dedicated to sales funnels and websites, Clickfunnels specifically helps entrepreneurs. Create your own landing and sales pages to convert potential customers to paying customers. Clickfunnels believes in following up with customers through follow-up funnels.
Thinkific
A platform specifically for course creators, Thinkific allows you to sell your course online. Make it easy on yourself by uploading your content so that it can be purchased at any time by customers who want to learn from you. Start with a free plan and work your way up as your business grows.
Related: How to Start a Shopify Store
SamCart Q&As
This SamCart review is meant to guide you through the questions you might have about the platform. Get common questions answered here to give you even more insight into what to expect before you decide to try SamCart.
Is SamCart good for beginners?
SamCart could be described as good for beginners because it's easy to use, has low monthly plans, and offers creative freedom for personalized online storefronts. It also guides beginners with both free and paid courses depending on what you wish to accomplish.
How do I get SamCart for free?
Simply pick the plan that you want to have with Samcart and start a free trial for it. You will have seven days to try SamCart for free. There are no other ways to get a free account.
However, the goal is always to earn more with your SamCart membership than you pay. The cart gives you the opportunity to sell products online without hassle.
Does SamCart integrate with Kajabi?
Yes, SamCart integrates with Kajabi and other membership sites like WishList Member, OptimizeMember, and more.
Is SamCart a funnel?
It has basic sales funnel features like the ability to upsell customers to increase your overall revenue. It teaches you how to create a one-page funnel to fast-track your sales.
How do I contact SamCart?
You can contact SamCart by emailing them at support@samcart.com. Or you can use the official Facebook group and the Facebook business page.
You can reach out to the support team seven days a week with your questions. However, keep in mind that the Facebook group page might be more promising to find answers if you are seeking help with troubleshooting your site.
Related: How to Make Money on Amazon FBA
SamCart Review: Findings
The final thought during my time reviewing SamCart is that it is a legitimate business providing a quality service to those who want to sell products online. It has a good BBB and customer review rating. There are some complaints that stem from the billing department, but all complaints have been addressed, and most have been resolved.
One of the biggest benefits of having a SamCart account is that you can join the official Facebook group page for support from a community of individuals who know what you are going through. They can give you tips to increase sales, provide feedback on pages you've been working on, and help you feel like you are not trying to do all of this alone.
SamCart is a company that has been successful in the seven years it has been open, and it continues to perform well. Based on your business needs and budget, Samcart could be the right solution for you.
Related: What to Sell on Etsy
---