10 Beauty Jobs That Don't Require a Cosmetology License
We foster relationships with brands we use and trust. The testimonials on our site represent real experiences, but they don't guarantee you'll achieve similar results. When you make purchases through our links to our partners, we may earn a commission. Your support helps us continue this work. You can read our full disclosure here.
Obtaining a cosmetology license is often necessary to perform services like waxing, hair treatment, and nail art. Cosmetologists must complete a certain number of training hours and pass a state exam, with renewal needed every few years, depending on the location. While it is very beneficial to obtain this license, not everyone has the time or resources to do so.
Explore alternative paths to joining the beauty industry – ones that don't involve waiting for a license. This curated guide details the various options that don't require a cosmetology license.
Ready to become a LINKED certified permanent jewelry welder? Use the discount code TRINITYTPAHP at checkout to get $100 off!
10 Beauty Jobs That Don't Require an Esthetician License
1. Permanent Jewelry Welder
Permanent jewelry artists weld jewelry directly onto their clients. This innovative approach to accessorizing eliminates the need for unsightly clasps on necklaces, bracelets, and anklets, allowing for a sleek, seamless look. Clients select their chain and metal of choice, and the permanent jewelry artist skillfully welds it into place.
Although permanent jewelers aren't required to have a cosmetology license, it is recommended that they invest in a specialized permanent jewelry training course. Use LINKED Permanent Jewelry Training to gain valuable knowledge about the equipment, quality material suppliers, safety protocols, and best practices involved in the process.
In addition to mastering the technical aspects of permanent jewelry welding, a comprehensive training course will also guide aspiring artists in attracting customers and building a successful business within this niche beauty field. Take the LINKED Permanent Jewelry Training course to learn the ins and outs of creating a thriving permanent jewelry enterprise, from marketing strategies to establishing a strong online presence.
Ready to become a LINKED certified permanent jewelry welder? Use the discount code TRINITYTPAHP at checkout to get $100 off!
2. Microblading Artist
Microbladers enhance their customers' natural beauty by providing them with semi-permanent solutions for their eyebrows. Microblading has become increasingly popular among those who wish to avoid regular waxing or plucking, and gives them longer-lasting, well-defined brows.
Microblade artists don't need a cosmetology license, but they must obtain professional certification with a program like Sassy Wink Academy before offering this service to potential clients. Given the fact that microblading is a form of cosmetic tattooing, it's crucial to become well versed in the proper techniques and safety measures to ensure a successful outcome and minimize risks.
You will also need a bloodborne pathogens certificate that demonstrates your understanding of the potential risks and exposure associated with this beauty service.
Kickstart your career in the beauty industry as a microblade artist by enrolling in an online or in-person microblading course.
Your upfront work in obtaining the necessary certifications and honing your craft will equip you to start a fulfilling career as a microblade artist, helping clients achieve their desired look and feel more confident in their appearance.
3. Lash Technician
Lash technicians are skilled professionals who specialize in enhancing their customers' natural eyelashes by meticulously applying individual false lashes. This highly sought-after service is now a staple within the beauty industry, and satisfied clients enjoy having full, long, and voluminous eyelashes without the need for daily mascara application. Some lash technicians even offer colored eyelashes to those seeking a touch of whimsy.
Eyelash technicians do not need a formal license in some states. To ensure success and client satisfaction, aspiring lash technicians should complete a comprehensive eyelash training with a program like Sassy Wink Academy, which will equip them with the essential knowledge and skills needed to expertly apply false lashes. This includes proper techniques, suitable materials, and safe practices.
Related: Best Short Certificate Programs That Pay Well
4. Makeup Artist
Makeup artists don't need a license to offer their services, which include makeup application done for weddings, proms, and other special events. Makeup artists help clients look and feel their best by creating their desired makeup looks.
Costume makeup typically requires a higher level of skill and creativity, and involves designing and applying unique and intricate looks for performances, theater productions, or themed parties.
Makeup artistry requires consistent practice, which can be done on yourself or on friends and family members to help you develop your technique and learn the ways in which different makeup products work on various skin types and tones.
Take advantage of the many available online resources that can help you learn from other professionals and expand your knowledge. Watch tutorials, follow makeup artists on social media, and read articles and blogs written by industry experts. This will let you enhance your skills and stay up-to-date on the latest trends and techniques.
5. Photo Editor for Beauty Brands
Use your photo-editing skills to break into the beauty industry. Photo editors help beauty brands showcase their products in captivating and visually appealing ways. Your expertise can breathe life into photos of models adorned with a specific brand's makeup, or expertly enhance images featuring beauty products artistically placed amidst lush flowers or against a serene beach backdrop.
Photo editors excel without the need for a beauty license. The knowledge and skill required to produce high-quality, polished images can be acquired outside of traditional beauty education. Completing a photo editing course can provide you with a solid foundation on both basic and advanced techniques.
Companies within the beauty space invest handsomely in photo editing that elevates their marketing campaigns and effectively conveys their brand identities. Use your editing skills to make a significant impact in the beauty industry without the need for a beauty license.
Other Ways to Make Money in the Beauty Industry Without a License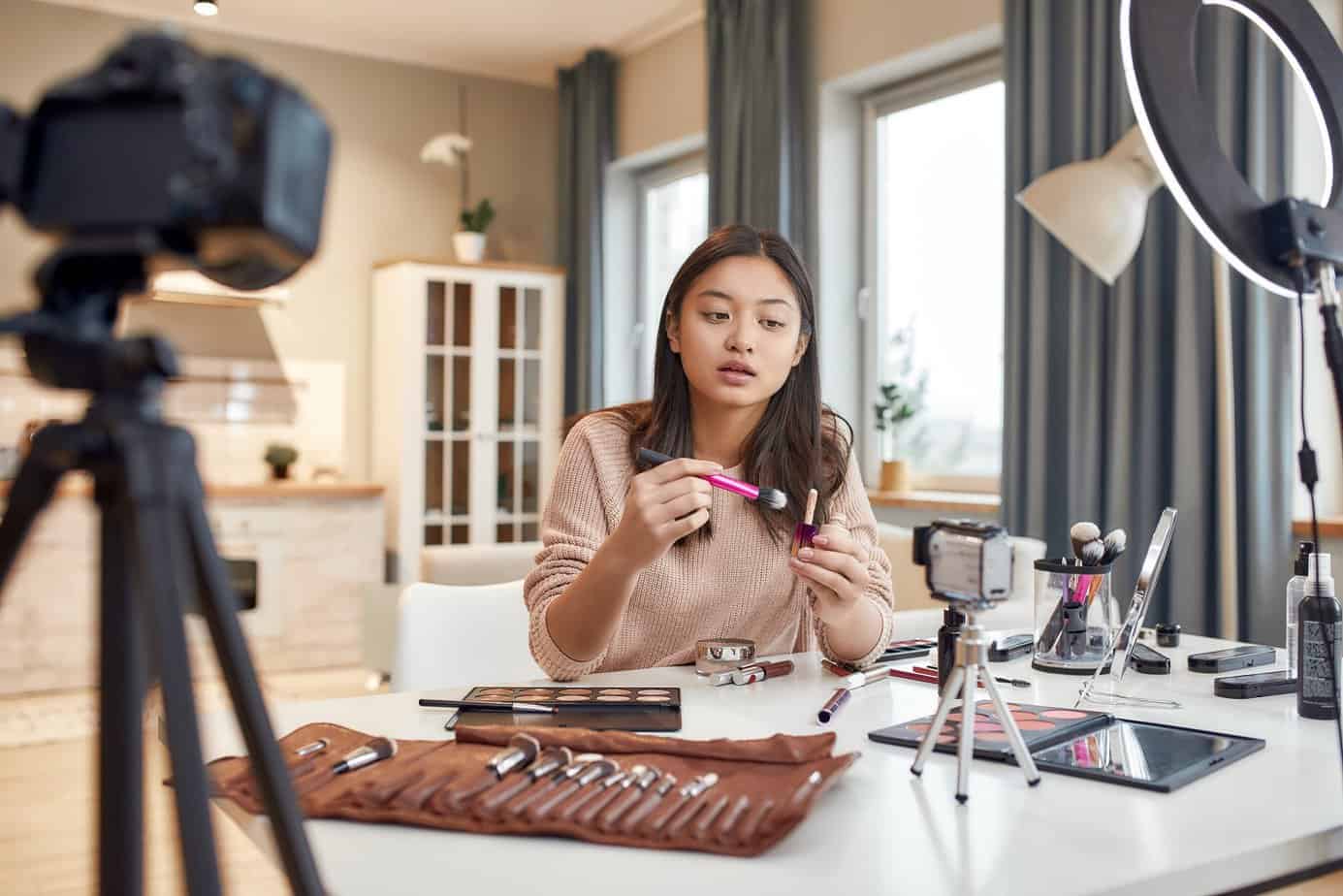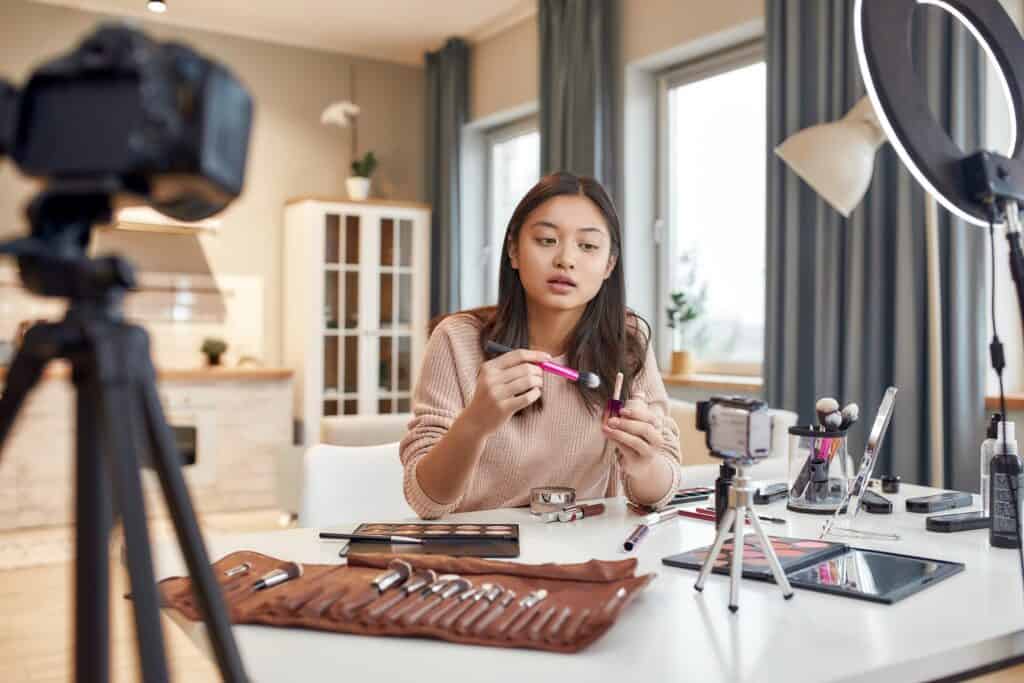 6. Beauty Consultant
Beauty consultants work in store or for themselves, by selling their own merchandise. Assist your clients in choosing products for facial cleansing, event makeup, or everyday wear.
Well-educated beauty consultants are knowledgeable about the products currently available on the market, and can guide customers in their purchasing decisions. The ability to make a sale will also come in handy, because you will spend the majority of your day demonstrating a product's benefits, in the hope that your customer will purchase the items you recommend.
Related: How to Start a Consulting Business
7. Facebook Ad Manager for Beauty Service Providers
Facebook ad managers work with beauty brands to ensure that all advertisements meet the platform's criteria and guidelines. Design compelling ads that inspire viewers to purchase products from the brand you represent.
Advertising managers must stay on top of the Facebook algorithm, and fully understand how to strategically place their products in front of their target audience. You don't need a license to work in this field, but you should pursue courses that will teach you how to write compelling and effective Facebook ads.
8. Beauty Blogger
Beauty bloggers write about beauty products, tips, new product releases, and anything else pertaining to the beauty industry. Start a blog and create consistent content to share with your readers. The more traffic you get, the more you can increase your income.
Make money by incorporating ads into your blog posts and earning income for each view and click. You could also become an affiliate for beauty brands, making product recommendations using personalized links and codes. You will make a commission off of each sale made through your blog.
9. Beauty Influencer
Beauty influencers grow their following on social media, often using their platforms to sell affiliate products to their audiences. Many influencers who focus on makeup make daily content centered around the specific brands they regularly use.
The social media algorithm pushes this content to users who are already interested in makeup and beauty. Successful influencers make a commission off of any sales made through their posts.
10. Virtual Assistant to Beauty Business Owners
As a virtual assistant with a beauty organization, your role will entail answering emails, scheduling appointments, creating presentations, and more. Your job is to stay on top of the business's needs, whatever they may be – and you don't need a license to get started.
Elevate your professional appeal by taking virtual assistant courses that can help you better understand your role, increase your skill set, and show you how to land clients.
Related: How to Become a Mystery Shopper
Many Beauty Services Don't Require a License
Seize this opportunity to break into the beauty industry by exploring the numerous job options that don't require a license. Experiment with several of the options listed above to maximize your income potential and diversify your skill set.
Put your unique talents to good use and pursue these unlicensed beauty services to take a leap of faith in yourself and reap the rewards of a fulfilling career in this ever-evolving field.
Related: LINKED Permanent Jewelry Training Review
We appreciate the time you've spent reading this post and your interest is not lost on us. Your thoughts, questions, or experiences related to the topic are most welcome. Each comment adds strength to our community. We ensure every comment receives our attention, and we take the time to provide thoughtful responses. Once again, thank you for being a part of this conversation. Click here to leave a comment.