16 Real Ways to Make $10K Fast when You Need It the Most
It can be hard to get ahead in an ever-changing world where the cost of living consistently increases dramatically. Looming debt and the pressure to save for future expenses can get stressful. It may seem impossible for anyone to make ends meet while enjoying life at the same time. The answer is to learn how to make $10K fast.
That extra $10,000 might sound like an impossible number to meet, but it is possible if you break down your goals yearly, monthly, weekly, and even daily. You can accomplish this goal if you are determined and willing to put in the effort.
To make $10,000 fast, you must first understand how quickly you need it. Ask yourself questions like, "Why do I need this?" And, "Do I have a due-by date?" With those answers in mind, you can then find the best way to make $10K fast, based on your financial needs.
How to Make $10K in a Day
If you need to make $10,000 fast – like within 24 hours – then check out the following list of ways to earn that much money in a day. Keep in mind that many of these will require you to put in a lot of work or make temporary sacrifices in order to meet your goal.
1. Sell Your RV
RVs are hot commodities that many people want to purchase, especially during high-travel months. If you haven't used your RV in a while, consider sprucing it up a bit to sell for $10,000.
Depending on your vehicle's age and condition, you could probably get more than $10,000 for it, particularly if you sell it during the summer. But if you need the money in a day, you will likely have to let it go for less. Price it competitively so it will sell quickly.
List the vehicle on Facebook Marketplace, Craigslist, or another similar site, and share photos of the memories you and your family made in the RV. Appeal to potential buyers' emotions and help them envision driving the RV and creating new memories with their own families.
Related: Best Things to Sell to Make Money
2. Sell Your Vehicle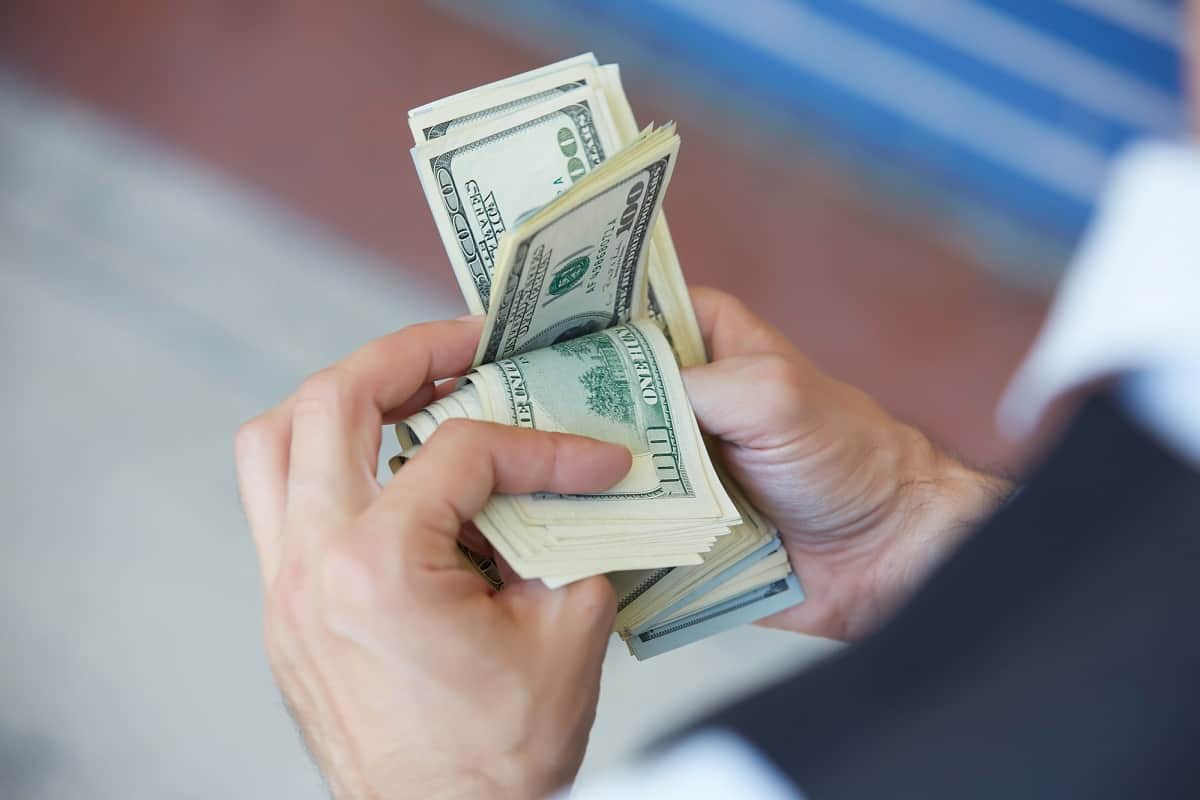 If you have a paid-off vehicle that you don't use or no longer need, let it make money for you instead of just collecting dust. The amount for which you can list it will depend on its condition and age.
Post your vehicle for sale on platforms like Facebook Marketplace or Instagram. Ask friends and family members if they know of anyone who is in need of a vehicle, or take the car to a dealer to see how much he or she would pay to take it off your hands.
3. Sell Valuable Items That You Own
This may not be the ideal situation, but you could sell off potentially valuable family heirlooms like jewelry or china sets to make a collective $10K in a day.
Take your items to pawn shops, jewelry stores, or antique dealers to get an offer. You could also sell them yourself on eBay, where many customers pay top dollar for the right product.
Mature house plants can also bring in a lot of cash. You could potentially make money selling plants right in your own neighborhood.
4. Offer a Service
Those who are talented in a specific area can make money off of others who don't possess the same skills. Think bigger than just maintaining someone else's landscaping. Paint houses, fix computers, haul away junk, transport large objects, and more.
If you choose to offer these services, give your customers an estimate about how much the job would cost, and then collect a 50 percent payment upfront. If you have multiple skills, offer estimates for several projects so that the payments you receive help you reach that $10,000 goal.
Related: How to Start a Laundry Service Business
How to Make $10K in a Week
If your need for money is less desperate and you have a little more time to make $10K fast, consider the following ideas that will bring you some extra cash in a week.
5. Become a Permanent Jewelry Welder
Beauty lovers are obsessed with permanent jewelry. Artists who offer this service are popping up everywhere as the demand for permanent jewelry grows. If you need to make $10K fast, this service-based profession could be exactly what you need. Many successful permanent jewelry welders earn at least $2,100 in just 2 1/2 hours of work. Imagine how much you could make in this field from a full work day! That $10K goal suddenly doesn't feel so unattainable.
Certified permanent jewelry artists weld necklaces, bracelets, and anklets onto their customers. This service takes approximately 15 minutes to complete per customer, so you could service dozens of clients in a day and potentially reach your $10K goal in less than a week.
You'll need to take a certification course before starting your permanent jewelry service; that's where LINKED Permanent Jewelry Training comes in. Learn how to use a welding machine, promote your services, and build a successful permanent jewelry business. Finish the course in a few hours or days, depending on your schedule. Join this popular industry and offer your services to friends, family members, and other people within your community to really grow your business.
6. Trade Any Stocks or Investments
If you already have stocks or other investments and can pull $10,000 from your portfolio, then consider making a withdrawal. It can take up to a week to see the money in your account, so make the trade and request the withdrawal in ample time to reach your goal.
You can also borrow against an investment like a house or 401(k). If you have built up enough equity, you could easily pull out $10K.
Related: How to Invest and Make Money Daily
7. Sell Courses Online
Having extensive knowledge or experience with a specific topic can also help you turn a profit, if you sell your skills the right way. Create a course within your niche and market it online to make money.
You will probably need to sell several competitively priced courses in order to earn $10K in a week. Make your offerings interactive and engaging so that your customers will return in the future to learn even more.
Selling online means that you will probably need to pay a fee or monthly membership in order to house your content. Take that cost into consideration when pricing your courses, so that you actually make the money you need.
Related: Samcart Review: Is It the Best Place to Sell Your Online Course?
8. Rent Out Your Timeshare
If you have a timeshare that you won't be using, rent it out to make some extra cash. Partner with timeshare rental companies to offer your spot and get paid for each reservation made on your timeshare.
You will get paid an advance on any reservations made by another person who selects your timeshare. Collect the advancement fees from multiple individuals to put toward your $10K plan.
Related: Fast Ways to Get Money to Pay Rent Tomorrow
How to Make $10K in a Month
It could take up up to a month to reach your $10,000 goal with the methods listed below. If you have the time and patience to wait that long, then you will be well on your way toward meeting your goal in about four weeks.
9. Become a Virtual Assistant
Virtual assistants have the freedom to work from anywhere. Many people side hustle as a VA until they can increase their clientele. If you want to make $10K fast, you will likely need to make this more of a full-time job rather than a side gig.
Become a virtual assistant and make $10K in a month by locking in clients for your services. Customers will typically pay you by the month. Providing high-value services could help you reach $10,000 in payments each month.
Virtual assistants offer a range of services; simply determine the type of profitable skills you have and offer them at top dollar, based on the value they will bring to your clients. Make $10,000 in a month by partnering with several individuals to offer your VA services. Request a monthly retainer upfront, and if you book five clients, you could earn $2,000 per month, per client.
Related: How to Make $5,000 Fast
10. Start Your Own Blog
Many bloggers clear $10K-plus in a single month. This could be you! The trick is to find a niche in which you have extensive knowledge and be consistent with your posts.
It will take time and commitment to work up to this sizable monthly income. It won't happen overnight. You will need to have a plan in place and follow it to gain traction with your audience.
Many bloggers make an income through ads and affiliate links. Companies can rent out space on your blog pages and posts to advertise to your audience. You will collect a commission for them using your site (ad views) and make additional money if your readers actually click on the promotion (ad clicks).
Incorporate your affiliate links into your blog posts. You will earn a commission from any purchases your site visitors make from your links. Bloggers can also make money on their sites by selling things like eBooks and various templates.
11. Become a Wedding Photographer
Photographers make a decent income, especially those who specialize in weddings. There's a lot of stress surrounding weddings, but you can help the happy couples remember their big days by capturing all of the special moments. Your images will allow the participants to revisit the occasion on a later, less hectic date. Wedding photography is a specialty craft, which is why you can charge top dollar for your skills.
To make $10K fast in a month, book a few wedding sessions and require a deposit upfront to reserve the date. Wedding photography packages are typically priced in the thousands of dollars, so if you can secure a few new clients for upcoming weddings, you can easily meet your revenue goal.
Related: How to Become a Photo Editor
12. Become a Life Coach
Life coaches help others with any struggles they might be facing, including finances, mindset, relationships, business, or other life transitions. These are not licensed therapists, but their services are still invaluable.
As a life coach, you can set your own rates for the transformative services you will provide to your clients. Many life coaches charge at least $10,000 for a six-month partnership. Your clients won't always be able to pay the whole fee upfront, so offer installment plans to help with the cost.
Determine the number of payments you are willing to accept; this will let you know how many new clients you will need to sign to meet your $10K goal. Ask each client to pay at least one installment fee in order to secure your services.
Related: How to Make $50,000 Fast
How to Make (an Extra) $10K in A Year – On Top of Your Day Job
The following are methods you could use to make $10K extra per year in addition to the income you have from your day job. None of these will take up too much of your time.
13. Become a Babysitter
Babysitting for others is a lucrative side hustle that you can do after work or on the weekends. Depending on their experience, babysitters can make anywhere from $15–$30 or more per hour. Offer your babysitting services to your friends, neighbors, and coworkers.
At a rate of $25 per hour, you would only need to work about 8.5 hours per week for an entire year to reach $10,000. Break down the amount you charge into how many hours you will need to babysit each week to determine if you can make it to your goal by the end of the year.
14. Start a House-Sitting Business
House sitting simply requires you to watch over another person's home while he or she is away on vacation or business. You could live in the house temporarily, or drive to the location each day to check the premises, water the plants, and bring in the mail.
House sitters can set their own rates. Take into consideration how much money you want to make that year. You could take on multiple clients at once if the homes are in close proximity to each other.
Related: How to Start a House Cleaning Business
15. Become an Affiliate Marketer
Affiliate marketers advertise for various brands and companies. This involves more than simply using affiliate links to sell items through a blog post; it's an active way of promoting a brand to your followers to encourage them to buy products or services based on your recommendations.
Affiliate marketers can make hundreds of dollars in commission just for their referrals. Partner with big brands or small businesses that are willing to pay you to access your audience. This could also include various skilled professionals, like life coaches who will kick you a commission when your referrals sign up for their services. Sell big-ticket products through your site to make a decent commission and bring in thousands of dollars per year.
16. Rent Out Space
Consider any extra space you have on your property, including land, a guest bedroom, a vacation home, a garage, or even a storage shed. If you aren't using this extra space, rent it out to someone else and make some money in the process.
The monthly rates you can charge for access to your extra room or storage space can quickly add to your bottom line. Use a service like Airbnb to rent out your vacation home or extra bedroom for reservations. Allow RV, boat, or trailer owners to store their vehicles on any land you own. Any areas you aren't using can bring you a lot of extra income.
Over the course of a year, your extra space could pad your wallet with an additional $10,000.
Related: Best Side Jobs for Moms
Making $10K Fast Requires Hard Work
Bringing in an extra $10,000 can be a tall order, but it's not impossible. Make a plan and stick to it, and you will eventually reach your goals. Just be realistic and consider the options that will actually work for you, your lifestyle, and your family.
Whether you want to make $10K in a day, a week, a month, or a year, the options are endless. Depending on your lifestyle, you could set a $10K plan in motion today to help you get a step closer to your goal.
Choose one or more of the options listed above to kick-start your financial success. Maximize your earning potential by doubling up on some of these ideas. You'll need to remain dedicated to making this money, whether you want to build a nest egg, pay off your debts, or go on a dream vacation. Take control of your finances and set yourself up for a more lucrative future by making $10K fast.
Related: Best Side Hustles for Men
---