How to Start a Permanent Jewelry Business (6 Quick Steps)
Ready to become a LINKED certified permanent jewelry welder? Use the discount code TRINITYTPAHP at checkout to get $100 off!
I recently had the opportunity to attend a bingo night event for women, which included a variety of vendors selling a plethora of wares. When I arrived, I noticed a long queue at a specific stall, and I was mystified about the kind of product that would elicit such interest. The women in line looked so excited, this unicorn vendor could have been a celebrity. I walked toward the stall to take a peek, and saw that the vendor performed permanent jewelry services.
While I had heard about this new, trendy way to buy accessories, this was the first time I had actually seen it in person. Considering the long line of patiently waiting customers, I could only guess at the amount of money this vendor would take home that night after just this one event.
This is clearly a business that has seen a recent boost in popularity, bolstered by the wave of social media influencers who have dipped their toes into the trend. I started thinking about what it would take to start a permanent jewelry business myself. It turns out, it's not that difficult, and it can be done on any schedule. The vendor present at this bingo night had a newborn at home with her husband, but she was able to sneak away for a few hours to make some money and socialize with others.
Our Popular Money-Making Offers
Sign up with each of the following companies to maximize your earning potential.
$10 sign-up bonus
Pays to take surveys, complete offers, shop online, and much more
100s of other paid tasks
Awards cash and gift cards
$5 sign-up bonus
Pays to play games, watch videos, answer polls, and much more
100s of other paid tasks
Awards cash and gift cards
What is a Permanent Jewelry Business?
A permanent jewelry business – or permanent bracelet business – is service based. Simply invest in the necessary equipment, training, and jewelry pieces that you want to offer, then weld the jewelry onto your customers so that it won't come off until they want it to. Permanent jewelry doesn't have any of the traditional clasps that are a part of traditional baubles.
Bracelets, necklaces, rings, and anklets can all be made permanent. What kind of jewelry you want to offer – and if you want to provide customizations like gems, charms, or color variations – is completely up to you. Permanent jewelry isn't a new concept, but it is rapidly gaining popularity.
Related: How to Start a Shoe Flipping Business From Home
Do You Need a License to Have a Permanent Jewelry Business?
The permanent jewelry industry is not currently regulated, so you will not need any licenses or permanent jewelry certifications in order to perform the service. Depending on how you choose to sell your permanent jewelry, you may need to have a vendor license in some states. Check with your local licensing offices to see if this is a requirement in your state.
Even though a license isn't required for a permanent jewelry business, it is still a good idea to apply for a free EIN with the IRS to help you open a business bank account and keep your personal and business incomes and expenses separate.
Other Permanent Jewelry Requirements and Qualifications
Because performing permanent jewelry services is done on live customers, you need customer service skills, great attention to detail, and good hygiene. Your business will be conducted in close quarters with other people, so you will need to be able to converse with them in a friendly manner, in a clean environment.
Fine motor skills are important, since you will be welding pieces of jewelry around your clients' body parts. Take care to leave their new accessory as flawless as possible. You will also have to exercise patience while customers take their time exploring the jewelry options you have available, to make sure they will be satisfied with their chosen pieces.
Consider working with a local attorney to draft a contract or waiver that limits your liability. For example, a customer with sensitive skin may eventually experience a reaction to a necklace or bracelet, so having all clients sign a waiver will protect you, while ensuring that they understand the potential risks upfront. "You can offer services online or in person without a contract," says Amira Irfan, business lawyer and owner of A Self Guru, "but keep in mind that you are taking a huge legal risk by doing that."
Salary or Pay Expectations for a Permanent Jewelry Business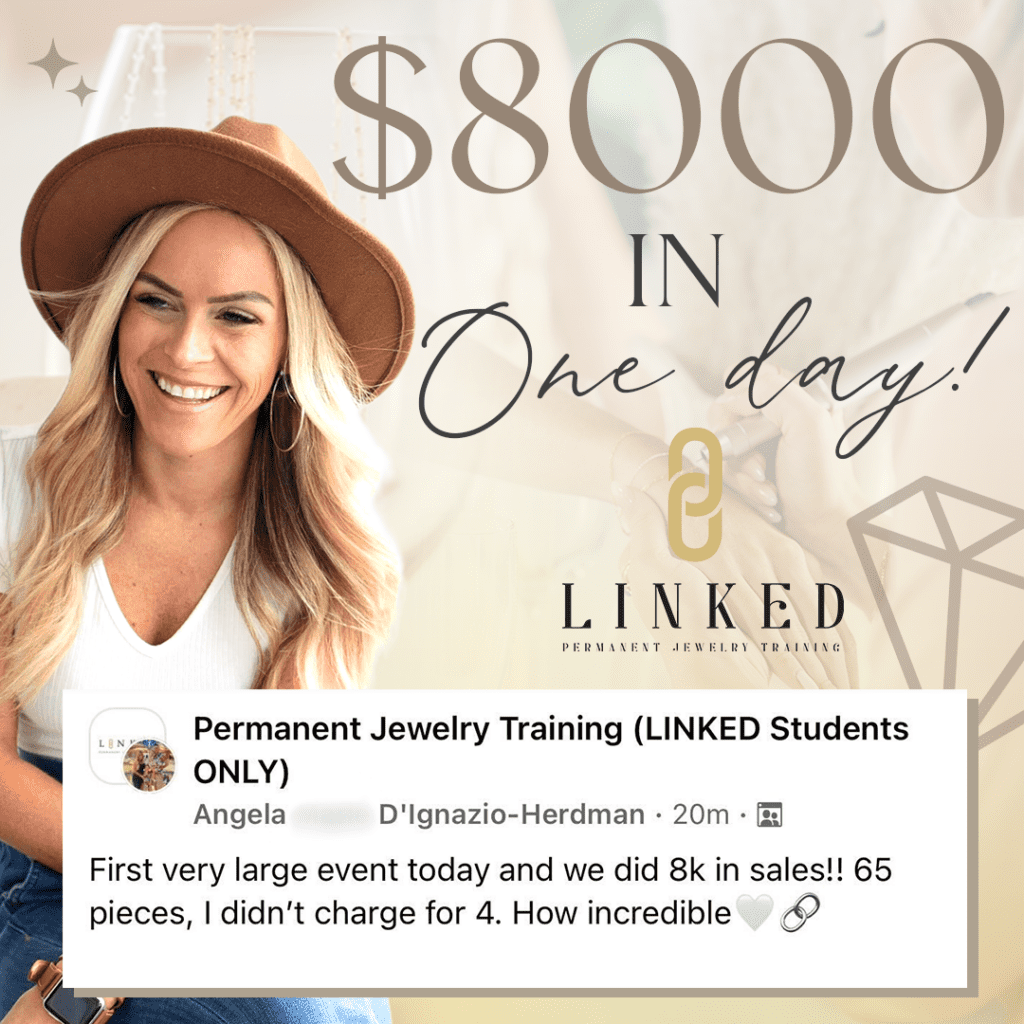 According to ZipRecruiter, a person who runs a permanent jewelry business is known as a jewelry welder. The national average annual salary for a jewelry welder is $40,661. Some jewelry welders make as much as $69,000 per year, while those on the lower end make as little as $19,500.
Your salary will be based on your availability, the area you service, and how much variety you have to offer customers. You can also earn more as you gain experience and garner repeat customers and client referrals.
More Popular Money-Making Offers
Earn more money in your spare time with these reputable companies.
Free PayPal cash
Paid surveys and web searches
Earn easy cash back
Get paid directly to your PayPal
PayPal, Visa, Amazon, etc.
Pays you to do NOTHING (with SJ Pulse)
Simply install the software
Participate in paid surveys & studies
Related: How to Become a Sleep Consultant
How to Start a Permanent Jewelry Business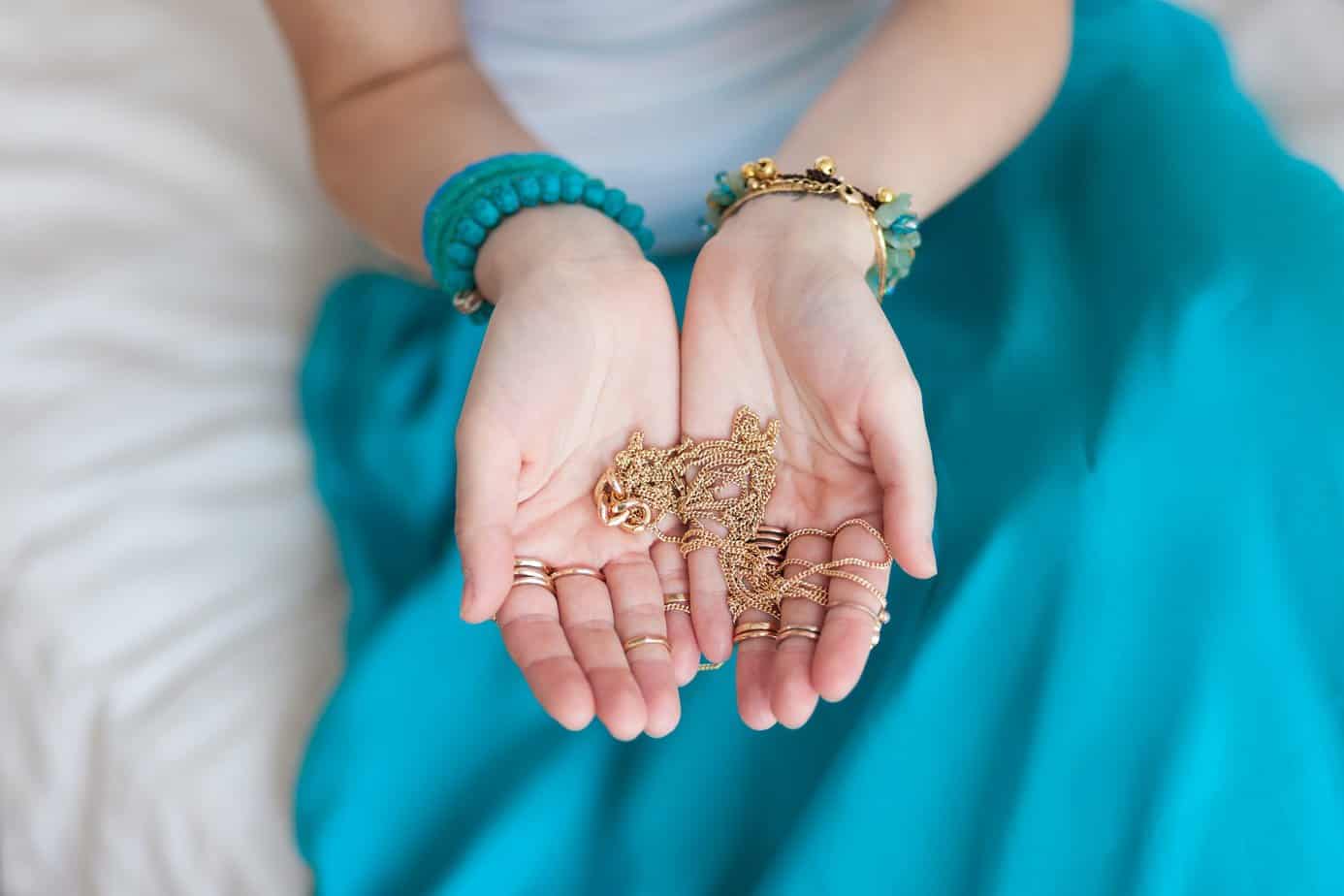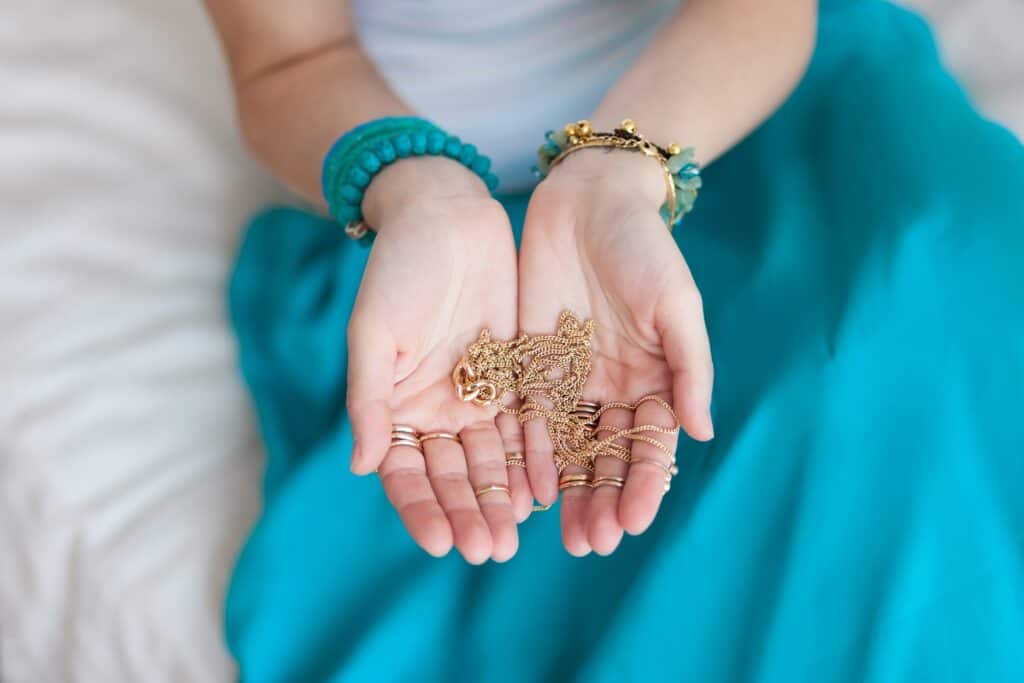 If becoming a jewelry welder sounds interesting to you, follow the steps below to learn how to start a permanent jewelry business. Only you can decide when you want to start off on this new venture.
1. Permanent Jewelry Business Plan
The very first thing you will need to do is come up with a business plan that includes the amount of money you need (or want) to make and how many hours per week you have to dedicate to the business. The plan can give you insight into how much time it will take to build momentum in your business.
Decide ahead of time how much money you will invest in the business. The most important question to ask is, "How much will it cost me?" Make a list of all of the necessary expenditures to determine if this venture is in your budget.
If you can't afford the permanent jewelry startup kit yet, then you need to start budgeting and saving. A business plan will lay out all of your plans and options and help you make an educated strategy for your future.
Related: How to Become an Eyelash Technician From Home
2. Take a Permanent Jewelry Training Course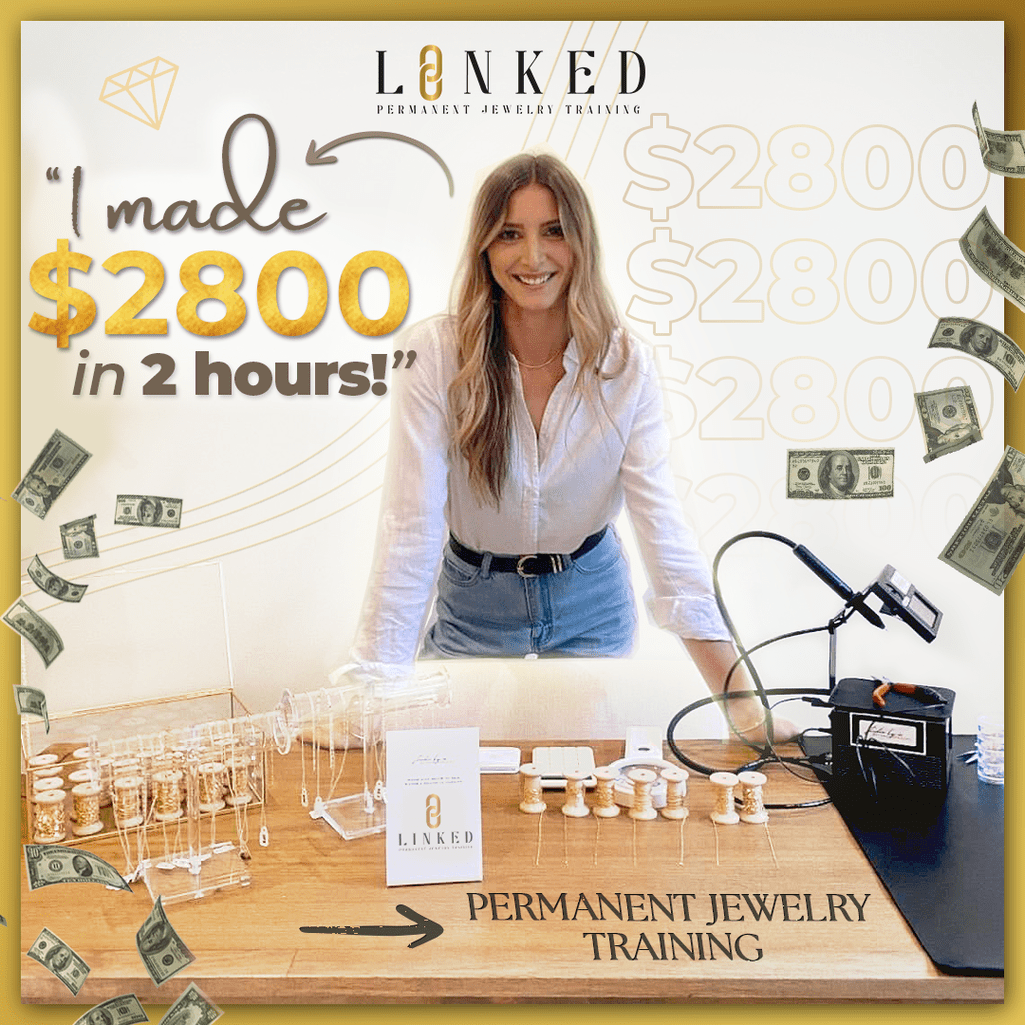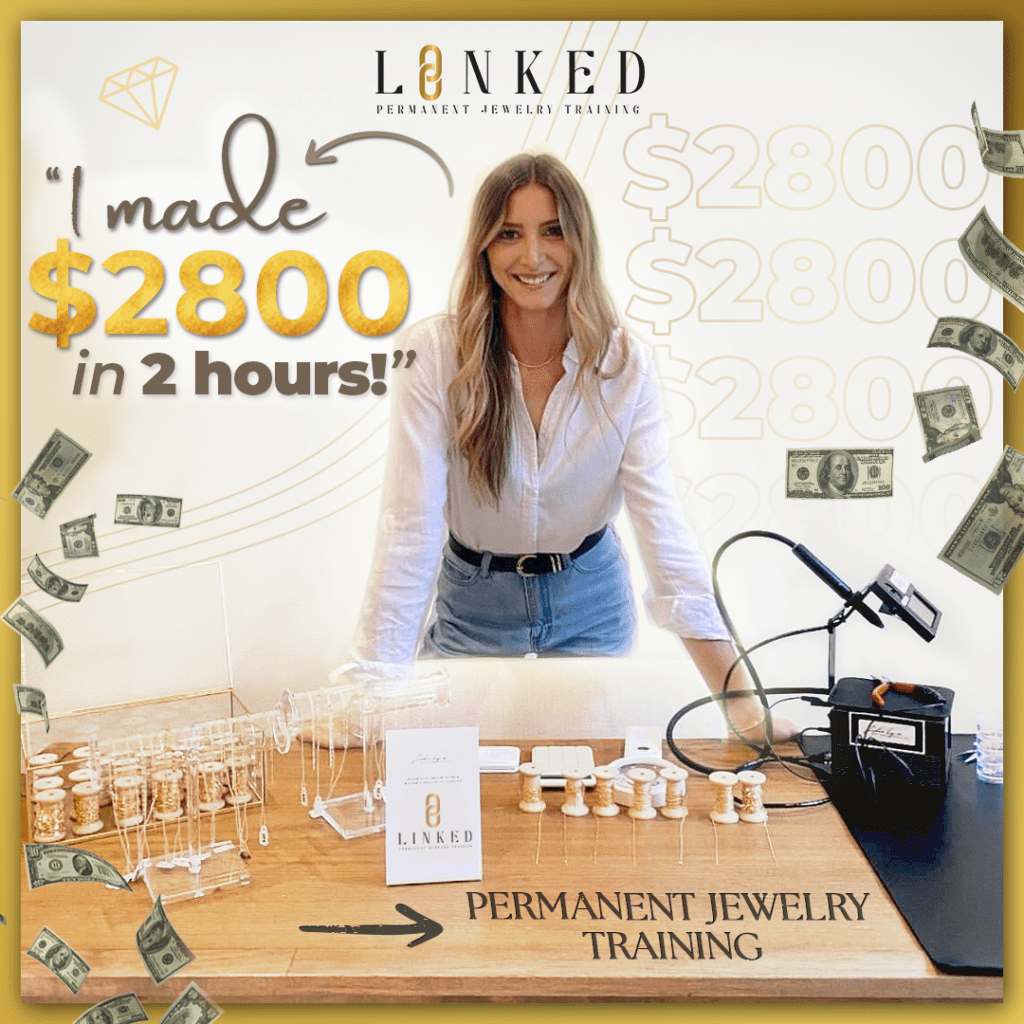 While you don't necessarily need to have taken any courses or earned specific certifications to start a permanent jewelry business, it is a good idea to take a training course to learn how to use the equipment, find out what types of jewelry are most popular, establish your prices, grow a solid customer base, and do so much more.
LINKED Permanent Jewelry Training sets the standard when it comes to learning how to become a permanent jeweler. You can purchase the online training on its own or upgrade to a startup kit which includes everything you need to make your first $2,100 in just a few hours of work. Once you've tasted the first bit of success, you'll be itching to skyrocket the income of your business.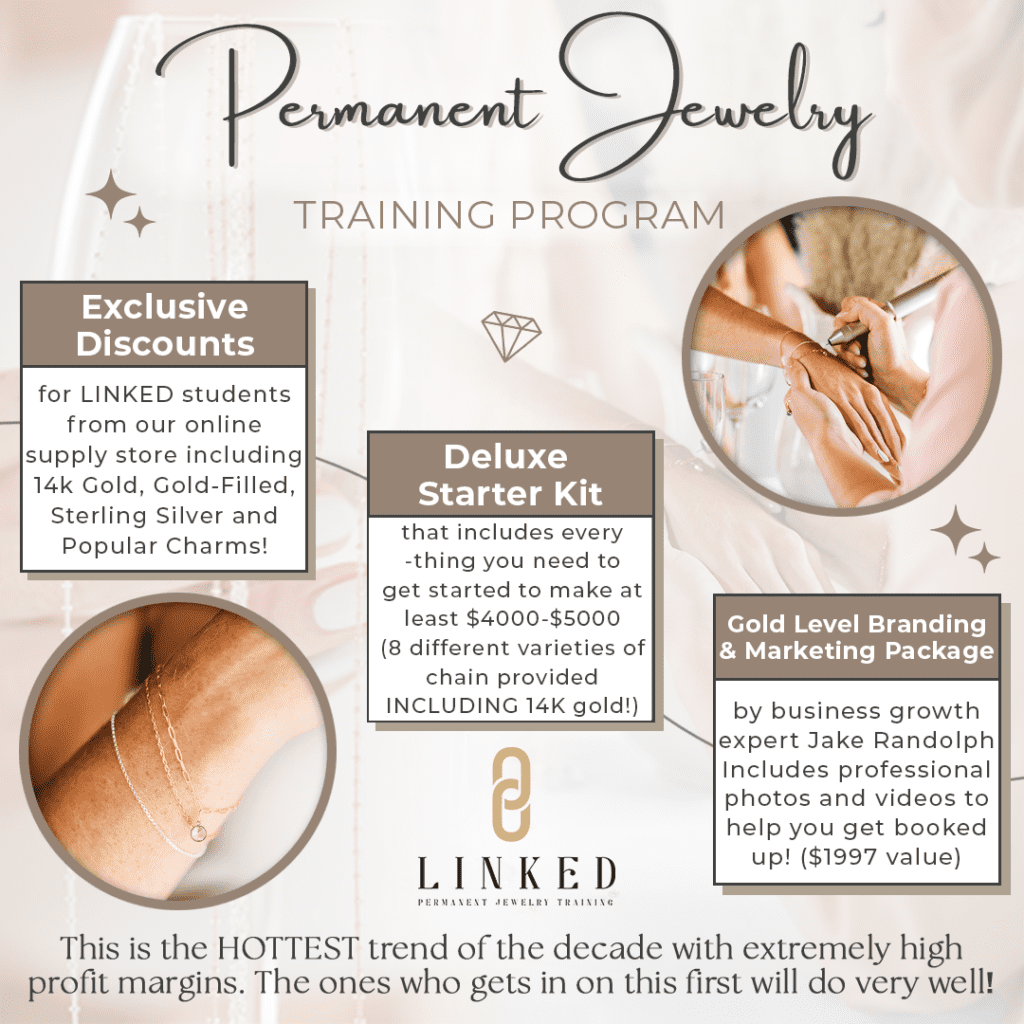 Complete the online training which includes instructional videos that explain how to use the equipment. With this knowledge at your disposal, and after you have established your business, you could even go on to create your own permanent jewelry blog, Instagram, or course geared toward educating others who are looking to get into this line of work.
Ready to become a LINKED certified permanent jewelry welder? Use the discount code TRINITYTPAHP at checkout to get $100 off!
Discover how it can benefit you by reading my detailed review of LINKED Permanent Jewelry Training.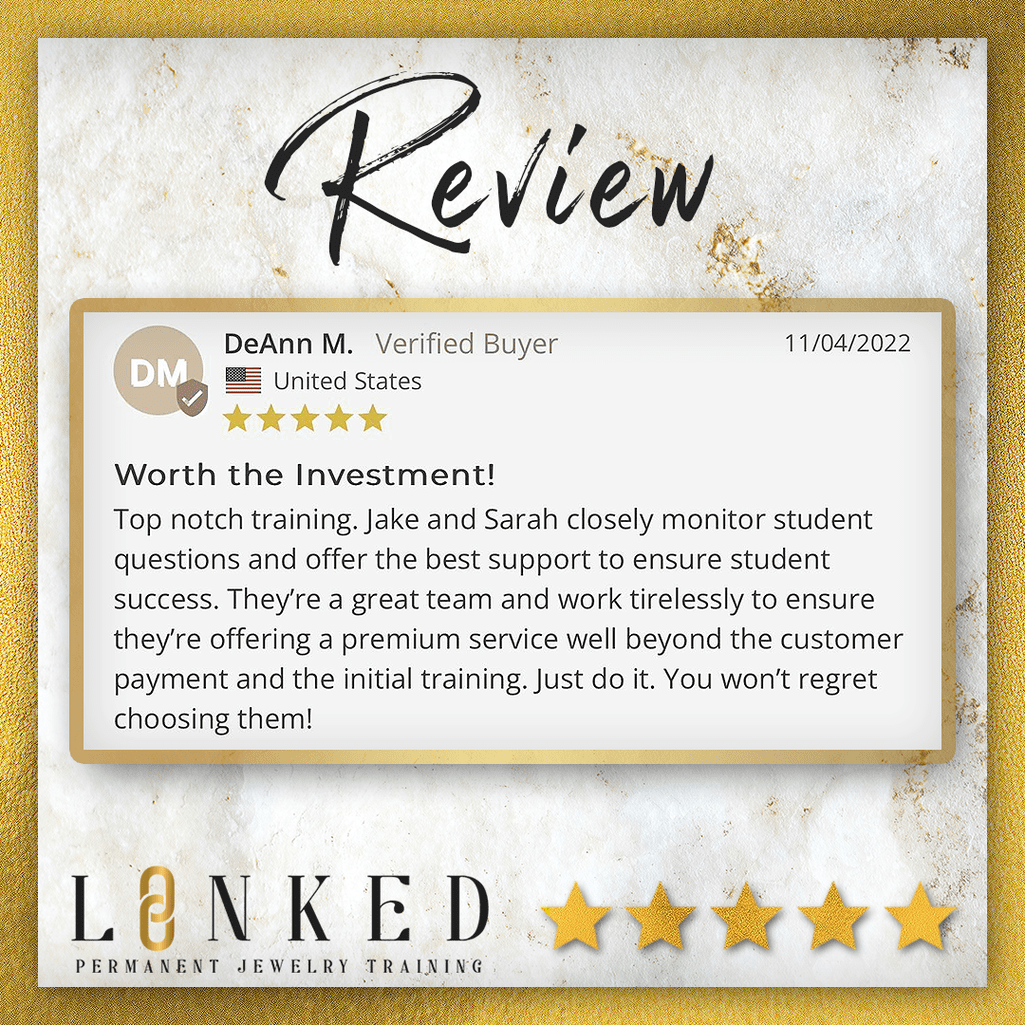 3. Invest in a Permanent Jewelry Startup Kit
The startup kit is an essential part of a permanent jewelry business. Some permanent jewelry online training courses include this equipment as part of the package. If that isn't the route you end up taking, you can purchase your own materials separately.
This welder by Sunstone Welders is the one most commonly trusted by permanent jewelers. Research the various permanent jewelry startup kits available online at retailers like Amazon. Carefully peruse reviews left by other customers and make sure you know exactly what comes in the kit before you buy it. While they can be pricey, these kits will definitely bring you a nice return on your investment.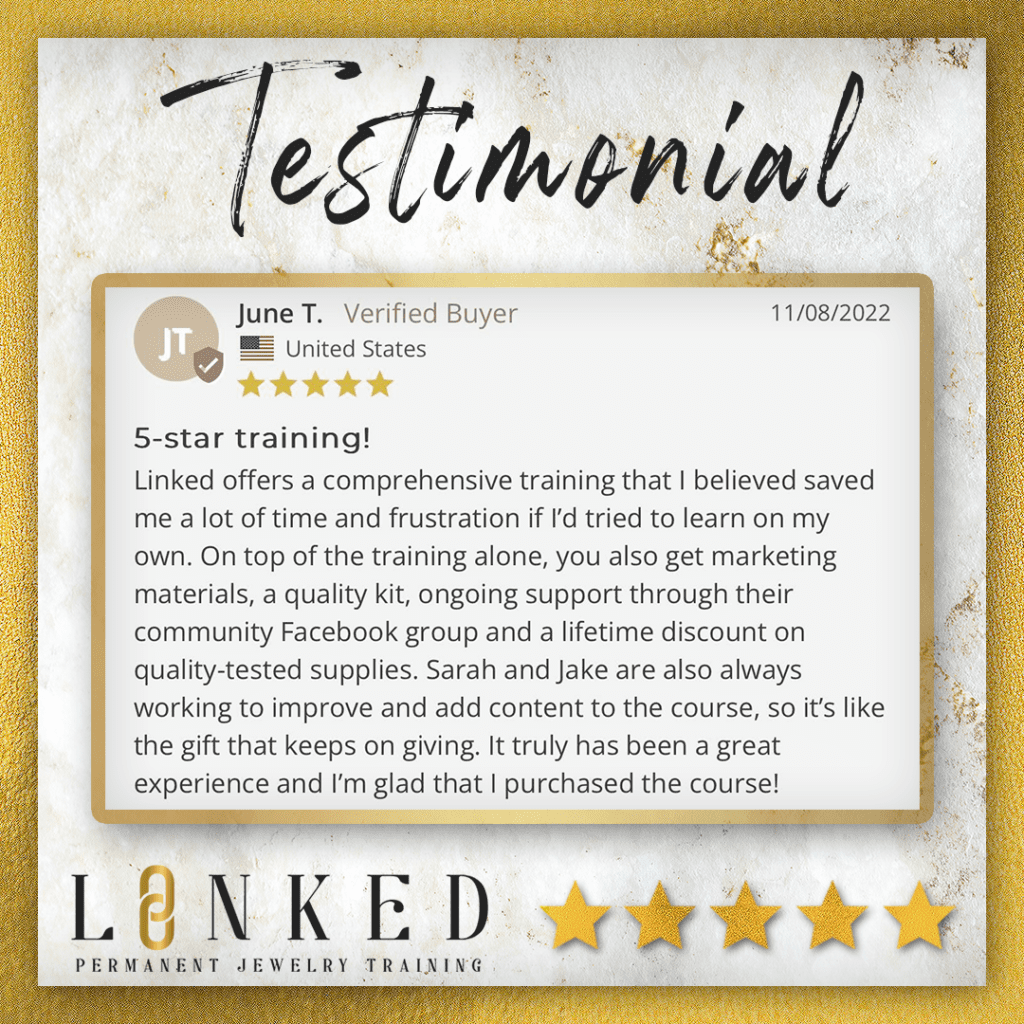 4. Practice
Practicing your new skill will help you gain confidence in this business. Ask your friends and family members to let you try your jewelry-welding abilities on them, and charge a small fee to replace the materials you've used.
The more you practice, the more comfortable you will become in using a welder on other people. This is important, because you want to ensure that the process is a smooth and positive one for your customers. Practice makes perfect, and it will also allow you to speed up the process, allowing you to eventually make even more money in less time.
5. Market Your Services
The best way to drum up business is to market your skills. Take advantage of the huge audience on social media by showcasing your business and creating sponsored posts advertising your next vendor event. Reach out to local markets and events to request to be included. Offer pop-up events for birthday parties, bridal showers, holiday events, or just fun get-togethers.
The key to having a successful permanent jewelry business is to advertise it. Soon, your business will become well known and your customer base will grow.
6. Request Customer Reviews
It's always good practice to ask for customer reviews. Create an online business page where your customers can share their experiences. Include well-lit, aesthetic photos of your jewelry and showcase customer images so potential clients can get a better idea of the type of work you provide.
Customer reviews can make or break a business. The more positive reviews you earn, the more likely you will be of getting new customers.
Related: Best Short Certificate Programs That Pay Well
Questions New Permanent Jewelry Businesses Are Asking
There are many variables to consider when starting a new venture. Here are some frequently asked questions from new permanent jewelry business owners.
How can I offer permanent jewelry from home?
Because this service is not regulated, you can run your permanent jewelry business in any location you choose. If you want to offer your services from home, just make sure your business page specifies exactly where new clients can find you. Host special events in your home to draw attention to your business.
You can also coordinate with other businesses in your area to host an entire event at your house, and market it to multiple audiences. It truly is up to you how you choose to run your permanent jewelry business.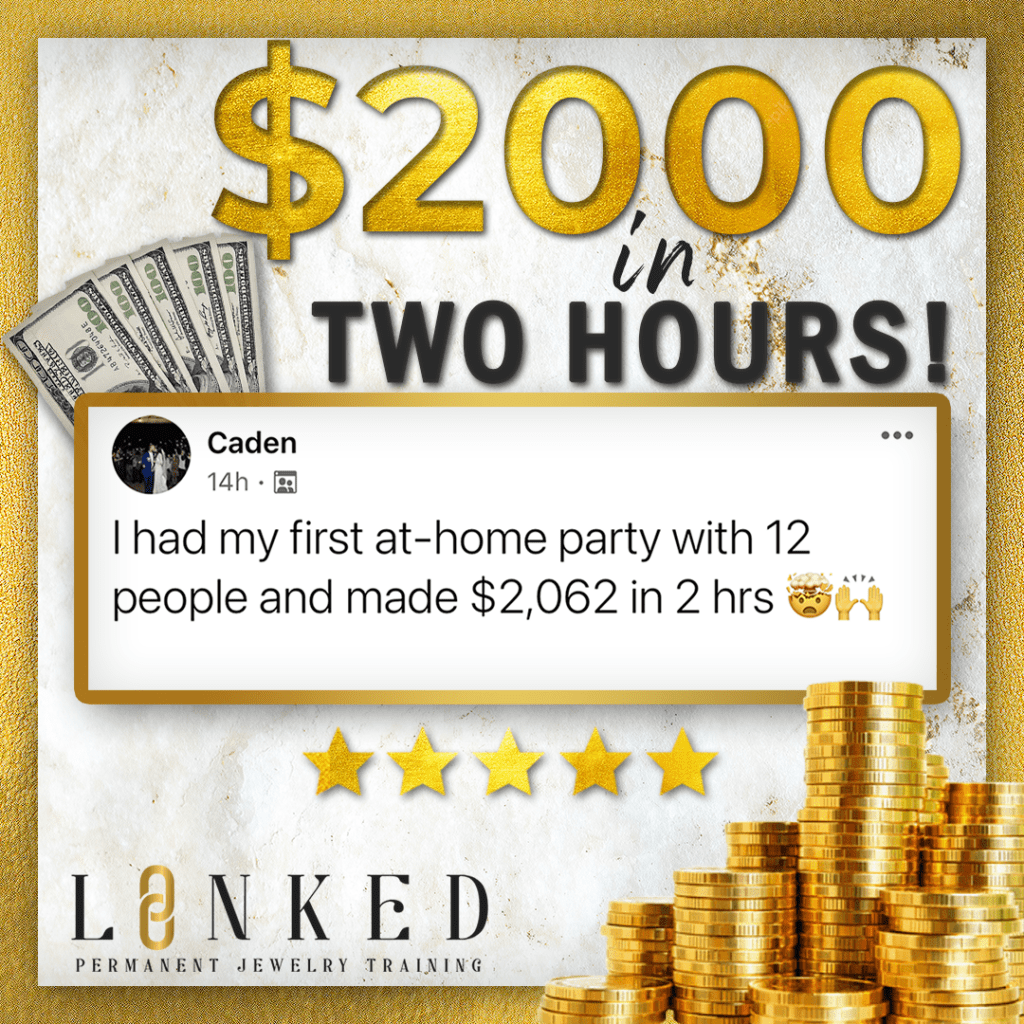 Can you make a living doing permanent jewelry?
Take into account how much time you can dedicate to this career. If you can only spend one hour per week offering permanent jewelry services, then you likely won't make a living wage. But if you can put a lot more time into it, your new endeavor could earn you a full-time income.
The rates you charge will depend on how much profit you want to make after investing in the materials. Some permanent jewelry business owners charge more than $55 for a basic bracelet. There is definitely potential here to make a healthy income.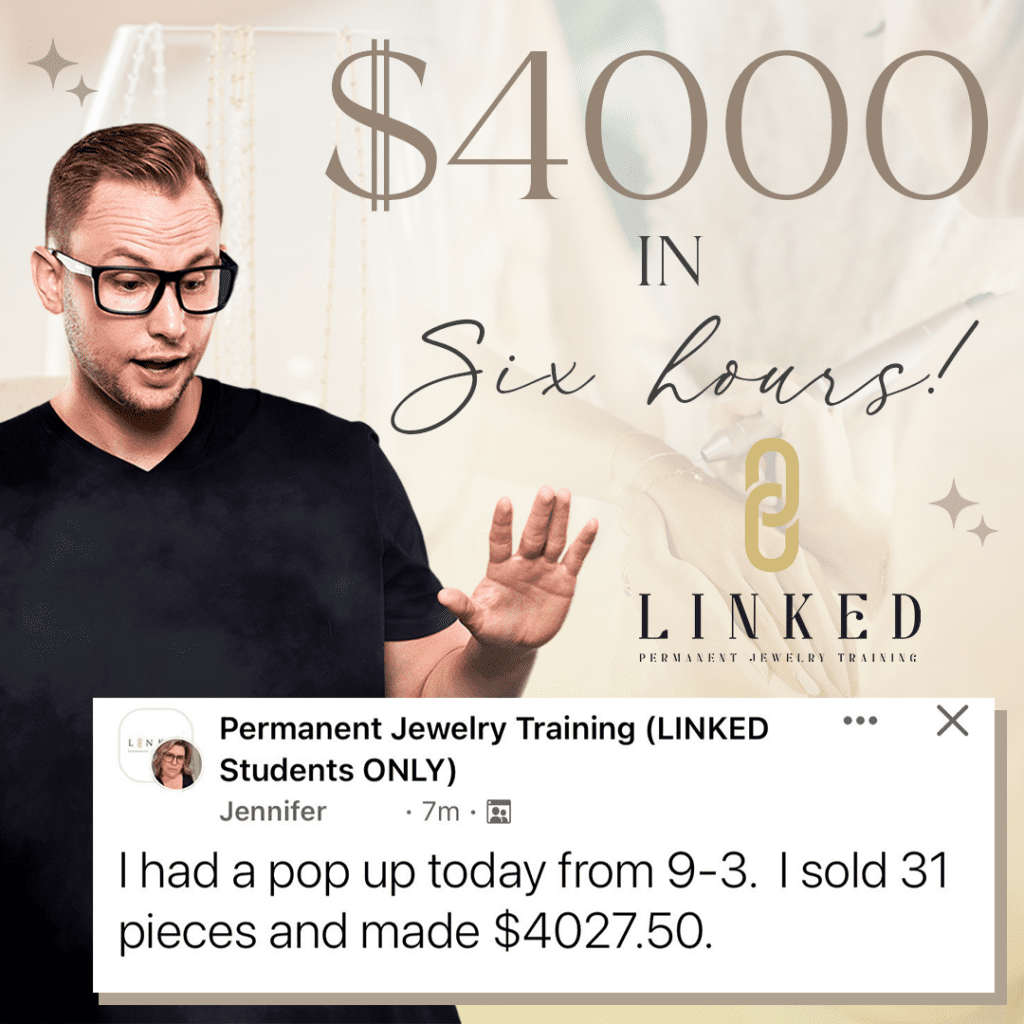 Related: How to Start a Photo Editing Business From Home
Do I need a separate phone line for my business?
While it is not an immediate requirement, in order to create a professional image and improve customer access, it is advisable for those starting a permanent jewelry business to establish a separate phone line. A dedicated line helps with customer service and quick response times. It also ensures a work-life balance. Setting up a dedicated phone line is a worthwhile investment that can significantly contribute to the growth and success of a jewelry business.
I personally use Mint Mobile, which offers affordable plans and great service. The simple online setup process takes about fifteen minutes and allows customization of the number of lines and amount of data that best suits the needs of a permanent jewelry business.
Related: The Essbe Permanent Jewelry Class Review
Why is permanent jewelry so popular?
Permanent jewelry involves far less maintenance than traditional jewelry. The chains don't tarnish, so your customers won't have to worry about taking them off when they shower, swim, or sweat. Your clients won't ever have to worry about losing their new jewelry because it will always be on their bodies. In addition, the streamlined look of jewelry without clasps is appealing to many, and is therefore becoming increasingly popular.
Is a permanent jewelry business worth it?
Some permanent jewelry business owners work only at weekend events, and have determined that this side income is perfect for their needs. Others offer their services on a daily basis and bring in a lot more money. Permanent jewelry work is fun and engaging, and comes with financial benefits. You have to ultimately decide its value for your own lifestyle.
Related: Flash and Fuse® Permanent Jewelry Course Review
Who Should Start a Permanent Jewelry Business?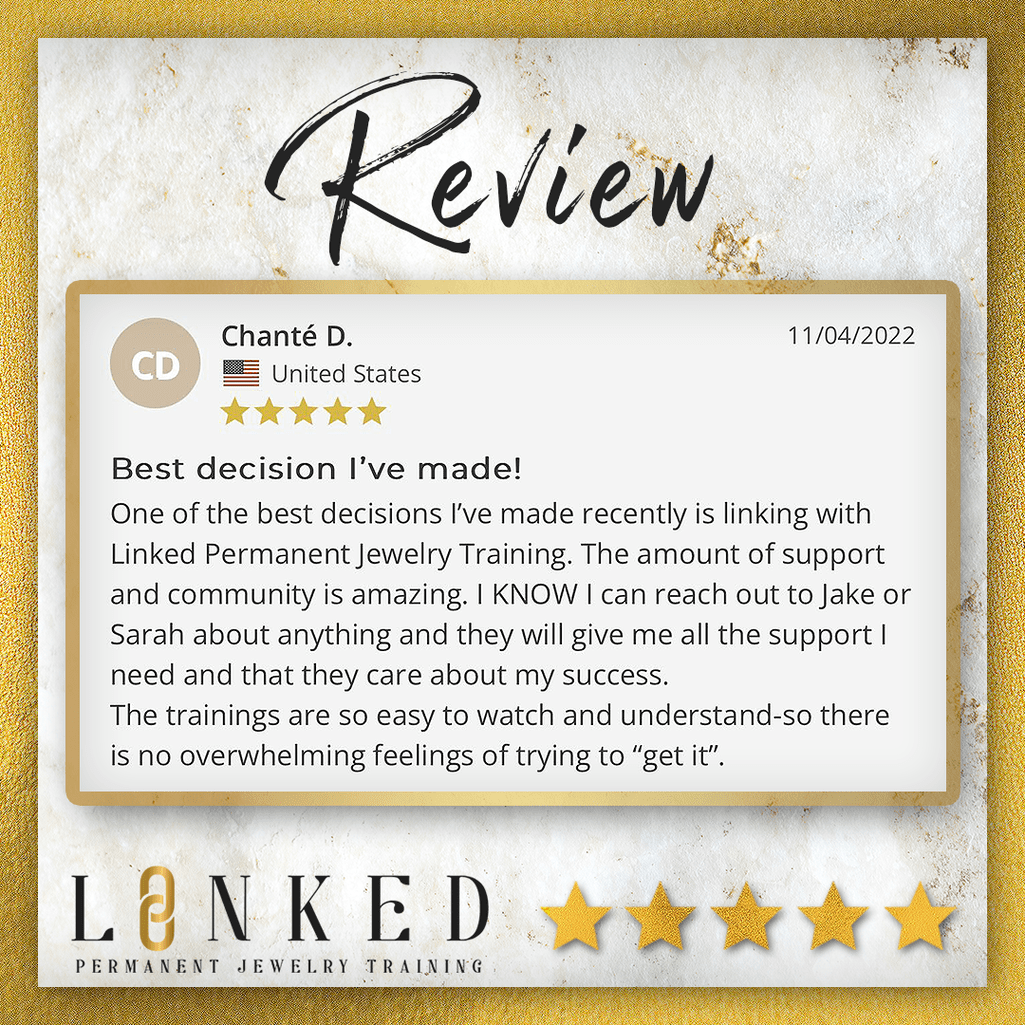 If you are patient, have social skills, and love interacting with others, then a permanent jewelry business may be for you. You will come into contact with a variety of customers, so it's important that you enjoy meeting new people.
Many of the permanent jewelers who see instant success already work in the beauty industry. For example, a professional microblader can easily cross-promote her services to existing customers. If you are up to the task, then this business could be exactly what you are looking for to add to your bottom line.
Do your research, find the right training and starter kit, and practice your new skills. Invest in marketing to increase awareness about your business. The most important thing is, believe in yourself to make your new venture a success. Don't be afraid to try new things and make new connections with others.
Ready to become a LINKED certified permanent jewelry welder? Use the discount code TRINITYTPAHP at checkout to get $100 off!