19 Ways to Get Paid to Sleep (and Earn a Passive Income)
One of my favorite sites, KashKick, offers tons of ways to earn real cash online. If you're not already a member, give it a shot! Here are five things you can do to make easy money on the site:
Play games (up to $125 each)
Test apps (up to $125 each)
Buy lottery tickets (an easy $8)
Try popular brands (always changing)
Answer surveys (quick cash in minutes!)
Life gets busy, overwhelming, and tiresome. There are days I wish I could get paid to nap and catch some extra Zzz's. It would be nice to get paid to sleep during the day, especially during a season of motherhood when sleep is not something I'm getting at night.
The phrase "sleeping on the job" comes with a whole new meaning now that I've learned about jobs that pay you to sleep. The good news is there are actually many jobs out there that pay people for this. From scientists to professional businesses and everything in between, sleep is a huge part of life and one that can bring in some serious cash.
You might still wonder if you can really get paid to nap. Considering all of the different types of jobs out there, sleep is probably one of the most attractive ways to earn money. Take a look at the various jobs out there and see which one fits you best.
Our Popular Money-Making Offers
Sign up with each of the following companies to maximize your earning potential.
$10 sign-up bonus
Pays to take surveys, complete offers, shop online, and much more
100s of other paid tasks
Awards cash and gift cards
$5 sign-up bonus
Pays to play games, watch videos, answer polls, and much more
100s of other paid tasks
Awards cash and gift cards
19 Ways to Get Paid to Sleep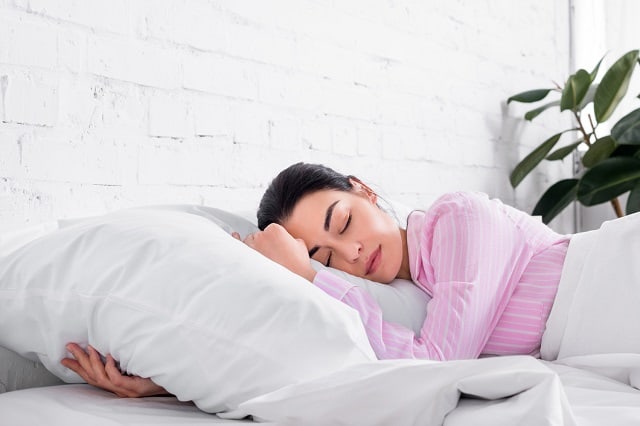 A sleeping job can be exactly what you need. Take a look at these top ways to get paid to sleep.
1. Review Hotels for a Travel Blog
Get paid to sleep in hotels by starting a travel blog. Make connections with various hotels in your area or when on travel. Come up with an agreement with the hotel to feature them on your blog as a review in exchange for payment.
Hotels can offer a certain amount of nights free, a voucher for future stays, payment for the review piece, or a commission for every booking that takes place because of your post. Make your blog catchy with a travel blog name that attracts viewers.
In addition, hotel reviewers might also find work with other established blogs. Become a contributor for a site and start writing hotel reviews for payment.
Related: How to Get Paid to Quit Smoking
2. Become a Sleep Product Tester
Becoming a product reviewer for sleep products offers two ways to earn money. Both can easily be done at home.
The first way includes starting a health and wellness blog and reviewing products in posts that you create. You can review products such as mattresses, bedding, sound machines, sleep aids, and others.
Give details in your articles about your experience with each product, and get paid to nap when you use your affiliate links for others to buy from, which in turn earns you a commission.
The second way involves checking sites like Respondent.io or ClinicalTrials.gov to make money doing sleep studies.
Related: How to Become a Respondent and Earn Up to $140 Per Hour
3. Get Paid to Stream Commercials on Your Phone While Sleeping
I'm guilty of falling asleep while streaming. The good thing about that is I can actually get paid for that. Play commercials on your smartphone on mute and sleep while your phone plays during the night.
There are various apps and websites like InboxDollars that pay you to stream commercials. Take advantage of those opportunities and have your phone work for you while you rest.
4. Sleep While Donating Plasma
Donating plasma is actually a selfless task to do when you consider how many people's lives you are saving. It can be a time-consuming process, however, you can sleep while donating and get paid for it.
Individuals can donate plasma up to two times per week. If you think about it, you can actually get paid to nap in the donation chair two times per week! Find the highest paying plasma donation centers and get paid to sleep for a bit.
5. Get Paid to Sleep While Waiting for The Phone to Ring
Talking to people throughout the day can be draining. Having a job that pays to answer phone calls means you can sneak in some naps between the calls.
If you are lucky enough to work from home answering calls, then you can add getting paid to sleep at home to your list of skills. Rest up before getting ready for the next call.
Related: How to Get Paid to Taste Coffee
More Jobs that Pay You to Sleep
If you're looking for even more ways to bring in some cash while you sleep, here are more jobs that pay you to sleep.
6. Become a "Sleeping Beauty" for Sleep Junkie
Sleep Junkie searches for "Sleeping Beauties" and pays them for sleeping. This professional sleeping job includes an application before you can begin. It is similar to job #1 of this list. However, instead of getting paid passively for your written work, you will actually get paid a set amount.
Essentially, you will test out three different mattresses in a certain timeframe. At the end of the testing and feedback you provide, you will be able to pick one of the mattresses to keep (up to $1,500 value) in addition to earning a $3,000 payment.
7. Get Paid to Sleep for NASA
NASA conducts bed rest studies to help astronauts in space as well as people who are bedridden on Earth. As a bed rest study subject, you can use this professional sleeping job as a way to make a difference in science and make money as a test subject.
Sleep subjects sleep in a six-degree head tilt position. They are monitored during the trial. This helps scientists study how the brain adapts to the positioning in addition to understanding the effects of fluids shifting in the body. Future job openings can be found on NASA.org.
More Popular Money-Making Offers
Earn more money in your spare time with these reputable companies.
Free PayPal cash
Paid surveys and web searches
Earn easy cash back
Get paid directly to your PayPal
PayPal, Visa, Amazon, etc.
Pays you to do NOTHING (with SJ Pulse)
Simply install the software
Participate in paid surveys & studies
8. Become an Overnight House Sitter
Join Care.com to connect with families who are looking for a house sitter while they are away. House sitters take care of plants, gardens, and light cleaning and dusting while the family is away. As a house sitter, you can get paid to live in someone else's home while getting paid to sleep and nap.
9. Become an Overnight Dog Sitter
As an overnight dog sitter, people can bring their pets to your home while they are away. You can find these opportunities on Care.com as well and update your profile to show yourself as a safe place to board pets. Whether it is one night or several nights, overnight pet sitting is a great way to get paid to sleep at home.
10. Become an Overnight Caregiver
Using Care.com, you can sign up to offer overnight caregiver services. This can be in the form of babysitting or nannying for families who work odd hours or have to take a quick trip away from their children. This can also be provided for senior caregiving. Make sure the job allows light sleeping, as long as you are in close range of the person in your care.
Related: How to Become a Babysitter
Other Ways to Get Paid While You Sleep
Get paid while sleeping with a stream of passive income. Take a look at some of the ways you can add passive streams to your income and not have to do anything else after the initial setup.
11. Invest a Portion of Your Income
Investing is a way to make money every day, even while asleep. All you have to do is fund the account and let the markets do the work for you. Overnight, you can potentially see an increase in your investment.
Consider investing in real estate with Fundrise. This website makes investing simple by pooling money together from thousands of investors and facilitating the purchasing of property.
Investing is a great way to make money doing nothing, and it can help you earn more money in your sleep.
Related: How to Invest in Amazon and Earn Money Passively
12. Become a Sleep Coach
From babies to adults, there are sleep coaches that offer services to help individuals get the sleep that they need. Exhausted parents and adults struggling with insomnia will pay for answers to their sleepless nights.
Start your own business website and publish sleep training courses and eBooks. While you sleep, your courses and ebooks can continue to be purchased, which makes earning in your sleep easy to do. Here is how you can write and sell eBooks.
13. Sell Your Sleep-Inspired Photography
Take pictures of things that remind you of sleep like hotel rooms, mattresses, sleep masks, or pictures of yourself sleeping. Post the pictures on stock photography sites. You can also sell them to an individual blogger or company and get paid while you sleep. Other ways to get paid to take pictures can be found here.
14. Rent Out a Room In Your Home
Renting out a room in your home is an easy way to get paid to sleep at home. Signup with Airbnb and start hosting guests in your home. Each guest you host pays you for the space you rent out to them whether it is for one night or several.
It doesn't have to be an entire house to rent out. You can rent out a room, a section of your house, or even the RV/camper sitting in the backyard.
Related: 5 Legitimate Car Wrap Advertising Jobs (+ Scams to Avoid)
15. Rent Out Storage Space
If you have some extra space in or around your home, rent it out to someone who could use it for storage. Get paid to hold items in storage while you sleep. Find people on Neighbor.com and start connecting with those who could benefit from this service.
Related: Neighbor.com Review
16. Become a Professional Line Placeholder
Have you heard when the next new gaming system is coming out or the latest smartphone? People who want to be the first to get the latest and greatest will pay others to stand in line for them. Therefore, you can get paid to camp out overnight and hold someone's place in line.
Keep in contact with them to let them know when the line starts moving and receive your payment when they take over in line.
Related: How to Become a Beer Taster
17. Live Stream Yourself Sleeping
There are many YouTube subscribers who will watch just about anything. Set yourself up on a YouTube channel and live stream when you are asleep. You can get paid ad revenue for views. Make your sleeping space attractive to entice even more views.
Related: How to Get Paid to Watch Netflix
18. Become a Hotel Mystery Shopper
Hotel mystery shoppers can typically enjoy a free night's stay with room service or free meals and get paid for their time. In exchange, you have to fill out a survey and/or provide written feedback about your stay. Avoid scams by checking FlexJobs for legitimate mystery shopper jobs and get paid to sleep in hotels.
Related: How to Become a Mystery Shopper
19. Become a Surrogate Mother
An interesting way to get paid to sleep is by becoming a surrogate for money. A surrogate is someone who agrees to carry out a pregnancy for a couple who cannot get pregnant for any number of reasons. As a surrogate, you can become pregnant through IVF, carry the baby to full term pregnancy, and then birth the baby.
As a pregnant person, it is best to get ample sleep as you progress in your pregnancy. Not getting enough sleep in pregnancy could lead to pregnancy complications. As a surrogate, you would want to avoid any complications. Surrogates can make money sleeping while they are growing a life inside of their womb.
Related: Apps That Pay You to Run in the Background
Earning Money for Sleeping is The Dream
Whoever said you can't earn money while you sleep didn't know there were so many ways you could actually do so. While times have definitely changed, the one thing that remains is the innovative ways people can get paid to sleep.
From reviewing hotels to selling sleep photography and even live streaming yourself asleep, there are several opportunities to make a passive or active income while sleeping. Sometimes it just takes a little thinking outside of the box (or bed) to make it work.
Find the right professional sleeping job from this guide and begin making a part- or full-time income. Getting paid to sleep really is a dream come true.
Related: Get Paid to Read
---