Is PrizeGrab Legit? There are Better Alternatives and Here's Why
One of my favorite sites, KashKick, offers tons of ways to earn real cash online. If you're not already a member, give it a shot! Here are five things you can do to make easy money on the site:
Play games (up to $125 each)
Test apps (up to $125 each)
Buy lottery tickets (an easy $8)
Try popular brands (always changing)
Answer surveys (quick cash in minutes!)
Winning free prizes is an awesome feeling, but winning free cash is even better! The chance to pay off some bills, take a mini-vacation, or just buy yourself something nice can be a rare occasion. PrizeGrab claims that it can help you accomplish those things.
PrizeGrab is a company offering people dreams of becoming rich without the hassle of finding a second job. Unfortunately, the thing about free prizes and free money is that it is often too good to be true.
Winning a significant prize through PrizeGrab is as common as winning the lottery. While one person might win the big one, the majority of its users will wind up with nothing except spam in their inboxes.
Is PrizeGrab something you've been considering? Take a look at what you can expect from this company and how to find alternative ways you can win real money.
Our Popular Money-Making Offers
Sign up with each of the following companies to maximize your earning potential.
$10 sign-up bonus
Pays to take surveys, complete offers, shop online, and much more
100s of other paid tasks
Awards cash and gift cards
$5 sign-up bonus
Pays to play games, watch videos, answer polls, and much more
100s of other paid tasks
Awards cash and gift cards
What is PrizeGrab?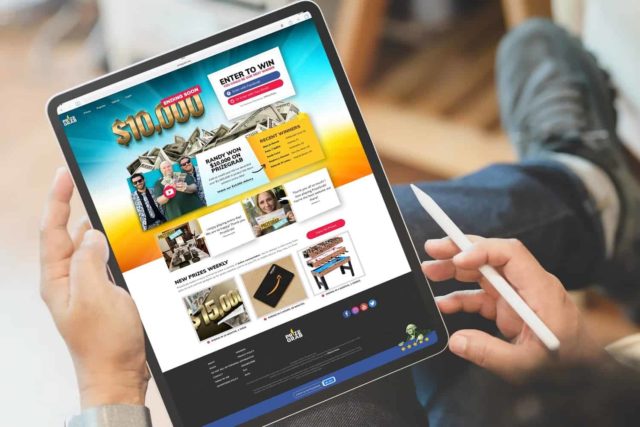 PrizeGrab was created in 2013 with a two-man team traveling the USA to surprise winners. On Trustpilot, PrizeGrab ranks well at a 4.7/5.
The company describes itself as a safe, fun environment to play sweepstakes. While it guarantees "real winners every day," there is no promise that the time and effort you spend engaged on this company's site will produce any material or monetary results. In reality, it's just for fun.
To possibly win, you must enter the prize page to submit your entries for prizes you are interested in. The more entries you submit for a prize, the better your chances are of winning. The odds fluctuate from prize to prize based on the value and duration of the sweepstakes.
PrizeGrab Pros:
User-friendly site
Fun to participate in
Can be used to pass the time
Chance to win legit prizes
PrizeGrab Cons:
Users report difficulty deleting their account
Users report getting added to spam email lists of other companies
Daily emails from PrizeGrab
Some users unable to claim their prizes after winning
Users share having played for years without winning a single prize
Related: How to Get Free Gift Cards
Legitimate PrizeGrab Alternatives
If you are looking for a way to make consistent money on the side, PrizeGrab is not the best option. You will be disappointed with the amount of time you will put into it for little to no reward.
Instead of passing the time on PrizeGrab without getting any results, try these alternatives instead.
1. InboxDollars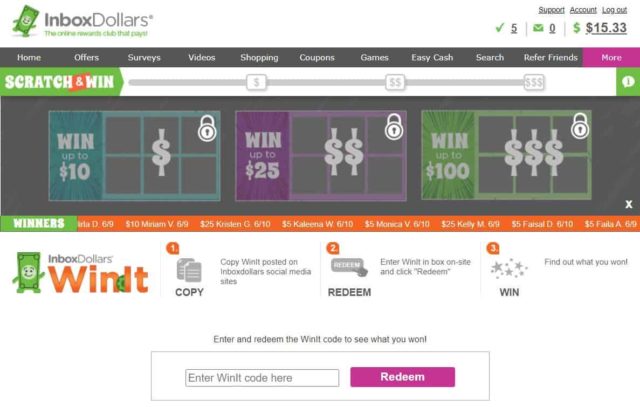 InboxDollars works with a variety of brands that need consumers to share their experiences about company products. Earning with InboxDollars includes receiving cashback shopping rewards, playing games for cash, completing paid offers, referring friends to join, and more.
Similar to PrizeGrab, you have opportunities to win cash prizes on InboxDollars. Once you complete a number of surveys and offers, you can participate in the Scratch & Win game to earn amounts like $10, $25, and $100 depending on when you decide to play your scratch-offs.
Once you earn $10, you can request payment via PayPal or get a gift card to your favorite store or restaurant. InboxDollars has been featured on Forbes as a top 5 best app for earning money.
Related: InboxDollars Review
2. Swagbucks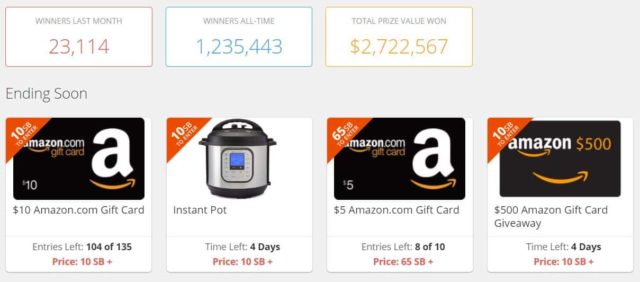 Swagbucks is a site for members to enter Swagstakes (various sweepstakes) to win free prizes, complete free or paid offers, play games, watch commercials, complete surveys, and more.
For every task you complete, Swagbucks gives you points called SBs. These points can be used to redeem prizes and cash. Or you can redeem your SBs for a Visa cash gift card or free Xbox codes once you've earned at least 1000 SBs worth $10.
Similar to PrizeGrab, you can enter Swagstakes to receive prizes from a variety of brands that are relevant to your interests.
Related: Swagbucks Review
3. MyPoints

Signing up for MyPoints unlocks the potential to receive up to 40% cashback on your online purchases from well-known brands. Businesses like Walmart, Macy's, Target, and Amazon participate in this program.
Additionally, you can earn points (worth real money) for completing offers (both free and paid), searching the web, playing games, filling out surveys, and more. It's a simple, engaging platform that rewards you a set amount of money per task, rather than leaving your winnings up to chance, like PrizeGrab.
Related: MyPoints Review
PrizeGrab Review Continued: Features and Promises
While PrizeGrab is not worth the majority of members' time, here are a few things to know about it before signing up. If you're lucky, you can potentially win some fun prizes.
Related: How to Make $50,000 Overnight
More Popular Money-Making Offers
Earn more money in your spare time with these reputable companies.
Free PayPal cash
Paid surveys and web searches
Earn easy cash back
Get paid directly to your PayPal
PayPal, Visa, Amazon, etc.
Pays you to do NOTHING (with SJ Pulse)
Simply install the software
Participate in paid surveys & studies
Daily Sweepstakes and Giveaways
Each day, you will receive paid emails from PrizeGrab regarding new sweepstakes opportunities that it has to offer. Each offer allows a set amount of entries per day for you to increase your chances of winning. The sweepstakes have expiration dates displayed showing how long you have to enter and when you can expect to be notified of any winnings.
While some sweepstakes seem to offer amazing prizes, the chance of winning is extremely low. Each sweepstake has its own official rules so it is important to review those rules to know your odds of winning before entering. Some of the sweepstakes only allow one winner in a sea of thousands of entries.
In accordance with PrizeGrab's Privacy Policy, the information you provide on the site is shared with third party companies. These companies are allowed to send you emails, use cookies to track your IP address, follow the sites you have visited, and obtain other personal information.
Furthermore, the information you share is also given to the Sponsor of the Sweepstakes that you enter. Each sweepstake you enter means another company is obtaining your information.
Related: How to Get Free Steam Codes
Unclaimed Prizes
In previous years, the company used to provide a list of unclaimed prizes on a webpage to remind members to check their email to see if they were a winner.
Unfortunately, it no longer provides this service to its members, which can decrease your chances of actually receiving a prize if you were a selected winner.
Instead, the company points to the member to take responsibility to sort through the dozens of emails they receive during the day to make sure they don't miss the email stating they are a winner.
Some of these winnings are time sensitive and require you to respond to the email within minutes or forfeit your winnings.
Related: Sites that Pay You to Sign Up
Winners List
On the PrizeGrab winners list page, you can find a list of winners' first and last names and the location of each winner next to the prize they have recently won.
Some of the prizes include $10 gift cards to Target and Amazon. Other prizes include $50 in cash.
Prizes
On the company's prizes and sweepstakes page, you will find items it claims you can win. Some of these prizes include:
Rachel Ray cookware set
$5,000 giveaway
$50 Cheesecake Factory gift card
Riding lawnmower
$60 Costco gift card
Related: How to Get Free Money
Facebook Page
In the event that you don't see or haven't checked your email, PrizeGrab shares sweepstakes information on its Facebook page. The page has over 936K followers and a 4.6 out of 5-star rating.
There is information about contests happening, announcements, and various engagement posts.
Related: Where Can You Work at 15?
PrizeGrab in Review: Expect to Be Overwhelmed with Spam
We all love winning in life whether it be landing that dream job, meeting the right person, or winning free cash for a dream vacation. The adrenaline rush that comes with being a winner is such an addicting feeling. However, signing up for individual sweepstakes can prove to be risky and time-consuming.
If you still want to sign up for PrizeGrab, consider creating a whole new email address specific to emails from PrizeGrab. You will be inundated with loads of emails so keep your email addresses separate.
The saying, "You can't win if you don't play," comes to mind when considering if PrizeGrab is worth the risk. It's up to you to consider if the hassle of this company is worthy of your time.
Are you considering signing up for PrizeGrab? Consider starting with InboxDollars instead so that you always see results for the time you put in.
Related: Surveys That Pay Cash Instantly
---