How to Become a Makeup Artist Who Actually Makes Money
Try Bingo Cash, the ultimate bingo app for turning your skills into extra cash while enjoying colorful and engaging head-to-head matches. Win up to $83 per game and experience the classic bingo thrill in the comfort of your own home. Test your daubing skills and become a big winner today!
Bingo Cash™ is FREE to download and play! However, cash tournaments are not available in the following states: AZ, IA, LA, SC & WA.
When I take the time to do my makeup and step out of my typical weekly survival mom outfit, I know how much better it makes me feel about myself. I can imagine how good others feel when a makeup artist dolls them up for glamorous events and special occasions, like when I had mine done by one of my husband's talented cousins for my wedding. Learning how to become a makeup artist would be beneficial on many levels.
A makeup artist boosts confidence one makeup brushstroke at a time. The artist can make all the difference for someone who is having a bad day to feel better about themselves. They are also remembered for years to come through the pictures that are taken at those special events or occasions. I know I'm surely grateful for my wedding makeup artist each time I look at my wedding pictures.
If you are interested in changing lives with remarkable makeup skills, then here is your chance to learn how you can be successful as a makeup artist. The first step is finding the passion. The steps after that can be followed in this guide on how to become a makeup artist.
One of my favorite sites, Swagbucks, offers tons of ways to earn real cash online. If you're not already a member, give it a shot! Here are five things you can do to make easy money on the site:
Play games (up to $322 each)
Test apps (up to $150 each)
Submit receipts (easy cash)
Shop at your favorite stores (up to 10% back)
Answer surveys and polls (quick cash in minutes!)
Our Popular Free Guides
How to Start a Permanent Jewelry Business - If you are patient, have social skills, and love interacting with others, then a permanent jewelry business may be for you.
How to Become a Sleep Consultant - Help parents and babies, and be the difference for families worldwide who are desperate for more Zzzs in their life as a sleep consultant.
How to Become a Proofreader - There are five basic steps to working from home as a proofreader. As long as you're willing to put in the work, you can become a proofreader!
What is a Makeup Artist?
A makeup artist is someone who uses a human as their canvas. That canvas can be just the face or the whole body. A makeup artist gets paid to color on the human skin using cosmetics and techniques that enhance the beauty of people. As a makeup artist, you are an expert in makeup products, skincare, and the strategies used to create a work of art.
There are a variety of makeup artist specialties. You can be a makeup artist who specializes in weddings and special events. Additionally, you can specialize in fashion shows or go even further and become an artist for movie productions.
Related: Best Service Business Ideas
Does a Makeup Artist Require a License?
Depending on the state you live in, there are different requirements for licenses. It is important to consult your state's licensing rules and regulations.
As a makeup artist, there is a level of professional training employers may look for that will require a license. This might be for fashion show gigs or employers seeking permanent makeup artists for their team. Requirements will vary.
A license is not required in most cases. However, it is never a bad thing to learn what it takes to become certified. This will only make you more valuable and will open more doors for you.
If you are trying to become a makeup artist for fun family and friend events, then you most likely won't need to have a license to do so. You can charge as a freelance artist. The main qualification many clients will look for is your portfolio and past experiences before they will hire you.
Related: How to Become a Microblader
Other Makeup Artist Requirements and Qualifications
Makeup artists need to stay on top of new trends, experiment with makeup products, and have an eye for detail. There should never be any hesitation for wanting to try to learn new things in the industry. Additionally, a makeup artist should have the ability to listen well to what the clients want.
As an artist, it would seem that you could create art based on what you want to do. However, it is crucial that you perform based on the job details and what the client envisions. You get to make their vision a reality.
Makeup Artist Salary or Pay Expectations
According to ZipRecruiter, the national average annual salary for a makeup artist is nearly $48,000. This pay will vary depending on the state you live in and the line of work you choose. On the low end, some makeup artists make about $16,500 per year. On the high end, some make as much as $99,000 per year.
Related: Best Jobs for Stay at Home Moms
7 Steps to Become a Makeup Artist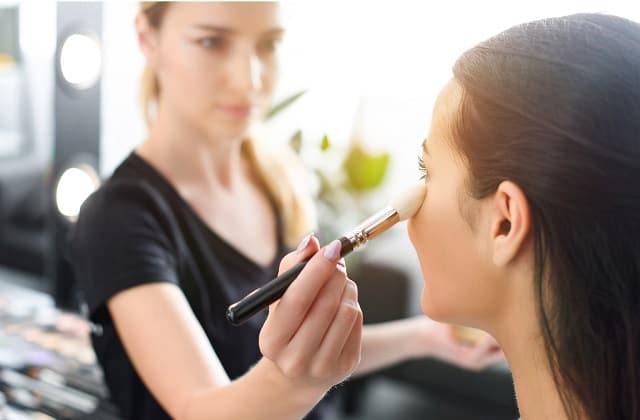 If you have passion and the drive to learn how to become a makeup artist, then the steps in this guide will show you what you need to do. Put in the work and dedicate yourself to becoming the best makeup artist you can be.
1. Choose a Direction
Decide what kind of makeup artist you want to be: do you want to focus on bridal makeup and special events or do you want to be part of fashion shows? The answer to this question will determine which direction you need to go.
As a bridal or special events makeup artist, there will be different skills you need to learn. This is the same for the skills you would need to learn as a fashion makeup artist.
Keep in mind, if you want to change the direction of your makeup professional career, you can do that in the future. Choosing now doesn't mean you have to continue in that direction forever. However, you need to start somewhere so having a direction now will get you going.
Related: How to Choose a Niche
2. Learn
Once you've decided which direction you want to go, now you can figure out which skills you need to learn. You can do this by going to an actual institute. There are also other options like following makeup artists on YouTube and Instagram to learn different techniques. You can also find classes on platforms like Udemy, Kajabi, and Teachable.
Dedicate yourself to learning each day. If you are learning outside of participating in an institute, then discipline yourself to watch and learn every day for a set number of hours. You have to take this learning period as seriously as possible.
Related: Best Online Microblading Courses
3. Purchase Your Start-up Supplies
When you're just starting out, you'll need to purchase your startup supplies to help you practice and learn about the products out there. You'll also need these products to use on clients.
Products you should consider purchasing include:
Related: Become an Eyelash Technician
4. Practice, Practice, Practice
Learning the techniques and products is half the battle. The other part is practicing. It's one thing to say you are an expert because you know the information. It's another thing to actually perform and show others you can do the job.
Ask friends and family to let you practice on them. Practice each day on yourself as well. The best thing to do is to try different skin colors and tones so you can experiment with what colors accentuate beauty. Additionally, you can ask local followers on your social media accounts to volunteer to let you practice on them.
Related: How to Start a YouTube Channel
5. Build a Portfolio
With each client you have, it's important to take before and after pictures to show your skills. The before picture is your blank canvas and the after picture is your finished product. Future clients love to see the work you have done.
A business website with a portfolio of your work will showcase your progression and versatility. Portfolios also help clients get inspiration as to what they want you to do for them if they don't already have an idea.
Related: Get Paid to Take Pictures
6. Set Your Rates
Research the rates in your area and set your rates accordingly. You don't want to overprice yourself or sell yourself short. Additionally, consider your experience. If you are a beginner, your rates will be lower. However, that doesn't mean you have to keep the same rate forever. You can increase your rate as you gain experience.
Ensure you account for any of the products you purchased for each client and factor that cost into your rate.
7. Ask for Testimonials
The best compliment is that of a testimonial from a client. This is also a great way to advertise yourself. Don't be afraid to ask clients for a testimonial of your service and how happy they were to work with you.
Related: How to Promote Your Business
Questions New Makeup Artists are Asking
Before taking a leap into this new venture, check out what new makeup artists are asking to determine if this is the right choice for you.
How long does it take to become a certified makeup artist?
If you want to become certified, then you will have to spend some time in an accredited educational setting. This means it could take three to four years to become a certified makeup artist.
KashKick is a great find for gig workers, offering many ways to make extra money doing what you enjoy. Try it out - it's free! Here are five easy ways to start earning money on the site:
Play games (up to $125 each)
Test apps (up to $125 each)
Buy lottery tickets (an easy $8)
Try popular brands (always changing)
Answer surveys (quick cash in minutes!)
Can you be a self taught makeup artist?
In actuality, you can be a self taught makeup artist and become successful. There are many self taught makeup artists out there who have become very successful.
You might have the natural talent for being a makeup artist, but many still need some sort of training in order to land jobs. There are several advantages to being trained by a mentor or even in a makeup school setting.
Related: How to Get Paid to Go to School
Is a makeup artist a good career?
Everyone's definition of a "good career" varies. A makeup artist career can be rewarding in various ways, thus making it a good career choice for many.
As a makeup artist, you have the creative ability to enhance people's natural beauty. You also have the ability to make people feel good about themselves and that is a true reward in itself. Monetary rewards also make this a good career choice.
Related: How to Become a Graphic Designer
Are makeup artists in demand?
This can be dependent on the area you live in. However, the makeup and skincare industry is always evolving. This means there is always something new to try, a new technique to discover, and a need for more makeup artists.
What are the disadvantages of being a makeup artist?
Makeup artists could be categorized the same as freelancers, meaning they need to do much of the footwork themselves to find work. This also means there is a large possibility that you will have to provide many employer paid benefits for yourself like retirement savings and health insurance.
However, there are many ways you can help yourself get consistent work. If you are wanting to do makeup for bridal settings, consider making connections with wedding venues in your area so that they can refer your services to brides who book their venue.
Additionally, you can partner with local nail and hair shops for some makeover days to get your business in front of others. If you are seeking more fashion type makeup jobs, then research the market in your area for those types of opportunities.
Related: How to Become a Photo Editor
Who Should Become a Makeup Artist?
If you are here trying to learn how to become a makeup artist, then the passion and drive might already be within you. Someone with that drive, passion, and desire to see this venture through would make an excellent makeup artist.
Consider the avenue you want to pursue and get started in the makeup industry sooner rather than later. Your unique touch with makeup could be the touch someone else is looking for in their artist.
Learn as much as you can, practice often, and continually advertise yourself. You can even create an Instagram page just for your business, get paid to like Instagram posts in your niche, and show the world what you can do. Most importantly, enjoy the journey on this new career path.
Related: Best Home Based Business Ideas for Moms
---