5 Legitimate Car Wrap Advertising Jobs (+ Scams to Avoid)
We foster relationships with brands we use and trust. The testimonials on our site represent real experiences, but they don't guarantee you'll achieve similar results. When you make purchases through our links to our partners, we may earn a commission. Your support helps us continue this work. You can read our full disclosure here.
I hate to say it, but I fell for a scam that seemed like a legitimate car wrap advertising job.
In 2013 I had just married my high school sweetheart (and his college debt too). Add my brand new Prius and our first mortgage to the mix, and we had a lot on our plate.
That's when I fell for the scam of getting paid to advertise on your car. I applied through a car wrap advertising company and passed the "requirements" with flying colors: clean driving record, over 18, new car, etc.
But what did the company really want? My money. It was so "easy"–just pay $40, the company sends a decal, I place it on my car window, and drive! The money would just come flowing in, right?
It was a classic failure. And in hindsight, I should have known that you can't get paid to wrap your car through these scam companies.
If a site asks you to pay before you can advertise on your car, then run.
So what happened next? After the decal arrived in the mail, I unknowingly placed it on my window and started to drive as usual. I tested the number which put my phone number onto a list that was sold to local DISH Network dealers. I even considered signing up with DISH myself to see if I would earn the promised "commission."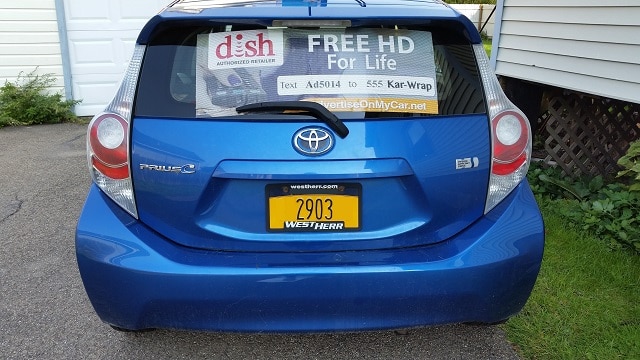 But as time went on, no sales happened, and I felt worse and worse about the decal on my window. The car wrap advertising company (which is now out of business) was boldly displayed on the decal with DISH Network. That meant my friends, family, neighbors, and just about anyone who saw the decal on my car might have fallen into the scam, too.
My husband said his friend at work signed up with the car advertising company because of the decal on my car. Additionally, I walked up to find an old couple taking a picture of the decal on my car, likely wanting to sign up as well.
And all this time? No commissions. Just plenty of callers to DISH Network and more people paying this car wrap advertising company to get a decal placed on their windows, too.
I finally removed the decal and vowed to never fall for another scam like that again. While I understand that starting a business requires an upfront investment, I don't think that something like a car decal advertising a huge company should be my responsibility to pay for upfront.
Even DISH knew that they were getting tons of free advertising by brand name mention alone.
So at the end of the day, I believe that most car wrap companies are a scam. However, I do think there may be one or two legit websites to try, along with a few other ways to get paid to advertise on your car.
5 Ways to Get Paid to Advertise on Your Car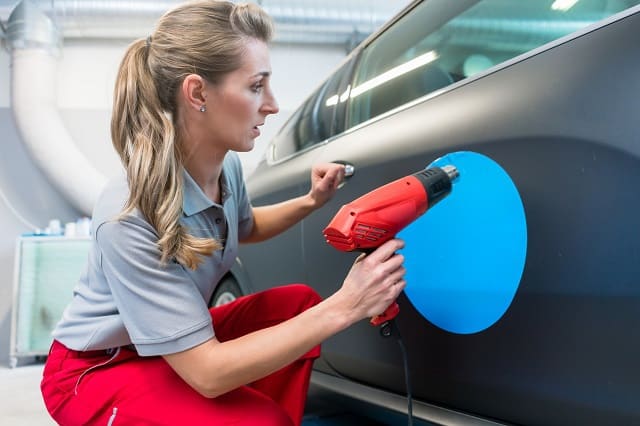 If you're still with me after my long-winded car wrap scam story, keep reading for the real ways to get paid for car advertising stickers.
1. Sign up With Wrapify
Wrapify seems to be one of the only legitimate car wrap advertising companies. It doesn't require you to pay to join or get your car wrapped, which is the number one thing I look out for when spotting a scam.
In all honesty, I have not tried this company for two reasons:
I work from home and don't drive my car often enough to make this worth it.
The potential monthly earnings are not high enough to convince me to wrap my car in ads.
Does this mean you should not give Wrapify a try? Not necessarily. But I do think it's important to weigh the pros and cons.
With Wrapify, you can choose how much of your car you're willing to wrap. The options start with your back window, a few patches around your car, or your entire car. The earnings increase with the amount of surface area you agree to wrap.
Additionally, your earnings depend on how many miles you drive per month, and the daily potential earnings have a cap. So if you go on long trips once every few months, you will earn far less than if you have a long commute to work every day.
Wrapify is the only car wrap advertising company that I would personally try if I drove my car more every day and if the ads selected for my car were appropriate. And I would probably only want to select the lowest plan since it only covered my back window.
In the end, I don't think the earnings would be enough to make wrapping my car worth it. So I think it's important that you weigh the pros and cons and decide how much of your car you're willing to wrap, and how much driving you can do each day.
2. Advertise Your Own Business
Another legit way to get paid for car advertising stickers to be placed on your vehicle is if you design and put them there yourself. I've seen lots of small business owners advertise their own products and services doing this.
On the sticker, you can include your business name, logo, phone number, and even a QR code for smartphone users to scan and reach your website in seconds. It's a great way to promote yourself while driving around town.
If you do not already have a business of your own to promote using car advertising stickers, consider starting one. You're here to learn how to make passive income with your car–and while it's possible to earn money through a company like Wrapify, I think that a side business has far more potential to earn more.
There are tons of creative small business ideas you can consider starting and later advertising on your car to drive sales to clients.
3. Sell Ad Space on Your Car to Local Businesses
If you don't plan to start your own home-based business, you can still potentially earn money by selling ad space on your car directly to other local business owners.
There's no legit car wrap advertising company that allows you to choose the companies you promote. So this option would require you to post your prices in local Facebook groups, or you could visit your favorite businesses to propose your plan.
You can start with a promotional offer and increase your prices based on the response the business has from your ads. Make sure to strike up a deal, and put something on the sticker that says "get a 10% discount when you mention this sticker!" That way the companies you work with know exactly where the lead came from.
In time, you can charge per call, or charge monthly for the ad space on your car.
4. Make Decals for Affiliates
One of the top ways to make money online is to become an affiliate marketer for different products and services. As an affiliate, you are assigned a unique tracking link, and when someone clicks the link and makes a sale, you earn a commission.
Some affiliate programs allow promotion using methods like advertising on your car. With today's technology, you can become an affiliate for the products and services you love, create a QR code for smartphone users to scan, and direct new customers to your affiliate link.
It's important to follow the rules of the program which include making it clear that the decal is an advertisement, and confirming whether the affiliate terms allow outside promotions like through car wrap advertising. As long as you do those things first, you can potentially get paid for car advertising stickers that promote legitimate products and services.
5. Design and Sell Decals, Wraps, and Bumper Stickers Online
This car advertising opportunity is for you if you're interested in becoming a graphic designer. You can start by creating fun decals and designs, and sell them passively just by using them yourself.
On each sticker, you can include a website address or QR code that leads smartphone users directly to your storefront where you sell all kinds of fun car window stickers. You can use a tool like Canva to create your sticker designs.
As more people buy your stickers, more people will see them every day and find your online store. Once you get your designs perfected, a company to create and drop ship your stickers, and a storefront to make sales, this business can turn into a completely passive income stream.
Check out my tutorial on how to set up your store on Shopify and start selling car stickers online.
Car Wrap Advertising Alternatives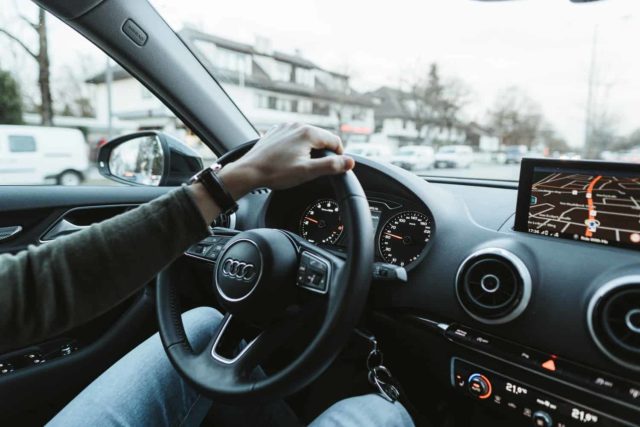 There are other ways to get paid to drive or rent out your car that don't require you to place a decal on your window. If you do want to get paid to wrap your car but don't drive around enough to make the earnings worth it, you can even pair these opportunities and double your earnings.
Related: How to Flip Money
Deliver Groceries with Instacart
If you enjoy driving around, listening to music, and mapping the fastest routes through local grocery stores, you can actually get paid for your efforts. Sign up to become an Instacart Shopper and earn money every time you shop for and deliver an order.
Customers place orders through the Instacart app and drivers, like you, select the jobs that work around their schedules. It's a flexible, no-obligation way to get paid to shop and make some extra money in your spare time.
Related: Get Paid to Listen to Podcasts
Deliver Prepared Food with DoorDash
Other delivery driver apps like DoorDash pay you to deliver food to customers from local restaurants. Hundreds of restaurants don't offer delivery in many areas, so customers will pay independent drivers to pick up their food.
You can sign up to become a Dasher and start delivering food in your neighborhood for some extra cash.
Rent Your Car on HyreCar
It's possible to go completely hands-off by renting out your car to others using a website like HyreCar. Instead of driving around town and delivering things, you can allow others to rent your car and deliver instead.
You can rent out your car during your long workdays or in the evenings when you're planning to stay home. It's a great way to earn an extra $500 when you need it.
Car Wrap Scams to Run from Immediately
Just because you search a phrase like "legitimate car wrap advertising" on Google and find lists upon lists of companies, doesn't mean they are actually legit. Read through those lists and you likely will not find any of the authors admitting that they didn't even try the opportunity before recommending it.
That's why I'm here–I did try it out and in the end, got burned by a car advertising scam. I don't want to see you do the same! Here are some red flags to look out for while researching car advertising opportunities.
Car Wrap Advertising Companies that Require Payment Upfront
If the company asks you to pay for the decal or some kind of membership fee, don't do it. Even if the company will pay you down the road, it's not fair to make you put up money toward an offer that just might not make you income in the long run.
Receive a Check and Wire a Portion for Your Decal
There are scammers in almost every industry that will try to swindle you into depositing a check and then wiring money in return. This happens often, and what happens is the check will end up bouncing a few days later, and the wire you send is unretrievable. In this case, you could lose a large sum of money and have no car wrap advertisement to show for it.
Cash App Money Requests for Car Wrap Decals
While Cash App is a legitimate peer-to-peer payment processor, car wrap scammers have targeted users to send them cash in exchange for advertisement stickers. When the stickers don't arrive, the scammer is long gone. Since sending money via Cash App is just like handing cash to a friend, the app has no ability to refund your money. Beware of Cash App scams when using it for any reason outside of your normal person-to-person transactions with people you already know and trust.
Car Advertising Companies That Promise High Returns
If a company promises an unreal amount of income per month, then it's probably too good to be true. It's reasonable that legitimate companies have overhead expenses, and placing some stickers on your car can't generate $3,000 per month. If a company promises a high monthly income, then it's most likely a lie to get you to join a potential scam.
The Real Reason You Can't Find Legit Car Wrap Advertising Jobs
There are very few legitimate car wrap advertising jobs. And if you want to earn significant income from putting a sticker on your back window, then the companies that do pay for this are going to pay extremely low prices.
If you really want to get paid to advertise on your car, you need to create the opportunity for yourself–outside of the slew of low-paying or even scamming websites. Consider turning the ad space on your car into an independent opportunity to drive traffic to your own website or to that of a local business.
I love the idea of earning money while driving my car. But in the end, covering my car in advertisements must be worth it. A few extra dollars per month (if that) isn't going to cut it for me.
Related: How to Make $5,000 Fast
---
We appreciate the time you've spent reading this post and your interest is not lost on us. Your thoughts, questions, or experiences related to the topic are most welcome. Each comment adds strength to our community. We ensure every comment receives our attention, and we take the time to provide thoughtful responses. Once again, thank you for being a part of this conversation. Click here to leave a comment.