How to Become an Eyelash Technician From Home
Becoming an eyelash technician that makes six figures is most likely the goal for every person in the industry. Getting to that goal doesn't just happen overnight, unfortunately. There is an abundance of competition in the field, which can become intimidating. If you want to become a lash tech, you will have to stand out from the crowd.
For starters, you have to become an eyelash technician that is well trained. This will hold your services to a higher standard and you can bring in more money. If you just woke up today and decided that you wanted to pursue an eyelash technician career, you can still do it. With the right plan of action, you could be taking on clients and making money sooner than later.
If you want to learn how to become an eyelash technician and be successful in your new career, then I have broken down the exact steps you should take to accomplish that goal. Take action today to get started in this growing industry.
One of my favorite sites, Swagbucks, offers tons of ways to earn real cash online. If you're not already a member, give it a shot! Here are five things you can do to make easy money on the site:
Play games (up to $322 each)
Test apps (up to $150 each)
Submit receipts (easy cash)
Shop at your favorite stores (up to 10% back)
Answer surveys and polls (quick cash in minutes!)
Our Popular Free Guides
How to Start a Permanent Jewelry Business - If you are patient, have social skills, and love interacting with others, then a permanent jewelry business may be for you.
How to Become a Sleep Consultant - Help parents and babies, and be the difference for families worldwide who are desperate for more Zzzs in their life as a sleep consultant.
How to Become a Proofreader - There are five basic steps to working from home as a proofreader. As long as you're willing to put in the work, you can become a proofreader!
What is an Eyelash Technician?
Eyelash technicians apply cosmetic lashes or false lashes to a person's eye area. The application of these eyelashes are meant to enhance a person's eyelashes whether it be for length or volume. Clients could want eyelash extensions for any number of reasons such as filling in for missing eyelashes, wanting to get dolled up for an event, or desiring to increase their confidence about their appearance.
An eyelash technician is also knowledgeable in various products, which helps educate the client on how to care for their extensions to get the most out of their service. Eyelash extensions do not last forever. Your relationship with your clients will go a long way as they will come back to you when they are ready to get their eyelashes filled again.
Related: Best Jobs for Stay-at-Home Moms
Does an Eyelash Technician Require a License?
An eyelash technician does require some sort of license depending on the state in which you will be performing these services. Eyelash extension requirements will differ by state. Some states will require you to obtain an esthetician license while others may require a cosmetology license. It is your responsibility to remain in compliance with your state's regulations in order to continue providing this service.
Be wary of others who claim to be technicians, but do not have a license or certification. This may be a violation of state standards and a safety issue.
Related: Beauty Services That Don't Require a License
Other Eyelash Technician Requirements and Qualifications
Since you will be working on the eye area of a person, you will need to have a steady hand. The last thing you want to do is accidentally poke them in the eye and cause damage. You will also need to have patience as an eyelash extension appointment can take anywhere between one and two hours to complete. Good posture will go a long way in keeping your body from becoming sore.
In addition, you will also need to have some sort of marketing skills or at least be willing to learn how to market your services. There is nothing worse than going through all the steps to become an eyelash technician to only then be left without any clients because no one knows about your business.
Related: How to Become a Makeup Artist
Eyelash Technician Salary or Pay Expectations
According to ZipRecruiter, the national average annual salary for an eyelash technician is $47,396. Some technicians report income as high as $101,000 and others report income as low as $24,000.
Keep in mind that tips may not be included in these numbers. You can also offer services in addition to eyelash extension to increase your revenue. Consider becoming a microblader to boost your income as it would complement your eyelash services.
How to Become an Eyelash Technician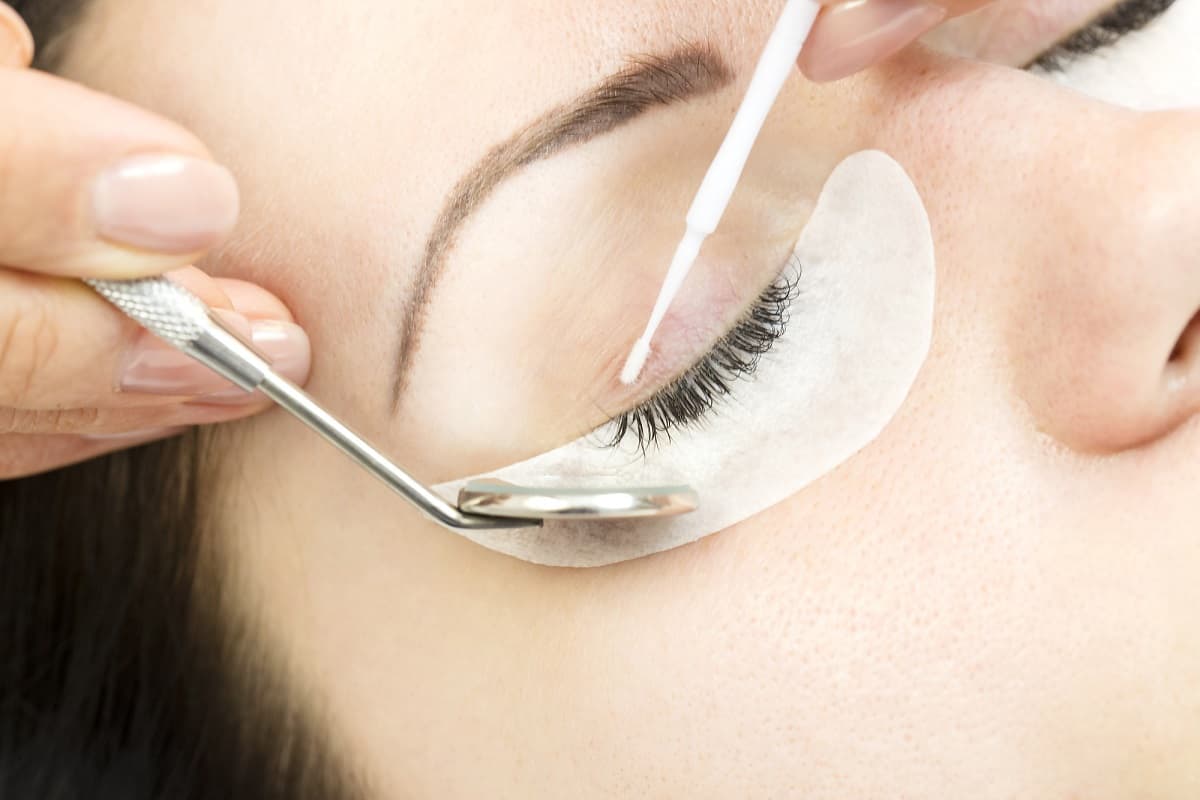 Follow the steps below to become an eyelash technician who is certified and licensed. You will have a better chance of success if you set yourself up correctly from the beginning.
1. Inquire About Your State's Licensing Regulations
You will need to know how to start your eyelash technician career before you can actually take any steps toward actually doing it. Inquire about your state's regulations and requirements so that you are taking the right steps from the get go. It would be a huge waste of time (and probably money) to start training using courses that aren't teaching you the right things.
2. Research Eyelash Extension Courses
Completing an online eyelash extension course will help ensure you are prepared for what an eyelash technician's life encompasses. There are several online courses to take or you can find in-person courses to train with. Make sure whatever course you choose to take will be accepted by your state's licensing department.
Learn more about what it takes to be an eyelash technician by joining Amber Arrington's free webinar. She explains what you can expect to learn as a beginner in this growing industry.
Amber is an experienced esthetician who founded Sassy Wink Academy, a virtual classroom for microblading and eyelash technicians to learn and enhance their skills.
Related: Sassy Wink Academy Review
3. Earn a Certificate of Completion
Once you have gone through all of your training, it is important to obtain your certificate of completion to present to your state board examination. This certification is proof that you have knowledge about eyelash extension procedures and safety practices.
4. Get Licensed and Stay Licensed
Take the exam based on your state's requirements. Once you are certified and licensed, it is important to understand any conditions that are required to stay licensed. Some states will require a certain number of continuing education hours. Other states may require you to take the exam every couple of years. Stay licensed by completing those requirements in a timely manner.
Related: How to Become a Photo Editor
5. Practice, Practice, Practice!
To get your license, you will need to have some kind of experience. Some states require a year of experience. This means you will need to log in those hours with clients that you have spent time practicing on. The more clients you can get, the better.
6. Set Up a Dedicated Workspace
Whether you want to rent space from a local salon or set up a clean spa-like room in your home, it's important to have a dedicated workspace to offer your services. Your state will regulate whether you can become an eyelash technician from home. Make sure to follow the cleanliness and safety standards to ensure that your clients feel confident in your practice.
7. Market Your Services
If no one knows you are providing eyelash extension services, then you won't get any clients. You have to market yourself to people in your area through social media, partnering with businesses in a similar industry, word of mouth, and more.
Related: How to Become a Marketing Coordinator
8. Collect Testimonials
The best reward is that of a positive testimonial from a client. If you were making a purchase of any kind, you would most likely look at the reviews of the product before you buy to ensure other people have had good experiences with the product.
This same concept applies to providing services like eyelash extensions. The more testimonials you have from happy clients, the more likely you are to get other people to try you out as well. Display these testimonials on your website, social media business page, and anywhere else potential clients would see your services.
Questions New Eyelash Technicians Are Asking
Get the full picture of what it takes to become an eyelash technician by listening to what other new technicians are asking.
Is being a lash tech hard?
Only you can determine what is hard or easy for you. Something that you might consider hard might be easy for someone else and vice versa.
Being an eyelash technician is a skill that you need to learn. For some, it will be an easy skill and for others, they might need a little more practice to master the art.
Is being a lash tech worth it?
This answer will be subjective depending on your goals. You will have to determine for yourself if it is worth it or not after seeing your income. Many lash techs believe it is worth it and have found success in providing this service.
Related: Best Service Business Ideas
Can you teach yourself to do eyelash extensions?
Yes, you can teach yourself to do eyelash extensions. However, you won't be certified or licensed in eyelash training. There is a major difference between a licensed and a certified lash tech. Receiving a certificate means you completed eyelash extension training while a license means you've completed requirements set forth by the state you will practice in.
How much does it cost to start an eyelash business?
With the cost of training, licensing, and materials, it could cost between $1,500 and $2,500 just to start your eyelash extension business. If you plan to rent space in a local salon, buy top-of-the-line tools, and take an overpriced in-person course, the costs can skyrocket to tens of thousands of dollars.
It would be a good idea to make a business plan beforehand so that you know how much to save, apply for any business loans if applicable, and see if you can find discounts anywhere to help.
Keep in mind that eyelash technicians are projected to make well over the startup cost per year. The amount of money you put in at the beginning could be made back quickly.
Related: Best Home-Based Businesses for Stay-at-Home Moms
Who Should Become an Eyelash Technician?
Anyone who has the passion and dedication to become an eyelash technician can pursue this career. To truly maximize your income, consider partnering with a hair or nail salon to be its designated eyelash technician. You can also offer additional services like microblading or makeup artistry in addition to eyelash extensions to keep your chair filled.
Becoming an eyelash technician takes time and patience. If you are willing to learn and complete your eyelash course, you will be even closer to making this dream of yours a reality.
Eyelash extension services are on the rise and not predicted to slow down any time soon. Don't miss your opportunity to become part of this fast-paced, booming industry.
Related: Best Online Microblading Courses