How to Become a Theme Park Tester and Get Paid to Visit Theme Parks
We foster relationships with brands we use and trust. The testimonials on our site represent real experiences, but they don't guarantee you'll achieve similar results. When you make purchases through our links to our partners, we may earn a commission. Your support helps us continue this work. You can read our full disclosure here.
The best part about a family vacation is not having to pay for anything. Obviously, the smiles on my kids' faces are more than worth it. However, it would be nice to save on some or all of the expenses.
That's why I loved learning about how to become a theme park tester. All the thrills that come with walking into a theme park paired with the excitement to try all the rides with my family are undeniably fun.
Getting paid to visit theme parks is a dream job. Even if roller coasters aren't your thing, there are plenty of other attractions to enjoy.
You need a little creativity to become a theme park tester. You can't simply write a review about a park; there needs to be excitement, emotion, and a whole bunch of thrills involved.
Take a look at how you can make money testing theme parks.
9 Ways to Make Money Testing Theme Parks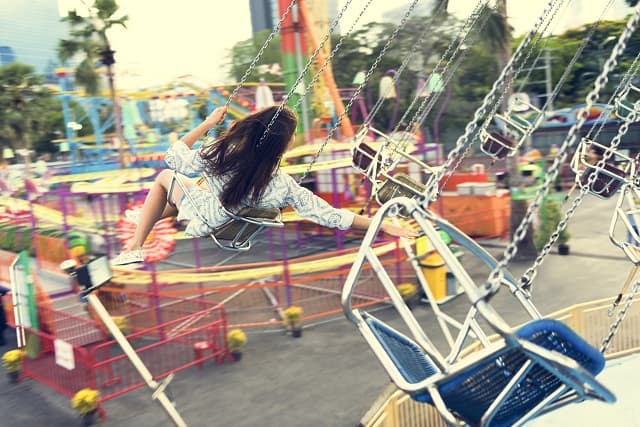 Here are several interesting theme park tester jobs. Finally, childhood dreams have come true, and you can enjoy some fun jobs that pay well!
1. Become a Theme Park Blogger
On your own website, get paid to blog about the different theme parks you have visited. Dedicate your site to theme parks only and get paid for your content about theme parks. What's more, you can tell people you have a Disney theme park tester job and show them all the reviews of Disney theme parks you've visited.
In your blog posts, talk about the rides, food, customer service, and your overall experience with a particular theme park. There is no right or wrong answer on how to write a post. Simply share your experience from your point of view.
Starting a blog is easy to do. Here is my full tutorial on how to get yours set up so you can begin blogging about theme parks.
2. Become a Theme Park Tester or Mystery Shopper
There are two ways you can become a tester or mystery shopper for theme parks. The first would be to sign-up with free sites like Respondent.io and watch for ride tester opportunities. You will be able to contribute to the forum based on your knowledge and experience with theme parks.
The second way would be to personally reach out to management at local theme parks and offer to document your experience with the park. Additionally, you can share your experience with employee interactions and ride attractions so that they can learn where to improve.
Related: How to Become a Product Tester
3. Become a Theme Park Plan Creator
You are probably familiar with big theme parks like Disney and Universal. To make the most of your time in those parks, it's essential to plan out the day.
As a theme park plan creator, you can get paid to create printables detailing daily schedules, checklists, and plans for visitors to pay and print. Buyers will use your plan for maximum fun in the parks all based on your personal experience.
You can sell your theme park printables on Shopify.
4. Become a Theme Park Critic and Journalist
Become a freelance journalist and use your experience to get paid as a ride tester by pitching your story to news sources. Visit theme parks around the world and write about what you experienced in each one.
Good or bad, news sources want to hear about them. If you become a freelance writer, you can also submit your writing to bloggers and other online publications.
Related: How to Get Paid to Build LEGO Kits
5. Become a Theme Park Photographer
If you love capturing fun moments on your smartphone, consider becoming a photographer who specializes in theme park settings. This type of job can feel like you're on vacation yourself!
Visit theme parks and get paid to take pictures of the many rides and attractions they offer. Put a unique spin on the pictures and capture some of the lesser-known parts of the park. Photograph the smiles from visitors (with their permission) to showcase the excitement, which will draw others to the park.
If a new ride has been released, bloggers or local newspapers will want to buy your one-of-a-kind photos and hear your thoughts as a roller coaster tester.
Related: How to Get Paid to Hike
6. Become a Theme Park Influencer
Reach out to theme parks and get sponsorships for advertising their business to others. You can share the experiences you have at theme parks, entice others to visit, and promote ticket sales.
Advertise on Instagram with sponsored posts and fun pictures to have the most influence. Tag the theme park in your posts to connect your audience directly to the park's location.
7. Become a Theme Park YouTuber
Start your own YouTube channel specifically for reviewing theme parks. Before others make decisions on places to travel, they will likely search for reviews and experiences others have had first.
Take videos of yourself being a roller coaster tester and even a water slide tester to show your viewers first-hand what each ride is like. Publish the videos on your channel and even make money with paid sponsorships and ads.
Related: Get Paid to Test Clothes
8. Become a Theme Park Web Designer
Design websites for theme parks and use videos, pictures, and interviews you've taken from the park. Upload all the content and design the website in a way that welcomes guests to a fun time and a memorable experience.
Additionally, you can maintain the website monthly with more pictures, videos, monthly specials, testimonials from visitors, and special discounts.
9. Place Vending Machines in Theme Parks
Start a vending machine business and contact theme parks around your area to negotiate space for your machines. Vending machines in these high-traffic areas will need to be stocked multiple times per day.
Test some free rides throughout your workday after you stock your vending machines. It's an easy way to make money for doing nothing!
Theme Park Jobs May Allow You To Catch Some Free Rides
Getting your family into a theme park is half the battle. However, knowing the fun that lies ahead and that you are taking this trip without having to spend as much makes it even more special.
Becoming a theme park tester is not an impossible way to make money. In fact, you may have even more insight to give as you can collect perspectives from each of your family members. This will make your content richer and experiences of varying ages will provide more value.
From blogging to selling photographs and even becoming a mystery shopper, there are many ways you can get paid to test theme parks. If this is your dream, then check your local theme park's job listing for opportunities or start collaborating with them for other paid options. If you already work inside the gates, then you just might get to test the rides on every break.
Related: Easy Summer Jobs
---
We appreciate the time you've spent reading this post and your interest is not lost on us. Your thoughts, questions, or experiences related to the topic are most welcome. Each comment adds strength to our community. We ensure every comment receives our attention, and we take the time to provide thoughtful responses. Once again, thank you for being a part of this conversation. Click here to leave a comment.