How ‌to‌ ‌Get‌ ‌Paid‌ ‌to‌ ‌Blog‌ for Yourself or Clients (10 Legit Ways)
One of my favorite sites, KashKick, offers tons of ways to earn real cash online. If you're not already a member, give it a shot! Here are five things you can do to make easy money on the site:
Play games (up to $125 each)
Test apps (up to $125 each)
Buy lottery tickets (an easy $8)
Try popular brands (always changing)
Answer surveys (quick cash in minutes!)
Blogs are gradually taking over the internet, one post at a time. With the amount of content available on the internet, it's no wonder blogs are popular sources for information, inspiration, and connection. To make it even better, there are many ways to get paid to blog about a variety of topics.
Blogging is much more than just writing a journal entry online for everyone to see. Blogs have become a source people search for when they are looking for something specific to benefit their lives. For example, there are blogs about DIY home projects, faith-based blogs, motherhood tips, recipes, and so much more.
Don't miss your chance to get paid to blog online. With the abundance of readers out there waiting to stumble upon something new, you can be that fresh perspective they have been waiting for. Take a look at these ideas to start getting paid to blog about anything.
Our Popular Money-Making Offers
Sign up with each of the following companies to maximize your earning potential.
$10 sign-up bonus
Pays to take surveys, complete offers, shop online, and much more
100s of other paid tasks
Awards cash and gift cards
$5 sign-up bonus
Pays to play games, watch videos, answer polls, and much more
100s of other paid tasks
Awards cash and gift cards
Ways to Get Paid to Blog for Yourself
You can get paid to blog for yourself using the three ways listed here. Your own creativity will be the best tool to use in your blog posts.
1. Start Your Own Blog
The first and perhaps most obvious way to get paid to blog is to start a blog of your own. Your site can host information about anything you are passionate about. You can get paid to blog about your life. Find something you are doing in your life that could be relatable and beneficial for others to learn from.
Keep in mind that your blog should have a common theme so that readers can trust that you will produce content they are interested in. For example, you shouldn't have a blog that talks about dinner recipes, technology, and gardening all jumbled together. There should be a common thread of posts and a predictable theme your audience can follow.
To use your blog as an income source, incorporate affiliate links, display ads, and produce sponsored posts. Additionally, you can create and sell digital ebooks or courses on your blog and list any other services you offer there as well. Your blog is your space to be creative and this means you can be creative with how you want to get paid with your blog. Consider all these options and start making money sooner rather than later.
2. Start a Freelance Writing Portfolio
If you are someone who offers digital services to others, consider how you can get paid to blog by creating a freelance writing portfolio. On this site, you can showcase all the work you have completed in addition to listing your strengths and skills. You can share this portfolio with bloggers you wish to write for simply by sharing the link to your site.
Related: How to Become a Freelance Writer
3. Network With Bloggers on Facebook
Whether you have your own blog or a blog writing portfolio, sometimes it might need a little boost in traffic so that you can make more money from it. A great way to do that is by networking with other bloggers on Facebook. Connect with bloggers and agree to share each other's posts, link back to one another's site, and even share their blog as a resource on social media.
The more you can do to promote one another, the more your blog will get in front of new readers. This leads to more views on your site and potentially more money.
Related: How to Become a Social Media Influencer
Ways to Get Paid to Blog for Someone Else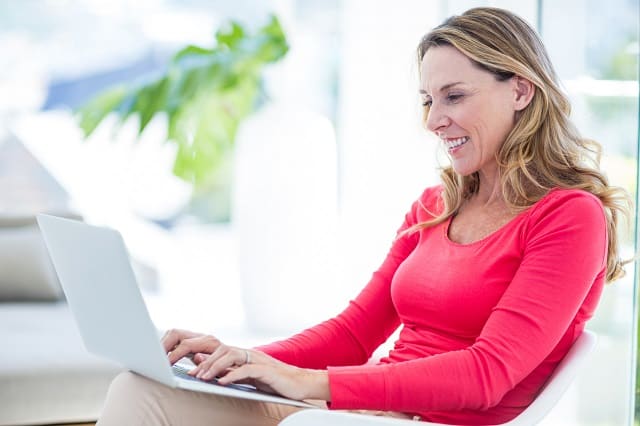 Blogging doesn't have to stop with just your own site. Consider how you can become a content creator and get paid to blog daily for clients.
4. Post Your Services in Facebook VA Groups
Join various virtual assistant groups on Facebook with the intention of making business connections. You can post your blog writing services in those groups and begin to advertise yourself within those communities. In the post, explain your experience and include a link to your blog or portfolio to prove your skills.
Related: How to Become a Virtual Assistant
5. Pitch Bloggers via Email
Cold pitching is a great way to generate some business. Cold pitching means the business you are pitching to isn't currently looking to fill a position, but you can offer your services anyways.
Do your research on blogs within your industry or niche and pitch your writing services to them. Get paid to blog and write articles from home for someone else's blog site.
More Popular Money-Making Offers
Earn more money in your spare time with these reputable companies.
Free PayPal cash
Paid surveys and web searches
Earn easy cash back
Get paid directly to your PayPal
PayPal, Visa, Amazon, etc.
Pays you to do NOTHING (with SJ Pulse)
Simply install the software
Participate in paid surveys & studies
6. Sign up With Service Sites
There are plenty of service sites available online that can connect you with blog jobs. Use sites like FlexJobs, Fiverr, and Upwork to connect with job opportunities. The job boards connect you with business professionals who are looking for your skills so that you don't have to do the footwork yourself to find those opportunities.
Related: Best Service Business Ideas
7. Pitch to Local Small Businesses
Send cold pitches to small businesses in your area and offer blog writing services to them. You'd be surprised to learn how many small businesses could benefit from hiring a blog writer. Once you feel confident about reaching out to small businesses near you, you can branch out even more and pitch to small businesses worldwide.
8. Pitch Your Services on LinkedIn
LinkedIn is a popular social media platform that is used to make professional connections. Take the time to find businesses on LinkedIn to pitch your services to and get paid to blog.
Related: How to Become an Affiliate Marketer
More Ways to Increase Your Chances to Get Paid to Blog
It's not always enough to just offer your services without proof of your skills. Consider the ways listed below to increase your chances of landing gigs to get paid to blog.
9. Ask for Referrals
The best way to generate more leads to get writing opportunities is to ask for referrals. Take to social media and make a post about taking on more clients. Ask family and friends to share your services with others who might need your expertise.
Additionally, you can ask current blog writing clients if they know anyone else looking for a writer. Don't do all the footwork yourself; use your network to help you get paid to blog online.
10. Collect Testimonials
Collect as many testimonials from clients as possible. Testimonials are like reviews and will go further in pitches or applications for blog writing jobs. Potential clients want to know they are hiring someone who is dependable and will perform. Testimonials can show them exactly that and will increase your opportunity for landing the job.
Related: How to Become a Proofreader
Paid Blogging Opportunities Require Hard Work and Unique Skills
While blogging may seem fun and easy to do because you can get paid to blog about anything, there is much more work that comes with it than you may realize. To be a true success in the blogging world, there are some things to consider.
The biggest skill to learn is search engine optimization (SEO). Take courses, learn from other bloggers, and do research about SEO tactics to maximize your chances of landing on the top page of Google's search engine. This skill will also be a golden ticket when writing blogs for other businesses and bloggers.
Only submit and publish high-quality work, establish great relationships with clients for ongoing work, and become fluent in a specific niche. This will increase your chances of standing out on your own blog as well as to others who may want to partner with you.
Get paid to blog using a combination of ways listed here. There is no one-size-fits-all approach when it comes to blogging. Find your groove, sharpen your skills, and the blogging world will surely welcome you with open arms.