11 Jobs That Feel Like You're on Vacation Right Now
Try Bingo Cash, the ultimate bingo app for turning your skills into extra cash while enjoying colorful and engaging head-to-head matches. Win up to $83 per game and experience the classic bingo thrill in the comfort of your own home. Test your daubing skills and become a big winner today!
Bingo Cash™ is FREE to download and play! However, cash tournaments are not available in the following states: AZ, IA, LA, SC & WA.
To enjoy life, we have to work to make money for those desired vacations. But what if there were jobs that feel like vacation? I would sign up right away for a job like that! Making money while being on vacation sounds like a dream come true.
If this is you, then your dreams are about to become reality. There are several jobs that feel like you're on vacation, and I can't wait to share them with you. From having fun in the sun to granting wishes for others, vacations are part of what makes us feel fulfilled in life.
Don't settle anymore for being tired, dreaming of a vacation, and ending up unsatisfied in life. Grab one of these jobs that feel like you're on vacation right now and start living a life others only dream of.
It's never too late to start living the way you want. For some, that starts with applying for jobs with lots of free time.
One of my favorite sites, Swagbucks, offers tons of ways to earn real cash online. If you're not already a member, give it a shot! Here are five things you can do to make easy money on the site:
Play games (up to $322 each)
Test apps (up to $150 each)
Submit receipts (easy cash)
Shop at your favorite stores (up to 10% back)
Answer surveys and polls (quick cash in minutes!)
Our Popular Free Guides
How to Start a Permanent Jewelry Business - If you are patient, have social skills, and love interacting with others, then a permanent jewelry business may be for you.
How to Become a Sleep Consultant - Help parents and babies, and be the difference for families worldwide who are desperate for more Zzzs in their life as a sleep consultant.
How to Become a Proofreader - There are five basic steps to working from home as a proofreader. As long as you're willing to put in the work, you can become a proofreader!
Online Jobs That Feel Like Vacation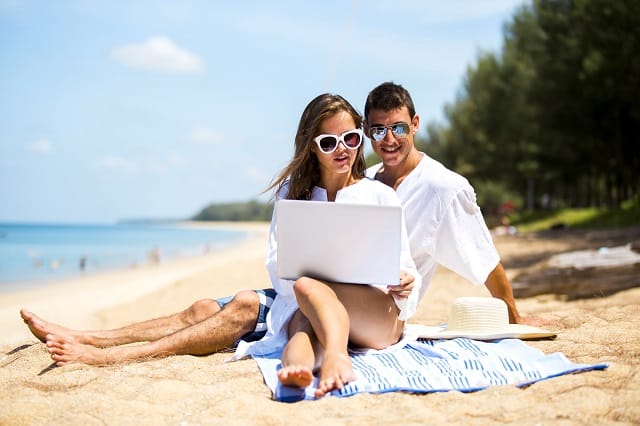 Always feel like you're on vacation with one of these online jobs. Even though they do require you to still work, you are actually able to focus on something you love while having the flexibility to travel anywhere anytime. Confine your work to Saturdays only or pack your schedule–the choice is yours.
1. Book Proofreader
My picture-perfect vacation includes lounging on the beach with a good book in hand and listening to the waves. Becoming a proofreader can give you this dreamy life every day.
A book proofreader is someone who reads through an unpublished book and looks for grammar and punctuation errors. The author of the book trusts the proofreader to find any little mistakes throughout the book before it is officially published.
To become a proofreader, join Caitlin Pyle's free webinar and learn what it takes to start, find clients, and what the expectations are. Caitlin is very much a free spirit and moved to Amsterdam because her business was completely online and able to travel with her.
Related: How to Get Paid to Narrate Books
2. Freelance Writer
If you are someone who finds inspiration while sitting in front of the mountain view, marveling at city skylines, or enjoying the peace of the waterfront sunsets, becoming a freelance writer may just be the right job for you. Write your articles from anywhere.
Freelance writing can turn into a lucrative way to earn money while enjoying an endless vacation. As a freelance writer, you are responsible for writing articles that your clients need for their businesses. There is no shortage of content that needs to be created so finding work isn't difficult to do.
3. Travel Blogger
It would be amazing to quit your 9-5 job and do what you want from any place in the world. While it is possible to do this, it is also realistic to plan ahead. Becoming a travel blogger can take at least a full year of set up before income starts rolling in. However, once the income is more stable, reliable, and passive, you can turn that office job in for a lifelong vacation as a travel blogger.
Travel bloggers can actually get paid to go on vacation and visit different countries and experience cultures, food, and festivities from anywhere they want. A travel blogger can also be someone who explores nature in their immediate vicinity. The most important part of this job is to take the adventure with you and share it in full detail with your readers.
Generate an income using ads on your blog site, publishing sponsored posts, or being an affiliate for products you try along the way. This is one of those jobs that feels like a vacation as you explore new things and learn about the world.
Related: How to Invest and Make Money Daily
4. Children's Book Illustrator & Writer
From your brain to your fingertips, turn those real life vacations into fairy tales for children. Use your imagination in ways you never thought you could and make money as a children's book illustrator and writer. Create daring adventures children can't wait to go on when they open your book.
Writing and/or illustrating children's books can be done anywhere in the world. If you feel inspired waking up on a beach, then bring your business there. Or if the city calls your name, you can illustrate or write from the tallest skyscraper. There are no limits when you work a flexible job that feels like a vacation.
Related: How to Make Money Coloring
Jobs That Feel like You're on Vacation
These jobs aren't as flexible as those that allow you to work online from anywhere. However, these are jobs that feel like a vacation because you are working in the vacation industry.
5. Professional Game Testing Jobs
If gaming in your spare time is something you love to do while on vacation, then consider the many ways to get paid to play games. Game testers can actually earn money playing new games from start to finish in order to catch any glitches or errors in the code.
Other options to make money gaming include designing and coding games, streaming gameplay on Twitch or YouTube, or downloading apps like Mistplay.
KashKick is a great find for gig workers, offering many ways to make extra money doing what you enjoy. Try it out - it's free! Here are five easy ways to start earning money on the site:
Play games (up to $125 each)
Test apps (up to $125 each)
Buy lottery tickets (an easy $8)
Try popular brands (always changing)
Answer surveys (quick cash in minutes!)
6. Food Delivery Jobs
There are delivery driver apps that anyone with a clean background check who is at least 18 years old can apply to join (in select areas). Becoming an independent delivery driver is something that can be done on your own schedule, even while on vacation.
DoorDash is a company that hires "Dashers" to deliver prepared food from local restaurants to customers. The service is available in hundreds of cities throughout the US, Canada, and Australia. Tourist locations are some of the most popular places to pick up delivery jobs, which is perfect for keeping your vacation fun and funded at the same time!
Related: How to Get Paid to Ride Horses
7. Traveling Property Management Jobs
If you want to get paid to travel, then becoming a property manager should definitely be on your list. Property managers don't just manage properties that are local to them. They also often oversee locations in other states or even different countries.
Become a property manager yourself and advertise your services in destinations you've always wanted to visit. Take your family along with you when you travel to these spots and get paid while on vacation. You can also partner with property managing agencies to quickly obtain newclients.
As a property manager, you get to be the middleman between property owners and their tenants. You can serve them both by being responsive, communicative, and knowledgeable.
Related: Jobs that Pay Over $200k
8. Disneyland Jobs
Disneyland is a place where dreams come true. Make those dreams come true daily with a Disneyland job.
All cast members employed by Disneyland have a specific job, such as ride attendant, working in the magical balloon room, portraying a Disney character, or even becoming an independent theme park tester. Fill your heart with a life long vacation at Disneyland while also filling your bank account.
9. Cruise Ship Jobs
Get a job that pays to travel and you can't go wrong. Cruise ship jobs make you feel like you're on vacation right now.
During your time of service on the ship, you also get breaks and days off. Use those days to explore the countries the ship visits and have fun on-board all without having to pay the vacation price. Find the best cruise ship job for you.
Related: How to Get Paid to Drive Cars Across the Country
10. Travel Agent Jobs
Keep in-the-know about vacation deals and specials as you plan new vacations every day with clients. If you choose a position that is virtual or open your own vacation planning business, take your position on the road to give your clients first-hand knowledge of the experience they will have.
Related: How to Become a Virtual Assistant
11. Beach Lifeguard Jobs
Soak up the sun and have fun on the beach as a lifeguard. There is extensive training before becoming a lifeguard. However, it is worth it to have a job that feels like a vacation. As a lifeguard, help protect beach goers and tourists from harm.
There are Plenty of Jobs With Lots of Free Time
Summer jobs with lots of free time are jobs that are life-changing. There are plenty of those jobs to choose from, however, and they shouldn't be taken for granted either. Explore the world while making money as well.
Make a plan for how you want to get started with one of these jobs that feel like vacation. Leave that desk job behind sooner than later and enjoy the fulfillment of life on the road. You won't regret exploring new places and making lasting memories.
Imagine all you can do! Start now and begin living the life you desire by working one of these jobs that feel like you're on vacation right now.
Related: Fun Jobs That Pay Well Without a Degree
---