How to Get Free Christian Books and Literature by Mail
Try Bingo Cash, the ultimate bingo app for turning your skills into extra cash while enjoying colorful and engaging head-to-head matches. Win up to $83 per game and experience the classic bingo thrill in the comfort of your own home. Test your daubing skills and become a big winner today!
Bingo Cash™ is FREE to download and play! However, cash tournaments are not available in the following states: AZ, IA, LA, SC & WA.
As an avid reader, I'm always looking for extra books to add to my collection. But books can be so dang expensive. A book here, a book there, and suddenly a chunk of your paycheck is out the door. Add in the cost of getting those devotionals you want for your morning time with God, and it really adds up.
Christian books, literature, and devotional books are usually worth the money since they help grow your relationship with God and love others well. Spending money on something that will help you grow your faith should be a no-brainer.
But what if there was a way to get free Christian literature by mail? That's right. Actual books, magazines, and devotionals that you can hold in your hand. And free.
It sounds too good to be true, but there are actually many ways to get free Christian literature by mail. I'll share some of the best websites that offer free books, Bible study workbooks, and other Christian literature.
One of my favorite sites, Swagbucks, offers tons of ways to earn real cash online. If you're not already a member, give it a shot! Here are five things you can do to make easy money on the site:
Play games (up to $322 each)
Test apps (up to $150 each)
Submit receipts (easy cash)
Shop at your favorite stores (up to 10% back)
Answer surveys and polls (quick cash in minutes!)
Our Popular Free Guides
How to Start a Permanent Jewelry Business - If you are patient, have social skills, and love interacting with others, then a permanent jewelry business may be for you.
How to Become a Sleep Consultant - Help parents and babies, and be the difference for families worldwide who are desperate for more Zzzs in their life as a sleep consultant.
How to Become a Proofreader - There are five basic steps to working from home as a proofreader. As long as you're willing to put in the work, you can become a proofreader!
Free Christian Books by Mail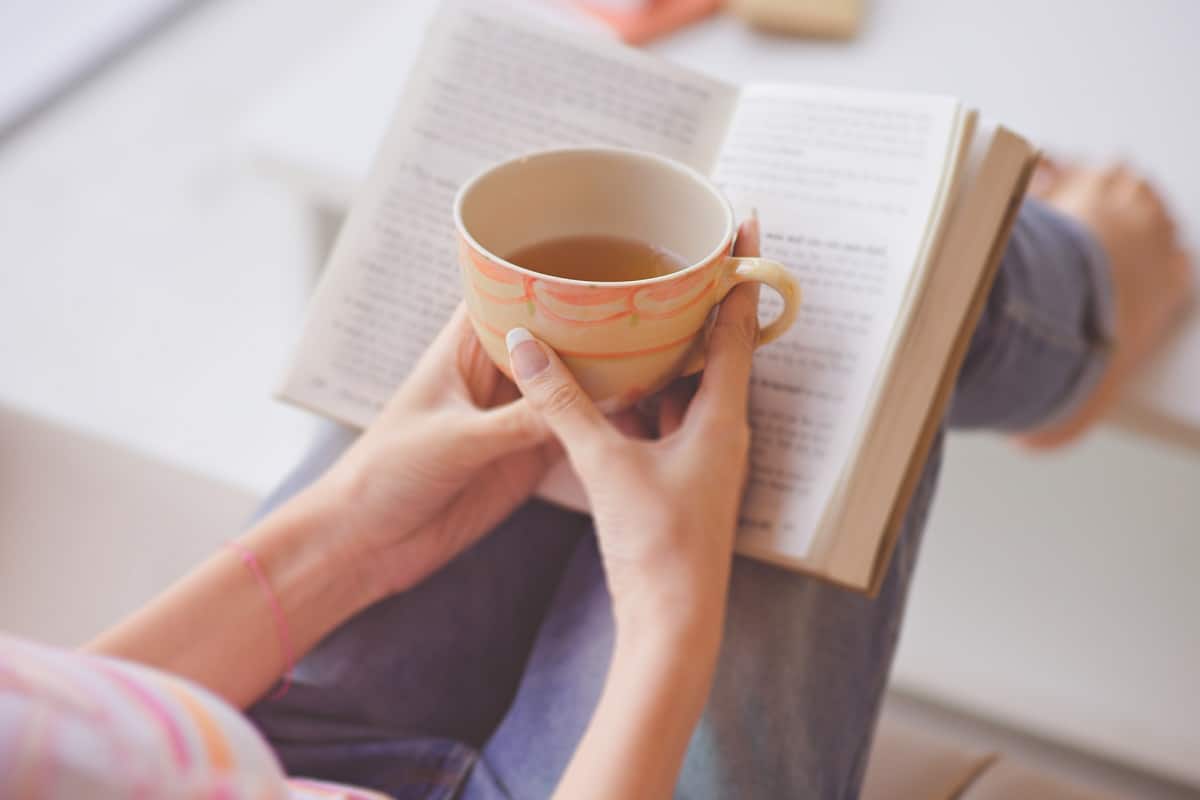 Now we get to the part where you say, "Give me all the books!" Each of these websites will send you free Christian books by mail. Some of them offer only specific books, and some have a broader collection.
1. Barnes & Noble
Barnes & Noble is a wildly popular bookstore that offers books in just about every genre you can imagine. Its collection of Christian Books is quite extensive and includes bibles, bible studies, Christian fiction, historical books on religion, and much more.
It's actually possible to get free Christian books by mail from Barnes & Noble when you join rewards sites like Swagbucks. The site offers different ways to earn points called SBs such as answering surveys and polls, playing games, watching videos, completing offers, and much more. You can exchange those SBs for free Barnes & Noble gift cards to use toward free Christian books.
InboxDollars is another rewards program that offers free Barnes & Noble gift cards in exchange for your completing simple tasks online. You can get as many free Christian books as you'd like depending on how much time you spend on the site.
Related: How to Use Cash App for Church
2. Voice of the Martyrs
The Voice of the Martyrs has three free books available to you. Each book is biographical, telling the story of different persecuted believers who remained steadfast in the face of extreme hardship.
In Tortured for Christ, you can read the story of Richard Wurmbrand, the founder of Voice of the Martyrs. After being imprisoned for his faith, he was held in a Communist prison for fourteen years, suffering through torture and extreme hardship. This experience led him to devote his life to helping persecuted believers around the world.
Imprisoned with ISIS: Faith in the Face of Evil recounts the story of Petr Jasek, a Czech man imprisoned in Sudan for over a year because he helped persecuted Sudanese believers. Even after being forced to share a jail cell with ISIS terrorists, Jasek persisted in his faith.
Hearts of Fire tells the story of eight women from different nations who experienced extreme hardship and persecution in their lives. Despite these different heroines being kidnapped, beaten, and sometimes imprisoned, they each show an extraordinary amount of faith throughout their lives.
Related: How to Get Free Nike Shoes
3. Tyndale Rewards
Tyndale Rewards is a great way to get free Christian books by mail. Best of all, they have a great selection with multiple genres to choose from, including Christian fiction!
You simply have to make an account and complete different activities- tasks like taking short quizzes or signing up for their email newsletter. Each activity you complete gets you a certain amount of points. Once you have enough points, you can cash them in for a free Christian book.
Use my referral link to join Tyndale Rewards and get 25 points toward your first book for free! Most books start at just 100 points.
4. Grace to You
Grace to You is a ministry founded by John MacArthur, a renowned Christian author and pastor. This ministry will send you MacArthur's popular book Anxious for Nothing. This book helps Christians overcome anxiety and worry, tackling the subject with biblical teaching and with grace.
Though this is the only free Christian book by mail offered here, it is a valuable one.
5. A Grain of Wheat Ministries
A Grain of Wheat Ministries offers over ten free Christian books by mail. Each book is written by David W. Dyer on the topics of spiritual growth and end-times theology with different titles such as Repentance unto Life, Light in the Darkness, and a three-part Time and Judgment series.
Related: How to Get Free Airbnb Stays
KashKick is a great find for gig workers, offering many ways to make extra money doing what you enjoy. Try it out - it's free! Here are five easy ways to start earning money on the site:
Play games (up to $125 each)
Test apps (up to $125 each)
Buy lottery tickets (an easy $8)
Try popular brands (always changing)
Answer surveys (quick cash in minutes!)
Free Christian Literature by Mail
Your instinct may be to say, "GIVE ME ALL THE FREE BOOKS!" While I can relate, books are only one of the ways you can learn. The websites in this section send out other types of free Christian literature by mail such as magazines, pamphlets, and periodicals.
6. Chapel Library
Chapel Library has a whole collection of Christian literature, and you can order up to $20 worth of their collection for free every month. They have books, pamphlets, and tracts available.
Books written by great Christian theologians and pastors from past centuries fill their library, and these books offer an incredible way to hear thoughts from theologians from different time periods.
While you're ordering your new books, sign up for Free Grace Broadcaster, Chapel Hill's quarterly digest. Each Free Grace Broadcaster focuses on a theme in theology or the Christian life, and it includes articles and sermons from past Christian thinkers.
Related: Legit Ways to Get Netflix for Free (or Cheap)
7. In Touch Ministries
In Touch Ministries was founded by Charles F. Stanley and is devoted to supporting believers and strengthening the Church. Their online store has books, booklets, devotionals, and guides written by Charles F. Stanley, and they offer a few of these for free.
Now That You Believe: Beginning Your New Relationship with Jesus is a guide that gives you information on the basics of Christianity. It has answers to common questions, verses, and a 40 day devotional. It's perfect for someone who has recently become a Christian.
Walking by Faith is a little booklet that has thirty different inspirational readings based on the writing and preaching of Charles F. Stanley.
Finally, In Touch Ministries is offering a free workbook called Rebuild which helps Christians get through times of grief and loss. This workbook is only available for a limited time- the offer ends April 30, 2022.
Related: Companies That Send Free Stickers
8. Words of Hope
Words of Hope has a free quarterly devotional book. These daily devotionals include a theme, a Scripture passage, and an application. Simply subscribe, and you can receive your first devotional book by mail.
9. Voice of the Martyrs
Yes, Voice of the Martyrs gets a second mention because its resources are just that valuable. In addition to its free Christian books, you can also get a monthly magazine and prayer guide.
Christian literature tends to focus on theology, how to read the Bible, and personal growth. These are so important, but Voice of the Martyrs gives you a glimpse at real-life Christianity in countries where Christians experience persecution. Its free monthly magazine includes stories of persecuted believers' incredible faith, how the ministry is helping them, and how you can pray for your persecuted brothers and sisters around the world.
Voice of the Martyrs also has a free prayer guide, which tells you how to pray for every nation where Christians are persecuted.
10. The Institute for Creation Research
If you're interested in learning more about how science and faith work together, this one is for you! The Institute for Christian Research sends out a free monthly magazine called Acts and Facts. This magazine takes a deep dive into the science behind creationism. Each issue is packed with information and research about creationism and the beautiful, complex world that God has created.
Related: How to Get Free Stuff Near Me
Free Bible Study Workbooks for Adults by Mail
It seems like there are a thousand and one Bible study resources for children, but finding a way to get a free Bible study workbook for adults by mail can be a challenge. These last three websites have Bible study workbooks that you can order for free. Some even offer to check your work if you send the workbook back to them.
11. Bibleinfo
Bibleinfo has a free Bible study called Discover. This Bible study answers basic questions commonly asked such as why God would allow suffering or what happens when a person dies. You can send these studies back when you're finished, and Bibleinfo will check your answers!
12. Bible Studies by Mail
Bible Studies by Mail has (yep, you guessed it!) free bible studies and free bible study workbooks for adults by mail. They have a large selection of different studies you can choose from, often studying either a book of the Bible or a specific theme from Scripture.
These are meant to be correspondence studies, so when you send your completed studies back to them, they will send you a new study.
Related: How to Get Free Amazon Gift Cards
13. Bible Study World
Bible Study World has two free Bible study workbooks for adults. Their study "Amazing Facts" guides Christians through difficult questions to find answers from the Bible, and their study "Focus on Prophecy" goes through the books of Daniel and Revelation, teaching you how to understand the prophecy found in those two books.
You can get both of these Bible study workbooks for free, but the website does ask that you finish one study before you order the next one.
Related: How to Get Free Gas Cards
No Amount of Free Literature Can Replace The Bible
At the end of the day, the books, magazines, and Bible studies you read cannot replace the Bible in your life. As helpful as these resources are in bringing you closer to God and growing your faith, time in the Bible itself is absolutely essential in order for you to know God better and to truly grow as a Christian.
If you don't have a Bible, there are so many ways to get a Bible for free. Most churches have free Bibles and will give you one if you ask. If you would rather get a Bible by mail, The United States Bible Society will send you a free Bible. All you have to do is fill out their form.
Related: How to Get Free Money
---