How to Start a Vending Machine Business
We foster relationships with brands we use and trust. The testimonials on our site represent real experiences, but they don't guarantee you'll achieve similar results. When you make purchases through our links to our partners, we may earn a commission. Your support helps us continue this work. You can read our full disclosure here.
Have you ever wondered how profitable vending machines are? These ubiquitous apparatuses are conveniently placed in shopping centers, strip malls, and outside popular chain stores to provide snacks and cold drinks to the public for just a few bucks.
I often take advantage of vending machines when I am forced to spend time in the lobby of a car repair shop or another waiting area. They allow customers to grab a quick snack on the go, avoid waiting in line, and save time by not having to stop at a convenience store. And they often contain a wide variety of snacks, like the Strawberry Sunkist and Hawaiian Punch I enjoy as an occasional treat at the vending machines outside my local Walmart.
But beyond their convenience, vending machines can also offer some real money-making opportunities, something that most people don't even consider. In fact, this can be a great form of semi-passive income.
To get into the vending machine business, you just need to invest in the machine itself, place it at a location, and stock it to enjoy income all month long. If you've always been curious about this kind of gig, keep reading to find out how to get started, learn the process of buying and maintaining machines, and make money off vending machines.
10 Steps to Make Money From Vending Machines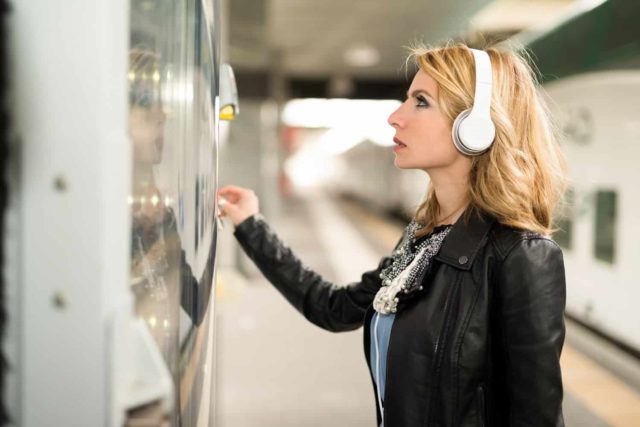 There are 10 basic steps that you will need to take to start your own vending machine business.
Step 1: Create a Business Plan
First, create a business plan, which is a blueprint of your goals and objectives.
While creating a business plan can seem like a lot of work, this step is important and should not be ignored. The following are some simple steps to take in crafting a vending machine business plan:
Define your business: What kind of vending machine company will you operate?
Identify your goals and make them measurable and actionable.
Do a market analysis: For instance, check out your local competitors, etc.
Discuss all aspects of the business, including marketing, strategy, etc.
While you formulate your business plan, remember that you'll be tracking your progress, gains, and losses. These should be documented in a profit and loss statement, which is a financial document that highlights your business income and expenses, to determine a profit or loss at the end of each month and also at the end of the year.
A profit and loss statement will help you to quickly identify income opportunities and expenses and see an overview of how your business is doing financially for each period.
Related: Legitimate Car Wrap Advertising Opportunities
Step 2: Pick Your Location
Next, pick the location(s) where you'll place your vending machine.
Think about viable areas, consider the anchor stores nearby, get an idea of traffic on that street, and review any other factors that could help you determine whether or not you have selected a strong location.
The best options for vending machines include places that require waiting, high foot traffic locations, and places with residential and/or commercial properties like apartment complexes or doctor's offices.
Either use a locator service to find a good location, or you can find one yourself.
Step 3: Contact and Negotiate With Businesses
If you choose to find a vending machine location yourself, you'll need to contact local businesses to arrange a partnership deal.
This entails asking business owners for permission to place your vending machine at their establishment, such as an auto repair shop, for example. Finalize a deal with them, which will include giving them a portion of your sales profits, like 5% per month, in exchange for the space your machine will take up.
Call and ask to speak to the owner or manager, or visit in person. Communicate your request with confidence and explain how the arrangement would be a win-win scenario for everyone. You will reap the financial benefits of having your vending machine placed inside a business, and the proprietor will earn a portion of your sales.
Related: Most Profitable Service Business Ideas List [That Don't Require A Degree]
Step 4: Contract a Repairperson
Then it's time to consider what you will do if your vending machines stop working. This is where finding a good repairperson will come into play.
Do some research at this step. Find a maintenance person who has good reviews and would be available in the unlikely event that your vending machine breaks down. Unfortunately, vending machines can stop working at any time.
If your machine cannot be serviced immediately, place an out-of-order sign on it until it's repaired.
Step 5: Purchase (or Lease) the Vending Machines
This can be an expensive investment and is a long-term business expenditure.
You can buy vending machines online or in person. You will probably find vending machines faster online, but they might be more expensive, due to shipping costs. These machines are heavy, so shipping domestically to your location will most likely result in high shipping fees, though some sellers do offer free delivery.
If you go the online route, you can purchase machines from marketplace websites or online retailers. There are also several industry sites that you can buy from, including Vending.com and others.
You may also want to consider purchasing used vending machines. It's possible to find factory-remanufactured vending machines at a great price and save a lot of money, versus buying new ones. Some used machine sellers even offer limited warranties, financing, and more.
Take your time reviewing your options, as this is a big investment and will be likely one of the most important business purchases you'll make.
Related: How to Make Money Doing Nothing
Best Places to Buy Vending Machines
Amazon: This online marketplace will offer a lot of variety from different sellers, giving you a nice selection.
Ebay: This is another marketplace site that you should check out.
Craigslist: This online classifieds site often has vending machines available to purchase.
Facebook Marketplace: Facebook's online marketplace connects buyers and sellers, and you might be able to find local vending machines for sale here.
Home Depot or Lowe's: You can purchase vending machine supplies from these retail chain home improvement stores' online sites.
Sam's Club: This bulk store offers nearly everything, including vending machines! You will find a nice assortment of new vending machines here, from compact to full-sized.
Related: Creative Small Business Ideas You Can Start At Home
Types of Vending Machines
Candy Machine: This type of machine contains an assortment of candies, like chocolate bars, gum, jellies, gummies, and more.
Toys in Capsules Machine: This machine offers novelty items in small, plastic capsules that kids can pop out – like toy figurines, yo-yos, stickers, toy balls and more.
Large Gumball Machine: A large gumball machine, like the 4-foot-tall ones you may remember from childhood, are still a hit. And they provide nostalgia for adults, from millennials to baby boomers.
Customers just pop a quarter into the machine, turn the dial, and receive a gumball. As the owner, you will keep the machine stocked with gumballs as your inventory; because these offer just one kind of treat, owning them is more hassle-free than stocking machines that contain a variety of foods and drinks.
Refrigerated Food: A vending machine carrying refrigerated food is typically a combo food/drink machine, offering chips, candies, cookies, and chilled soft drinks, water, and juices. If you prefer to sell a variety of snacks to your patrons, then this is the machine you'll want to get.
Soda Machine: Last is the classic soda machine, which carries chilled sodas and other drinks like juices, teas, and water.
Step 6: Place Your Vending Machines
Once you've decided where to place your machine, it's time to deliver it to that location. You can do this yourself by hauling it in an SUV or truck, or rent a delivery vehicle from Budget, U-Haul, or another company. Lastly, you could also hire a delivery company to move the machine for you, which is a good option if you're unable to do the transport yourself.
Step 7: Analyze Your Profits
In this step, remember that you should be making enough from the machine to cover all of your costs, which include expenses like:
Rent
Repairs
Inventory
Transportation
Continue to evaluate your costs and profits on an ongoing basis to ensure that the location you chose for your vending machine is profitable.
If not, it's time to consider renegotiating rent, move on and find a spot that will better support your business, or find other ways to improve your profit margins.
Related: How to Start a Bakery From Home
Step 8: Keep Your Vending Machines Stocked and In Working Order
An important part of this vending machine business is to keep your machines well-stocked and in good working order. This includes the food, toys, or other items you're selling, and the dollar bill and change compartment.
This business is all about maintenance. Check on your machines often, or hire a helper to visit your locations to ensure functionality and stock.
Step 9: Reinvest in Your Business
When you create your business plan, think through your long-term goals, including ways to increase your bottom line.
Consider reinvesting your profits to scale your business and grow your vending machine enterprise so that you can eventually purchase new machines and carry your endeavor into new areas.
Step 10: Build an Emergency Fund
The last step to consider is building an emergency fund for your business, which will cover unexpected costs like repairs. It's important to always have cash on hand in case any business emergencies arise that require capital injection.
Related: How to Get Paid to Eat
FAQ
If you have further questions about how to make money from vending machines, here are the answers to some common queries regarding this business.
How much money can you make from vending machines?
According to the National Automatic Merchandising Association, a single, well-placed machine can earn up to $100 per week or more. The more machines you own, the more your income will grow.
What are the most profitable items to sell in a vending machine?
Here are some examples:
Name-brand sodas like Coke, Pepsi, etc.
Name-brand snacks and candy like Snickers, Lays Chips, Sunbar, etc.
Cold food like sandwiches
Ice
Toys
Gumballs
A 35-pack of Sprite at Costco costs approximately $14. You can turn around and sell each can for $1.50, making $52.50 on the whole pack – or a profit of $38.50!
A 30-pack of full-size candy bars is $24. Selling them for $2 each can make you $60, at a profit of $36.
More importantly, source your products from a wholesaler rather than a retailer and you can increase your profit margin.
Where can I put a vending machine?
Here are some places you can put a vending machine:
Service locations
Commercial office spaces
Places with waiting rooms
Hotels
Shopping centers
Strip malls
Auto shops
Do you need a vending machine license?
Depending on your location, a business permit or license may be required to operate a vending machine business. CandyMachines.com links to the different tax regulations state by state.
Can you start a vending machine business for free?
You can start a vending machine business for free if you already own a business in which you can place one or more vending machines. Vending.com may deliver, stock, and maintain machines for you, and you can earn a commission on the sales.
If you want a larger cut of the revenue or are thinking about stocking and maintaining your own vending machine business, then you will need to invest in the purchase of the machine itself, as well as the items you sell and the maintenance.
Are vending machines a good investment?
You can start a vending machine business for less than $500, compared to the average startup cost for traditional businesses, which can widely vary.
Even if you decide to start with multiple or more expensive machines, you will most likely recoup your investment during the first three years. This is a relatively easy business to run, with a low barrier to entry.
The process of scaling up is also pretty straightforward. Simply follow the same process you went through during startup, to get new machines and place them at more locations for an instant boost in income.
Advantages of Starting a Vending Machine Business
Like most businesses, there are pros and cons to starting this kind of gig. Here are some of the benefits you'll reap from breaking into the vending machine biz:
Low barrier to entry
Relatively low startup costs
Independent work (a team and/or staff is not required for operation)
No risk to income, like checks bouncing
No credit risks
Mobility
Disadvantages of Starting a Vending Machine Business
But there are also some disadvantages to running a vending machine business. Here's what you need to consider before starting one:
Competition
Moderate maintenance required (restocking machines and machine repair occasionally)
Costly delivery fees (for receiving the machine and taking it to the location)
There are Still Vending Machine Business Opportunities Available
Does this sound like a business opportunity you'd like to pursue? There are always vending machine business opportunities available.
If you're prepared to make an up-front investment in exchange for the chance to earn a semi-passive income, a vending machine business might be right for you.
Related: Best Side Hustles for Men
---
We appreciate the time you've spent reading this post and your interest is not lost on us. Your thoughts, questions, or experiences related to the topic are most welcome. Each comment adds strength to our community. We ensure every comment receives our attention, and we take the time to provide thoughtful responses. Once again, thank you for being a part of this conversation. Click here to leave a comment.