How to Become a Freelance Journalist From Home
Try Bingo Cash, the ultimate bingo app for turning your skills into extra cash while enjoying colorful and engaging head-to-head matches. Win up to $83 per game and experience the classic bingo thrill in the comfort of your own home. Test your daubing skills and become a big winner today!
Bingo Cash™ is FREE to download and play! However, cash tournaments are not available in the following states: AZ, IA, LA, SC & WA.
The world of journalism tends to be fast-paced and is easily one of the most in-demand industries. With a society that craves information and knowledge about what is going on in their country and in the world, freelance journalists are able to satisfy that craving in many ways.
As a freelance journalist, your job is to catch the latest stories and write about them in every way you can think about. There are several angles to a story, and it's your mission to bring those angles to light to help people make informed decisions.
Journalism isn't easy, but it can be rewarding. If you desire to be a part of the change in our world by uncovering the truth, then learning how to become a freelance journalist might be the next big thing you're looking for. Grab the attention of others through your writing and make a difference in your world today.
One of my favorite sites, Swagbucks, offers tons of ways to earn real cash online. If you're not already a member, give it a shot! Here are five things you can do to make easy money on the site:
Play games (up to $322 each)
Test apps (up to $150 each)
Submit receipts (easy cash)
Shop at your favorite stores (up to 10% back)
Answer surveys and polls (quick cash in minutes!)
Our Popular Free Guides
How to Start a Permanent Jewelry Business - If you are patient, have social skills, and love interacting with others, then a permanent jewelry business may be for you.
How to Become a Sleep Consultant - Help parents and babies, and be the difference for families worldwide who are desperate for more Zzzs in their life as a sleep consultant.
How to Become a Proofreader - There are five basic steps to working from home as a proofreader. As long as you're willing to put in the work, you can become a proofreader!
What is a Freelance Journalist?
A freelance journalist is someone who gets paid to write for magazines, newspapers, and other online and in-print publications. This person is not an employee of any news station, newspaper, or other media outlet. Rather, they are contracted to do a job or complete an assignment and get paid for their work.
Similar to freelance writing, a freelance journalist can make their own hours and set their own rates. It is up to them to find clients so that they can get paid for their services.
Does a Freelance Journalist Require a License?
Currently, there is no requirement to have a license as a freelance journalist. In reality, you could wake up one day, decide to become a freelance journalist, and begin. However, keep in mind that some clients may ask for your qualifications as a journalist including your education and experience.
Related: Best Home Based Business Ideas for Moms
Other Freelance Journalist Requirements and Qualifications
There are no special requirements to become a freelance journalist. The qualifications you bring to the table depend on your own experience. You have the ability to sell your service to the client, and they have the option of accepting you or not.
To have the best shot at becoming a freelance journalist, you will need to be someone who is dependable, a go-getter, has a good handle on the English language, and be able to meet deadlines.
These requirements will be the basics any client will look for when deciding to partner with a freelance journalist. The more you can prove that you have these basic qualifications, the better your chances are of landing clients.
Freelance Journalist Salary or Pay Expectations
According to ZipRecruiter, a freelance journalist makes an exceptional salary. The national annual average is reported to be $60,119, which is a cool $5,000 per month. There are reports of salaries as high as $143,000 and as low as $16,500. The salary you can expect will be based on your experience, the area in which you live, and how many jobs you are accepting at a time.
Related: How to Become a Proofreader From Home
4 Steps to Become a Freelance Journalist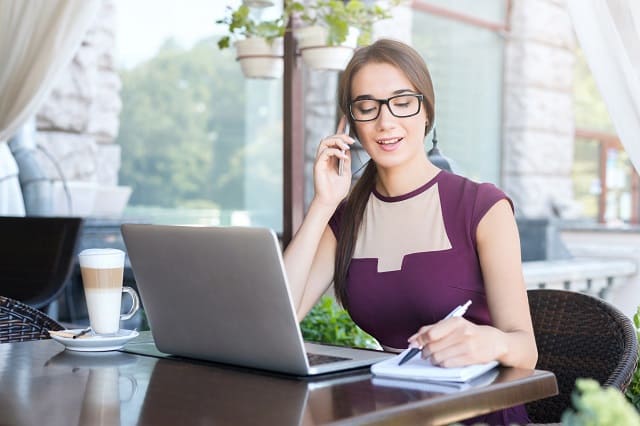 Take a look at the steps below to learn how to become a freelance journalist. These steps are meant to get you started, but it is up to you to decide how you will continue with your writing success.
1. Choose Your Journalism Niche
There are several types of journalism. It is important for you to choose which niche you want to pursue. For example, ask yourself if you are interested in sports journalism, tabloid journalism, developmental journalism, or something else. Where does your passion lie?
This is important to figure out in the beginning so that you are passionate about the stories you are chasing. If you don't care about the topics at hand, then it will be difficult to write about them in a passionate, informative way, and that can reflect poorly in your writing.
Keep in mind that you can have more than one passion. However, it is important to build up your credibility by writing about a specific topic. Later on, you can choose to dabble in other areas if you'd like to.
Related: How to Become a Marketing Coordinator
2. Boost Your Learning
It's always a good idea to have some knowledge about the job that you are going into. Consider taking some free or cheap courses to get a jump start on what journalism writing is all about.
Masterclass offers an amazing series by Bob Woodward, a two-time Pulitzer Prize winner, best-selling author, and investigative journalist. During the self-paced class, Woodward teaches how to investigate, interview, and write news-style articles like a professional journalist.
3. Apply for an Internship
One of the best ways to gain hands-on experience as a journalist is to become an intern at a prominent local journal. Visit the publications in your area to request information on internship positions. If there are none, consider offering your services in exchange for real experience, feedback, and credentials.
Media companies like newspaper or magazine publications, marketing or advertising agencies, and social media or podcasts may offer internships. While it's best to gain experience in the specific field you hope to pursue, there are plenty of similar lines that will teach the basics of journalism.
4. Find Out Who is Hiring and Apply
Go on job boards like FlexJobs to find out who is hiring freelance journalists. Check social media to find leads on jobs. Join Facebook groups that are specific to freelance jobs and journalism. You can join professional journalism groups to get your name out there and learn from others.
Find jobs that fit your niche. Apply with your experience and any education you have to back up your credibility. Remember that it can take a couple of weeks to receive a response back about your application.
Additionally, you can send cold pitches to businesses to offer your services to them. This means they aren't actively hiring, but you can let them know you are available anyway. Some businesses may not have considered hiring a freelance journalist and will appreciate having a contact to reach out to.
Sending cold pitches to get more clients is a numbers game. You might make dozens of cold pitches before getting a single response. Don't give up, though! All it takes is one business to accept your offer and hire you to start your career.
Related: How to Get Paid to Read
5. Market Yourself
Set up a portfolio and get ready to market your skills to potential clients. You can use social media to post about the type of writer you are and what skills you have. Use your accounts to connect with others and foster those relationships so that in the future, if they are ever looking for a freelance journalist, you will be the first to come to mind.
Tell your friends and family as well about the new services you are offering. They can refer others to you who might be looking for your skillset.
Related: Best Jobs for Stay-at-Home Moms
KashKick is a great find for gig workers, offering many ways to make extra money doing what you enjoy. Try it out - it's free! Here are five easy ways to start earning money on the site:
Play games (up to $125 each)
Test apps (up to $125 each)
Buy lottery tickets (an easy $8)
Try popular brands (always changing)
Answer surveys (quick cash in minutes!)
Questions New Freelance Journalists Are Asking
Get an even better picture of how to become a freelance journalist just by learning what other new journalists are asking.
Is it difficult to be a journalist?
Journalism is not an easy career. You have to have a passion to get the story at nearly all costs. Clients will appreciate the extra effort you put in and will likely hire you for future jobs based on your top level performance.
As a journalist, there are many situations where things can become dangerous depending on the story you are covering. You have to know where to draw the line professionally and ethically for your own safety.
Related: Work From Home Jobs Hiring Immediately
Is freelance journalism a good career?
The term "good" is subjective. Your interpretation of what constitutes a good career will differ from someone else's. That being said, if you are willing to dedicate yourself and be the best writer you can be, then a career in the journalism field can be a good one. If you are hoping that this venture will make you tons of money without much effort on your part, then it will not be a good career for you.
Are journalists in demand?
According to the Bureau of Labor Statistics, journalism careers are expected to grow over the next decade. There is always a need to cover new stories that are coming out every day. Don't miss your opportunity to get in on the action.
Is journalism a stressful job?
Depending on your personality and ability to handle pressure, this might not be a stressful job for you. If you are overwhelmed easily, then this could be the wrong career for you. It really depends on your personality.
Journalism in general is not a job that you can just make up content for and publish. There are many fact checks you have to do in addition to research. The job comes with a large task list. If you can stay on top of the duties, then you will be successful.
Related: How to Become a Content Creator
What is the highest-paying journalism job?
According to The Best Schools, public relations management is the highest paying journalism job currently. It's a role that requires the perfect combination of journalism and management skills to build a brand's image through press releases, interviews, and sponsorships.
Related: How to Get Paid to Go to School
Who Should Become a Freelance Journalist?
Freelancing doesn't come easy. It is up to you to find work, which also means you are advertising yourself on a continual basis so that you can bring in a consistent income. On top of that, you are adding the journalism tasks which means you have to be someone who is reliable and committed to the job.
Freelance journalism is a job that is not to be taken lightly. If you have what it takes to start this new journey and see it through to success, then this is the right career for you. Don't let fear hold you back; try something new and enhance your love of journalism knowledge.
Share stories with the people, shed light on the truth, and make a difference in our society with your stories. Learning how to become a freelance journalist can be the life-changing event you've been waiting for.
Related: How to Start a Money-Making Blog
---