12 Apps That Pay Real Money for Easy Tasks and Gigs
Try Bingo Cash, the ultimate bingo app for turning your skills into extra cash while enjoying colorful and engaging head-to-head matches. Win up to $83 per game and experience the classic bingo thrill in the comfort of your own home. Test your daubing skills and become a big winner today!
Bingo Cash™ is FREE to download and play! However, cash tournaments are not available in the following states: AZ, IA, LA, SC & WA.
I never thought it would be possible to make money from a smartphone. Maybe it was because my first smartphone wasn't anything fancy, and barely connected to the internet. But fast-forward to today, and there are lots of apps that pay you to do something from the palm of your hand.
I have personally used many of these apps that pay real money, and I have made some extra cash with some of them just by setting up an account, using the apps, and referring the ones I love to friends.
After trying many different money making apps in the last 10 years, I'm sharing the ones that I recommend if you're looking to make extra money.
One of my favorite sites, Swagbucks, offers tons of ways to earn real cash online. If you're not already a member, give it a shot! Here are five things you can do to make easy money on the site:
Play games (up to $322 each)
Test apps (up to $150 each)
Submit receipts (easy cash)
Shop at your favorite stores (up to 10% back)
Answer surveys and polls (quick cash in minutes!)
Our Popular Free Guides
How to Start a Permanent Jewelry Business - If you are patient, have social skills, and love interacting with others, then a permanent jewelry business may be for you.
How to Become a Sleep Consultant - Help parents and babies, and be the difference for families worldwide who are desperate for more Zzzs in their life as a sleep consultant.
How to Become a Proofreader - There are five basic steps to working from home as a proofreader. As long as you're willing to put in the work, you can become a proofreader!
13 Apps That Pay You Real Money to Complete Easy Tasks
I'm sharing the best apps based on my personal experience. These legit paying apps are free to join and pay you to play games, answer questions, complete offers, and much more.
1. Swagbucks

Swagbucks is another micro-task app that pays you to do all kinds of things online. You can Swabucks called SBs and convert them into free gift cards or PayPal cash.
There are more than 17 different ways to make money on Swagbucks. Completing paid surveys is one of the most well-known ways to earn money, but you can also do things like print and use coupons, book your travel plans, play games, complete online searches, and many more.
2. InboxDollars

InboxDollars is a fun app that pays real money for doing easy micro-tasks online.
Some of the ways to earn money with InboxDollars are to complete surveys, read emails, watch videos, play games, and share the app with friends and family.
You can also get paid to complete offers like testing new apps or signing up for free trials.
The tasks are all easy, and if you like making extra money from your smartphone, it's worth downloading the app and visiting it in your spare time.
3. Solitaire Cube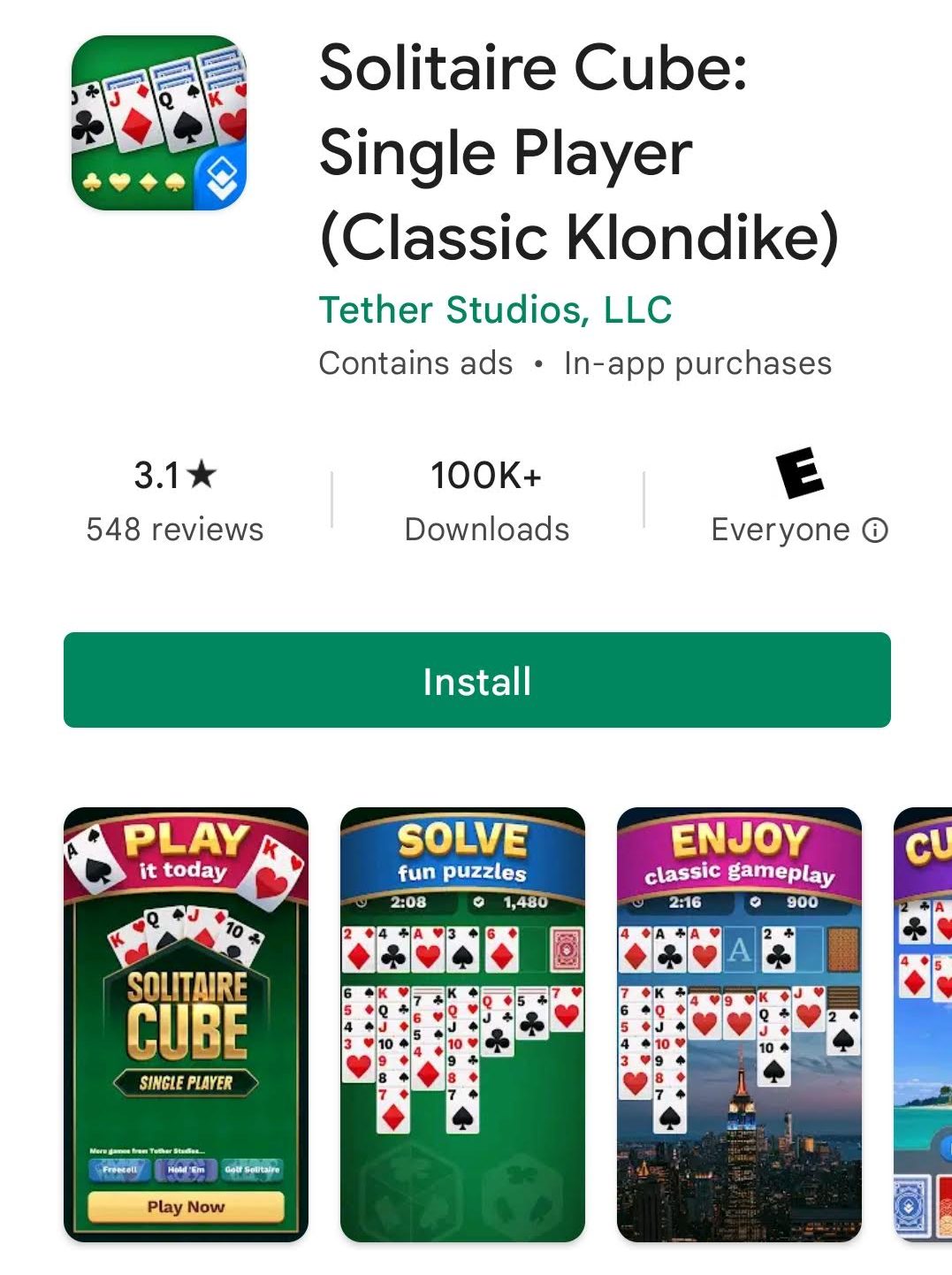 If you enjoy playing games like solitaire on your phone, you can download the Solitaire Cube app and get paid real money to play and win. The app facilitates head-to-head matches where players are dealt the same cards and play against a clock. The person who finishes the round first is awarded points that can be redeemed for cash rewards.
You can get paid to play solitaire by entering real money tournaments, or you can play with virtual currency for free. You can get accustomed to the rules and improve your speed and skills for free for as long as you want.
When you're ready to play cards for real money and win, you can cash out your points for Visa, Mastercard, AMEX, PayPal cash, and Apple Pay.
Not available for cash games in AZ, AR, CT, DE, IN, LA, ME, MT, SC, SD, and TN, but virtual currency is available.
Related: Solitaire Cube Review
KashKick is a great find for gig workers, offering many ways to make extra money doing what you enjoy. Try it out - it's free! Here are five easy ways to start earning money on the site:
Play games (up to $125 each)
Test apps (up to $125 each)
Buy lottery tickets (an easy $8)
Try popular brands (always changing)
Answer surveys (quick cash in minutes!)
Legit Paying Apps for Survey Takers
Many people earn money for taking surveys in their spare time. As someone who usually has a few minutes between appointments, drop-off schedules, and other parenting duties, it's good to know there are apps that pay real money for things like taking a few minutes to complete surveys. While it's not a high-paying gig on its own, these odd job apps can lead to some extra cash in your wallet.
4. Survey Junkie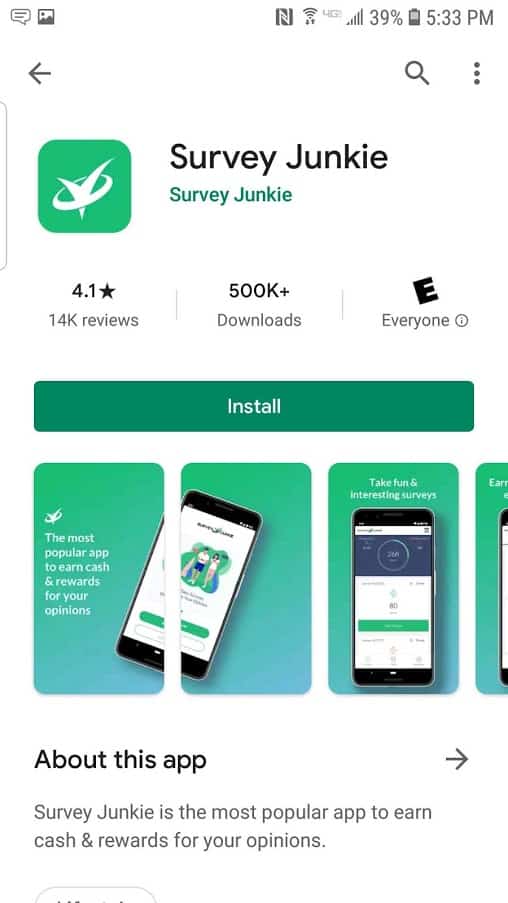 If you can find pockets of time during your day to earn, you would definitely enjoy the Survey Junkie app. Survey Junkie pays members for completing surveys. Simply choose the survey you want to take, answer some qualifying questions, and complete the survey.
You'll be glad you spent those extra minutes taking the survey when you see your points hit your account. Use those points to redeem rewards like free gift cards to Amazon, a PayPal transfer, or a direct deposit to your bank account.
Related: Survey Junkie Review
5. Pinecone Research

If you like getting paid to answer questions in your spare time, Pinecone Research is one of the best paying apps to join. If you're between the ages of 18 and 24, you can join for free and earn $3 per survey you complete.
The questions will almost always relate to something you've already done (or you're interested in doing), so you won't have to do any type of research to answer them. Pinecone Research is just looking for your honest opinion about different brands and services.
Occasionally, Pinecone Research may invite you to participate in paid product trials. You will get paid to test a product and share your opinion.
Related: Pinecone Research Review: The Most Exclusive Survey Site
6. LifePoints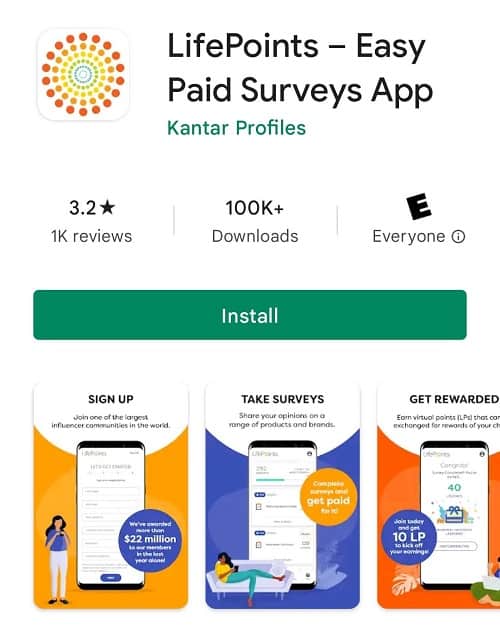 LifePoints is a legit paying app that rewards survey takers with LPs for the time they spend giving their feedback. Collect a bonus of 10 LPs just for downloading the app and signing up for an account. When you are ready to redeem your rewards, choose from several free gift card options, a payout through PayPal, or even a donation to the Special Olympics.
LifePoints has a diverse community of survey takers from 40 countries all giving their thoughts about products and services that will help enhance our future. Spend a few minutes per day shaping the future and get paid for it.
Related: LifePoints Review
Apps That Pay You to Sign Up
Some of the best apps are those that pay you a cash bonus just to sign up. These legit paying apps are some of my all-time favorites!
7. Robinhood
Robinhood trading investment app offers commission-free trading. It awards new members with a sign-up bonus valued between $3 and $220 upon joining. While most members receive a bonus of less than $10, there's always the chance of scoring big!
Most stock trading apps charge a commission, but Robinhood prides itself in keeping trades free. When you get your sign-up bonus, you can keep it invested, trade it for another stick, or sell it and cash out.
Robinhood offers a great opportunity to invest and potentially grow your money over time. Some members even use the app to invest and make money daily. Check it out if you're ready to invest!
Apps That Pay You to Deliver Food
I used to love delivering pizza when I worked at a local mom-and-pop restaurant. The tips were great and it was fun to crank up the tunes while driving. Hop off of the couch and into your car if you're interested in earning money with delivery driver apps.
8. Instacart
Instacart is one of the best apps available that allows you to pick up local grocery delivery gigs in your area. If you don't mind the hustle and bustle of a grocery run, you can earn money for your time.
As a shopper, you can log into the app to peruse current orders. Select the one that you'd like to claim, and start shopping. You won't have to pay for any of the groceries out of pocket, and you will get paid as soon you've delivered the groceries. You also get to keep 100% of any tip the customer gives you.
Instacart offers part-time in-store shopping positions or independent, deliver-as-you're able gigs. If you're strapped for time or just want to pick up some deliveries over the weekend, then apply to become an Instacart full-service shopper. You can earn the most money on your own schedule with this app that pays real money.
9. DoorDash
DoorDash is another popular app that pays you to deliver food to people in your neighborhood. This company focuses on prepared restaurant food. You get to experience the benefits of a delivery driver but with much more flexibility. You can pick up gigs in your spare time, or log into the app and work all week long.
DoorDash delivery drivers, or "Dashers," earn between $2 and $10 per hour, plus "promotions" during high demand hours, plus 100% of customer tips.* You can request immediate payment for a small fee, with the exception of a short waiting period to allow customers to adjust their tips.
*For illustrative purposes only, actual earnings may differ and depend on expenses. Hourly pay is calculated using average Dasher payouts while on a delivery (from the time you accept an order until the time you drop it off) and includes compensation from peak pay, tips, and other incentives.
Apps That Pay Cash Back
Everyone spends money. But not everyone realizes that there are apps that will pay you to spend your money. And the nice thing is that you don't have to step outside of your normal budget to make these apps work in your favor.
10. Rakuten

Rakuten is one of the best apps that pay real money that I have personally use to make extra money. I've earned an easy $300.32–all of which has already landed securely in my PayPal account.
Here's a snapshot of how it works:
If you're familiar with affiliate marketing, then think of Rakuten as a way to make extra money by clicking on your own referral link. In affiliate marketing, you typically cannot refer yourself to a product or service, but you can earn cash back using eBates in the same exact way.
You can read more about how the app works in my Rakuten review.
I often shop online at Walmart so when I go to grab something I first go to Rakuten and follow their link to Walmart. An average shopping trip earns users $2.00 cash back. It's certainly not something that will replace your full-time job, but the money does add up.
11. Ibotta App

Ibotta is similar to Rakuten in that it also offers cash back on everyday purchase. The nice thing about Ibotta is that it focuses on groceries from your local stores whereas Rakuten is used for online purchases. I highly recommend signing up for both so that you can maximize your cash back opportunities! Learn more about Rakuten vs Ibotta to see how they can work together.
Using Ibotta is simple and straightforward. You can submit your receipts, link a loyalty card or make your purchase right through the app. Right now there are 291 participating stores! The popular stores that we all shop at are Walmart, Food Lion, Kroger, Publix, Walgreens, and CVS Pharmacy. But there are many others, so be sure to check them out.
Related: Ibotta Review
Apps That Pay for Your Data
There are apps that pay you just to download them to your devices. Once downloaded, you can continue browsing the web, shopping online, or playing games as normal while still earning rewards or cash.
12. Nielsen Computer & Mobile Panel

If you've ever received a 5 dollar bill in the mail attached to a short questionnaire, you're probably familiar with Nielsen TV Ratings. The company has a long history of collecting valuable, anonymous data from consumers that helps brands improve their products and services.
Now, Nielsen Computer and Mobile Panel is available to anyone who has a smartphone (or another device that connects to the internet). When you join the trusted site for free and download its software on your devices, Nielsen collects anonymous data from your online habits. Instead of answering surveys, you just go about your day as usual.
The company pays a $50 yearly residual for your anonymous data, and provides the opportunity to earn extra rewards.
Related: Nielsen Computer & Mobile Panel Review
Make Extra Money On The Side with these Money Making Apps
I know that no single app will pay you enough money to replace working a job, but even the smallest changes can add up and make life more comfortable.
In my household, there are many things that we are just not willing to go without (vacation, coffee, date nights, etc.), but finding ways to earn extra money from these already habitual spending habits is a huge win in my book!
Related: Apps like Mistplay
---