How to Become a Property Manager in 5 Simple Steps
We foster relationships with brands we use and trust. The testimonials on our site represent real experiences, but they don't guarantee you'll achieve similar results. When you make purchases through our links to our partners, we may earn a commission. Your support helps us continue this work. You can read our full disclosure here.
With so many career options to choose from these days, it can be difficult to spot the ones that are fulfilling and exciting. One of the unique career choices with the potential to increase in demand is a property manager.
As a property manager, you will get to meet new people, get inspiration for your own home, and take in the sights when you travel. The days are all different, and that's what keeps this career choice exciting.
You can start in the real estate field and get a sense of the type of property manager you want to become. Learn from the steps in this guide on how you can become a property manager. It isn't an overnight success, but it is worth the time and energy you invest in yourself to make this career work for you.
What is a Property Manager?
Property managers are tasked with managing homes, apartments, or any kind of real estate property. A property manager is also known as an estate manager.
They perform this service for a fee when the property owner isn't able to do so themselves. Think of property owners who purchase homes in a different state to use as rentals. Military families who have to be stationed elsewhere for some time, but don't want to sell their homes, rent them out instead under the care of property managers.
As a property manager, it is your job to ensure the tenant renting out the home is a qualified individual who can make payments on time. You also ensure that the tenants will not damage the property more than normal wear and tear as well as coordinate any maintenance services needed.
Related: Best Service Business Ideas
Does a Property Manager Require a License?
In most cases, a property manager does require a license. There are times when an exception can be made, but you can bank on needing one for most estate manager jobs. Depending on the state you live in, the license may differ.
Some states require a real estate license while others require a property manager license. Make sure you verify with your state which licenses you will need to become a property manager.
Other Property Manager Requirements and Qualifications
Estate managers need to have exceptional customer service skills. You will be dealing with people on a daily basis with the property owner, the tenants, potential tenants, or other real estate agents. Your communication skills will be important to brush up on through email, text, phone etiquette, and face-to-face interactions.
Additionally, consider sharpening your marketing skills to help with advertising the homes you will be responsible for finding suitable tenants to live in. Having pictures and detailed descriptions of the homes will go a long way in getting someone in the door faster so that you can make money quicker for the property owner.
Property Manager Salary or Pay Expectations
According to PayScale, the national average annual salary for a property manager is nearly $51,000. On the low end, property managers make roughly $34,000 and on the high end, the salary is $76,000. The salary you can expect will be dependent on your experience, expertise, and the area in which you serve.
Related: How to Get Paid to Live in a House
How to Become a Property Manager in 5 Simple Steps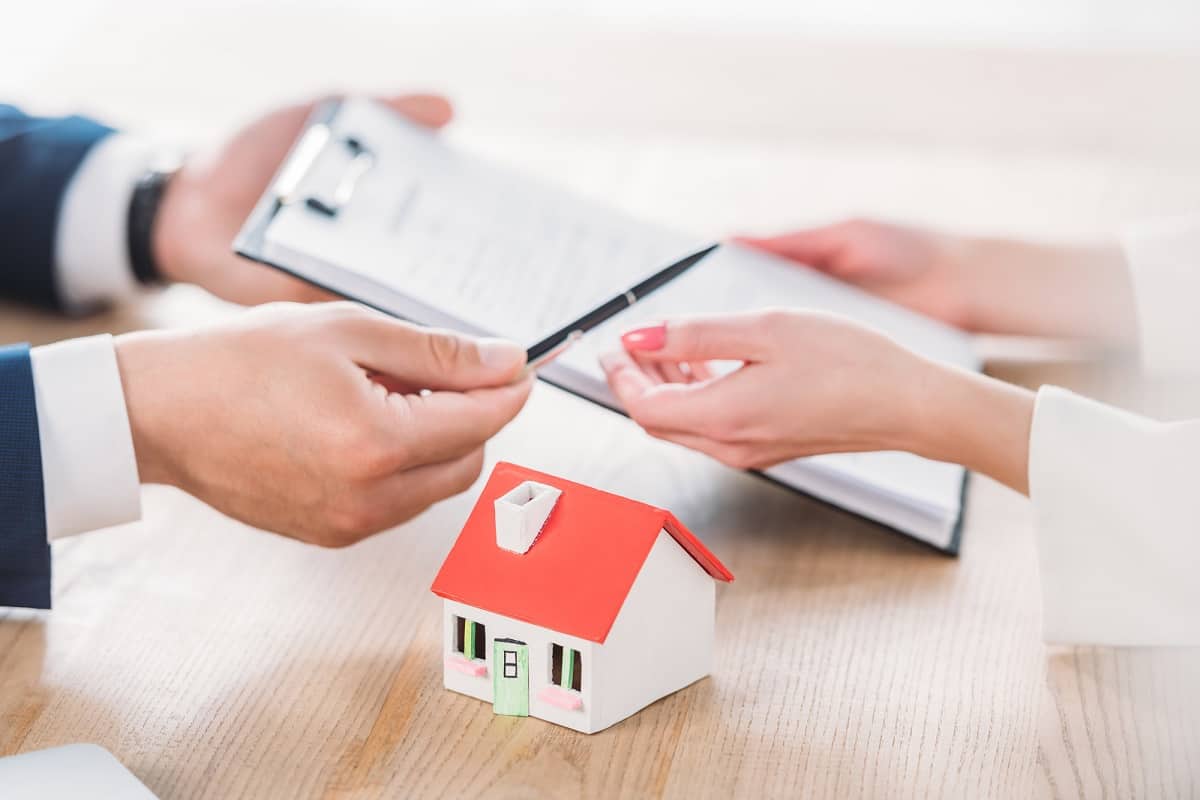 There aren't too many steps to becoming a property manager. However, it can take time to get into the swing of this new career.
1. Take Real Estate Courses
The first thing you need to do is research the requirements of your state so that you know which license you need to apply for. Once you have determined your state's requirements, begin searching for the appropriate real estate courses to take.
A course such as The Art of Real Estate with Robert Reffkin on Masterclass.com can be a great course to take. Robert Reffkin is the CEO and founder of an American real estate company called Compass.
Robert was a partner with Goldman Sachs and left to pursue a dream in real estate. He has served on more Fortune 500 boards than anyone else in history.
Taking real estate courses will help you obtain your property manager certification. Sign up for Robert's course to start learning how to become a property manager.
Related: Best Cheap Housing Alternatives
2. Connect With Real Estate Agents
The best way to make it in the real estate world is to connect with other real estate agents. They can point you in the direction of homeowners looking for managers for their property. They can also give you insight into resources you can use such as real estate photographers, firms, and more.
The connections you make with real estate agents need to be genuine. While the real estate industry is very competitive, there are ways you can stand out and become a go-to person because of your genuine personality.
3. Search for Jobs
Take to the various online platforms that help with finding jobs. Search your area to learn of opportunities, or consider becoming an entrepreneur and learn how to start a property management company.
Related: Best Work-From–Home Jobs That Hire Immediately
4. Ask for Referrals
Ask for referrals from new and past clients, family and friends, and any other connections you make during your transition into this industry. It's important that you ask people to do this. No one will know how to help you in your new career if you don't tell them about it or if you don't ask them for help.
5. Collect Reviews
The best way to attract more clients is to have raving reviews from past clients. Reviews show others what your skills are and the quality of work you provide. The more reviews you have, the more likely you are to land more clients.
Related: Best Work From Home Finance Jobs
Questions New Property Managers Are Asking
Taking a leap of faith into a new career can be scary. Take a look at what other new property managers are asking to get a better understanding of what you can expect in the early stages of this new career.
How long does it take to become a property manager?
Depending on how much time you can dedicate to complete all of your coursework and take your exam, it can take approximately 18-24 months to become a certified property manager.
How difficult is it to manage a rental property?
The level of difficulty will vary for everyone. What is difficult for someone else might not be difficult for you. There is no true answer to this question other than to understand your commitment level to determine if you're willing to put in the work to make it happen.
As with anything in life, if you are new to something, there is a learning curve. This means you won't just wake up one day and be an estate manager without having to put in some time and work beforehand.
Is property management a good career?
Using the term "good" is subjective and will differ for everyone. If you are interested in this career and you're willing to dedicate yourself to being the best you can be in the industry, then it will be a good career for you. The salary predictions are fair, and the rising market suggests this career will continue to grow in the coming years.
Related: How to Invest and Make Money
Is being a property manager stressful?
Your stress level will vary based on your own personality and characteristics. Any job can be stressful if you are someone who gets anxious easily. Additionally, if you don't know how to manage your workload, it will be easy to overwork yourself.
Consider what you can do beforehand to lower your stress level within your personal life. This can help you understand the methods that work for you to keep your stress level lower during work.
What are the perks of being a property manager?
There are many perks to becoming a property manager. If you like the idea of traveling, this job allows you to experience different cities. You will also meet many new people in this career, which can translate into many friendships along the way and a life fulfilled.
This career also comes with a great deal of flexibility to work when you choose. This is dependent on the company you work with. However, if you are an entrepreneur in the field, you can dictate your own schedule.
Additionally, this career is in high demand, which means you don't have to worry about your career not lasting.
Related: How to Become a Bookkeeper
Who Should Become a Property Manager?
If you are looking for a career that requires little work on your part, then this won't be the career for you. A property manager is someone who is dedicated, caring, and committed to making dreams come true for all involved. Your energy level to make this happen will contribute to the outcome you receive as a successful estate manager.
Take the time to learn all the ins and outs of real estate as well as the trends that are occurring in the market. It's also important that you keep updated with any changes in legal requirements as the years come and go. There will always be something new to learn in this career, which makes it a fun, engaging, rewarding career.
Don't be afraid to try something new. If this career has been something you've been interested in, start communicating with those already in the field and learn from their first-hand experiences. Oftentimes, talking with those who are already in it will help motivate you to get into the industry.
Lastly, don't get ahead of yourself. Take the time to learn, connect, and research. Take the course by Robert Reffkin to learn even more about the industry. Your career will be all the better for it.
Related: How to Start a Daycare Business in Your Home
---
We appreciate the time you've spent reading this post and your interest is not lost on us. Your thoughts, questions, or experiences related to the topic are most welcome. Each comment adds strength to our community. We ensure every comment receives our attention, and we take the time to provide thoughtful responses. Once again, thank you for being a part of this conversation. Click here to leave a comment.