MyPoints Review: Can You Redeem Points for Cash?
Try Bingo Cash, the ultimate bingo app for turning your skills into extra cash while enjoying colorful and engaging head-to-head matches. Win up to $83 per game and experience the classic bingo thrill in the comfort of your own home. Test your daubing skills and become a big winner today!
Bingo Cash™ is FREE to download and play! However, cash tournaments are not available in the following states: AZ, IA, LA, SC & WA.
Sometimes we have a lot of extra time on our hands. What if we could squeeze an extra 20-30 minutes in throughout the day to generate a side income?
Whether it's during the time we stand in line waiting for our dinner order or the minutes we spend scrolling through social media before bed, these minutes could add up to dollars using an app like MyPoints.
We could all use a little extra money in our budget each month. Having extra income is appealing but most of us don't have the time or energy to get another part or full-time job. That's where legitimate work-from-home opportunities come in. You can make money on the side while taking advantage of the time you have.
This is an honest and thorough MyPoints review. We'll give you the company details and let you know whether it's worth signing up for.
One of my favorite sites, Swagbucks, offers tons of ways to earn real cash online. If you're not already a member, give it a shot! Here are five things you can do to make easy money on the site:
Play games (up to $322 each)
Test apps (up to $150 each)
Submit receipts (easy cash)
Shop at your favorite stores (up to 10% back)
Answer surveys and polls (quick cash in minutes!)
Our Popular Free Guides
How to Start a Permanent Jewelry Business - If you are patient, have social skills, and love interacting with others, then a permanent jewelry business may be for you.
How to Become a Sleep Consultant - Help parents and babies, and be the difference for families worldwide who are desperate for more Zzzs in their life as a sleep consultant.
How to Become a Proofreader - There are five basic steps to working from home as a proofreader. As long as you're willing to put in the work, you can become a proofreader!
MyPoints Review Summary and Quick Facts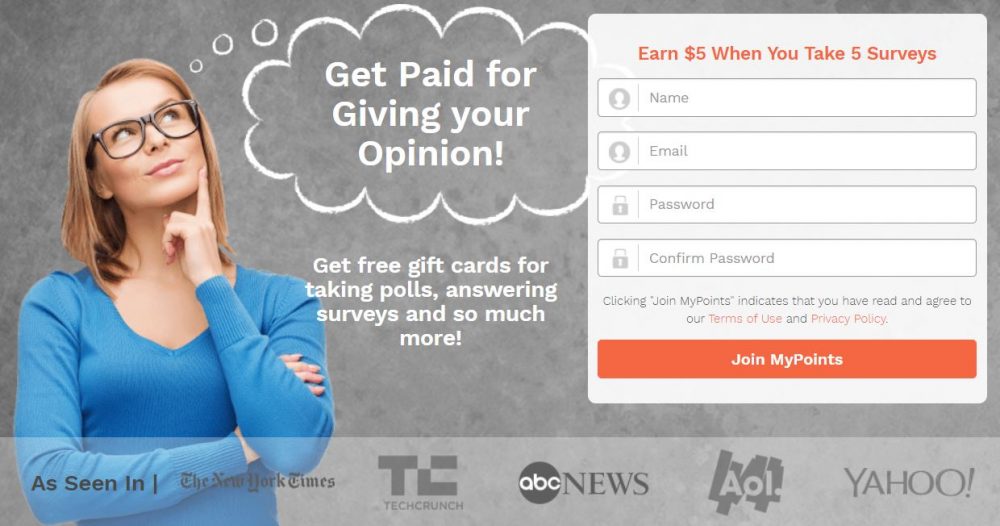 MyPoints is a rewards website that gives users the opportunity to earn points by taking surveys and completing short tasks online. Members can exchange those points for gift cards, prizes, or even cash.
Users can also receive up to 40% cashback on every purchase at over 2,000 online retailers.
MyPoints Pros
Completely free to join
Surveys and tasks can be done anywhere
Thousands of surveys and projects available
User-friendly app
Includes a score browser to remind you of rewards available on everyday online purchases
MyPoints Cons
Not all points earned accumulate in your account instantly (can take up to 90 days)
Limited to people who live in the U.S.
Takes a while to accumulate enough points to redeem for cash or free gift cards
MyPoints BBB Rating
A+ (average customer 4.1 out of 5)
Related: What is a Respondent?
What is MyPoints and How Does It Work?
MyPoints is an online platform that pays users to provide their opinions and work microtasks. Whether it is high paying surveys, web searches, playing online games, or viewing videos, the platform allows users to make money on-the-go.
Started in 1998, MyPoints has seen over 30 years of success in the industry. Users earn points that can be redeemed for cash, gift cards, airline miles, and other rewards.
Sign Up for MyPoints
Signing up for MyPoints takes only a few minutes. You'll need to enter your email and password and answer a few standard questions to join. A perk to the company is the $5 sign-up bonus that you'll earn after completing your first five surveys.
Complete Your Profile
New members can immediately take surveys or access other projects to work on. However, you should complete your profile information with your name, address, and demographics. This helps MyPoints send you surveys that are relevant to you.
Take Surveys
MyPoints has an extensive list of surveys available. Each survey states how many points it is worth and the length of time it will take to complete. Most surveys are not difficult to complete but will require thought and honesty to work through. If your answers are not consistent from survey to survey, you can lose your earnings and get banned from taking surveys.
Related: 10 Surveys That Pay Cash Instantly
Get Paid
Because MyPoints calculates earnings in points, each paid project you complete will add points to your balance.
Unlike other paid survey websites, MyPoints gives you access to points for most projects immediately after completing the work. There are some situations when points will take up to 90 days to accumulate in your account. You can review the terms to view the waiting time before completing an offer.
Payment Methods & Minimum Payout
You can request payment via PayPal, or redeem them for gift cards or airline miles. Since MyPoints doesn't send physical checks, you can expect to receive your payout within a few business days.
MyPoints features a wide variety of gift cards that you can redeem your points for. Most gift cards require 380-3,970 points to redeem. You can redeem them when you reach the minimum payout threshold of $3 for a free Amazon gift card or $25 for PayPal cash.
Related: 10 More Places to Take Surveys for Gift Cards
MyPoints Payment Calculator
Use our simple calculator to estimate how much money you can earn per hour completing surveys on MyPoints (Example: 400 points for a 15-minute survey = $10.08 per hour.) You can find your survey list with the points and estimated time to complete in your account after signing up.
KashKick is a great find for gig workers, offering many ways to make extra money doing what you enjoy. Try it out - it's free! Here are five easy ways to start earning money on the site:
Play games (up to $125 each)
Test apps (up to $125 each)
Buy lottery tickets (an easy $8)
Try popular brands (always changing)
Answer surveys (quick cash in minutes!)
Other Ways to Make Money on MyPoints
While surveys are the most well-known way to earn points on MyPoints, the company offers other ways to boost your earnings.

1. Shop Online
When you shop online, make sure to check MyPoints to see if the retailer you shop with is listed. You can earn up to 25 points per dollar you spend online. If you're doing your usual shopping, this is a great way to earn cash back on your purchases.
Related: Rakuten Review: Can You Really Earn Cash Back?
2. Grab Deals
My Points features their top offers on their Deals page. You can redeem your points here to get the best bang for your buck (aka hard-earned points). Make sure to calculate the value you're getting in exchange for your points since this could make your time-value increase exponentially.
3. Print Coupons
You can earn one point for each grocery coupon you print. You'll earn an additional 25 points when you redeem a coupon in-store.
MyPoints also offers coupon codes that you can apply to online purchases to save even more money.
4. Watch Videos
You can choose a playlist of videos to earn money on MyPoints. It's easy to view them via smartphone or desktop. When you watch your playlist, the points are added to your account. Most video views don't earn many points (usually 2-4 points).
5. Play Games
You can earn points for playing games like Angry Birds, Bejeweled, and Solitaire. Most games have an entry fee that needs to be paid in order to earn points.
6. Book Your Travel
MyPoints gives you points for booking your travel through their website. These points will accumulate based on the items you purchase. For example, each dollar you spend can earn up to two points.
Related: How to Get Free Airbnb Stays
7. Set a Monthly Goal
MyPoints' monthly goal feature allows you to bet on yourself. Setting a monthly goal for categories like completing surveys, watching videos, or how many nCrave playlists you'll watch will generate bonus monthly points if you reach your goals.
8. Complete The Daily 5
MyPoints offers a daily 5 category of activities to earn 5 bonus points. Most activities are curated to your projects or surveys and most take little time to complete.
9. Answer a Daily Poll
The daily poll allows you to earn one point per day for answering a quick question. Although it's not much, you can earn 30 extra points per month for daily one-click voting.
Related: InboxDollars Review: How Much Money Can You Really Make?
10. Install Score!
Unique to the platform, MyPoints offers Score! Score is an add-on extension that you install on your browser. The tool launches each time you start your browser. It helps you maximize your earnings when you shop online by reminding you to use MyPoints when a potential earning opportunity arises.
11. Search and Earn
MyPoints gives you points for using the internet with their search engine. Use the search feature on MyPoints to do your daily "Googling" to earn points.
12. Read Emails
You can earn points just for opening an email and clicking the offer presented. If you choose to complete the offer, you can earn even more points.
13. Refer Friends
MyPoints pays you to refer your friends to sign up. You can get 25 points per friend, plus up to 750 points if that friend spends over $20. On top of that, you earn 10% of the points your friend earns on their account. It pays to spread the word about MyPoints.
Related: How to Get Free Money Right Now
MyPoints Q&A
Can I really make money doing this? Is this a scam? These are legitimate questions that we answer for you below. Thousands of users have experienced great things using MyPoints (hence the excellent BBB rating the company has).
Is MyPoints Legit?
MyPoints offers legitimate ways for users to make money on the side using your PC or smartphone. Still, it is important to realize that this would be a hard way to make a full-time income.
As long as your expectations and goals are realistic, MyPoints is a legitimate way to earn money for relatively simple tasks.
Related: Get Paid to Complete Offers Online
How do I redeem points on MyPoints?
Redeeming your points is simple. If you click on the redeem points button beside your account, it will take you to a rewards page where you can apply points toward gift cards or other perks.
What are some of the best MyPoints rewards?
Gift cards are a great way to redeem points on MyPoints. With a sortable list, you can see which cards you can redeem. Use those gift cards toward online or in-store purchases of your choice.
Is There a MyPoints App?
The MyPoints app is available in the App Store and Google Play store. It has an average customer review of 3.2 out of 5 stars.
Related: Apps That Pay You Real Money
MyPoints Final Review
You're not going to get rich with MyPoints. Still, the user-friendly interface and simplicity of tasks are worth investigating.
Whether it is getting extra cash or gift cards for your Christmas list or simply bringing in some additional dollars each month, MyPoints provides a convenient way to make some extra cash. Give it a try, and don't forget to claim your $5 MyPoints sign-up bonus!