11 Melodic Ways to Get Paid to Listen to Music
We foster relationships with brands we use and trust. The testimonials on our site represent real experiences, but they don't guarantee you'll achieve similar results. When you make purchases through our links to our partners, we may earn a commission. Your support helps us continue this work. You can read our full disclosure here.
Music is soothing to the soul for many people. It has a way of bringing people together and can be something people associate with happy memories. There are many music enthusiasts out there who live for the next big hit from their favorite band or look forward to new artists.
If you are a music enthusiast, you will be happy to know you can get paid to listen to music and live out your days rocking out to some great jams. It's not every day you get to find a way to get paid that includes doing something you love.
Imagine a day when you can get paid to listen to music while you commute to work, sit in your office cubicle, or lounge at home in your favorite chair. It's such an easy side hustle and it's actually enjoyable. Your passion and your need for income are both going to finally come together to help you live the life you've dreamed of.
11 Ways to Get Paid to Listen to Music
The following ideas are geared toward getting paid directly working with music. Find a suggestion that fits your lifestyle and consider doing it full time.
1. Become a Music Producer
Music producers get paid to listen to music. They actually make a pretty sizable salary depending on who they are employed through. As the producer, you would be responsible for helping the artist, group, or band with their music and recording. You would listen to the music, make suggestions on where they can improve or make tweaks, and bring their music to life.
Music producers can be in business for themselves or they can join a record label that takes on artists and is paid through the label. Whichever way you choose to become a music producer, you will directly influence the music that is released into the world.
Related: How to Become a Voice Actor
2. Become a Freelance Writer
Freelance writing is a great career because it allows you to set your own hours, rates, and you can work from wherever you want. If you can specify the type of writing you want to do, consider specializing in the music industry and writing about music.
Listen to new release songs, report on up-and-coming artists, and review the different genres that are out there. You can put all of this information into blog posts or articles for your clients. Get paid per article that you write and potentially work your way up to earning a full-time income as a freelance writer.
Related: How to Set up A Freelance Writing Portfolio
3. Become a Songwriter
Songwriters get paid to listen to music and create new songs and lyrics. Some songwriters are inspired by listening to other types of music while others come up with lyrics with the intention of selling them to a specific artist.
Songwriters are often overlooked in the way of making money listening to music. You can write a song a certain way and record it how you think it should sound. An artist could buy it from you and put their own musical spin on it. Either way, you get paid to do it. Partner with artists to be their sole songwriter or do it as a freelance gig by selling off songs to whoever is interested.
Related: How to Get Paid to Sing
4. Enter Radio Station Giveaways
Radio stations often create giveaways to increase the number of people who listen to their channels. It will often let you know what time of day you can enter a special word or phrase onto its site; you just have to make sure you are listening to the station at that time.
Take in a few songs while you wait for the special code and you can potentially get paid to listen to music. Some giveaways give out $1,000 to random listeners with the correct code word. You never know, it could truly pay off to be listening to the radio at the right time.
Related: Best Places to Sign Up and Get Money
5. Become a Security Guard
Become a security guard who takes jobs at concerts and musical events. While you make money ensuring the concertgoers are safe, you won't be able to escape the music. Listen in on whatever artist is performing that night and make some money for it.
You can become a full-time security guard for these events and make a living listening to music. Find a venue near you to apply with to start earning now.
6. Become a Music Teacher
Many school districts and even colleges employ music professionals to teach students how to play music. If you are interested in teaching others how to play an instrument or sing, being a music teacher is your perfect opportunity to get paid to listen to music.
Get paid to teach students how to listen for their cue to come in, show them how to feel the music, and guide them toward becoming a master. Earn a salary each school year or semester for listening to students' play music, or set up lessons with students independently. It can be a very rewarding career.
Related: Best Jobs for Lazy People
More Ways to Get Paid to Listen to Music Online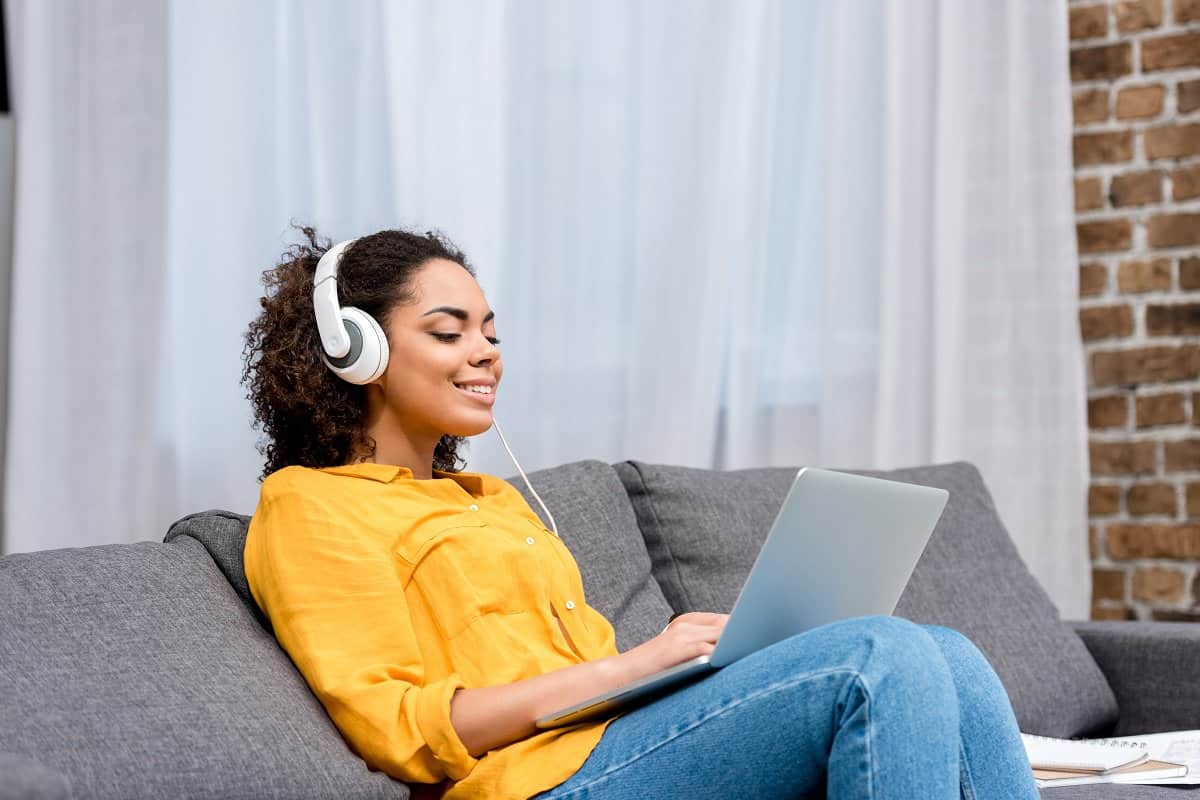 There are even more ways you can get paid to listen to music. Consider taking to the internet to make even more money.
7. Create a YouTube Channel
Creating a YouTube channel is a popular way to make money online. There are ways to incorporate ads into the videos so that you can get paid for the views you get. There are other ways to make money by including affiliate links in your video descriptions. Many YouTubers make a decent income with their channel.
You can create your own channel and make videos specific to listening to music. Record yourself listening to new release albums and give your opinions live to your viewers. Perform your own songs for your viewers to listen to. Talk about music topics, start a conversation about favorite music genres, and be an interactive YouTuber who makes money listening to music.
8. Create a Niche Site About Music
Content marketing can be a great way to get paid to listen to music. Create a niche site about your opinions revolving around music. Share where to score the best deals on new release albums, where to find vintage music records, and write reviews about your take on a new song or artist who has come about.
With your niche site, allow ads to be on your articles and generate a passive income through ad views and clicks. You can also increase your income with affiliate links. Make a commission from each sale that is made using your special link.
Related: How to Get Paid to Blog
9. Sell Ebooks About Music
If you are someone with extensive knowledge about music, consider writing ebooks and selling them to other music enthusiasts. Teach others where music started and what music has done for each generation. Write music books such as music notes that others can use to read and play the music. Create a conversational ebook about music that gets heads turning.
Once ebooks are published, they offer a great way to get paid to do nothing. You just sell them online and customers can purchase them whenever they want. It is easy to download to their phone or other devices to read. They are generally low cost so it makes it easier for people who want to purchase them.
Related: Samcart Review
10. Join Slice the Pie
Slice the Pie is an online platform that pays people for their opinions about music. In fact, it is the largest music review site available. Your feedback on music goes directly to the artist and the record label to help them improve the music.
You can earn actual dollars for the reviews you submit. The better your reviews are, the better your chances are of earning more with Slice the Pie.
11. Become an Influencer
Influencers get paid to do all sorts of things on social media. Become one to get paid to listen to music. Incorporate dance moves, lip sync, or just vibe out to the music for your viewers to see. Once your following grows, you can start earning more.
Influencers earn money by recommending products or services from other companies. They include a special link or code for viewers to purchase those recommended products. If someone makes a purchase, the influencer makes a commission. The more followers you have, the more money you could potentially earn.
Related: How to Get Paid to Watch TikTok Videos
Money is a Way of Life
Worrying about money touches each one of us at some point in our lives. When we're having a hard time in life, music can soothe our souls. It can also be a way to make money. If you are ever unsure of your next step in life, consider how music could be the answer.
Get paid to listen to music either by becoming a teacher, writing ebooks, or even becoming a music producer. There is no shortage of ways you could make money listening to music. You can choose one or multiple ways from this list to start a new career with music at the forefront.
Get started quickly living a life that aligns better with your interests. If music makes you feel good, listening to it for money will be the icing on the cake.
Related: How to Make $5,000 Fast
---
We appreciate the time you've spent reading this post and your interest is not lost on us. Your thoughts, questions, or experiences related to the topic are most welcome. Each comment adds strength to our community. We ensure every comment receives our attention, and we take the time to provide thoughtful responses. Once again, thank you for being a part of this conversation. Click here to leave a comment.