How to Make Money Completing Offers
One of my favorite sites, KashKick, offers tons of ways to earn real cash online. If you're not already a member, give it a shot! Here are five things you can do to make easy money on the site:
Play games (up to $125 each)
Test apps (up to $125 each)
Buy lottery tickets (an easy $8)
Try popular brands (always changing)
Answer surveys (quick cash in minutes!)
Having a full time job helps with paying the bills and giving your family what it needs. However, have you considered what you could do with a little extra side money when you get paid to complete offers?
Some companies that you are already purchasing from or have intentions of signing up with can give you just that. Remember those points you gained by signing up for that email list? Big companies- some smaller ones now as well- have incorporated ways for customers to become partners in their success.
Our Popular Money-Making Offers
Sign up with each of the following companies to maximize your earning potential.
$10 sign-up bonus
Pays to take surveys, complete offers, shop online, and much more
100s of other paid tasks
Awards cash and gift cards
$5 sign-up bonus
Pays to play games, watch videos, answer polls, and much more
100s of other paid tasks
Awards cash and gift cards
How to Get Paid to Complete Offers
Learning how to get paid to complete offers is not very complicated. There are many sites that pay you to complete offers. Additionally, the types of offers will vary from site to site.
What you'll need to do is sign up with the companies listed below, complete your profile information (so they can match you with offers), and then start completing simple tasks for money. Many of the offers are free, so you won't have to pay in order to get paid. However, when you come across a paid offer that you would normally purchase, it makes sense to get paid for doing it.
The good news is you don't have to have any prior experience to be able to sign up for these easy weekend jobs!
The Best Sites that Pay You to Complete Offers
There are tons of sites to sign up with and get paid to complete offers, but these first four choices are the absolute best options.
1. InboxDollars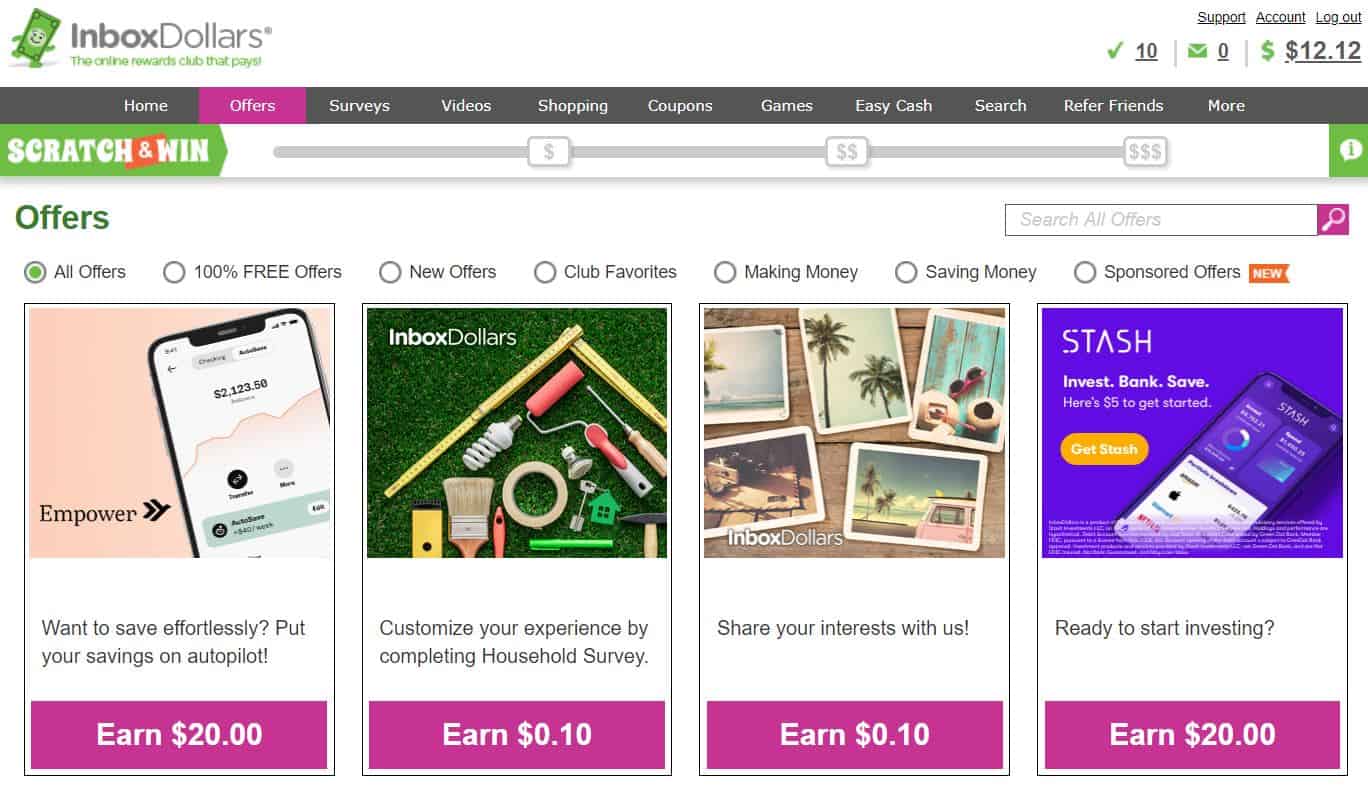 InboxDollars connects brands to consumers through product feedback, surveys, targeted ads, and more. Depending on how active a user is, InboxDollars can earn you between a few dollars a month or hundreds. The company offers a dedicated section of 100% free offers that you can participate in and get paid.
Each time you complete an offer on your account, the brands utilizing this service pay InboxDollars who then in turn pay you a portion for your time. You can cash out your earnings in the form of gift cards, PayPal transfers, or cash. Learn more about the company in our review of InboxDollars.
2. Swagbucks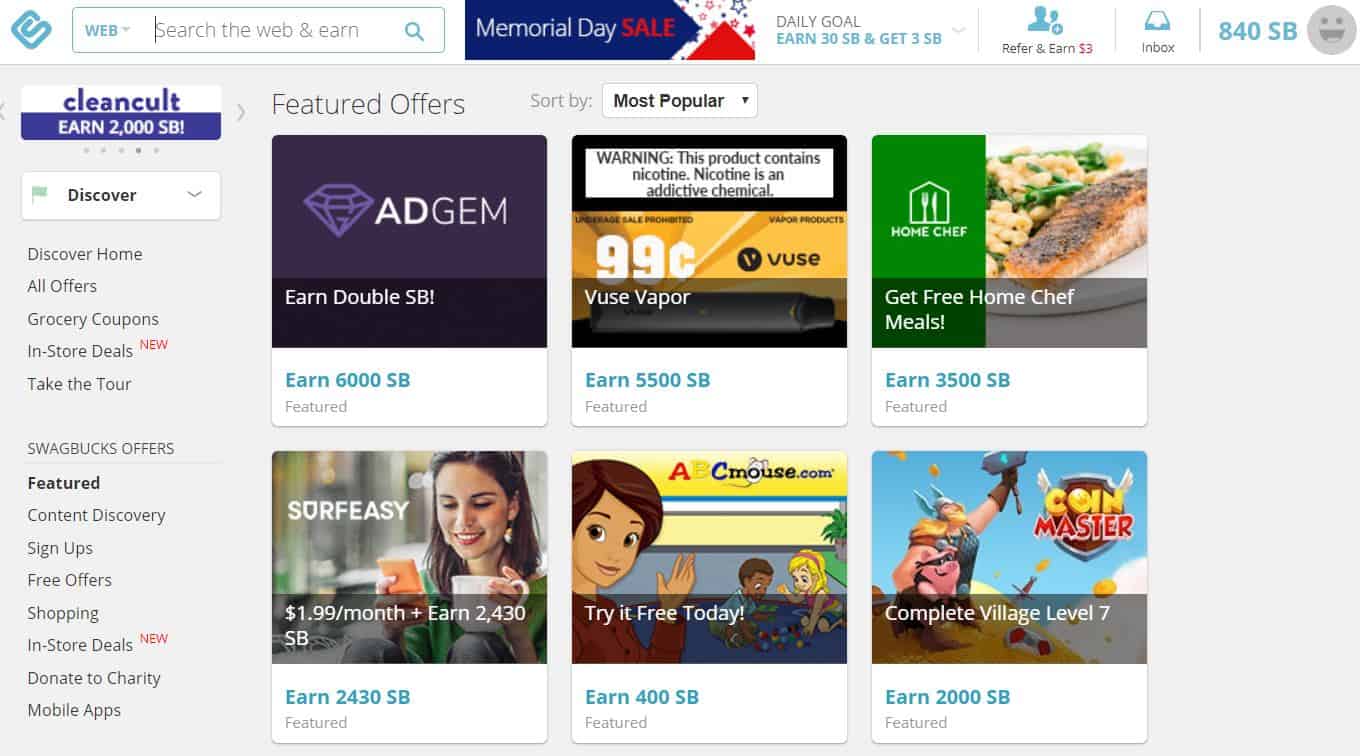 Swagbucks is well known for paying its members to complete simple surveys for points called SBs. The SBs can later be exchanged for PayPal cash, Visa cards, or gift cards to popular stores after 300 or $3 worth have been accumulated. Read more in my complete review of Swagbucks.
Did you know that Swagbucks also pays members to complete offers?
You can sign up for a variety of free and paid offers and rake in SBs valued at $1 to $10 or more. For example, you can sign up for a Disney+, Hulu, and ESPN+ for $12.99 per month and get $10 worth of SBs. Or you can download and play games like Rise of Kingdoms and earn $4 in SBs.
3. MyPoints
MyPoints offers a wide variety of offers you can complete to earn money. There are tasks such as taking surveys, watching videos, and shopping online, but beyond those things you can complete offers like reading paid emails and signing up for samples.
MyPoints allows you to complete these tasks and earn points. You can then redeem them for free gift cards from over 70 restaurants and brands, airline miles through United MileagePlus, or cash through PayPal. You can read more about this in our MyPoints review.
4. Panda Research
Panda Research pays on the 1st and 15th of each month through PayPal. You can earn PayPal money instantly to your account by completing tasks like surveys, reviewing emails, and referrals to others. Additional rewards include receiving discounts, coupons, and being entered in giveaways.
Related: 10 Places to Take Surveys for Gift Cards (to Amazon, Target, or Starbucks)
Other Places to Earn Money by Completing Offers
You can make money completing offers from these sites as well. Sign up with multiple companies that align with your interests to make the most money.
5. PINCHme
PINCHme is a company that connects real people with real products for free. The offers you complete include choosing, receiving, and then reviewing products from popular brands like Kraft, P&G, Revlon, Starbucks, and so many more.
According to the findings in our PINCHme review, the company doesn't pay its members in cash. But in exchange for a few minutes of your time, you get to keep any product samples they send. You can even watch for coupons and discounts to apply to future purchases of the brands you already love.
6. AdWallet
Get paid to watch commercials online with AdWallet. The company pays $.50 per 30-second advertisement you watch and an additional $.25 if you share the ad to your social media account. After viewing a commercial you have the option to download exclusive offers to use later. This can include free trials, discounts, etc.
The cash out threshold is lower than some companies, meaning you can ask for your money as soon as you reach $10. You can withdraw your funds through a transfer to your PayPal account, a transfer directly to your bank, e-gift cards, or you can make donations to several charities.
AdWallet boasts that they partner with brands you actually care about and users report having found new brands they would never have found had it not been for AdWallet.
Related: Part Time Jobs Online That Pay Daily
7. iRazoo
This company is also available to help you get paid to complete offers. You can earn money by completing the offers on their site which includes questionnaires, completing trials, and joining other websites that they recommend.
Related: How to Make Money Doing Nothing
More Popular Money-Making Offers
Earn more money in your spare time with these reputable companies.
Free PayPal cash
Paid surveys and web searches
Earn easy cash back
Get paid directly to your PayPal
PayPal, Visa, Amazon, etc.
Pays you to do NOTHING (with SJ Pulse)
Simply install the software
Participate in paid surveys & studies
Types of Offers that Companies Pay You to Complete
Paid Surveys. You will find many companies offer to pay you for your time to complete surveys. Some surveys will pay more or less depending on the length of the survey.
Sign up Bonuses. Many companies like Swagbucks offer a set dollar amount for you to sign up for a service. This could include signing up for a free app or company.
Free Trials. Some companies pay you to sign up for various free trials because they get rewarded if you decide to purchase the service at a later date. You are in no way obligated to make a purchase.
Product Testing. Some companies pay members (in free product, cash, or both) to receive and review free samples of products. You simply receive useful samples and come back to the site to let them know what you think.
Free Downloads. There are apps available for free downloads that provide you with some cash in your wallet. Apps such as market research apps allow you to complete tasks, play games, or mystery shop in exchange for rewards. These rewards can be used to purchase gift cards or funds can be transferred into a PayPal account.
Cash Back. Companies like InboxDollars offer cash back on purchases you already plan to make. When you submit the receipt of your purchase, your receipt is evaluated for specific purchases. Usually within 24 hours, your account is credited with a specific amount back.
Newsletter Signups. Companies find that their biggest marketing tool is through email marketing. By having users sign up for their newsletters, they are strengthening their conversion rates. These companies use a method where you can sign up for their newsletter and get paid to read the email.
Download and Use Coupons. Some companies like InboxDollars will pay their members to download and redeem coupons. You can $.01 to print each coupon and $.10 to redeem it.
Related: Immediate Hire Work From Home Jobs
The Variety of Ways You Can Get Paid to Complete Offers!
It kind of sounds too good to be true, right? Being able to get paid to complete offers? As you've seen here, there are many companies that are promoting numerous ways to earn money. From reading emails to playing games in your spare time, there is a way for everyone to earn extra money.
Now go ahead and try the sites listed above to earn money by completing offers. You can potentially make an extra $3,000 this year in your spare time.
---