9 Ways to Make Money Reading Emails
We foster relationships with brands we use and trust. The testimonials on our site represent real experiences, but they don't guarantee you'll achieve similar results. When you make purchases through our links to our partners, we may earn a commission. Your support helps us continue this work. You can read our full disclosure here.
When I found out I was pregnant, I did everything I could think of to start making extra money online in order to afford to be a stay-at-home-mom. There was no question; my child needed me and I couldn't imagine sending him to daycare as an infant. Through my search, I found a way to get paid to read emails.
It was a simple task that I could complete during nap time and after our bedtime routine. I was spending time reading my own emails every day anyway. I figured I could get paid to open emails since I was already doing that.
While it wasn't enough money to replace my income, it was a start and it was exactly what I needed at the moment to keep money coming in while I stayed home.
It's possible to earn money by reading email wherever you are, but only you can decide if the payment is worth the effort. For me, it wasn't the stay at home mom job that ended up providing for my family's long-term needs, but it helped us to fill in the income gaps while I built a solid business from home.
Legit Ways to Get Paid to Read Emails
Reading emails is as simple as logging into your account throughout the day and opening them up. Depending on how much time you spend in your inbox, you could make more and get paid to receive emails.
1. InboxDollars
InboxDollars is an online rewards program. Easily add it to your list as a way to make extra money by signing up for a free account. New users get a $5 signup bonus when they activate their account.
Reading emails with InboxDollars includes having branded messages sent to you. Get paid to open emails and learn about new products, promotions, or sales. It's a win-win.
Related: How to Get Paid to Read Books
Example Email that Pays $40 if You Complete the Offer:
Example Email that Pays $50 if You Complete the Offer:
Even if you aren't interested in a product or whatever is advertised in the email, you still earn money for opening the email. Redeem your earnings for PayPal, cash, or other big name gift cards.
If emails aren't your thing, you can still earn money playing games, watching videos, or completing short surveys with InboxDollars. The minimum payout amount is $10 before you can redeem. Account users must be 18 years old or older to qualify and have an active email address to receive communications.
Sign up with InboxDollars for a free $5 bonus and start getting paid to read emails.
Related: Best Free Email Funnel Builders
2. Swagbucks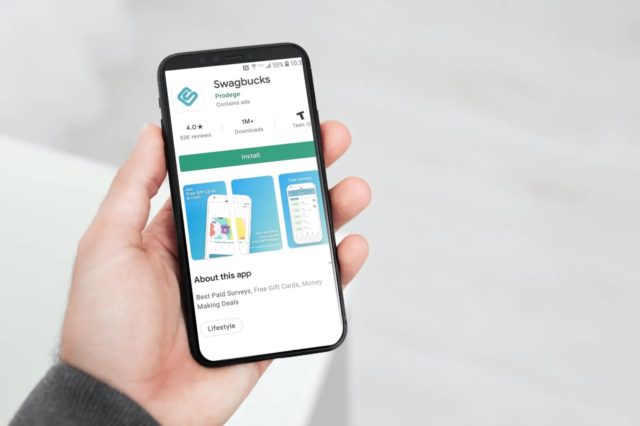 A popular online rewards program in America, Swagbucks generates side money for many users. For each completed task, users are rewarded with points to their account. Points can be redeemed for cash through PayPal or gift cards for Visa, Amazon, and several other big-name retailers.
With Swagbucks, users have many opportunities to make money. Get paid to read emails with this site by setting your notifications in your account to be alerted by email when there is a new task to complete.
Tasks include shopping online, watching entertaining videos, completing surveys, and finding great deals. Like all legitimate sites that pay you to open emails, Swagbucks does not require any credit cards to be on file making it possible to get paid to read emails without investment.
Signing up for a free account earns you a $10 bonus. Redemption values range depending on which reward you choose. Residents of the US and Canada must be at least 13 years old to sign up for an account.
Related: How to Get Paid to Narrate Books
3. MyPoints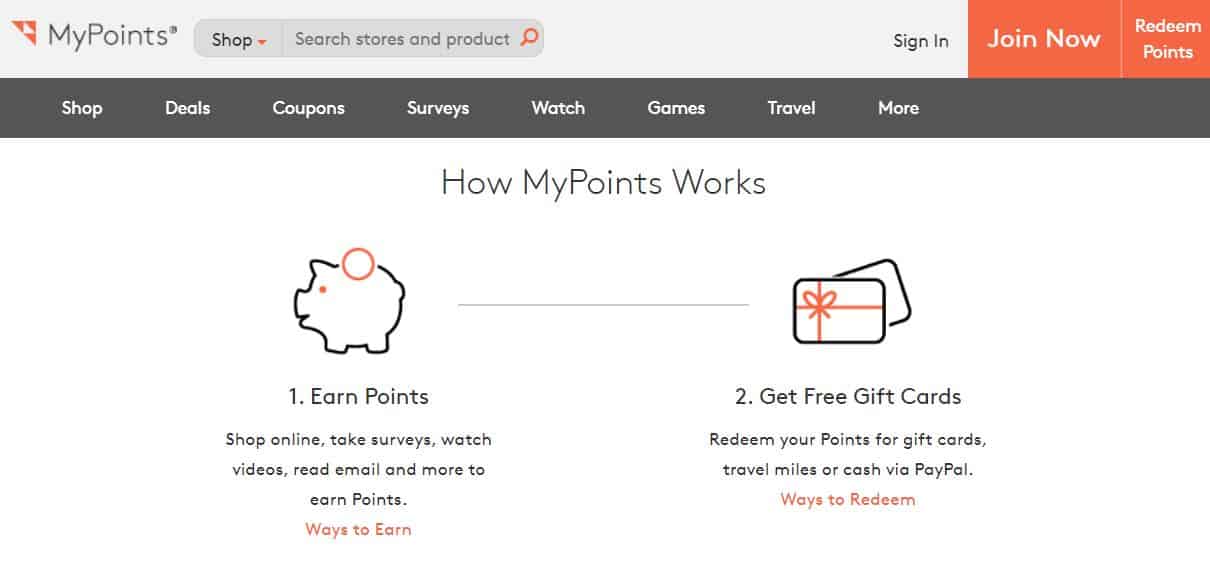 MyPoints is an online community of members who earn free rewards by completing tasks. One of those tasks includes reading paid emails. You can also get paid to watch videos, shop online, and refer friends to the platform.
With MyPoints, members earn points that can be converted into cash. Redemption options include free gift cards to over 70 retailers, cash through PayPal or a Visa gift card, or add travel miles to your United Mileage Plus account.
Get paid to read emails through their BonusMail offers. Many of the emails that come through give you five points just for clicking on the email. Additional points are available within the emails as well.
New users can create an account as long as they are 13 years old or older and have a valid email address. Get a $5 bonus when you complete five surveys on MyPoints.
Learn more about the company in our full MyPoints review.
4. InboxPays
InboxPays is an online company that collects market research from users and pays them for their time. Not only does the platform offer compensation, but it also gives you a chance to be entered in giveaways and receive discounts and coupons.
InboxPays offers additional money-making opportunities for users to get paid to read emails. However, there is a maximum of $25 per payout.
For even more chances to get free money from InboxPays, you can refer friends to make an account as well and receive referral bonuses.
Payouts are completed on the first and the fifteenth of each money. Each cash out is through PayPal.
To set up an account, you must be a US resident over the age of 18. Get your account going by visiting InboxPays and submitting your valid email address.
5. InboxPounds
InboxPounds is the UK version of InboxDollars. It's a cash online rewards program for UK residents only. Its primary way of rewarding users is by passing along their revenue from advertisers. Signing up for an account earns you one pound, which will be credited to your account.
Users can get paid to read emails. You will receive the best offers from companies directly to your email. In return for reading the emails, you get paid. Additionally, you can make more by completing the offers within the emails.
There are additional ways to make money fast such as searching the web on the InboxPounds website. The more time you spend searching, the more you earn.
Cash in your rewards for PayPal cash, Amazon gift cards, or gift cards for other retailers. To request your cash, you must have a minimum of 20 pounds in your account. You must be 18 years old or older to set up an account on the platform with a working email address.
Related: How to Get Free Steam Codes
6. Daily Rewards
Daily Rewards is the Canadian version of InboxDollars. It is a site that offers users the chance to get paid to read emails. The site connects brands with consumers for feedback on products, promotions, and other market research.
Through their PaidEmails system, Daily Rewards pays users to review offers via email messaging. Get paid to open emails and nothing more or continue to follow the instructions within the email for higher earning potential.
Additionally, the platform offers ways to earn money at home by playing games and participating in special offers. There is a $5 bonus added to your account upon activation.
Payments requested are directed to you through PayPal, Amazon gift cards, or other gift cards of your choice. The redemption threshold you must meet before requesting payout is 30 Canadian dollars (C$30). Users must be at least 18 years old to participate.
Related: Pinecone Research Review: The Most Exclusive Surveys
More Sites That Claim to Pay to Read Emails (NOT Recommended)
These other sites seem sketchy at best. They do claim to pay members to read emails, but the sites appear to be stagnant in the email category (and possibly other categories as well). I'm listing them here for learning purposes, but not as a means of recommending them!
7. FusionCash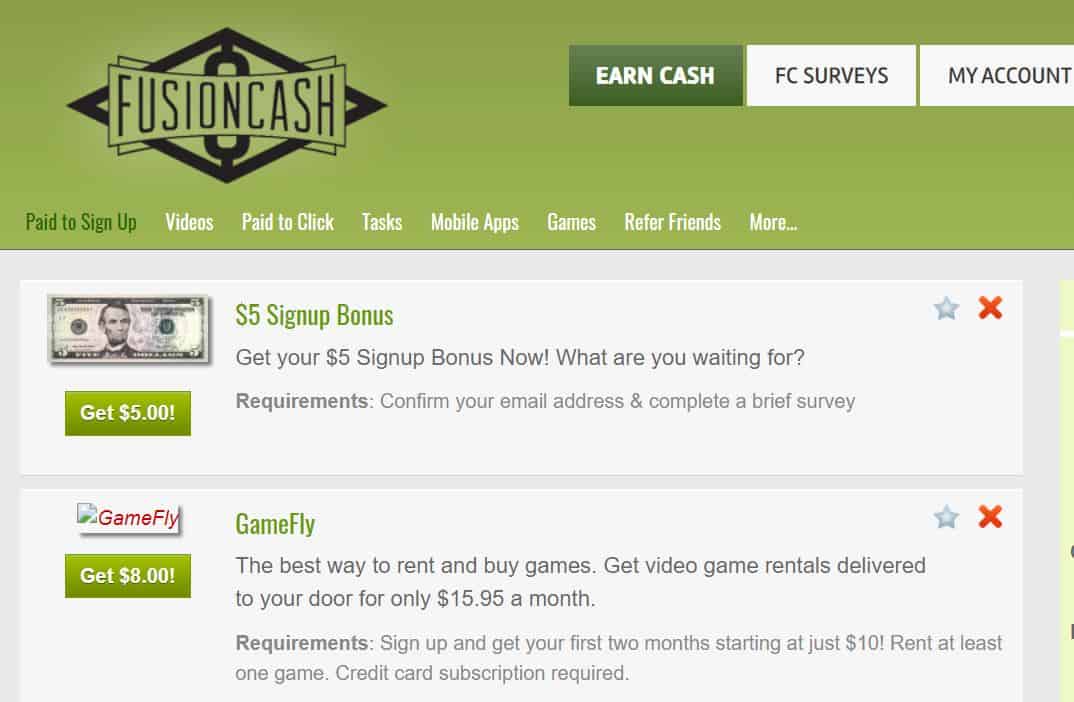 FusionCash is a platform used to get paid for completing offers. Get paid to watch videos, play games, refer friends, and read emails. There are opportunities to earn extra bonuses as well.
Signing up for an account gets you an immediate $5 signup bonus credited to your account. In order to qualify for an account, users must have an email and be 18 years old or older OR 13 years old or older with parental permission.
Daily Cash Emails are FusionCash's emails that users click on to make money. Emails advertise third-party companies and each email will be different in terms of what it offers.
There is a minimum payout amount of $25. Of the $25, at least $15 must be from non-bonus credits. Email reading is considered a non-bonus credit. Payout options include direct deposit, check, or PayPal.
Related: How to Get Free PSN Codes for PlayStation Plus
8. Unique Rewards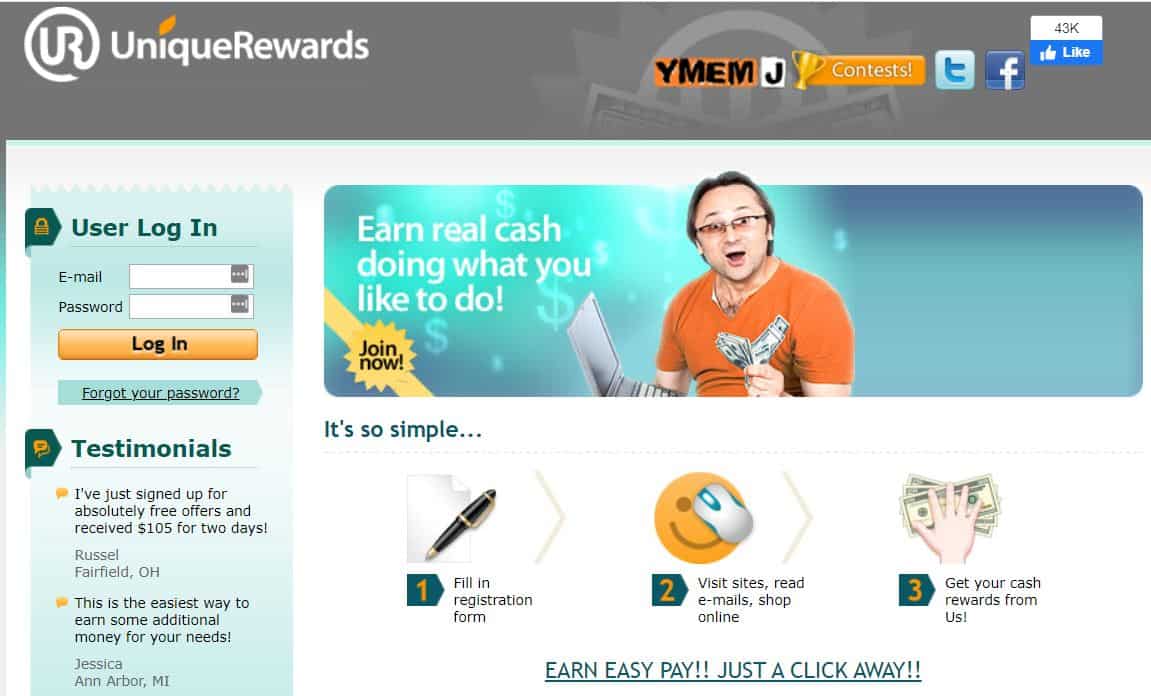 Potentially get paid to receive mail by opening an account with Unique Rewards. Users receive emails with special offers. You can possibly get deals on products or services. Accounts are credited with $0.01 for just opening the email and visiting the advertising site.
You can also make money trying name-brand products, watching videos, listening to the radio, playing games, and more. The platform also runs contests periodically for more chances of earning.
To cash out, you need to meet the minimum threshold of $20. Payment options include PayPal, Bitcoin, or check. Users must be 18 years old or older to sign up OR 13 years old with a parent's permission.
Related: PrizeGrab Review: Is It Legit?
9. Paid To Read Email
Paid to Read Email is an online platform specific to reading emails for cash. Users sign up and get paid to receive emails. This requires a $15 payout threshold and claims you'll find daily opportunities to earn money. Each email read can pay between $0.01 to $0.10.
The company awards a $3 sign up bonus when you create your account.
The platform advertises quick payment processing, which means you will be paid within 24 hours of requesting money. Users are rewarded in cash or points; 100 points equals $1. Cash requests get paid to PayPal and points can be redeemed for free Amazon gift cards.
Users are not able to receive payment only by reading emails. There must be activity within the emails as well on your part to show you are interacting. Other ways to earn include referring friends and family to sign up.
Related: Is Paid to Read Email Real or Fake? Full Site Review
Tips When Reading Email for Cash
Make the most of your time reading emails for cash. While it won't make you rich, you can still make sure you are doing what you can to earn top dollar.
Create a Separate Email Address
Create a separate email address for your accounts. This will help you see the emails coming through for those paid opportunities so they don't get mixed up with your personal emails.
Avoid Scams
Avoid scams by doing your research on the promotions and deals you receive before you follow through with it. Sometimes deals sound too good to be true, which could result in a scam.
Related: 25 Places That Hire At 15 Years Old Online And In Person
Refer Friends and Family
Many of the sites that pay for your time to read the emails will also pay you to refer friends and family. The more you refer, the more money you could make. You can make money this way by posting ads using your unique referal links.
Visit Your Inbox Throughout The Day
Set a timer or reminder throughout your day to remember to check your inbox. The more you check it, the more you will be able to complete and get paid to receive mail.
Take Advantage of Offers
If you thought about purchasing items already, consider taking advantage of those offers in your inbox first. Many of the promotional messages will have specials, deals, coupons, etc., on things you might be interested in. This means you will get paid for opening the emails plus benefit from the offers.
Set Email Notifications
Make sure you never miss an email and set your smartphone notifications for each time an email comes through. This is a great way to never miss an opportunity to get paid to open emails.
Related: Apps that Pay Real Money for Easy Tasks and Gigs
Don't Quit Your Job to Get Paid to Read Emails
From the various ways you can get paid online, reading emails seems to be one of the easiest methods. There is no obligation to complete the tasks within the emails. Simply click on them and you get paid.
Each site listed here has its own unique offerings. Whether it is a signup bonus or greater pay for the tasks, there is much to consider when choosing the sites best for you.
Reading paid emails won't earn you a full-time income but you could earn some extra money to pay your smartphone bill or an extra luxury or two per month.
Related: No Minimum Payout Surveys
---
We appreciate the time you've spent reading this post and your interest is not lost on us. Your thoughts, questions, or experiences related to the topic are most welcome. Each comment adds strength to our community. We ensure every comment receives our attention, and we take the time to provide thoughtful responses. Once again, thank you for being a part of this conversation. Click here to leave a comment.