How to Get Paid to Edit Papers in Your Spare Time
We foster relationships with brands we use and trust. The testimonials on our site represent real experiences, but they don't guarantee you'll achieve similar results. When you make purchases through our links to our partners, we may earn a commission. Your support helps us continue this work. You can read our full disclosure here.
If you can picture yourself working from anywhere and not having to report to an office, you might be interested to know that it is a reality for many who get paid to edit papers. Editing papers can be done from the comfort of your own home, on the beach while on vacation, or just sitting at your favorite coffee shop. It's a luxury many long to have. It is especially great for parents who want to stay home with their children.
Contrary to what the title of this post might have you believe, editing papers doesn't make you an editor. Editing papers means you are a proofreader. As a proofreader, you have the task of reading through papers and finding mistakes related to grammar and punctuation.
If you are interested in getting started so that you can edit papers for money, then join Caitlin Pyle's free webinar, Proofread Anywhere. In the webinar, you'll learn what it takes to get paid to edit papers. You'll also find out if it is the next step for you in a career with more flexibility.
Find sites and other ways to get paid to edit papers in this guide. You might be surprised to learn how many opportunities are out there waiting for you.
Sites That Pay You to Edit Papers
Take a look at this list to find the best sites that will pay you to edit papers. It doesn't take much time to set up your account with them and search for proofreading jobs online.
1. FlexJobs
FlexJobs has been around for over a decade. It is dedicated to connecting people with telecommuting jobs, such as editing papers from home. It is a subscription-based platform that gives members access to jobs that are more unique than those found on typical job boards.
You can find full-time, part-time, or freelance type paper editing jobs with FlexJobs. The jobs available will vary in compensation depending on experience and the time it takes to complete them.
2. Fiverr
Fiverr has been around for over a decade. It is a freelance marketplace designed to connect freelancers with clients who need their papers edited. To get clients through Fiverr, you would need to sign up and create a detailed profile describing the services you offer.
As a beginner paper editor, this site is a great starting point. Many of the clients searching for services like yours do not require much experience. Because of this fact, you can build your portfolio quicker by starting with clients on this platform. Take the time to sharpen your skills for future jobs.
Related: How to Become a Proofreader
3. Scribbr
Scribbr is a platform used to connect freelancers with students who need another set of eyes on their academic papers. You can sign up with this site to get paid to edit papers by checking them for grammatical, punctuation, and format errors before turning them in.
Scribbr reports that on average, editing papers on its site generates roughly $23-$28 per hour in compensation. To partner with Scribb to edit papers, you need a college degree and a strong grasp of the English language. Fill out the online application to edit papers for money.
4. Scribe Writing
Scribe was formerly known as Book in a Box. It works with authors to create the best version of their book possible. Each book project takes roughly four months to complete, meaning the editors selected are teamed up with an author to help make the book even better.
With Scribe, you can get paid to edit papers that will become published books. Scribe pays roughly $60 per hour. Each position has different requirements so check to see which position fits your qualifications best.
Ways to Get Paid While Editing Papers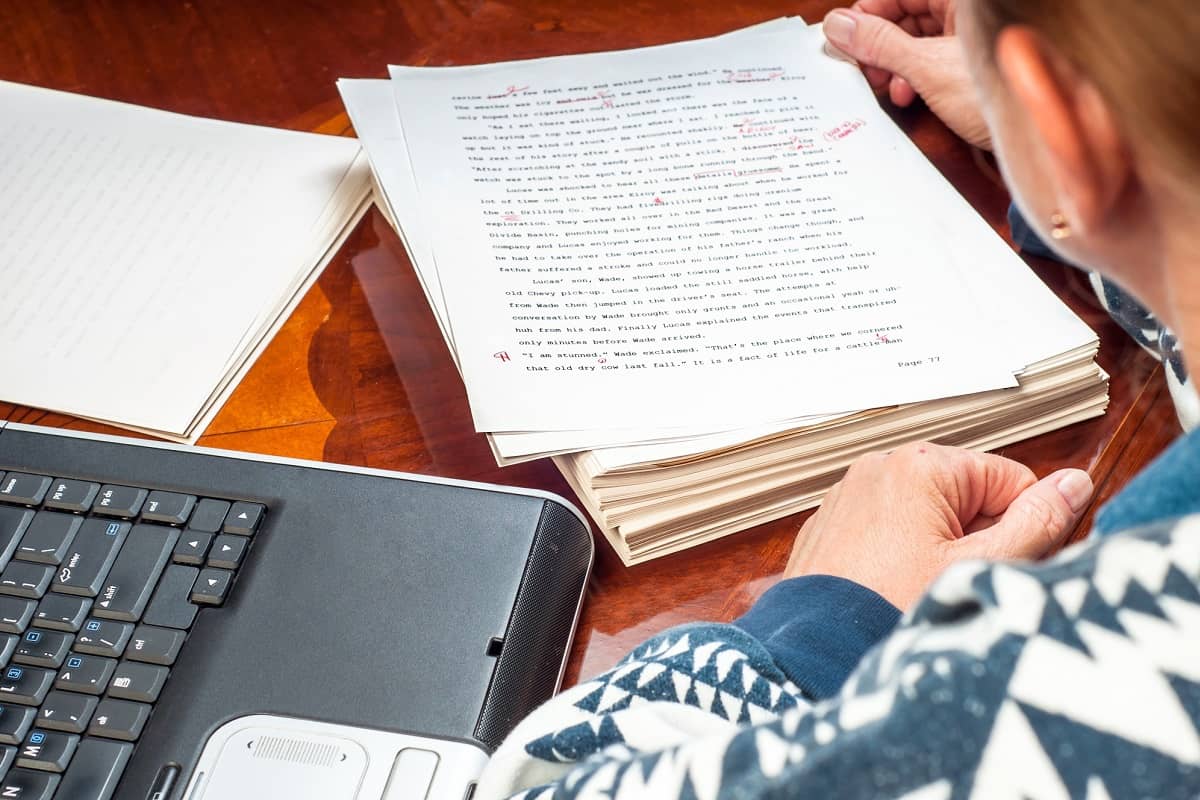 If you're looking for even more ways to earn money while editing papers, check out these ideas to maximize your financial results. These opportunities make it easy to double-dip and make money multiple ways at the same time.
5. Watch Videos While Editing
InboxDollars is a platform that is known for creating money-making opportunities for members such as getting paid to watch videos. With InboxDollars, you can create a free account and earn a $5 sign-up bonus. Start searching the site for videos to watch and you'll be rewarded with money added to your account.
The more videos you watch on InboxDollars, the more you can earn. While you are editing papers, turn on the videos and let them play on your phone until you have completed your editing tasks. This will boost your income by simultaneously getting paid to edit papers and watch videos.
Redeem your rewards on InboxDollars in the form of free gift cards to Amazon, Visa, or a direct deposit to your PayPal account.
Related: How to Get Paid to Watch Videos
6. Edit Papers While Pet Sitting
Taking on a pet sitting job comes with its own tasks. However, there will be downtime during the period that you are caring for an animal while its owner is away on vacation or business. Consider using the downtime to get paid to edit papers.
Not only will your fur friend enjoy your company, but you could also essentially get paid double for pet sitting. Edit papers while your fur friend naps or in between going on walks and playing fetch.
7. Edit Papers While Babysitting
Babysitting requires your full attention when the children are awake, especially if you are watching very young children. If you are open to become a babysitter in the evenings, then consider taking some papers with you so that you can get paid to edit papers when the children go down for the night.
8. Edit Papers While House Sitting
People go away on vacation or business trips and need someone to watch over their house while they are away. This is a great opportunity for you to get paid to live in a client's house temporarily while also getting paid to edit papers. Set up your computer in the home and start working.
Related: Get Paid to Read
More Ways to Get Paid to Edit Papers
Here are more ways you can get paid to edit papers on your own time.
9. Start a Blog
Blogs are a great opportunity to sharpen your writing and editing skills. Use your own blog site as a live portfolio to showcase your skills. You can even start a blog about editing papers.
Within your blog, you can incorporate ads so that you can generate an income for all the work you are doing with your posts. The more viewers that come to your site, the more you get paid for them seeing and clicking on the ads.
Related: How to Set Up a Freelance Writing Portfolio
10. Start Your Own Paper Editing Business
The best way to edit papers for money is by starting your own business doing exactly that. Learn from Caitlin Pyle's Proofread Anywhere free webinar how you can start your own paper editing business.
There are lots of online proofreading courses you can take to improve your services, but ultimately it's important to have some natural talent. For example, if you find yourself catching spelling and grammar errors on social media, signs, newspapers, and other random places, then you may already have a natural affinity for proofreading and editing papers.
Work on your own time, find your own clients, and get paid to proofread and edit papers. You can do this as a freelancer or develop yourself into an agency owner. The sky is the limit. Your business can become well established for paper editing.
Related: Proofread Anywhere Review
Edit Papers on Your Own Time
No matter how you choose to edit papers for money, one thing for sure is that you can do it from almost anywhere. You can make this a new career or you can do it as a side hustle; the choice is yours.
If you have a knack for catching errors in publications, have good attention to detail, and desire to make a difference in the writing world, find your place editing papers on your own time.
Use one or more of these ways to make the most money editing papers. From applying to sites to finding space in your day to earn more or even starting your business as a paper editor, there is no limit to how you can be successful doing something you love.
Related: Best Service Business Ideas
---
We appreciate the time you've spent reading this post and your interest is not lost on us. Your thoughts, questions, or experiences related to the topic are most welcome. Each comment adds strength to our community. We ensure every comment receives our attention, and we take the time to provide thoughtful responses. Once again, thank you for being a part of this conversation. Click here to leave a comment.