How to Get Paid to Narrate Books in Your Spare Time
If you love reading, then consider the different ways to get paid to narrate books. It's not every day you get an opportunity to do something you love and pad your wallet at the same time. Take advantage of your love for reading and learn how you can monetize it.
The best part is that there are several ways you can narrate whether that be for clients, on your own platforms, and through actual jobs. There is no wrong way to get paid to narrate books. You just have to get a little creative.
Find the way that works best for you in this guide to make money through narration. You may be pleasantly surprised to learn of the ways listed here and how they can help you make more money.
Our Most Popular Money-Making Offers
Swagbucks - A fun rewards app that gives you cash or free gift cards for the everyday things you already do online.
Branded Surveys - A legit survey site that rewards its members in cash just for sharing their opinions.
InboxDollars - Get a $5 new-member bonus for joining a site that pays you to play games, search the web, answer polls, and complete paid offers and surveys.
Instacart - Earn up to $20 per hour to shop for and deliver groceries on your own schedule using your own car (and keep 100% of your tips!).
Cash App - Get $200+ in free cash and Bitcoin, invest in Bitcoin and stocks, and send and request money for free. Use my referral code for a cash bonus:
(click to copy)
Best Places to Find Book Narration Jobs
The most obvious way to get paid to narrate books is by searching for audiobook narrator jobs online. Companies actually recruit and hire for this position. Narrators are sought after for things like movies, shows, or audiobooks.
1. ACX
Get paid to read books for Audible, a company owned by Amazon. Audible allows users to stream audiobooks and other content that requires vocals. The company partners with narrators on a freelance basis. If you narrate for Audible, you are essentially getting paid to read books aloud on Amazon.
Choose the narrator gigs you want on the ACX marketplace, owned by Audible. An audiobook narrator is referred to as an audiobook producer. Follow the directions to recording and submitting your audio recordings and get paid to narrate books.
2. Voices.com
Voices.com is a top voice-over marketplace. Find narrator jobs that interest you on the platform. Even if you don't have experience, you can still apply for audiobook narration for beginners.
3. FlexJobs
FlexJobs is a reputable job listing site that gives more than the typical job boards. While you may have to pay a fee to be on FlexJobs, you will receive access to jobs that aren't found elsewhere. Take a look at the narration jobs and apply to get paid to narrate books.
Related: Get Paid to Proofread
How to Get Paid to Narrate Books for Clients
The five ways listed here will guide you to becoming a book narrator for companies and clients who are searching for your specific talent.
4. List Narration Services on Fiverr
Fiverr is a marketplace for freelancers that is great for helping you find the opportunities to get paid to narrate books. The clients are on the marketplace already; you just have to list your narration services on there for them to know you're available.
Fiverr is known as a place for freelancers to start out in their industries. This is a great opportunity to find jobs for audiobook narration for beginners.
Related: Get Paid to Read Books
5. Make Connections on Social Media
Social media is designed to keep the connections open among family, friends, and even working opportunities. Don't be afraid to make connections with those you believe would benefit from your services. Connect, have a conversation, and make sure they know you would be the perfect fit for narration jobs.
6. Pitch Your Services
Find companies that you believe could benefit from your services. Reach out to them and pitch your services directly. This is typically referred to as "cold" pitching because the company may not be looking for someone to fulfill your role at the moment. However, pitching could intrigue them enough to consider you even if they weren't actively looking.
Related: Best Service Business Ideas
How to Get Paid to Narrate Books on Your Own Platform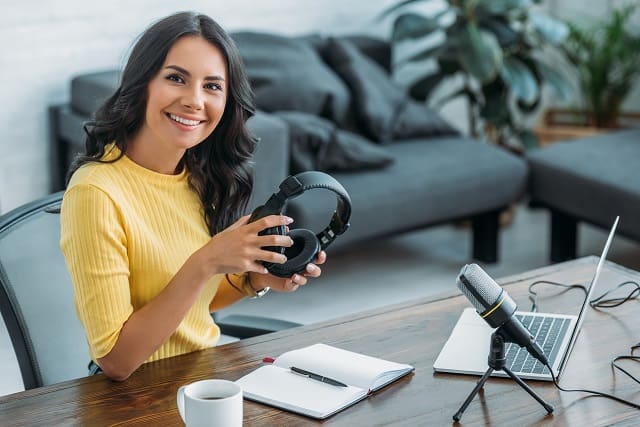 You don't just have to narrate for other people. Consider using your own online presence to get paid to read aloud.
7. Create a Book Reading YouTube Channel
YouTube channels can be created for nearly any purpose. Why not start your own channel dedicated to reading books out loud? You can dedicate your channel to reading children's books. I can assure you that tired parents will thank you for the break from having to read books all the time.
If children's books aren't your thing, you can be a narrator for other types of books. On your channel, allow ads to be displayed so that you can get paid for all the views you get on your videos.
8. Review Books on a Blog
Start your own blog and dedicate your content to being strictly about reviewing books. It doesn't matter what genre of books you prefer, you can dedicate your whole site to that genre. On the other hand, you can read all genres of books on your site if you choose.
On your blog posts, insert a video clip of you narrating an excerpt that you liked most from the book. This can lead to viewers becoming interested in the book just from that narration.
You can get paid to narrate books by incorporating affiliate links on your posts. Take viewers to the book they can purchase using your special link. This will generate sales and a commission for yourself for advertising the book to others.
9. Become a Social Media Influencer
Social media is often used as a marketing tool and influences viewers on their buying choices. Consider becoming a social media influencer and hosting a book club through your accounts. Additionally, you can narrate books live on your social media. You can use those opportunities to have others purchase books through you while using a special code from affiliates.
You can also create sponsored posts and partner with brands looking to sell their books. Collaborate on the best way for you to share their books and get paid for the posts.
Related: How to Become a Social Media Manager
More Ways to Get Paid While Reading Out Loud
There are even more ways to get paid during the time you spend reading aloud. Consider these out-of-the-box options.
10. InboxDollars
If you've never considered using a rewards site, now is the time to sign up with InboxDollars. InboxDollars rewards members on the site for completing tasks, such as watching videos.
Make the most of your time and set up your phone to watch the videos on sites like InboxDollars while you are narrating a book. Earn actual cash for each video you stream on mute. This way, you will earn even more at the same time.
To cash in your rewards from InboxDollars, simply redeem your money for gift cards to places like Amazon, Target, Starbucks, and even PayPal. There is also a $5 sign-up bonus when you create your free account.
Related: InboxDollars Review
11. Become a Tutor
Consider becoming a tutor for students of various age groups. Help younger students learn how to read by reading out loud to them so they can practice the sounds of each letter in the alphabet. You can also tutor older students who have reports due by reading their drafts aloud to make sure the report sounds appropriate and free from errors.
Related: VIPKid Review: Get Paid to Teach English Online
Who Knew Narrating Books Could Be So Lucrative
If you didn't know all the ways you could get paid to narrate books before, now you are all the wiser. Reading pays off in more ways than one and in the pocketbook is where it really counts some days. From finding clients to starting a YouTube channel or becoming a tutor, you will surely be able to find the way that works best for you to take on this new way of getting paid.
Test yourself out around friends and family to get any feedback you might be looking for about your narration techniques. Grow your confidence by practicing in the mirror as you read out loud and record yourself. However you can prepare for when you are going to be live or submitting narration recordings, you will be all the better for it.
Don't settle on just one of these ways to get paid to narrate books; consider trying a few of these ideas out to maximize your earnings. Reading out loud could be just the thing you need to make ends meet each month.
Related: Get Paid to Read Emails