Neighbor Host Review: How I Got a Renter to Bite in the Country
Try Bingo Cash, the ultimate bingo app for turning your skills into extra cash while enjoying colorful and engaging head-to-head matches. Win up to $83 per game and experience the classic bingo thrill in the comfort of your own home. Test your daubing skills and become a big winner today!
Bingo Cash™ is FREE to download and play! However, cash tournaments are not available in the following states: AZ, IA, LA, SC & WA.
There's a way to make a few extra bucks doing almost anything these days. When I heard that there was a site that allowed you to list storage space for rental income, I wasn't the least bit surprised.
In fact, I thought it was about time. My dad has been renting barn and shed storage space directly to people who live locally since I was a kid. So to me, it seemed like the option to sell storage space to your peers should have been available all along.
Neighbor.com finally tapped into the hot peer-to-peer rental market in 2017. So while the company is still in its baby stage, it's built on a strategy that works.
Are you wondering if Neighbor is a legit site to rent your shed, garage, or closet to make some extra money? Here's how I listed my shed on the site and raised interest in the country.
One of my favorite sites, Swagbucks, offers tons of ways to earn real cash online. If you're not already a member, give it a shot! Here are five things you can do to make easy money on the site:
Play games (up to $322 each)
Test apps (up to $150 each)
Submit receipts (easy cash)
Shop at your favorite stores (up to 10% back)
Answer surveys and polls (quick cash in minutes!)
Our Popular Free Guides
How to Start a Permanent Jewelry Business - If you are patient, have social skills, and love interacting with others, then a permanent jewelry business may be for you.
How to Become a Sleep Consultant - Help parents and babies, and be the difference for families worldwide who are desperate for more Zzzs in their life as a sleep consultant.
How to Become a Proofreader - There are five basic steps to working from home as a proofreader. As long as you're willing to put in the work, you can become a proofreader!
What is Neighbor.com?
Neighbor.com is a peer-to-peer rental site where property hosts list their space and rent it to real people nearby. It facilitates the transaction and makes sure property owners get paid on time. The website hosts all kinds of rental space listings for items like cars, RVs, boats, trailers, inventory, and much more.
Think of Neighbor.com as the Airbnb of storage space. Instead of starting up a business and jumping through licensing and insurance hoops for one small space, Neighbor takes care of all that for you. You just list your space and then decide who can rent it.
Pros
Free to post your rental listing(s)
$25,000 Renter Guarantee for customer peace of mind
Up to $1 Million of liability protection for host peace of mind
Completely passive income once a listing is rented
Cons
Relatively new company
Fee of 4.9% + $0.30 charged on each payment
Must provide at least 30 days notice to ask renters to remove their items from your property or pay a $60 eviction fee
Involves allowing a stranger to access your property
Trustpilot Reviews
Neighbor.com holds a 3.5 out of 5-star rating on Trustpilot with over 32% 1-star reviews. Most of the negative reviews seem to be from disgruntled renters who have had something stolen or had a hard time canceling their rental before their card was charged. There are so many scenarios in a peer-to-peer business like Neighbor that can potentially lead to unhappy property hosts and renters.
Related: Highest Paying Outdoor Jobs Without A Degree
How to List Storage Space on Neighbor.com
Listing your rental space on Neighbor.com is simple. It took me about 10 minutes from start to finish, including taking the measurements and pictures of my shed.
Step 1: Make Sure Your Space is Ready to List
Before you list your space on Neighbor, you'll need to make sure it's clean, accessible, and ready to list. Grab a tape measure and notepad and take measurements of the space. Write down the length, width, and height of both the doorway and the actual storage space. People will need to know if the item(s) they want to store will fit inside the door.
While you're there, take some nice photos of the inside, outside, and surroundings of the storage space. Help your potential renter get to know the spot without wasting your time (or theirs) coming out to see a space that just won't work for their storage needs.
Step 2: Sign up With Neighbor.com
To become a host on Neighbor.com, simply sign up with the site to get started. Select "list your space" and enter your name, email, password, and phone number. You'll need to read and agree to the site's terms of service and then select "Create account." If you prefer, you can sign up using your Google or Facebook account.
I was a little hesitant to provide my phone number, but I never received any unsolicited marketing calls as a result of signing up.
Related: How to Make Money From Robocalls
Step 3: List Your Space
Neighbor walks you through the listing process. It's so easy to follow the prompts, answer the questions about your property, and have your rental listed in just a few minutes.
You'll answer questions about what type of items you're willing and able to store like vehicles or boxes, and whether the space is indoor or outdoor, heated or unheated, covered or uncovered. As long as you know your space well, you'll be able to answer these multiple-choice questions without getting out of your chair.
If you've already taken measurements and pictures, you can list your storage space in one short sitting.
You'll add the address of your rental space here as well. This will only be shared with renters who you've approved for the reservation.
Next, follow Neighbor's tips on providing a helpful description of your space. Then, enter the pictures and measurements. If you were unable to get those, you can set a reminder to add them to your listing later.

You will also answer some questions about your availability and preferences when meeting new renters. Additionally, you can type out a short automated response for those who message you when you're unavailable to answer right away.
Use Neighbor's nearby assessment tool to set a fair price for your listing. You can also do a manual search of similar property listings in your area on Neighbor's site to get more ideas of the price you should choose. You can even set a 50% discount on the first month for anyone who rents your space for at least two months.
Step 4: Complete Your Neighbor Profile
Upload a friendly photo of yourself to help renters feel confident that they are dealing with a real, local person. Consider using the same picture you use for your social media accounts.
Write a short bio–why you're renting out the space, show off a bit of your personality, and any details that will help you connect with local renters.
You will then need to verify your email address, phone number, and identity to continue listing your space. This helps ensure that only real people are listing their spaces on the platform.
Related: Get Paid to Sleep
Step 5: Publish Your Listing and Request Vouches
Once you've completed the details, it's time to publish your listing! Now people in your area can see your rental space and contact you with questions through Neighbor.com. The next thing to do is get people to vouch for your listing and help viewers feel confident in your service.
While you may not have a professional working relationship with friends and neighbors, they know you well. Neighbor.com makes it easy to ask them to share a character reference on your profile.
Use your vouch link to ask your neighbors to leave a nice comment about your neighborhood, property, and their experience living near you. Your friends can also say something about how long they've known you and that they would trust you with their belongings if there was ever a need.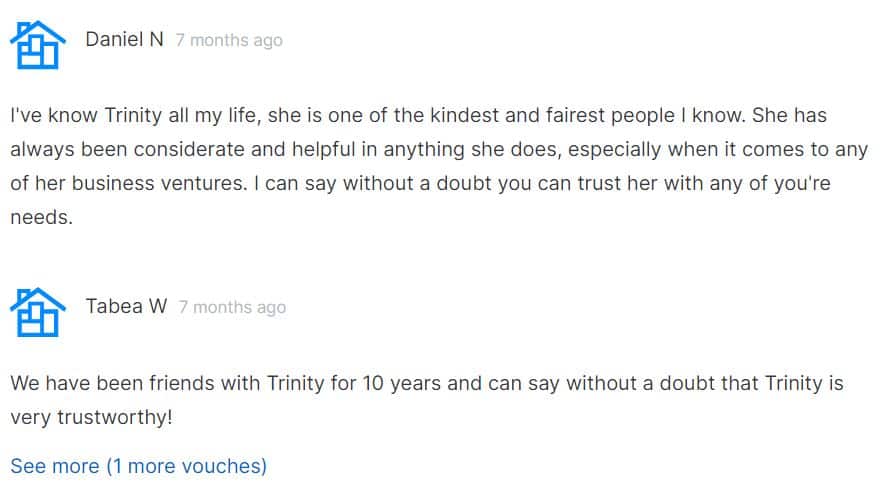 Step 6: Choose a Renter and Get Paid
Neighbor.com will notify you if someone inquires about your listing. You can answer questions and set up a time for people to see your space right through the platform. Once you choose a good fit, you can initiate the transaction through Neighbor and get paid.
Neighbor.com pays you via direct deposit at the end of each month that your property is rented. You will need to connect your bank account to Neighbor using the secure payment processor Stripe. I use Stripe in my business and trust it to keep my details secure every day. I have never had any problems with it!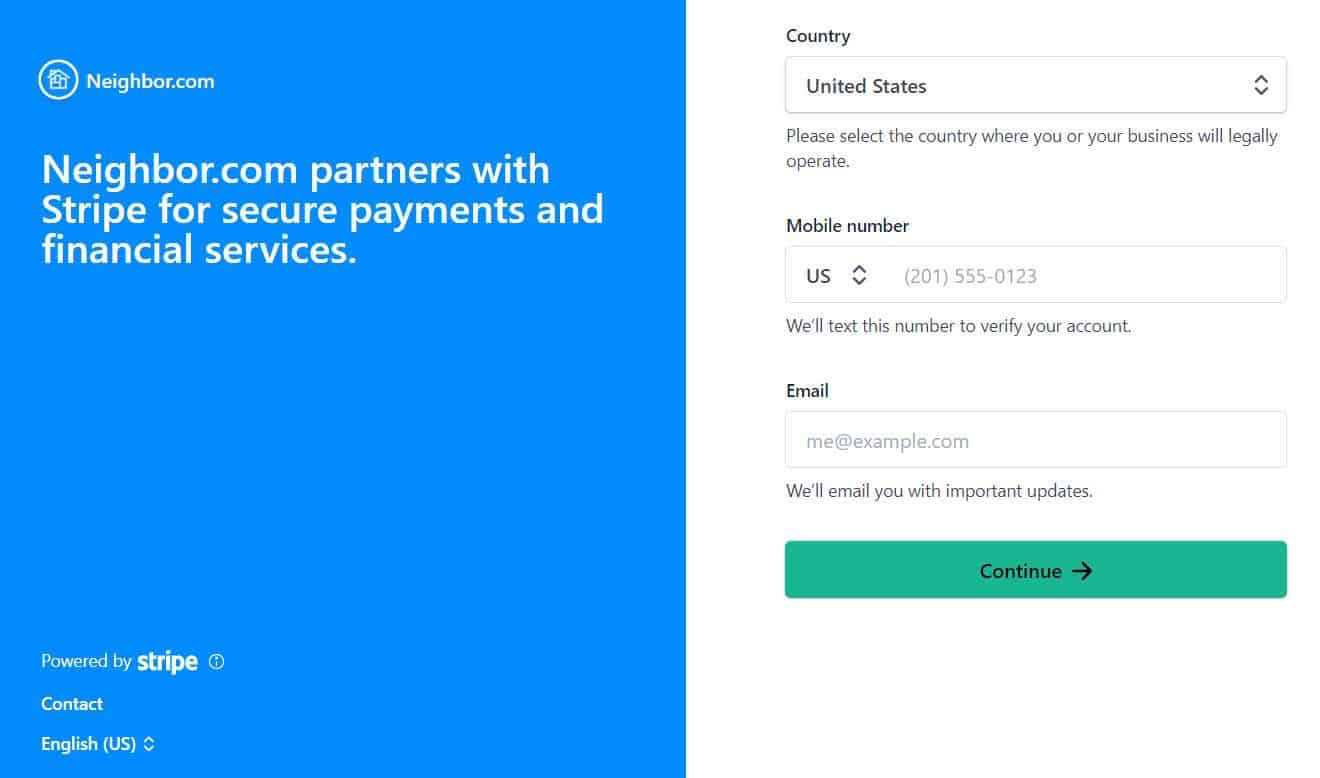 Related: Get Paid to Live in a House
What You Should Know Before Listing Space on Neighbor.com
Asking questions about a new opportunity like this is a great way to know if it's right for you. Here are some of the questions other Neighbor.com researchers are asking.
KashKick is a great find for gig workers, offering many ways to make extra money doing what you enjoy. Try it out - it's free! Here are five easy ways to start earning money on the site:
Play games (up to $125 each)
Test apps (up to $125 each)
Buy lottery tickets (an easy $8)
Try popular brands (always changing)
Answer surveys (quick cash in minutes!)
Should I buy sheds to rent on Neighbor.com?
If you're interested in getting into rentals as a business, then you'll want to create some projection sheets to determine if buying sheds to rent on Neighbor is right in your area.
For example, if your sheds cost $2,000 each, and you can rent them for $50 per month in your area, it would take about 3 years and 4 months of solid bookings to pay them off. And that's only if you buy your sheds in cash rather than taking out a personal loan.
If you want to start a larger scale rental business, it may be worth looking into obtaining your own license and insurance and bypassing the Neighbor.com fees altogether.
What type of property can I list on Neighbor.com?
Other than the obvious shed and garage space, you might be surprised what type of property you can list as rental space on Neighbor.com. If there is a need for your space, then you can list it. You can list a backroom, bedroom, closet, attic, basement, or space inside an office. Additionally, you can list a warehouse, vacant lot, or even a parking spot in your driveway.
Do you need to live in the city to find interested renters?
You do not need to live in or near a city in order to rent storage space on Neighbor.com. People rent space for many reasons all over the world. I live in the country (think back roads, huge cornfields, rolling acres, etc.) and still received interest in my listing.
While I would never promise that you'll find a renter overnight, your location does make a difference. When I listed my shed, it took a couple of weeks to get my first bite. I think I could've rented it out sooner if I lowered my price, but I wasn't willing to give the space away for an amount of money that didn't make a difference in my family's budget.
Your ideals might be different from mine. If an extra $30 per month is worth it, then go ahead and set your price just lower than comparable offers in your area. However, if you could use the space yourself and make an extra $20 or so doing other things, then that's a decision you'll need to make.
Related: Get Paid to Camp
Tips to Get Renters to Bite
Whether you live in a hopping city or quiet countryside, there are definitely ways to get your listing in front of more people.
Be as Detailed in Your Listings as Possible
Creating a listing requires more time than snapping one photo, labeling it a shed, and publishing it. People want to know what they are walking into when they see your listing. Share details about your neighborhood, the accessibility of the space, and whether or not they would be sharing it with other renters. Make sure to give accurate measurements of the space and doorway so that they know if their things will fit.
Share Your Rental Listings on Social Media
Once your listing is published on Neighbor.com, share it on your social media profiles. Join local Facebook groups and let your neighbors know you have space to rent. While Neighbor.com is a place that people can go to search for storage, many people in your area may not know of its existence just yet.
Additionally, you can ask friends and family to share your listing on their social media accounts. Print out your listing and pin it to local bulletin boards in restaurants, libraries, colleges, and stores that have them. And finally, post the printout in your car window. You never know if someone walking by your parked car needs a space to rent!
Related: Get Paid to Advertise on Your Car
Neighbor.com May Pay Your Car Payment or Cable Bill
If you're willing to give up your own storage space, get to know a stranger, and earn a little extra cash each month, then Neighbor.com just might be worth it for you. The amount of money you earn may only cover a car payment or cable bill, but that might mean more to you than using the space yourself.
Once my listing started garnering interest from local people, I admit that I got nervous about renting out my shed space. I think staying on your toes is never a bad thing–and that making sure you have a second person with you when showing the rental space would be a great way to ensure your safety.
I ended up removing my listing from Neighbor.com because my husband and I purchased a travel trailer that was full of camping supplies. We didn't want to clutter up our garage, so the shed was our next best option to store the stuff.
Had things worked out differently, the person who contacted me through Neighbor sounded like a great fit! His son was a local college student who would be headed home for the summer and holidays and needed a place to store his belongings for potentially a few years while he finished his degree.
I was sad to let a potential customer down but also glad that we didn't fill up the space that we needed to use for our own camping supplies!
Think about your reasons for renting out storage space, the money you can potentially earn, and the space you'll be giving up. If everything aligns, then consider giving Neighbor.com a try and renting your space.
---