ThriveCart Review: Why I Use It to Sell Online
ThriveCart, while not perfect, is a comprehensive solution for online businesses. It provides robust tools for showcasing, selling, and improving products or services, fostering revenue growth without charging any monthly fees or commissions on sales.
Try Bingo Cash, the ultimate bingo app for turning your skills into extra cash while enjoying colorful and engaging head-to-head matches. Win up to $83 per game and experience the classic bingo thrill in the comfort of your own home. Test your daubing skills and become a big winner today!
Bingo Cash™ is FREE to download and play! However, cash tournaments are not available in the following states: AZ, IA, LA, SC & WA.
My Experience Using ThriveCart
It was a bit of a hassle to write my first eBook and list it for sale on my website. The selling tools I used at the time had a lot of moving parts, discouraging me from creating any new digital products.
When I later stumbled across ThriveCart, I realized that a one-time investment would save me a lot of time and money in the long run. Thanks to the platform's features and ease of use, I've never regretted taking the leap and switching to ThriveCart.
Since that day, I've earned $8,575 in passive income through the platform as a digital product seller, and $5,767 as an affiliate of other digital product creators. In addition, I'm now able to quickly and securely manage all of my digital products in one place, making it easier for me to make the most of everything I create.
ThriveCart is an amazing tool for entrepreneurs who want to focus on their businesses instead of wasting time managing complex processes. With its highly customizable features, sleek design, and excellent customer service, ThriveCart is the perfect choice for anyone looking to streamline their sales process.
I highly recommend ThriveCart for digital business owners who want to maximize their profits and save time. This platform is definitely worth checking out for anyone who is looking for an innovative way to manage their products.
One of my favorite sites, Swagbucks, offers tons of ways to earn real cash online. If you're not already a member, give it a shot! Here are five things you can do to make easy money on the site:
Play games (up to $322 each)
Test apps (up to $150 each)
Submit receipts (easy cash)
Shop at your favorite stores (up to 10% back)
Answer surveys and polls (quick cash in minutes!)
Our Popular Free Guides
How to Start a Permanent Jewelry Business - If you are patient, have social skills, and love interacting with others, then a permanent jewelry business may be for you.
How to Become a Sleep Consultant - Help parents and babies, and be the difference for families worldwide who are desperate for more Zzzs in their life as a sleep consultant.
How to Become a Proofreader - There are five basic steps to working from home as a proofreader. As long as you're willing to put in the work, you can become a proofreader!
What Is ThriveCart?
ThriveCart is a simplified shopping cart solution built for online businesses that want to speed up their conversion processes. Launched in 2016, ThriveCart has released new versions every year, with each update offering even more functionality.
This has become one of the most sought-after shopping cart solutions, and ThriveCart enthusiasts have praised the platform's features, including a page builder, an affiliate program, and more.
Related: How to Make Money Selling eBooks
How Does It Work?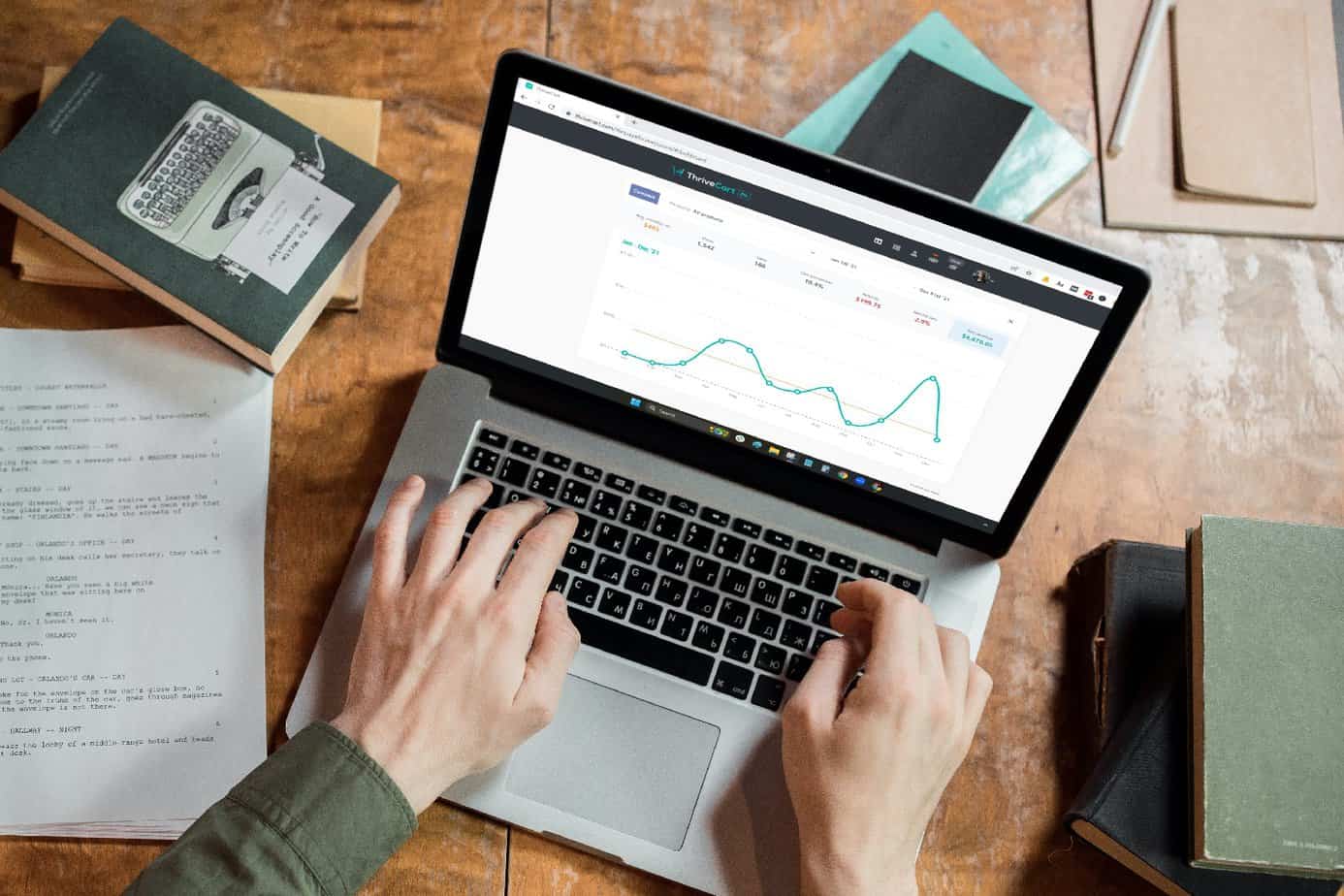 Think of ThriveCart as an all-in-one solution in which you can sell contract services or physical and digital products online. If you are a user or business owner, this software can streamline your shopping cart processes.
One of its feature benefits is the ability to add bump offers, one-click upsells, and downsells to a prospect's checkout. This helps to raise carts' average order value; as we all know, every business's goal is to increase revenue and profit.
My favorite feature of this software is the ability to add other functions to your funnel, like trials and recurring payments, for higher margins. Plus, you can automate your checkout processes, making ThriveCart one of the most reliable tools for your business.
Related: How to Start a Dropshipping Business From Home
Key Features of ThriveCart
ThriveCart has a plethora of standout features that can streamline your business, from customizable checkout pages to bump offers, one-click upsells, and in-depth analytics. Plus, this program integrates with a range of payment gateways and popular third-party platforms, making it an all-in-one solution for your online business needs.
1. Funnel Builder
The purpose of a funnel builder is to create and design appealing web pages that will be part of your customer's journey. ThriveCart's funnel builder focuses only on the checkout process.
This funnel builder comes with two useful features that will build on the experience for your customers: bump offers and one-click upsell. These allow customers to upgrade their orders in one click. I love how easily a customer can go from purchasing $7 worth of product to $97 in seconds.
This feature also helps remove the repetition of reentering payment details or adding a product to the cart again. The benefit of such a feature is that it reduces the likelihood of prospects' leaving the page or abandoning their carts.
In addition, you can set rules for the buying experience and choose what your prospects see after completing their purchases. I recommend adding them to your mailing list or asking them for referrals.
Related: Best Free Funnel Builders
2. Affiliate Marketing
One of the best ways to boost your online business is through an affiliate program. Fortunately, ThriveCart's Pro plan offers an in-built affiliate platform, which includes options like:
Custom rules for affiliate commission rate and approval
Multi-tier affiliate payments
Automatic payments
One of this feature's standout benefits is the option to add your affiliate partners to your program and apply guidelines. A good example is adding each one to a mailing list, bonuses, and more. Plus, affiliate marketing is an excellent way to reduce your marketing costs while boosting revenue.
3. Shopping Cart Templates
The cart templates offered by ThriveCart are high-converting, each with its unique use. In addition, it's possible to customize each template to suit your product and brand, even without tech skills.
These options' success will depend on your product and its price, but here is how you can offer your cart:
Sales Cart: Combines the functions of a shopping cart with a landing page.
Popup: Is an easy-to-use order form, perfect for cheaper items.
Standard: Has an order form page that is perfect for premium products.
Embeddable: ThriveCart's "embed" function simplifies incorporating the plugin into a landing page.
Shopping carts are crucial in helping customers complete the buying process. Your store simply won't be complete without one.
4. Coupon Options
ThriveCart offers the option to design coupon codes and apply them to your chosen products. In addition, you can create a URL with an embedded coupon code for a specific product where, with one click, the link will open the checkout form.
If you find that your coupon code box at checkout is creating a distraction, ThriveCart will allow you to turn it off to avoid customer interruption.
5. Payment and Sale Tax Calculation
This is where ThriveCart excels, since the program allows you to sell subscriptions, like memberships and recurring orders. ThriveCart also supports shipping offers, 22 different currencies, customizable payment notifications, and more.
If your customers or clients need to pay sales tax, ThriveCart makes this easy, too, by including a payment plan and tax estimation tools at no extra cost. Remember that the taxable amount will depend on the customer's location. ThriveCart calculates tax depending on the set price for the product, and will add it to the total cost on display on the online store.
Related: 100 Best Cash App Names ($Cashtags) for Business or Personal Use
6. A/B Testing
A/B testing is a process that is essential for improving the efficiency of your checkout pages. To convert site visitors into buyers, you need to analyze and track their online activities. This often involves cross-referencing and coding to get insights into which checkout page performs the best.
The good news is, ThriveCart can do this for you, by allowing you to set up A/B tests and evaluate the results. For example, you can A/B test one checkout page with an order bump, and another without.
I'm presently revamping the sales and checkout pages for my eBook to make them more engaging, readable, and user-friendly. After preparing the new design, I will use A/B testing tools to ensure better conversions in the long run.
7. Integrations
PayPal is my favorite integration on ThriveCart. I configured an auto-payment rule that ensures affiliates are paid precisely 30 days after every sale they generate. It's great to know I don't have to worry about monitoring and manually paying out my affiliates.
ThriveCart also integrates with dozens of other payment gateways like Stripe, Authorize.NET, Apple Pay and more, allowing you to select the best option for your business. If you can't find the service you want to integrate with ThriveCart, then utilize Zapier or webhook integration. Integrating ThriveCart with Zapier lets you connect with software like ClickFunnels, Trello, WooCommerce, Kajabi, Slack, Twitter, Evernote, and more.
Related: Places to Sell Baseball Cards On- and Offline
8. Joint Venture Contracts
I am especially excited about ThriveCart's Joint Venture Contract functionality. A JV Contract is an agreement between two parties that outlines the terms of their partnership. With ThriveCart, you can easily create a custom JV Contract for any partnership and store it in your account. Each time a sale is made, you can automatically pay your JV partners via PayPal.
My sister and I will soon co-publish a new eBook, and a JV Contract will ensure that we are both paid our fair amounts without dealing with manual monthly calculations!
9. Course Creation
ThriveCart's new Learn features allow creators to host and sell courses within the platform. Students can purchase courses and complete them all in one place, saving time and hassle for both the course creator and the student. ThriveCart makes it easy to create beautiful courses that look and feel professional.
While I have yet to launch and sell a course of my own, I have tested these tools in depth. Before I even dreamed of creating a course, I wanted to be sure that the tools I've already purchased would be up for the task. Needless to say, I'm excited that ThriveCart checked all of the boxes and will be the perfect place for me to host my course when the time is right.
Related: Best Online Proofreading Courses
ThriveCart Support and Community
Any Saas product should offer customer support to help any user in case of issues. For example, if a user encounters technical challenges during setup, or wants to more fully understand the platform, the support team will be there to assist.
ThriveCart offers comprehensive support through tutorials (how-to articles), which come in handy when you experience everyday challenges while using the cart.
One of ThriveCart's standout support features is its vibrant Facebook group that is made up of 14K-plus members. Join the group to share and interact with the community, plus ask the ThriveCart support team any questions you might have.
The only drawback to ThriveCart's support is that it only allows users to submit a ticket, and doesn't offer a phone or live chat for direct contact. But I have been selling digital products on ThriveCart for more than two years now and have yet to experience any major problems.
KashKick is a great find for gig workers, offering many ways to make extra money doing what you enjoy. Try it out - it's free! Here are five easy ways to start earning money on the site:
Play games (up to $125 each)
Test apps (up to $125 each)
Buy lottery tickets (an easy $8)
Try popular brands (always changing)
Answer surveys (quick cash in minutes!)
Related: Best Things to Sell to Make Money Online or in Person
Security and Data Protection
I have continued to be impressed by the platform's laser focus on data protection and security. ThriveCart takes the safety and privacy of its users' data seriously and has implemented several robust security measures.
SSL Encryption
One key feature that stands out on ThriveCart's security measures is SSL encryption, a standard protocol for security that establishes an encrypted link between a search engine like Chrome and a server. ThriveCart encrypts all data transmitted between the user and its servers, and no one can intercept it – even third parties. The SSL encryption is further enhanced by the implementation of the latest TLS 1.3 protocol.
PCI Compliant
ThriveCart is also fully PCI compliant. A company's conformity to the PCI Data Security Standard (DSS) is a requirement for processing, storing, or transmitting credit card data. ThriveCart adheres to strict guidelines for protecting credit card data as a PCI-compliant platform. It includes using firewalls, encrypting data, and regular monitoring and testing security systems.
If you use ThriveCart, you can be confident in knowing that robust security measures and data protection protocols are safeguarding your data and transactions. ThriveCart's commitment to security and privacy makes it a trustworthy platform for conducting online transactions.
Related: How to Start a Shopify Store
ThriveCart Pricing
In a cut-throat industry full of monthly subscription pricing structures, ThriveCart stands out with its lifetime access options that you won't find anywhere else.
1. ThriveCart Standard
The one-time cost of $495 includes features such as:
Customized insights dashboard
Online course creator (FREE)
High-converting carts and funnels
Customer support
Unlimited checkout pages
Powerful customer behavior rules
2. ThriveCart Pro
Adding $195 to upgrade to the Pro plan brings the total cost to $690. The Pro plan includes additional features like:
All of the standard plan features
Affiliate tracking and payments
Advanced user management
Sales tax calculator
Automatic projections
JV contracts
3. Learn+
Add powerful capabilities to the course creation portion of the platform for an additional one-time payment of $195. While you can create unlimited courses and sell them to a limitless number of students as part of the Standard Plan, you might be interested in purchasing these robust features:
Advanced sequences
Course bundles
The ability to migrate students from another platform
Team collaboration
Assignment to your custom domain
All future Learn+ updates
Related: How to Start an Etsy Shop and Make Money Selling
Pros and Cons
Pros
The one-time purchase price gives you lifetime access to the cart. There are zero monthly fees or commissions taken out of each sale.
The platform works with most CMS platforms, such as WordPress.
The platform offers one-click upsells and order bumps that help increase average order value.
The UI is simple to understand, even for beginners, and you don't need to have any tech skills to use the platform.
The reporting dashboard offers advanced filters to provide insights to boost your marketing strategies.
The software integrates with many third-party apps, such as payment processes and email marketing platforms.
An in-built affiliate system allows you to build your program and add affiliates to sell your products.
The active Facebook community lets you network and share ideas with like-minded people.
Cons
The platform relies on payment portals like PayPal, Stripe, and Authorize.net to facilitate transactions; all of these will still take their cut of fees for each sale.
The customization features lack robustness compared to competitors.
There is no option to use crypto for payments.
There is no phone or live chat support for direct communication.
Related: SamCart Review (a ThriveCart Alternative)
Who Should Use This Shopping Cart?
If you're looking for a versatile online shopping cart that doesn't charge you a monthly access fee, ThriveCart is your best bet. You will also find this tool suitable if you are:
1. Selling digital or physical products on a subscription model
ThriveCart can help you manage subscription payments through auto-retry and other payment models, such as free trials or split payments.
2. A store owner using Shopify
Shopify integrates with ThriveCart, making it ideal for your online store to use its conversion features. Since the features you find in ThriveCart, such as order bumps and coupons, help upsell, they can merge well with Shopify.
3. A site owner with membership
ThriveCart can manage the subscription payment model for a membership site by giving access to paid members to your content.
4. Interested in an affiliate program
ThriveCart has an inbuilt affiliate management tool to help you market your products, boosting sales and profits.
Never Split Your Revenue With a Platform Again
ThriveCart is a game-changer for business owners and enterprises alike. With its powerful features, seamless integrations, and user-friendly interface, it's no wonder it has become the go-to platform to maximize sales and increase revenue.
One thing I love about ThriveCart is that I don't have to pay a revenue share for facilitating my sales. I paid a flat one-time fee for lifetime access, allowing me to keep more of my money and use it to further develop my business.
Whether you are selling digital products, physical goods, or services, ThriveCart can provide you with the tools to optimize your checkout process and boost conversions. Say goodbye to clunky checkouts and hello to a streamlined, efficient sales process with ThriveCart. This is a must-have tool for any online business looking to increase conversions and maximize revenue.
Related: Things for Kids to Sell at School for Extra Cash
---