How to Become a Plexus Ambassador and Make Money Selling Supplements
Last Updated Apr 11, 2021
I never saw myself becoming interested in the selling aspect of an MLM. I've bought my fair share of direct sales products and enjoyed them over the years, but the idea of selling person-to-person sounded scary.
And then I learned about Plexus Worldwide.
It was intriguing to see Facebook posts about this delicious "pink drink" and the difference it was making in people's lives. This drink was claiming to give people energy and make them healthier.*
I wondered why others trusted this company and if it could change my husband's life as well. You see, in 2019 my husband started feeling sick almost daily. It gradually became worse until he started to lose his hair in random circle patches on his head and face.
Seeing the positive posts about Plexus gave me hope that my husband's gut health could be restored.*
I looked back at those posts and paid attention to what others were saying about the products. "Want to feel better and be happier?"* asked one post. Maybe they were onto something. I wouldn't know until I did my own research into Plexus.
The natural way of selling the product through personal testimonials and stories is what clinched me on the business aspect.** When I learned about the product and decided to give it a try, it wasn't because someone was pushy and trying to make money off of me. It was because they cared about my family's health and well being.
Becoming a Plexus Ambassador lets me continue to buy the products at a discount each month. So, even if I had chosen not to sell Plexus as a business, I would still have chosen to be an Ambassador for the wholesale discount!
What is Plexus?
Plexus is a company that offers a wide range of products claiming to be dedicated to health and happiness. These products help your body get rid of bad stuff and create better digestive health. The ingredients in the products support a happy and healthy lifestyle.
Megan Baldwin, Ruby Ambassador adds, "Plexus' boutique line of plant-based products target gut health, help to balance blood sugar, and reduce inflammation. It began as a breast health company and soon added more health-supporting products to their line."
Related: 25 Best Stay at Home Jobs for Moms
What is a Plexus Ambassador?
A Plexus Ambassador is someone who helps you find the right products for your body. The company strives to be a company for everyone. Therefore, the Ambassador is the link between the products and the customers. Essentially, Ambassadors make money selling Plexus.
Additionally, you can choose not to sell Plexus, but still become an ambassador for the product discounts. There are no selling minimums just to hold the ambassador status.
5 Things to Know Before Becoming a Plexus Ambassador (PLEASE READ)
Please spend five minutes learning more about the company and whether becoming an Ambassador is the right step for you.
Retail Customer vs Preferred Customer vs Ambassador
There are three ways to buy Plexus. Here is how to determine which way is best for you (or for your future customers if you go on to sell Plexus!).
Method 1: Become a Retail Customer
Order as a retail customer if you are testing different Plexus products or just placing a one-time order.
If you're just looking to give the product a try, then purchasing as a retail customer is your best option. This will allow you to try Plexus without committing to a monthly subscription.
Method 2: Become a Preferred Customer
Become a preferred customer if you are placing a monthly subscription order of less than $100.
You can set up a subscription order and buy products like Plexus SLIM for a 5% discount as a preferred customer. This will give you the best price without committing to any additional fees. That way if you are unsure whether you will continue purchasing the product, you can cancel your subscription at any time.
*Note: if your subscription costs more than $100 per month, please continue reading the benefits of upgrading to an ambassador account.
Method 3: Become an Ambassador
Enroll as an Ambassador if you plan to resell Plexus or wish to set up a monthly subscription order of $100 or more.
If you become an Ambassador, you can get discounts on Plexus products through the company's website. Plus, you can earn points for recommending products to friends and PV Perks to apply toward free products.
Unlike a retail or preferred customer, an Ambassador comes with a yearly cost. The cost is worth it if you plan to purchase a combo (3 pack) of products for $99+ and you plan to make at least three consecutive monthly purchases.
As an Ambassador, you also have the option to sell to just a few friends via word of mouth or you can turn it into a business.
Plexus Ambassador Benefits
Discounts on all products;
Unlimited access to free training and resources;
Person-to-person training and tips via team Facebook groups;
Plexus website of your own;
No-hassle- products ship directly to your customers;
Only $19.95 to become an Ambassador for Plexus and start your business;
Earn commissions, bonuses, and free products;
The products nearly sell themselves through testimonials.
Plexus Ambassador Cons
Find your own customers;
No set wages earned or guarantees of making money at all;
Must sell a minimum of $100 each month to start making a commission (this includes any purchases you make);
The Ambassador fee renews at $39.95 each year.
You Don't Have to Sell Plexus to Become an Ambassador
There are two different reasons you might want to become a Plexus Ambassador: to get the product at wholesale pricing (cheapest) or to make money selling Plexus. You can be an Ambassador for one or both reasons—there are no rules.
However, if you only wish to make a one-time purchase, then the cost of becoming an ambassador may not be worth the savings of purchasing the products wholesale. If you want to buy just one or two products, then you should become a customer. But if you plan to buy a combination of products on a monthly basis (for at least 3 months), then becoming an Ambassador is worth it!
The Ambassador Compensation Plan and Bonuses
If you want to make money as an Ambassador, then you'll want to pay close attention to this section. Plexus has an amazing compensation plan with opportunties to earn bonuses for sharing products that work.
As a Plexus Ambassador, you have the opportunity to make roughly anywhere from $300 per month to nearly $40,000 per month.** Convert that to a yearly salary and many people find it possible to quit their day jobs. Each level of sales reached gets you closer to advancing in the Plexus level and pay, which increases your earning potential.
Welcome Package:
As a new ambassador, you can purchase a welcome package that ranges from $99 to $199, depending on current promotions and product needs. This deal allows you to meet the initial purchase requirements to start making money selling Plexus. It also lets you experience the benefits of the product so that you can honestly recommend them to your customers.
Commission:
Each step of the Plexus level and pay scale earns you more in commission. "With each rank promotion in Plexus, you have the opportunity to nearly double your monthly paycheck. A one-time cash bonus is achieved at each rank, and commissions increase as the size of your team grows," says Baldwin.**
Bonuses:
In addition to the commission, Ambassadors have the opportunity to earn a free Lexus and profit shares within the company.**
Leaders Vacation:
Ambassadors in the Emerald Level and above also earn an all-expense paid vacation for two to Maui each year.**
Related: How to Become a Virtual Marketing Coordinator
Your Upline and Downline
The upline is the hierarchy line of Sponsors/Ambassadors extending upwards from an Ambassadorship. This means the person who recruited you into the company (your Sponsor) and the higher levels from that person.
Just like in a brick and mortar company, there is you, your team leader, your manager, your director, etc. The same line goes for you, your sponsor, their sponsor, etc.
The downline includes those below the Ambassador, thus generating an income from those down their line.** As an Ambassador, you become a sponsor for other Ambassadors who sign up under you, "and as your team of Ambassadors grows wider and deeper, you advance ranks within the company," says Baldwin.
Many Ambassadors make money by selling the product alone and/or building a team. It is encouraged that you combine these methods to maximize your earnings.** You don't have to assume a leadership position until you're ready, but the opportunity is always there.
Plexus Ambassador Reviews
We need to address the elephant in the room: bad reviews. As with most companies, Plexus has its fair share of negative and neutral reviews. Why? Because it's not magic. There are health issues that stem deeper than gut health.* It's OK, and many times wise, to step back and consult a doctor about your needs.
Additionally, not every Plexus Ambassador is successful at selling the products. This can lead to negative reviews about the business structure and the opportunity to make money with it. But as with any business, it's going to take hard work and consistency to become a successful Ambassador.**
Related: Get Paid to Post Ads
---
*These statements have not been evaluated by the Food and Drug Administration. This product is not intended to diagnose, treat, cure, or prevent any disease.
**Plexus makes no guarantees of income or profit you may earn as a Plexus Ambassador. Your success depends on your effort, commitment, skill and leadership abilities, and how effectively you exercise those qualities. Please see the Plexus Annual Income Disclosure Statement.
---
14 Quick Steps to Become a Plexus Ambassador
If the earning potential of an Ambassador would make all the difference in your life, consider joining Plexus in their Ambassador program. No matter if you only need a couple hundred extra dollars per month or thousands, the Plexus Ambassador program can fit into any lifestyle.**
Or you can follow these steps just to get the products at wholesale pricing. There's no pressure to sell unless you want to.
If you need help signing up, choosing a product, or understanding the details, you can reach out to me via email or Facebook (friend me, message me, follow me—whatever works for you!).
I'm here to help!
1. Select The Option to Enroll as an Ambassador
Click here to open Plexusworldwide.com in a separate tab to become an Ambassador for Plexus and start your venture in just a few minutes. Keep this tutorial open to get a complete overview of the process (Step #4 is important!).
2. Confirm You Would Like to Get Started
Select Get Started to begin the process.
3. Input Your Basic Contact Information
Plexus requires your country, language preference, first and last name, email address, and phone number to get started.
4. Select a Password and Ambassador
After inputting your information, it is time to secure your account with a password and then select an Ambassador.
Selecting an Ambassador is an important step you don't want to miss. If you do not choose your Ambassador, one will randomly be assigned to you.
If you don't have an Ambassador in mind to use, use me! If my information is not already populated, input ID 901249211 and DO NOT select the box that says "I am not working with an Ambassador." I will personally reach out to connect you with my strong support team to help you succeed in either selling Plexus or choosing the products that align with your health needs. I can give you the tools you need to make this a successful journey.**
5. Order an Annual Membership
I know an annual membership seems like you're being locked into something you don't even know if you'll like in one month from now, let alone 12 months! Believe me, I was skeptical about doing it at first, too.
However, it's a fairly small price to pay to start up an entire business opportunity that can potentially earn you thousands of dollars each month.** With this in mind, the $19.95 promotional price isn't so bad.
Plus, if you decided not to make money selling Plexus but would rather buy the products for yourself, the amazing discounts you get will be much more than the $19.95 for the annual Ambassador membership.
---
*These statements have not been evaluated by the Food and Drug Administration. This product is not intended to diagnose, treat, cure, or prevent any disease.
**Plexus makes no guarantees of income or profit you may earn as a Plexus Ambassador. Your success depends on your effort, commitment, skill and leadership abilities, and how effectively you exercise those qualities. Please see the Plexus Annual Income Disclosure Statement.
---
6. Choose a Welcome Pack
Now, for the fun part! Choosing your Welcome Pack means you can choose from the variety of products Plexus sells at discounted prices. This is the perfect opportunity to test out the products so that you can sell them to others and tell them about your first-hand experience.*
As a bonus, the Plexus business model is different from other businesses in that most successful Ambassadors use and see improvements while using the product.*
Example options:
The TriPlex Welcome Pack (pictured in the middle) is one of the most popular combinations Plexus offers. It's designed to strip your gut of bad bacteria and replenish it with good bacteria.* It includes SLIM, the familiar "pink drink," which aids hunger control and weight loss.
7. Not Interested in Buying Yet? You Can Choose to Skip
If you decide not to purchase a welcome pack, you will still need to sell at least $100 worth of product before you can earn a commission. Ordering the pack will automatically put you over the threshold so that you can potentially earn money as an Ambassador right away.**
You'll need to confirm:
Note: most successful Ambassadors use the products and let the results help sell the product.*
8. You'll Automatically Start a Monthly Subscription Order
If the monthly subscription is not for you, you can easily cancel this online.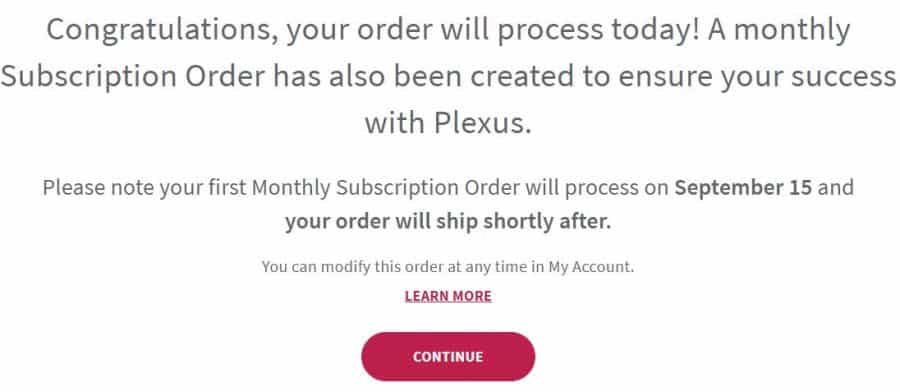 9. Enter Your Identification
Plexus adheres to federal tax regulations and therefore must have this information from you for you to proceed with the Ambassador program. They need to know who they are paying.**
If providing your Social Security Number (SSN) makes you uncomfortable, Plexus accepts an Employer Identification Number (EIN) as well. You can apply for a free EIN on the IRS website (available during US business hours).
You will also give your new Plexus business a custom URL. I used the same name that I use for my blog, but you can get creative and use your name or a creative name that you can later apply to a team.
10. Add Shipping and Payment Information, Review Order
Finish the final steps and confirm your order to become a Plexus Ambassador!
11. Welcome to The Team!
When you confirm your order of the Plexus Ambassadorship and Welcome Pack (if you decide to purchase one), you will immediately be part of the team. And if you used my Ambassador ID 901249211 in step 4, I will be personally reaching out to help you get started!
12. Add a Profile Image
This helps me and your customers get to know you. Grab a selfie or pull your favorite picture of yourself from Facebook and upload it to your account!
13. Take a Look at Your Custom Storefront!
Explore the options your new business site and storefront offers. My storefront can be found at https://shop.plexusworldwide.com/thepayathomeparent – use the custom URL you chose to see your storefront.
14. Review Your Virtual Office
View your virtual office and take time to get familiar with the business side of Plexus. Knowing your dashboard/office will help in your success. Notice all the key features of your dashboard. Learn how to quickly navigate to the areas you will need as you build this business.**
Login at https://login.plexusworldwide.com/
My Dashboard: This is the "home page" of your Virtual Office. You'll see a snapshot of all of your basic activity here.
My Business: This selection will show your account information that you provided when signing up. It will also show you who your Ambassador is and what your new Ambassador ID is so that others can join your team.
Training Center: Get access here to tons of free resources and training to help you learn the business, products, and increase your earning potential.**
Incentives & Recognition: Here you will see the Plexus pay level you have reached and how close you are to the next level. Additionally, you'll find incentives you can work towards and your recognition.**
Sharing Plexus: Easily share your storefront with others to start selling Plexus.**
Shop: Add to your collection at home and shop products for yourself! Or use the shop to learn about products other customers are interested in so that you can best refer them to the products they will love.
---
*These statements have not been evaluated by the Food and Drug Administration. This product is not intended to diagnose, treat, cure, or prevent any disease.
**Plexus makes no guarantees of income or profit you may earn as a Plexus Ambassador. Your success depends on your effort, commitment, skill and leadership abilities, and how effectively you exercise those qualities. Please see the Plexus Annual Income Disclosure Statement.
---
Tips on How to be Successful with Plexus
As with any business, the more you put into it, the more successful you will be. If you want to have the highest earning potential by selling Plexus, here are some key tips you can implement to get you started.**
Join an Active Team of Sellers
Nothing boosts my spirits more than having a team encouraging me and cheering me on. When Ambassadors sign up using my Ambassador ID 901249211, I personally add them to an active Facebook group where we support one another, answer questions, share tried and true selling methods, and celebrate our accomplishments. This group wants nothing more than to see others succeed in this role!**
Try the Products Yourself
Sellers are more successful when they try the products for themselves. It's hard to encourage others to buy the products if you don't use them yourself.
Share Success Stories (Including Your Own)
Let the products sell themselves — this is not meant to be a pushy sales venture, but an opportunity to help others improve their health. Share how the products are changing your life. Also, you can show testimonials from team members and from customers who have purchased through you.*
Check out (and share) Plexus' Before & After Look Book, too!
Reach Outside of Your Friends and Family
It's uncomfortable, I know — reaching out to family and friends can be difficult enough, but reaching out to strangers is a whole other level of discomfort.
Hear me out: When you reach outside of your family and friends, you are broadening your network which is your customer base. Your customers are the ones who are going to help you make money selling Plexus.** Try going to Instagram, Facebook, or other social media outlets to find people who you think would benefit from this popular pink drink!
Don't cold message strangers trying to sell to them, but genuinely share your story and how Plexus helps you get healthy* and make money.**
Build a Community
Join our team's Facebook group and invite people who express interest in the product and agree to join. Make it fun for them! You can also host a Facebook event that gives others a taste of what you're selling. Build your community through those who accept your invites and encourage them to share with others.
Take a Selfie
When people see you active in your business and having fun, they become curious to know how you live your happy life. Take a picture of yourself enjoying the day, with your family, mailing out samples, working on your computer while scrolling your storefront, etc. Engage those curious minds!
Be Authentic
You're not trying to sell a product that doesn't work so there's no reason you should have to fake anything. Just be you! You are more relatable to others when you show them your true self, your daily duties, and also the struggles.
Don't Be Salesy
Posting your storefront link in every comment you see is a good way to turn people off to you and your business. Ambassadors are "sharers," they are not salespeople. Share the benefits, results, and amazing products* when appropriate. You can also ask your upline to help you share or even ask them questions about their techniques.
Related: The Super Secret Thing I Did That Skyrocketed My Confidence In Direct Sales Marketing
---
*These statements have not been evaluated by the Food and Drug Administration. This product is not intended to diagnose, treat, cure, or prevent any disease.
**Plexus makes no guarantees of income or profit you may earn as a Plexus Ambassador. Your success depends on your effort, commitment, skill and leadership abilities, and how effectively you exercise those qualities. Please see the Plexus Annual Income Disclosure Statement.
---
More Things You Should Know About Plexus as a Business
There is a ton of information here about how to start selling Plexus. If you're still wondering about it, here are some of the most commonly asked questions.
Who can become a Plexus Ambassador?
If you are at least 18 years old and reside in the US, Canada, Australia, New Zealand, or Mexico, you can become a Plexus Ambassador.
Why do you have to pay to become an Ambassador for Plexus?
Currently, the Plexus ambassador cost is just $19.95, but the regular price is $39.95. If you plan to sell Plexus and buy it for yourself, the price is worth it. You'll save far more than you'll spend on the yearly fee. The fee weeds out people who are not serious about the business or the products, because it costs the company to discount products and host a website for every new Ambassador.
How do you get your Plexus products paid for?
Selling product lets you earn commissions, bonuses (when available), and points to use toward free products. The more you sell each month, the more product you can afford. You would be surprised how easy it is to get your Plexus products paid for (see full guide).**
Is Plexus a pyramid scheme?
A pyramid scheme is a fraudulent way to make money by recruiting people who have to pay to "get in." There's a promise of payment to these recruits to recruit other people without supplying a physical product or a service.
Plexus is not a scheme, but that doesn't mean everyone who signs up will be successful in this business. You have to put in the work. Plexus offers several levels of Ambassadors based on the work you do.**
It's important to remember that all businesses have a pyramid structure.
Who are the Plexus top earners?
Top earners are those who have reached the Jewel status — Emerald and above. Currently, there are over 100 Ambassadors on the diamond recognition page.**
Can I sign up my spouse and/or family members as Ambassadors?
Yes– many new Ambassadors make money right away** by helping family members choose products and become an Ambassador if interested.
Is Plexus for guys, too?
Absolutely! I initially bought it to help my husband's gut health* and I'm so glad we were able to get this for him.
Where Can I Buy Plexus In Store?
If you're wondering where to buy Plexus to give it a try before you consider becoming an Ambassador, you can order it right here. Unfortunately, none of your local grocery or wellness stores stock Plexus Slim or other Plexus products.
The TriPlex Combo – Bio Cleanse 60 is a popular pack that helps "weed, seed, and feed your gut to get it back into balance so you can thrive."* And then there is the popular Plexus Slim® Hunger Control if you want to purchase this "pink drink" apart from the TriPlex Combo.*
If you plan to invest in your health and continue the product for more than one month, you'll get the steepest discounts by signing up as an Ambassador.
Related: 100 Health and Wellness Blog Name Ideas
---
*These statements have not been evaluated by the Food and Drug Administration. This product is not intended to diagnose, treat, cure, or prevent any disease.
**Plexus makes no guarantees of income or profit you may earn as a Plexus Ambassador. Your success depends on your effort, commitment, skill and leadership abilities, and how effectively you exercise those qualities. Please see the Plexus Annual Income Disclosure Statement.
---
How to Know If Plexus is a Good Business for You
Selling Plexus is a great way to start a business. If you are a self-starter, enthusiastic, open-minded person, you can make this business what you want it to be. Making a successful business means you're willing to learn and take advice from others who have become successful.**
As with any other venture in life, you have to put your best foot forward and surround yourself with positivity to make it work. Once you get started and find the techniques that work for you, then you can begin to grow your team and share your success with new Ambassadors!