How to Get Paid to Learn From Home or In-Person
We foster relationships with brands we use and trust. The testimonials on our site represent real experiences, but they don't guarantee you'll achieve similar results. When you make purchases through our links to our partners, we may earn a commission. Your support helps us continue this work. You can read our full disclosure here.
You never truly stop learning. There is something new to learn daily, whether in a job, an educational setting, talking to a stranger, or simply living. You can even find opportunities to get paid to learn.
If you are willing to master a new skill or try something different, you can get paid for it. Depending on what you choose to learn about next will determine how much you will make from it. It's never too late to learn something new.
Keep an open mind as you take a look at all of the legitimate ways learners can get paid. Consider what kind of learning you want to participate in and choose an opportunity below that will match your goal. You will be surprised by how many opportunities are available.
10 Best Ways to Get Paid to Learn
If you are ready to take up a new skill and learn while you earn, the following ideas I have come up with will pay you just to "think." Find the right way to get paid to learn from home or while on the job based on your lifestyle and needs.
1. Become a Product Tester
Learn about new products before they become available on the market. If you become a product tester, you can get paid to learn about how these new products will impact the world.
Sign up with sites like Opinion Outpost to get started as a product tester. Fill out a little information about yourself, get matched with products that would interest you, and start testing products that come to you.
Opinion Outpost awards points for each review you complete that you can redeem for gift cards to Amazon, MasterCard, or PayPal.
2. Answer Questions for Money
Learning comes in many forms. Even just considering questions and the answers you give, you could learn quite a bit about yourself and about other companies or organizations in the world. Join trustworthy platforms to take advantage of answering questions for money.
Pinecone Research is a top get-paid-to-learn app because it makes earning while you learn easy. Simply take time during your day when it's convenient for you and complete surveys. Each completed survey means you get points added to your account. Use those points to exchange for unique rewards like free gift cards or cash.
Related: Surveys that Pay Cash Instantly
3. Become a Freelance Writer
You might be surprised to hear that as a freelance writer, you get paid to learn. As a freelance writer, you could write for a variety of clients. These clients will give you topics to write about and you will get paid to fill their requests. It's highly unlikely that you will know about every single topic that is assigned to you, so research and learning are crucial for this type of work.
As a writer, you will be learning while you are making money. As a freelancer myself, I know my interest gets sparked when I learn new information during the time that I am curating a piece. You can also set your own rates and hours as a freelance writer. To get started, create a freelance writing portfolio to share with prospective clients.
4. Start a Proofreading Business
Become a proofreader and be the professional who reads over written material before it is published to ensure there are no grammar or punctuation errors. There are few things worse than publishing a copy that is full of errors.
While reading through your client's work, you learn about the topic they are writing about. You can't just skim through the work, you have to actually read it in order to notice any errors. This is a perfect way to get paid to read and learn about new topics. Set your own hours and hourly rate as a proofreader.
5. Become an Intern
Contrary to popular belief, there are paid internship opportunities out there. Find companies that pay you to learn through internship opportunities in the field of work that interests you. Many interns get paid lower than actual employees. However, it's still not a bad way to learn.
For example, you can apply for programming internships and get paid to code while you improve your skills. If you have some previous experience, check out the requirements to land an internship with companies like Knodemy Inc., IBM, Google, Apple, and Microsoft.
Internships provide you with the opportunity to learn from a variety of professionals on the job. You will be responsible for helping individuals in the business from having a smooth day to following through with business functions. This is also known as "on-the-job training" for those who are looking to get paid to learn a trade.
Related: Companies that Pay for Ideas
6. Become a Photographer
Photographers get paid to learn nearly every single day on the job. From learning how to best photograph subjects to playing with lighting for the best visual outcome, photographers have to make the most of their environment.
As a photographer, it is your job to research the best places to take photos. For example, a wedding photographer may visit a wedding venue to scope out the best spots for pictures on the wedding day. A family photographer might want to research nearby outdoor settings for beautiful backdrops. Get paid to take pictures and learn everything you can about the industry.
More Ways to Get Paid to Learn Online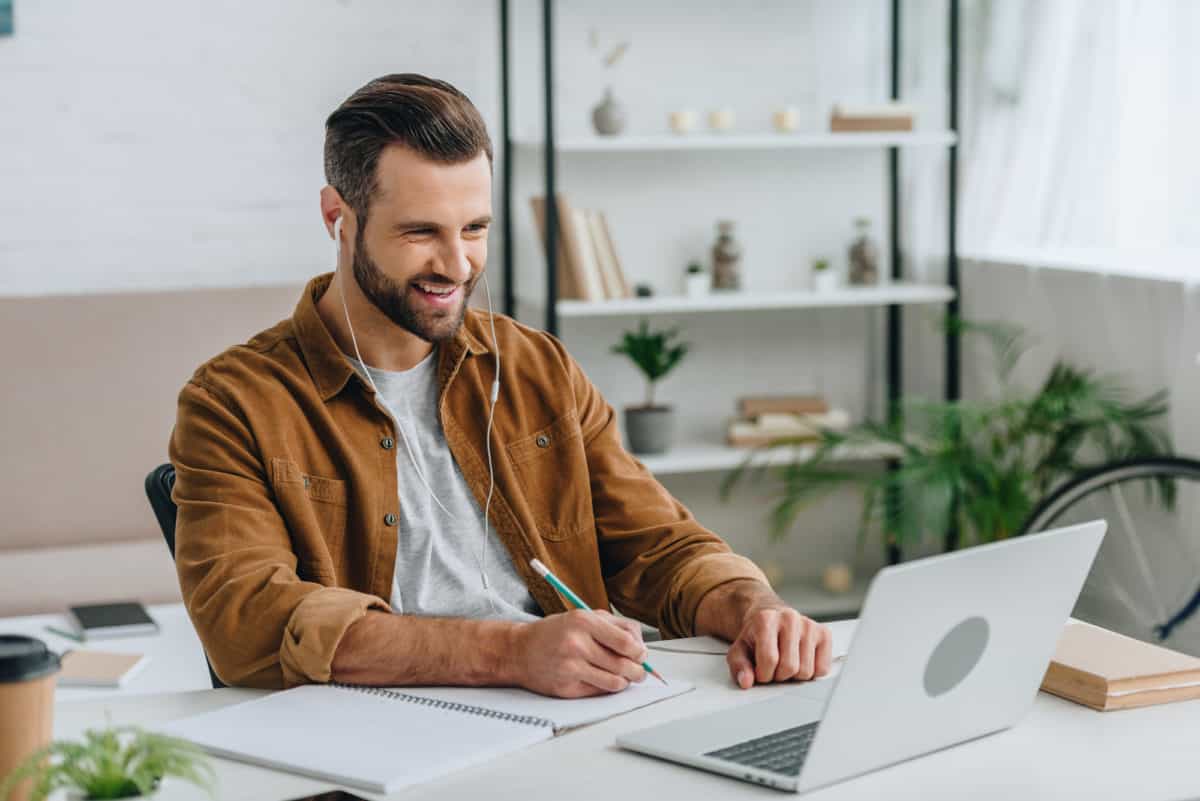 Learning online is a popular way individuals are choosing to further their knowledge. Think about how you can incorporate online learning with paid opportunities that fit your lifestyle.
7. Start a DIY YouTube Channel
Starting a YouTube channel is a learning experience on its own. But if you start a DIY channel, you can learn along the way with each project you complete. It doesn't have to be home renovation DIY stuff if you don't want it to be. Consider what other kinds of crafts you like to do and record yourself doing them for your viewers.
You can start a new crochet pattern, take a stab at making some wood furniture, or make some home decor. Whatever you choose to do, show a step-by-step process that you mastered so that your viewers can learn from you. Then incorporate ads on your channel so you can get paid for every ad click and view you get on your videos.
8. Write an eBook
eBooks are a great way to record what you have learned about certain topics. Similar to the books titled "[subject] for Dummies", you could write eBooks about how you learned to do something. Subjects could include how to build something from wood, how to fix a flat tire, how to spruce up a home or car, etc.
You can now turn whatever you have learned in life into an eBook for others to buy. Make a profit from your learning experiences. Price the eBook at a desirable amount to start making money now and in the days to come.
Related: Online Jobs for Students
9. Sell Online Courses
There are plenty of ways to get paid to take courses, but have you considered that you can get paid to sell online courses about things you have learned? Sounds a bit backward, but there are many people who make a living from selling their courses online based on their experiences.
Create a course and show others what you learned and how they can do it, too. Things like how to play a specific instrument, overcome a mentally challenging issue, throw the best party, and so much more can be turned into a course. Once you have created the course, you can sell it on a platform like SamCart for people to buy at their leisure.
Related: How to Become a Tutor Online
10. Start a Niche Site
Niche sites are the perfect place to document what you have learned so that you can help others. With your own website, you can write about whatever you want. Document the steps you take while learning a new skill and publish them in a tutorial-style article.
The best part about niche sites is that you can get paid for them in a variety of ways. Incorporate ads into your site to get paid for the traffic that comes to it. You can also add affiliate links into your articles and get paid for anyone who uses your link to make a purchase.
Related: How to Get Paid to Do Weird Things
Financial Gains are Also Available for the Learners
You don't have to be an expert in something in order to make an extra $5,000 or more per year. Many people would believe that you can only make a living if you have expertise and education. Clearly, there are plenty of ways to earn while you learn.
From paid internships to freelance writing and even YouTube channels, get paid to learn while you continue to grow as the professional you want to be. You can choose more than one option listed here to really boost your income.
As the learner, you have the unique opportunity to see things from a fresh perspective and recommend how to do things based on your observations. This is an invaluable asset; don't let the fear of not having the knowledge now keep you from succeeding. Learners can win, too.
Related: How to Get Paid to Homeschool
---
We appreciate the time you've spent reading this post and your interest is not lost on us. Your thoughts, questions, or experiences related to the topic are most welcome. Each comment adds strength to our community. We ensure every comment receives our attention, and we take the time to provide thoughtful responses. Once again, thank you for being a part of this conversation. Click here to leave a comment.