11 Trusted Online Jobs for Students to Make Money in School
Try Bingo Cash, the ultimate bingo app for turning your skills into extra cash while enjoying colorful and engaging head-to-head matches. Win up to $83 per game and experience the classic bingo thrill in the comfort of your own home. Test your daubing skills and become a big winner today!
Bingo Cash™ is FREE to download and play! However, cash tournaments are not available in the following states: AZ, IA, LA, SC & WA.
College is a time for learning, connecting, and growing as an individual. Getting a taste for what you want to do in this lifetime all begins with the right education and experience. But what about the in-between where you need to make money now while enrolled in college? Luckily, there are trusted online jobs for students that you can pursue to start making money between studies.
Online jobs for college students with no experience are important to look into, especially when you don't have much time to drive to another destination while trying to study and attend classes. These jobs can also pay way more than a job that you have to drive to. This translates into saving money on gas, saving time, and earning when it is most convenient for your schedule.
You already know you have to think outside of the box to get the most out of your college experience. You will have to do the same thing when thinking about the types of online jobs that are available for students. The good news is that you aren't limited to only having to choose one job from this list.
One of my favorite sites, Swagbucks, offers tons of ways to earn real cash online. If you're not already a member, give it a shot! Here are five things you can do to make easy money on the site:
Play games (up to $322 each)
Test apps (up to $150 each)
Submit receipts (easy cash)
Shop at your favorite stores (up to 10% back)
Answer surveys and polls (quick cash in minutes!)
Our Popular Free Guides
How to Start a Permanent Jewelry Business - If you are patient, have social skills, and love interacting with others, then a permanent jewelry business may be for you.
How to Become a Sleep Consultant - Help parents and babies, and be the difference for families worldwide who are desperate for more Zzzs in their life as a sleep consultant.
How to Become a Proofreader - There are five basic steps to working from home as a proofreader. As long as you're willing to put in the work, you can become a proofreader!
11 Online Jobs for Students to Earn Money
Take a look at these trusted online jobs for students that I found that will help you earn money in a safe way. Work a schedule that is most flexible for you whether that means Saturday-only jobs or full-time hours.
1. Proofreading
College is full of essays and other written assignments. For the average college student, this could be overwhelming especially if taking a full course load. Consider offering proofreading services to your classmates to help them make their writing assignments the best they can be.
As a proofreader, your goal is to find any spelling and grammar errors. You are not an editor who suggests edits to the entire paper. You are simply covering your classmates' mistakes knowing full well they likely wrote that paper while pulling an all-nighter and were too tired to proofread it themselves.
Proofreaders can make anywhere between $20 per hour up to $33 per hour depending on your experience. Even on the low end, you can still make fairly decent money. You can broaden your client base to offer proofreading services even to those who are not college students if you are comfortable branching out.
Get a thorough view of how you can start offering proofreading services to make good money from the get-go. Make money sooner than later by offering proofreading services.
2. Photo Editing
For the graphic design major or for someone who likes being creative in their free time, becoming a photo editor can be one of the top choices in trusted online jobs for students. Partner with photography majors in your school to help them edit their photos for their projects.
The objective of a photo editor is to help enhance images that the photographer can use to display in their portfolio. Photographers have a keen eye for art through a lens. It's your job to learn what kind of style the photographer has and edit the photographs according to their style.
According to Salary.com, the average yearly salary for a full-time photo editor is $69,525 which is about $33.43 per hour. If you are just starting out, you could offer discounted services to other students to help build up your confidence and testimonials.
However, if you already have experience, you could charge closer to the base salary and increase it with each client you serve. Additionally, you can reach out to professional photographers online and explain the benefits of contracting a virtual photo editor.
Learn the ins and outs of becoming a photo editor so that you know exactly how to start and get the training you need. This can be a job for you now and for years to come.
KashKick is a great find for gig workers, offering many ways to make extra money doing what you enjoy. Try it out - it's free! Here are five easy ways to start earning money on the site:
Play games (up to $125 each)
Test apps (up to $125 each)
Buy lottery tickets (an easy $8)
Try popular brands (always changing)
Answer surveys (quick cash in minutes!)
3. SEO Services
For the tech-savvy student, offering SEO services could be one of the best online jobs for students to work from home. Not only can you provide the services at any time of the day (or night), you can learn quite a bit about the internet along the way and make good money.
SEO stands for "search engine optimization". This means optimizing content for clients to rank high on Google so that their content shows up on the first page when someone types a question into the search bar. Let's be real, no one goes to the second page let alone the third, fourth, etc. Therefore, it is crucial for businesses to stand out and have highly optimized web pages and social media content in order to get seen.
SEO Specialists can make upwards of $35 to $48 dollars per hour. Not a bad way to spend your time earning money. If you know students who are trying to get their blogs, YouTube Channels, TikToks, etc., off the ground, consider offering them your SEO services.
You can also pitch to your school or professors who want to explore the internet space and get seen by others. Do this job whenever it fits into your schedule as long as you can meet the client's deadline. Get started sooner than later learning SEO.
4. Freelance Journalism
Journalism majors don't have to necessarily wait to have their degree before jumping into a paid journalism role. Trusted freelance jobs for students include freelance journalism. For this kind of job, you really have to have a passion to ask the hard questions and have decent writing skills.
As a freelance journalist, you could be employed by your college or surrounding schools to provide journalism services. Take on the next big story happening on campus. Write about the fun events coming up so students don't miss out. You can even branch out to local newspapers to write for them.
The salary for freelance journalists is grouped in with freelance writers and that pay scale ranges from $12.50 up to $36.06 per hour depending on experience. You can increase your rate every few months if you want to or after each completed project. Dig into the stories and write in between studying for exams.
Start your freelance journalism career the right way by learning how to do it with step-by-step instructions. You will be happy to know that you don't have to figure this out by yourself.
5. Start a Blog or Niche Site
Blogging is the way to find information these days about learning new skills or just wanting to learn something new. Even as a student, you can still provide so much value from the life you have lived so far to create a blog or niche site that helps the people who see your content.
Consider starting your own blog or niche site and get paid for the stuff that comes flowing from your brain. If you have great study tips and hacks, share that. If you have college admissions resources and ideas to make it a smooth process, you can share that as well. There is no limit to what you can share. But, you do need your site to be consistent.
Pick a topic (or niche) and become a resource that others flock to when they need help or information. The best ways to get paid with blogs is through ads and affiliate marketing. With ads, you can get paid for the ad views and ad clicks. For affiliate marketing, you can get paid for advertising different products for another company. You will earn a commission whenever someone buys the product using your affiliate link or code.
Blogging can be a therapeutic stress reliever that could benefit you with all the stress that comes with earning a degree. Make money and relieve some stress at the same time. Some bloggers have been known to make thousands of dollars per month from their blogs.
6. Offer Bookkeeping Services to Small Businesses
For any math majors out there, take advantage of your mathematical skills and offer bookkeeping services to small businesses. Bookkeeping is the heart of any business to keep track of all income and expenses taking place inside of the business.
As a bookkeeper, it is your job to enter in all the expenses and income for a business to reference. This is especially important for businesses to know where they can save money and where they can spend money to help the business grow. Use the receipts, invoices, and bank statements to add in all the right information.
The average hourly base salary in the nation for bookkeepers is roughly $20 per hour. Even if you only have a few hours to commit to bookkeeping per week, you can still make good money by offering this service.
Learn how to start out as a bookkeeper and set up your services the right way. Jumpstart your services so that you can start taking on clients immediately.
7. Create Digital Products
Earn money while you're in college by creating digital products. Create your own digital products and then sell your product to others. Whether you like making quirky, fun things or if you want to be specific like creating invitations and cards, this is a great way to make some extra cash.
Create whatever inspires you and sell with Samcart. You can list the products you create for the price that you choose. Things like ebooks and list-style products sell well. You can also freelance for others to create digital products for their business.
Depending on the digital product you sell, the amount of money you can make will vary. Ebooks will be sold at a higher price than a to-do list. However, the ebooks might be harder to sell versus the list. It just depends on your marketing strategies.
If you have not used or heard of SamCart before, it is a popular ecommerce site many entrepreneurs use. Get familiar with what SamCart has to offer to start creating your own products.
8. Copyediting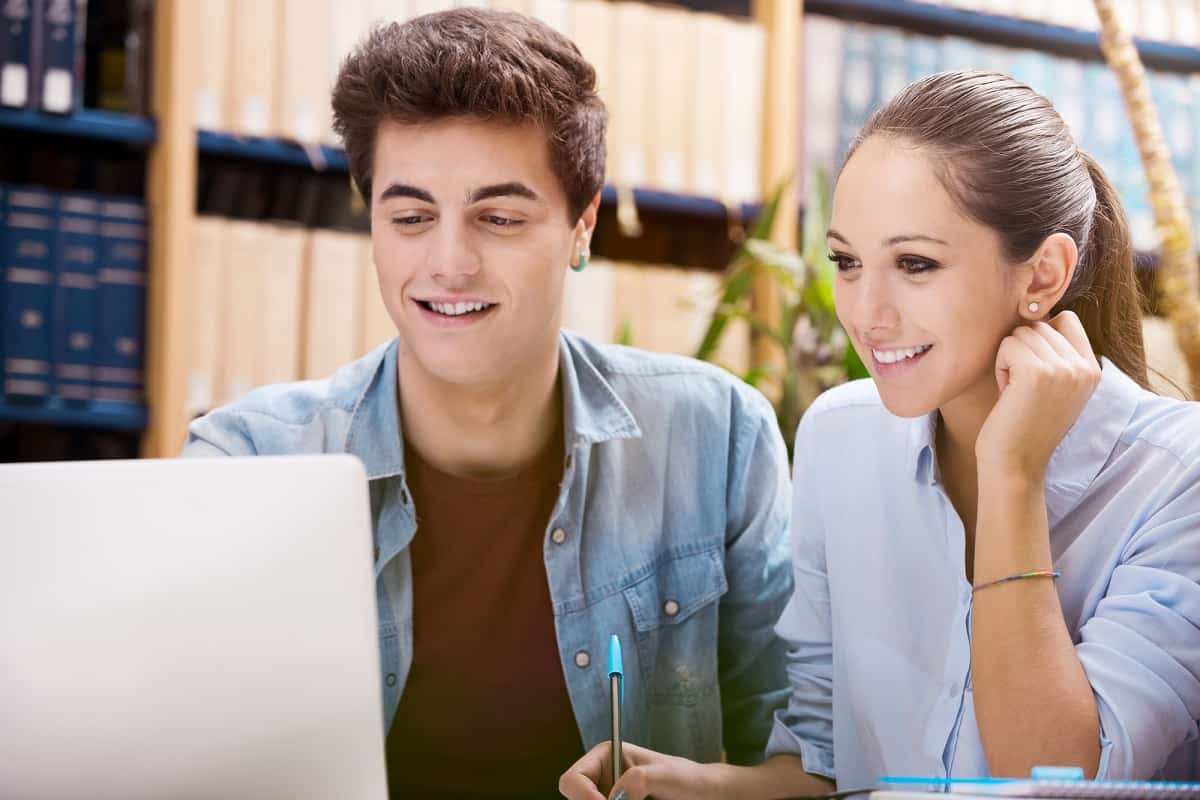 Copyediting can be one of those fun trusted online jobs for students, especially for English majors. With your expertise in the English language, you can help other students with their writing. Offer to tutor them to write the best essays. Become their peer editor to be another set of eyes on their work before they turn in assignments.
You don't have to limit yourself to just classmates if you want to branch out more. Find small businesses you can service with your copyediting skills. You can be niche-specific and only work for certain businesses, or you can broaden your clientele and offer services to anyone.
The national hourly average pay for copyeditors is just over $30 per hour. Depending on your experience, you could charge higher. If you are a beginner, this is a comfortable salary, especially with the flexibility it brings to be able to work when you want to.
Get a thorough look into how you can quickly become a copyeditor with a step-by-step guide and course recommendations to help jump-start this new interest.
9. Virtual Assistant
There is almost nothing you can't do to make money from the comfort of your home or dorm room. Becoming a virtual assistant definitely can be that dream job for students. You can offer virtual assistant services to your professors or seek businesses outside of your school.
As a virtual assistant, you can perform a variety of tasks for your clients. It is best to at least specialize in one or two things, but having a wide array of services can be lucrative as well. Things like answering emails, scheduling appointments, drafting company-wide emails, and so on are just the tip of the iceberg of what you could be doing.
Virtual assistants can work from anywhere at any time. Ensure your client is okay with you making your own hours. Some professionals do require you to work during their time zone business hours which could differ from yours. You can set your own rates, but most beginners start out between $15 and $30 per hour depending on the services they provide.
Don't be afraid to put yourself out there to start gaining real world business experience. As a virtual assistant, you could have a front-row seat to learn how a real-life business runs. Become a virtual assistant to make money and learn at the same time.
While professional training isn't required, taking a virtual assistant course can help you fast-track your success.
10. Flip College Textbooks
It goes without saying that the number of textbooks you are left with after each semester is pretty hefty. If you don't know what to do with those books that you no longer need, you can still make money from them. You likely won't get what you paid for them at the beginning of the semester, but something is better than nothing.
Clean up your books, make them look as new as possible, and sell them to others. You can try to sell them back to your college bookstore, on Amazon, or directly to students who are taking the class after you. You can also use the ZenArbitrage website to resell and profit from the difference.
It's difficult to say how much money you can make by flipping college textbooks given that each book is worth a different amount. Especially if you wait too long to sell them and more updated versions come out over the years, it could be even more difficult. But using an intuitive tool like ZenArbitrage has helped some book flippers earn a comfortable six figures per year.
Flipping textbooks could be lucrative. Ask fellow classmates to purchase their books from them for a small fee and then turn around to sell them for a higher price. Since you're doing all the footwork to sell the books, it's only fair you make the profit.
Related: Jobs that Pay Over $200k
11. Voice Actor
Between their many classes, daily assignments, and an overall lack of work experience, it can be challenging for students to find a suitable job. Thankfully, voice acting doesn't require experience. It's possible for you to land a voice acting job with little to no prior training.
In this field, you bring a character to life with just your voice. That persona could entail just using your normal speaking voice, or you may have to play up your dialogue with different speeds and pitches. This can be a fun and lucrative job, especially for students looking to make money while in school. Find voice jobs and make money when it is convenient for your schedule.
Students Don't Have to Wait Until Graduation to Begin Making Money
As a student, it can be difficult juggling all the courses and assignments plus any extra activities you want to participate in. The fact is that school isn't cheap, and everything costs something. What better way to make sure you don't miss out on anything than by finding trusted online jobs for students to help you make money.
You don't have to have any experience in any of the jobs mentioned here in order to get started. You simply need to be willing to learn and be communicative with your clients. That will get you farther than anything else in this world.
Start making connections now with potential employers by offering your freelance services. You may have a job waiting for you after graduation. Remember that it's often not what you know, but who you know.
Related: How to Get Paid to Go to School
---