How to Get Paid to Homeschool Your Kids (and Others)
We foster relationships with brands we use and trust. The testimonials on our site represent real experiences, but they don't guarantee you'll achieve similar results. When you make purchases through our links to our partners, we may earn a commission. Your support helps us continue this work. You can read our full disclosure here.
According to ThinkImpact, homeschooled students tend to perform much better than students who are part of the institutional schooling system. As much as 69% of homeschooled students succeed in college and adulthood and perform above average on their ACTs and SATs. It's no wonder many families are preferring to homeschool their children.
Homeschoolers have received a bad rap in recent times because it's been suggested that they don't get enough socialization. Fortunately, this is far from the truth. There are many opportunities families have to join local homeschool groups, participate in extracurricular activities, and be part of their communities.
If you are a homeschooling parent, it can be overwhelming and financially stressful for your family. Consider the many ways you can get paid to homeschool so that you can continue educating your children plus provide financially for them.
Can You Really Get Paid to Homeschool?
There is technically only one way that you can directly get paid to homeschool–but there are many others ways to get paid while homeschooling your kids. Follow the steps below carefully to get the funds you need to do so.
1. Government Payment
Homeschool families can make money for homeschooling from the government. This is done through homeschooling grants. However, this is not something that is offered in every state. Unless the state you are living in offers homeschooling grants, there is no other way to directly get paid to homeschool.
The first step is researching homeschool funding in your state of residence. If your state does offer the grant, then you can apply for it. Families may also get state tax credits and deductions for homeschooling their children.
More Ways to Get Paid as a Homeschool Mom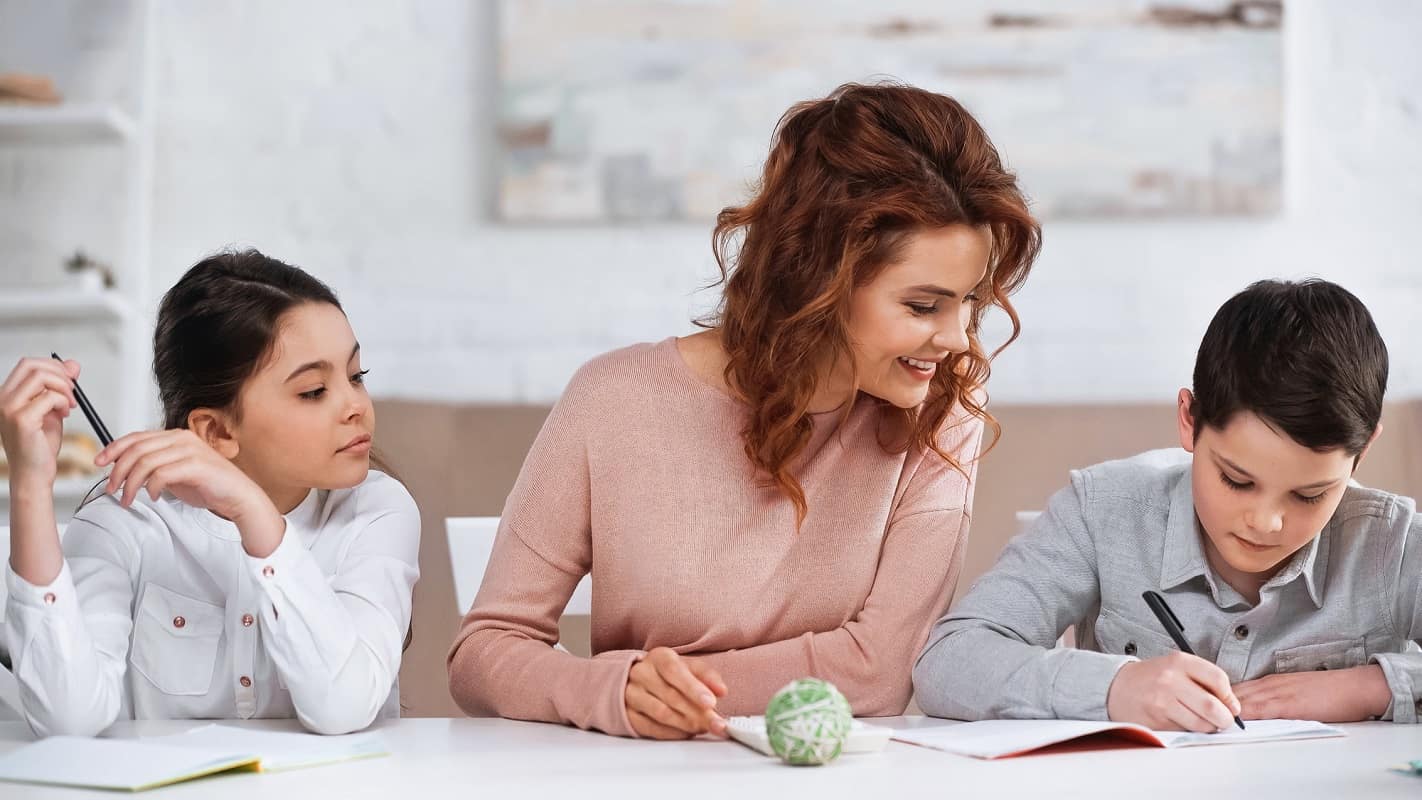 Even though you can't actually get paid to homeschool unless you receive a grant through your state, there are other ways you can get paid while homeschooling your children as shown in this list below.
2. Start a Homeschool-Themed Blog
Starting a blog is a great resource to help provide tips and tricks for parents who need help homeschooling their children. Get paid to homeschool by getting paid for those blog posts.
You can incorporate ads to make money for each viewer that reads your posts. You can also link to products that you like to use in your homeschool classroom and get paid an affiliate commission if others purchase those products using your special links.
3. Create Homeschool Printables
Create unique printables related to homeschooling that you can sell online on places such as Etsy. Other homeschool parents– especially those just starting out homeschooling– could use some guidance from others.
Design daily homeschool schedules for them to follow based on the ages of the children. You can also create worksheets to help them with their lessons.
Finally, you can design fun learning games that homeschool parents can use with their children to enhance learning. Set your own price on your printable creations and make money as you homeschool your own children.
Related: What to Sell on Esty
4. Offer Childcare to Other Homeschool Parents
Homeschooling children is a full-time job and can be exhausting at times. Offer childcare to other homeschool parents to help them get a break every once in a while. Get paid to homeschool by adding an extra child or two to your days.
Charge an hourly or daily rate for providing this service. Take the children on a picnic, to the park to play, or host special lessons for the days that you have those children in your care. This doesn't have to be an everyday occurrence. But a few times per week can make a difference for you financially.
5. Offer Cleaning Services
Clean other people's homes for a fee while your children sit around the table doing their schoolwork. You can bring your homeschool children along to help them learn about how to run a business by watching you accept payments from clients.
Your children can also learn how you keep other people's homes safe with your delicate touch. Take breaks during your cleaning tasks to check in on your children and their schoolwork.
Charge your clients for the time that you spend cleaning their houses. You can make this service a regular thing by keeping retainer clients.
Related: How to Get Paid to Learn
6. Create a YouTube Channel
YouTube is a great resource for a variety of topics, including homeschooling. Viewers flock to YouTube to learn about new topics or techniques. Videos about how to successfully homeschool would be helpful to parents who are just starting out.
Additionally, you can create videos that elaborate on certain curriculums or lessons. This would help parents successfully implement the lessons with their children. Allow ads on your channel so that you can get paid for ad views or ad clicks for each person who watches your videos.
Make your videos fun and educational so that parents will be excited about how they can teach their children with the same energy that you display in your videos. This will also keep more viewers coming to your page, which will increase your earnings.
Related: How to Get Paid to Watch YouTube Videos
7. Record Yourself Teaching Your Kids
Keeping privacy in mind, you can record yourself while teaching your kids their lessons. Do this for several lessons in the curriculum and then get paid to upload those videos to a teaching platform to sell them to other parents.
The videos you publish could help parents see what a homeschool classroom could look like, how to effectively teach the lessons, and how to help their children adapt to new material. You get to decide how much you want to charge for the lessons.
8. Teach on VIPKid
VIPKid is an online teaching platform that connects United States teachers with children in China to help them learn English. The requirements for joining VIPKid include needing a bachelor's degree in any major, a clean background check, and at least one year working with children (which includes your own).
Each class you teach on VIPKid is no more than 30 minutes long. This is a great option for logging on before your children wake up in the morning and begin their homeschool day. You can also get paid to teach online at night after your children go to bed. Because of the time zone difference, you will most likely find available teaching times that take place when your children are asleep.
Related: Best Online Jobs for Students
9. Be a Surrogate Mom for Money
It might seem out of the box, but becoming a surrogate is an ingenious way to get paid to homeschool. As your children get older and you wonder where those little babies went, you might miss being pregnant. If pregnancy was something you enjoyed, but you feel you are done bringing children into your home, then consider being a surrogate instead.
As a surrogate, you would have the privilege of growing another human inside of your body but not the responsibility of raising that child. The income of a surrogate could be enough to cover a full-time income, which could help you continue staying home with your children to homeschool them. You won't have to do too many extra tasks during the day either aside from eating well and resting when you can. It is an enticing scenario to make money as a stay-at-home mom.
Homeschool Can Provide for Your Family Financially
While there are no options to directly get paid to homeschool other than those government-funded grants, there are several ways to make money while molding and shaping the minds of your children to thrive in this world. Not only is homeschooling educational in terms of academics, but it can also be educational to help your children learn basic life skills.
Take time to really bond with your children through studies and home chores so that they can be successful adults when they are ready to be on their own. Homeschooling has many benefits that can truly bond a family together emotionally and financially.
Whether you choose to create printables, blog posts, or videos, you can make money while doing something that fills your heart. Add your kids to the 5 million other children in the United States who are already homeschooling.
Related: How to Get Paid to Go to School
---
We appreciate the time you've spent reading this post and your interest is not lost on us. Your thoughts, questions, or experiences related to the topic are most welcome. Each comment adds strength to our community. We ensure every comment receives our attention, and we take the time to provide thoughtful responses. Once again, thank you for being a part of this conversation. Click here to leave a comment.