10 Ways to Get Paid to Code in Your Spare Time (or Full Time!)
Try Bingo Cash, the ultimate bingo app for turning your skills into extra cash while enjoying colorful and engaging head-to-head matches. Win up to $83 per game and experience the classic bingo thrill in the comfort of your own home. Test your daubing skills and become a big winner today!
Bingo Cash™ is FREE to download and play! However, cash tournaments are not available in the following states: AZ, IA, LA, SC & WA.
I taught myself how to code back when I first started working in web design. As you can probably guess, coding is one of the most sought-after careers because of the way our world revolves around technology. If you understand the value of coding, you are likely willing to learn all the ways you can get paid to code.
Coding might seem like a challenging thing to learn given all the numbers, letters, and symbols that go into making a webpage functional and visually appealing. If there is literally one character out of place, the whole page could break.
Don't let that discourage you. There are many ways to make money coding that don't revolve around toying with a live website. If you are looking for ways to bring in extra money on the side or if you want to jump to switching careers full time, coding could be exactly the thing for you.
One of my favorite sites, Swagbucks, offers tons of ways to earn real cash online. If you're not already a member, give it a shot! Here are five things you can do to make easy money on the site:
Play games (up to $322 each)
Test apps (up to $150 each)
Submit receipts (easy cash)
Shop at your favorite stores (up to 10% back)
Answer surveys and polls (quick cash in minutes!)
Our Popular Free Guides
How to Start a Permanent Jewelry Business - If you are patient, have social skills, and love interacting with others, then a permanent jewelry business may be for you.
How to Become a Sleep Consultant - Help parents and babies, and be the difference for families worldwide who are desperate for more Zzzs in their life as a sleep consultant.
How to Become a Proofreader - There are five basic steps to working from home as a proofreader. As long as you're willing to put in the work, you can become a proofreader!
10 Best Ways to Get Paid to Code
Get paid to code with actual coding jobs or dive into the freelance life. Keep an open mind about the ideas listed and don't be afraid to try something new.
1. Become a Freelance Web Designer
Maybe the most obvious way to get paid to code is to design websites yourself. If you aren't afraid to get into the nitty gritty of coding sites, this is the best option. You will be hands on with the coding each day and benefit financially from doing this for others.
Become a freelance web designer to make the most money. There are coding jobs out there through companies, but you may find that working for yourself and setting your own pay is better for you. As a freelance web designer, you get to design websites for your clients and get paid directly by them. Set your own rates and hours and choose who you want to work with.
Related: How to Become a Graphic Designer
2. Become a Consultant
Consultant jobs might not have been on your mind, but there is such a thing as a coding consultant. This type of consultant is used to test website functionality. They will give feedback on where improvements can be made and what codes to adapt into the site.
Become a consultant and get paid for the time you spend helping others optimize their sites. It is a unique skill and one that is worth the money.
3. Join Coding Competitions
There are competitions for nearly everything you can think of (hello stacking cups!). Coding is no exception. There are coding competitions held often to bring the most skilled coders together to compete and have bragging rights until the next competition. Many of these competitions stem from video game coding, but there are some that are about finding errors in the coding of websites.
Whatever type of coding you are interested in, you are bound to find a coding competition that fits your skill. There is no guarantee that you will win the prize money; but you won't know unless you give it a try. Join coding competitions to get paid to code.
Related: Games That Pay Real Money
4. Become a Tutor Specializing in Coding
If you are well versed in the coding space and desire to help others who want to learn how to code, then you can become a tutor. As a tutor, you can specialize in coding and link up with students or individuals who need help learning and practicing.
As a coding tutor, you can set your rates and get paid per hour. This tutoring job can be just like any other traditional tutoring where you spend an hour a couple of times per week with your client helping them gain confidence in their new skill. Depending on how many clients you want to take on, you could turn this into a full-time job.
5. Create and Sell Website Themes
Website themes are very popular, especially on website platforms like WordPress. A website theme is essentially a full layout of a website all ready to go. The customer buys the theme and downloads it to their WordPress theme library. They can then customize the theme to input their brand or business information to make it their own.
As a theme builder, you would be responsible for creating themes through coding. Take a look at trending themes bloggers and other website owners are looking for and build a theme that is similar. List them for sale on places like Etsy to make money for coding.
Related: Things to Sell on Etsy
KashKick is a great find for gig workers, offering many ways to make extra money doing what you enjoy. Try it out - it's free! Here are five easy ways to start earning money on the site:
Play games (up to $125 each)
Test apps (up to $125 each)
Buy lottery tickets (an easy $8)
Try popular brands (always changing)
Answer surveys (quick cash in minutes!)
More Ways to Get Paid to Code Online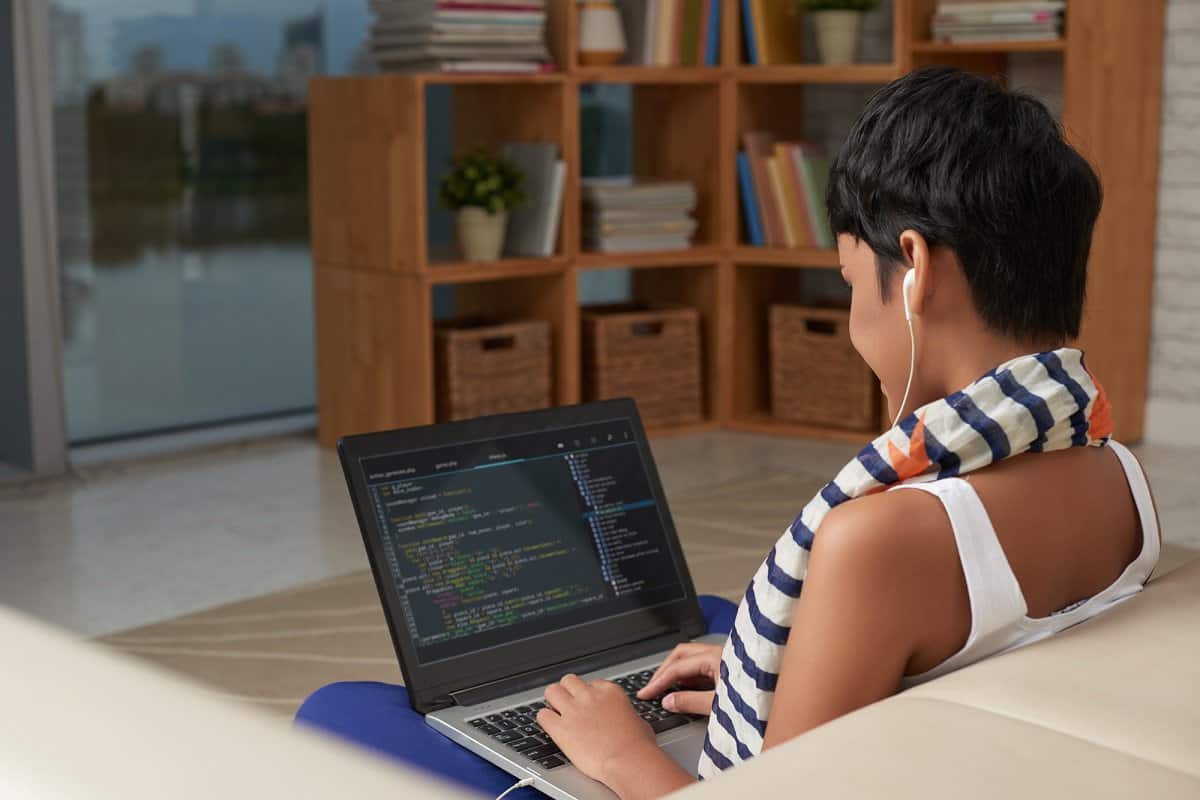 Get even more creative with how to get paid to code online. You can do more with the coding knowledge that you have.
6. Become a Freelance Writer
You might think that a freelance writer has nothing to do with coding, but there are plenty of ways that these two talents can intersect. If you were to become a freelance writer, you could specialize in writing for companies that are dedicated to coding. Write blog posts for your clients that entice readers to learn about coding from their sites. Partner with businesses to write promotional offers around coding products or services. If you can think of it, you can write about it.
As a freelance writer, you have the freedom to set your own rates for the materials that you write. Offer packages as well to entice bigger partnerships from companies. Make money coding when it is convenient for your schedule.
Related: Play Minecraft for Money
7. Write an eBook for Coders
If you like to write and you have a passion for coding, consider writing your own ebook about coding. Give the basics like "How to Start Coding" and then progress to offering more ebooks that provide more in-depth knowledge about coding.
Your knowledge and experience will differ from other ebooks with similar topics. There are people out there who need to learn about coding through you. Set your ebooks at a price that you are comfortable selling. It will take you time in the beginning to write your ebook, but it can make you money for years to come.
8. Sell Online Coding Courses
Create your own coding courses and sell them online. You can create a variety of videos and written content in your courses to help new coders get started with this new skill. You can also create courses that help experienced coders land jobs as freelancers.
Selling courses has become popular, especially in recent years with people wanting to take their learning and education into their own hands. Take time setting up your courses in an easy-to-follow format so that you continue to make steady sales. There are several sites that will allow you to host and sell your course.
Related: Sell Courses on Samcart
9. Create a Coding Niche Site
Niche sites are all the buzz. People like to learn new things or read interesting articles on topics that interest them. You can appeal to both of these desires by creating a niche site that is specific to coding. Add articles with tips and strategies, how to troubleshoot, the most common codes to use, and more.
Niche websites are unique in that they can make you money now and in the future. By allowing ads to rent space on your site, you can make money just from people viewing and clicking on those ads. This is known as passive income, and it has also been known to help people quit their full-time jobs.
10. Start a YouTube Channel for Coding
If you aren't ready to create a full course yet about coding, then discover how you can get paid to code by starting a YouTube channel that is all about coding. Make shorter videos for your audience to learn how to code from you.
Many self-taught coders have become successful because they studied from YouTube videos. There is definitely a need for this. With a YouTube channel, you can have ads on your channel to help you monetize your content. Get paid for every ad view and ad click that takes place on your channel.
Related: How to Get Paid to Watch YouTube
Coding is in Demand With Lucrative Possibilities
Coding has become increasingly in demand over the years and it shows no signs of slowing down any time soon. The future is technology-based and that means coders will be needed even more. Start learning coding now for a promising future that will be financially beneficial to you.
As someone who does some light coding for my own website, I know how much attention to detail you have to have in order to place codes successfully. Keep your coding skills sharp, be open to learning more about it, and coding will reward you. Get paid to code starting today for a promising future.
Related: How to Get Paid to Download Apps
---