How to Get Paid to Answer Phone Calls from Home
One of my favorite sites, Swagbucks, offers tons of ways to earn real cash online. If you're not already a member, give it a shot! Here are five things you can do to make easy money on the site:
Play games (up to $110 each)
Test apps (up to $150 each)
Submit receipts (easy cash)
Shop at your favorite stores (up to 10% back)
Answer surveys and polls (quick cash in minutes!)
I don't like being on the receiving end of cold calls from unknown parties. This is the reason why I don't usually answer a call from a phone number I don't recognize.
However, I could be convinced if I were able to get paid to answer phone calls from home. Some extra cash for a few minutes of my time answering calls isn't such a bad compromise.
When I first learned that I could get paid for incoming calls, I immediately thought back to all those calls I didn't answer in the past.
These days, making money by taking calls is a legitimate way people earn some extra cash. What's not to love? Taking calls from the comfort of your home and getting paid for it sounds like a good deal.
If you're as intrigued as I was to learn of this opportunity, keep reading to find out what you can do to make money answering phone calls.
Click the button ⬆️ to subscribe to my YouTube channel where I share real ways to earn money.
Our Popular Money-Making Offers
Sign up with each of the following companies to maximize your earning potential.
$10 sign-up bonus
Pays to take surveys, complete offers, shop online, and much more
100s of other paid tasks
Awards cash and gift cards
$5 sign-up bonus
Pays to play games, watch videos, answer polls, and much more
100s of other paid tasks
Awards cash and gift cards
6 Legit Ways to Make Money Answering Phone Calls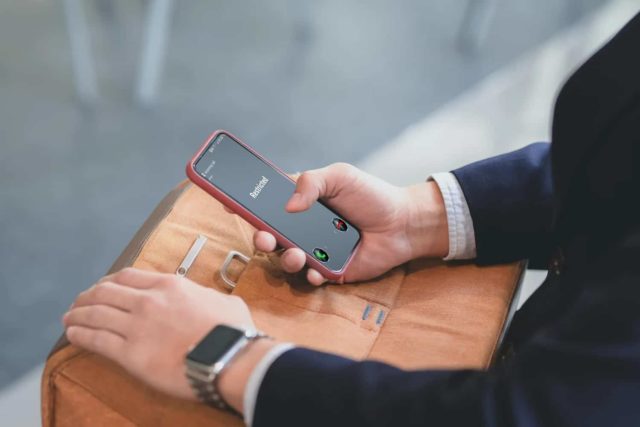 Not every telephone job is the same. Here are five real and different ways to get paid to talk on the phone.
1. Get Paid to Answer Telemarketing Calls
Did you know you may be entitled to up to $1,500 per call you receive from telemarketers on your cellphone? If you're on the National Do Not Call Registry, and you never gave explicit permission for a company to call you, then you could get paid to answer these calls.
I never thought I could make money from the constant spam calls that I get on my phone. If you're like I and are sick and tired of random telemarketers calling you, then demanding cash compensation from illegal robocallers might be for you.
It is such a waste of time to get these relentless phone calls. That's part of our life wasted on illegal activities from someone else. Take back control of your phone, your life, and learn how to make money from robocalls.
It's a pretty simple process. You just need to learn how to extract information from the caller, research the caller, and send a formal robocall demand letter to pay you for damages.
2. Become a Virtual Assistant or Receptionist
Virtual Assistants are like any other office and executive assistants; they are there to help out those who need them and that includes getting paid to answer phone calls.
From general inquiries to setting appointments, an assistant's job has quite a bit to do with the phone. There are also tasks like taking messages for someone or screening unsolicited calls. Completing these tasks can earn you a nice paycheck just for talking on the phone.
Virtual Assisting positions are becoming more and more popular. There are a large number of people working from home or starting their own business. Offer your virtual services to them and get paid to answer phone calls from home.
Related: Best Virtual Assistant Training Courses
3. Offer Consulting Services by Phone
Many companies hire consultants with a certain expertise to help them level up their business. This could be in marketing, sales, web design, and so many other things.
If you're good at something and known for your skills (or willing to promote yourself and become known), then you can offer consulting services by phone to teach others.
With services like PayPerCall, you can automatically get paid for incoming calls. The best part is you can set your own rates, schedule, and time limits.
Related: How to Get Paid to Read Emails
More Popular Money-Making Offers
Earn more money in your spare time with these reputable companies.
Free PayPal cash
Paid surveys and web searches
Earn easy cash back
Get paid directly to your PayPal
PayPal, Visa, Amazon, etc.
Pays you to do NOTHING (with SJ Pulse)
Simply install the software
Participate in paid surveys & studies
4. Become a Phone Voice Actor
Think outside the box as you explore ways to get paid to answer phones from home. Add becoming a voice actor to the list to boost your job potential. Answering phones might sound like a strange choice for a voice actor, but this could prove to be a lucrative side hustle.
You might have heard about Disney's toll-free phone number that children can call to hear a goodnight wish. Kids can pick from a variety of characters like Mickey, Donald, Goofy, and more. These bedtime audio clips are recorded by voice actors.
The same concept has been adapted for the holidays, when children can call Santa to tell him what's on their Christmas lists. Consider other types of voice acting jobs like this that you can use to make money answering phones.
Related: Get Paid to Watch Disney Movies
5. Offer Tech Support or Customer Service
Tech support and customer service representatives get paid to answer phone calls from customers. If a customer is having trouble with an item or needs to request a refund, a tech support or customer service representative is usually the person to assist them.
Customer service can be a tricky business to get into. However, you would never have to see the customer face-to-face. This could be the best fit for you in the end.
Companies like Xerox hire work from home tech support and customer service representatives. There are several other companies that offer this flexibility as well to answer calls from home and get paid.
Related: How to Become a Marketing Coordinator
6. Become a Virtual Salesman
While most sales positions require the salesperson to collect leads and make outbound calls, there are established companies that hire for inbound calls. You don't have to work for a corporate job, you can offer your services to local businesses and work based on performance…which is a deal many businesses can't resist.
When a customer or prospect calls the company to inquire about a product or service, the virtual salesperson can use their skills to make a sale on this call. If you can show the company your value and prove its sales are increasing based on your services, you may very well earn yourself a higher paying job in answering phone calls.
Related: Apps That Pay Real Money for Easy Tasks and Gigs
It's Easy to Make Money Answering Calls
Contrary to old beliefs, you don't have to engage in off-the-wall activities to get paid to answer phone calls. It doesn't have to be a dirty job that involves flirting with lonely men; answering phones is a real way to make money.
From identifying illegal telemarketers to providing tech support or accepting inbound calls for sales, there are plenty of ways to make quick money in a day. Offering virtual assistance or consulting as well helps people make money answering calls on their own time and from the comfort of their home.
Based on your skills and the services you offer, you can potentially set your own rates and determine your future with phone calls. You don't have to have a degree or any prior experience in order to complete call tasks. Start today with this money-making opportunity and potentially start making money fast.
---